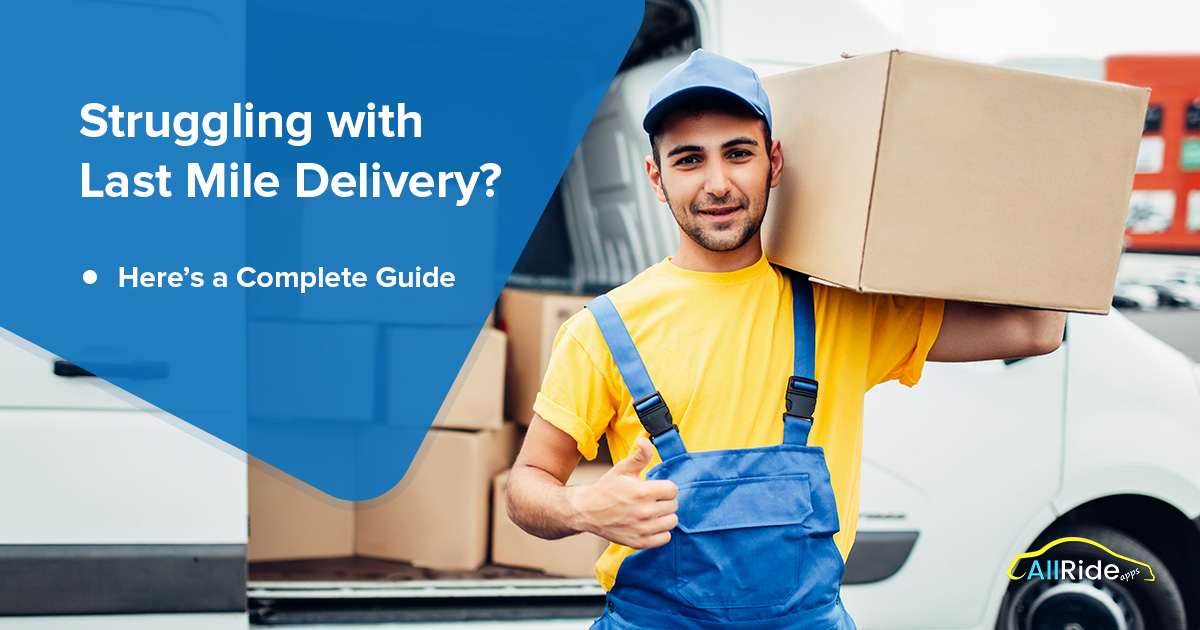 Struggling with Last Mile Delivery Logistics? – Here's a Complete Guide
*Spoiler Alert: [This is a long post, you might want to get yourself a cup of hot coffee! It walks you through the idea of what is last mile delivery, what are their daily challenges and how last mile delivery logistics solutions can bridge the gap between customers and businesses. Now, you see why you will need that hot drink. ;)]
Last mile delivery logistics is no rocket science. It is one of the most common networks in the transportation industry. And I think this guide will act as an eye opener for anyone facing confusion with last mile deliveries.
To the ones within the industry, they know how vast and important is last mile delivery logistics. It contributes about 28 percent of the total cost of the shipment. In addition, growth in e-commerce is also rising and radicalizing the way shippers look down at last mile logistics.
Moreover, logistics of e-commerce which includes fulfillment and delivery has further made last mile very crucial in the transport industry.
Your organization hence needs to understand –
1. What is last mile delivery?
2. What are its challenges?
3. How can TMS trucking apps tackle these challenges?
4. How to lay down an effective strategy for last mile delivery?
5. What are the benefits of the last mile delivery logistics solutions?
6. Which trends make the last mile delivery businesses opt for TMS trucking apps?
7. What features should be there in your last mile delivery logistics solutions?
8. What to ask your logistics app developer before you hire?
Gawd! There is a lot to learn about last mile delivery logistics.
If you're reading this article, and realize struggling with last mile delivery in your organization, this guide will help you evolve and transform. It will tell you how various last mile delivery logistics solution is making things less complex. 
What Is Last Mile Delivery Logistics?
Last mile delivery logistics is one of the ways to move goods from a retailer's transportation hub to the final destination or customer's abode. Last mile delivery logistics mainly involves the use of a parcel or small carriers to deliver product to customers door. And it just has one goal, deliver the product as fast as possible.
According to the study done by McKinsey, cost of global parcel delivery, excluding pickup, line-haul, and sorting, amounts to €70 billion, with China, Germany, and the United States accounts more than 40 percent of the market.
Moreover, a number of shippers of various sizes have identified the last mile logistics as the cornerstone to drive more growth and profits. Thus, the demand to have last mile delivery logistics solution for every supply chain businesses in on the rise.
The Rise of Last Mile Delivery Players for E-commerce
Last mile logistics is one of the hottest trends to move goods in the industry. It is one of the easiest ways to get the products to the doors of the customers faster and in an effective manner. In fact, the consumers are ready to pay double price for the last mile delivery services like same-day delivery or one-day delivery.
May big e-commerce players, as well as last mile delivery startups, identified last mile logistics as a key differentiator. In fact, it is the logistics options and the quality of the service. It helps online customers to influence their decision and affect the e-commerce players directly.
If you take a close look at the survey done by McKinsey on more than 4,700 respondents in China, Germany, and the United States. It shows that 25 percent of consumers are willing to pay significant premiums for the privilege of same-day or instant delivery. Thus last mile logistics is sure to get a pump.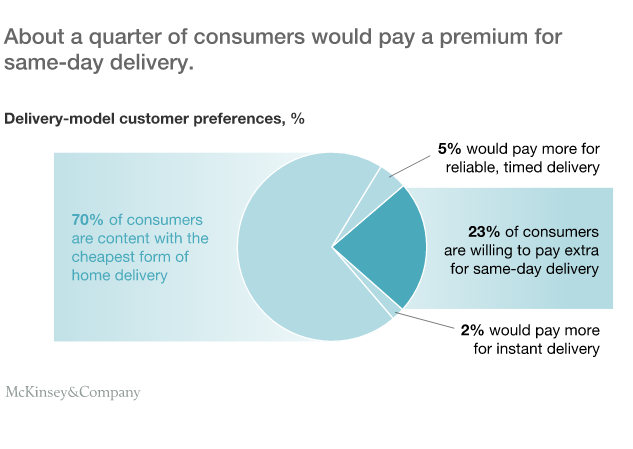 As e-commerce sales are expected to reach $2.4 trillion this year's end, last-mile logistics services need to improve themselves. Even the McKinsey research also confirms that same-day and instant delivery will likely reach a combined share of 20 to 25 percent of the market by 2025.
What Are The Challenges Of Last Mile Delivery Logistics?
Last mile logistics find handling their operation growing on their nerves. The problems associated with it are ubiquitous. The largest issues lie in the cost to transport individual shipments to distinct destinations through constantly changing routes.
"The final mile delivery when it comes to end consumer delivery is really supplying that end consumer with the experience that they're looking for Click To Tweet
Here are some particular challenges that both last mile delivery startups to big players often face.
Poor infrastructure – Last mile delivery startups to big companies face this challenge called TRAFFIC JAMS in the urban areas. As for the remote location, longer journeys is a serious issue. And if you are carrying out last mile delivery services in a developing country, poor infrastructure like lack of super ways / highways adds more time and cost, thus impacting unit economics.
Nuances of customers – This doubles the woe of the e-commerce industry. Factors such as incorrect address,  no parking availability, availability to receive an order, and many other issues upheavals the cost and time.


Less transparent – The last mile delivery startups to big e-commerce chains who still stick to those tracking codes to satisfy their customers is sure to fail. They want to have real-time visibility of shipping and last mile delivery. Customers want to know when the driver would arrive exactly. So you need last mile delivery logistics solution that will be more transparent and keep the customers aware of their moving transport.
Fuel cost is too high – Do you know that more than 28 percent of the total delivery cost comes from the last mile logistics? In general, this often passes on to the customers. The cost was never an issue, but the pressure of delivering on same-day/on-demand delivery has put more stress on the budget. Longer journey also adds up to the trouble and higher the fuel costs.
Related Read: How we help overcome your last mile delivery challenges?
How Can TMS Trucking Handle These Challenges For Last Mile Delivery?
Wait a moment – will you like to review your last mile delivery process? Will you like to take a moment and think how are you currently operating? The chances are good that your organization is having the tracking software just in place – However, can you deduce that the software is ready to provide valuable insights?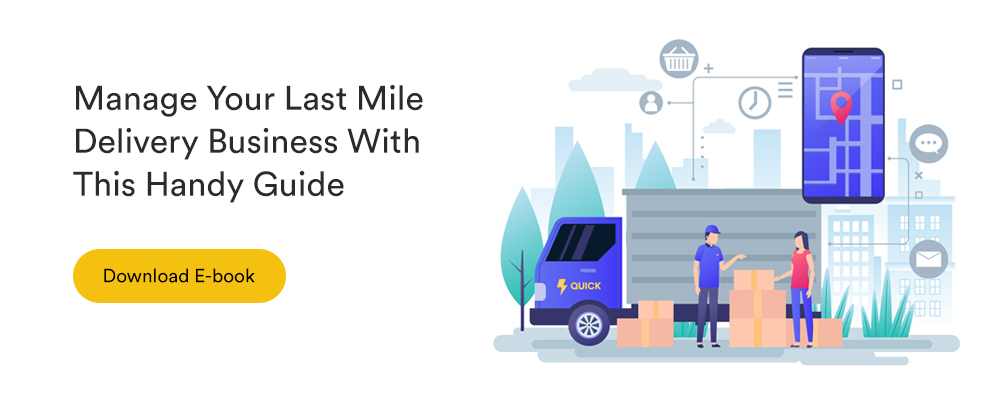 These questions also tell that why technology and effective transportation management systems (TMS) and the Internet of Things will let you unlock all crucial problems of the last mile delivery logistics.
Can TMS trucking apps turn into a boon for your last mile logistics business?
The use of TMS trucking apps will benefit the whole supply chain. With the use of TMS trucking systems, one can easily integrate both the inbound and outbound logistics operations.
This will also allow the TMS to handle the last mile demands and various other key considerations. Let us dig into the facts and see how TMS trucking can help improve the last mile logistics.
A. With the use of intuitive last mile delivery logistics solutions, you can easily upgrade the accuracy and timeliness of your deliveries. No matter whether it is same-day or one-day delivery, TMS will double-check the risks that might result in delay and will enhance the overall punctuality.
B. With the help of technologies like transportation management systems, you will gain better visibility, by providing real-time and high-quality shipment facilities.
C. With the use of TMS trucking apps, you can easily optimize the routes and the information collected by transport management systems, thus reducing the direct transportation costs, fuel, and labor costs.
D. Last mile delivery logistics solutions like TMS trucking app helps to measure the efficiency and the ability to meet various customer expectations. With the use of effective TMS, you can measure the analytics and performance and the ability to meet customer demands, improve productivity in warehouses, etc.
E. TMS trucking apps are something that will work 24/7. The system has the capacity to function regularly and as a result, cloud-based platforms or TMS trucking solutions can double the benefits.
Related Read: Everything you need to know about TMS trucking solution
With the use of modern TMS trucking apps, you can allow the shippers to focus on the use of the system without any technological hindrances. With the use of software-as-a-service, the system will be able to utilize the new kind of technologies and thus continue with the provision of value-based services.
How To Lay Down A Perfect Strategy For Your Last Mile Delivery Before You Build An App?
Before you get into building the last mile delivery logistics solution you need to understand what it is all about. Shippers need to evaluate their last mile delivery processes before they hire a mobile app developer to build a logistics app.  
They have to build an effective strategy that will safeguard their position in the market and will continue to fulfill their consumer demand. In fact, there are some key aspects that you need to follow before you launch an app to support the business.
The power lies in strong planning
Shippers should evaluate their current last mile delivery logistics process and create plans to manage it better. Prioritize the operations and preferences to understand how things can establish themselves after you power it up with last mile delivery logistics solutions.
Get the right technology – it is that straight
If you consider the last mile logistics as one of the effective parts of shipping, then you could are not wrong. It accounts for up to 20 percent of the total shipping cost of a product. The last mile delays and problems during delivery can increase the fuel cost and devalue the brand. So every last mile delivery startups are considering the use of updated technologies to meet last mile logistics demands, prior to making any decisions.
Related Read: How to hire someone to build an app?
Get into stricter management
As a last mile delivery startup, you must make sure that everything is on track right from the first day. This means your drivers, shipments, trucks, and technologies stay aligned. You also need to use the big data to track what consumer might be doing or taking the next step that can indirectly influence your last mile delivery.
You need to be more customer-centric
The last mile delivery logistics should have a plan that is more consumer-centric. This is one of the cornerstones of logistics business. No longer the traditional standards of delivery work out. Last mile delivery startups or the old players need to think out of the box and enable shippers to meet consumer demands for tight deliveries.
Keep a tab on the performance
Amazon has set new last mile delivery records and they are revolutionizing e-commerce industry with their Amazon Prime services. If you keep an eye on the US customers you will find that 6 percent of the consumers are willing to pay for same-day delivery and 28 percent willing to abandon the shopping carts due to excessive fees. So performance measurement is one of the greatest factors that you must enable in case you are building a mobile app for your last mile delivery logistics.
After you're done with the last mile delivery logistics strategy, now you need to get down to look for someone who can help you build uber like trucking. Moreover, last mile delivery logistics is the key to reduce overhead costs and improve customer service. As a result, more shippers will turn towards technology and transport management systems to aid last mile delivery.
What benefits last mile delivery logistics solutions add to your business?
The experience of the consumer is one of the large determinant factors of the last mile delivery logistics. Shippers who are willing to revolutionize with a clearly laid strategy, need to meet those expectations. And only a last mile delivery logistics solution can help resolve, both business-to-consumer (B2C) and business-to-business (B2B) shipments.
Whether you are last mile delivery startups or you're in the business for a long time. You need to embrace uber for trucking solutions to pump up last mile deliveries. Check out the benefits that the last mile delivery logistic solution add to your business –
     1. Giving Customers A Number Of Options To Pick Up The Product
Shippers are always figuring out the best possible way to get their product to the customer doorstep. However, you can simply give the customer, options to pick up their products at various locations. Such as rerouting packages sent to the consumers through a number of omnichannel supply chains reduce the cost and burden of those standalone pickup locations.
Though it is a little expensive. But more the carriers, more the shippers start using the last mile delivery logistics solutions. Thus options of pick up doubles as well as customer satisfaction.
Last Mile Delivery Logistics Solutions Improve The Scalability Of Operations
Last mile delivery startups or big players both face the pressure during peak seasons, big sales etc. In other words, it becomes obvious for the shippers to enhance their process which will allow fluctuations throughout omnichannel supply chains.
With last mile delivery logistics solutions, shippers also get to explore the options that are available from the third party logistics.
3PLs allow the shippers to rapidly grow or contact their operations and meet the current demand. It also allows to have a technology and provide a system-wide integration. It also allows collaboration to boost overall scalability and meet the challenges to creating an omnichannel supply chain.
Automation Allows Better Parcel Auditing That In Turn Improve Last Mile Delivery
The parcel auditing if done in the right order helps to cut costs throughout the supply chain, especially when the supply chain has to move more than 10000 parcels.
In fact, the most cost-effective ways to manage the parcels are yet depending on the outsourced services. But the shippers need to understand that parcel auditing has a large role to play in a supply chain, which in turn improve the accountability of the last mile delivery.
Read: Logistics supply chain problems that uber for trucking can solve
With a quick review of all existing parcel shipments for inaccuracy, delays, errors, and opportunities. With automation, parcel auditing also leads to the creation of large sum of data, which one can leverage for gross and fine movements. Thus automation reduces the cost of last mile delivery logistics.

Which trends make the last mile delivery businesses opt for TMS trucking apps?
For shippers, delivering products to the customers and last mile logistics are the core focus. The reports from McKinsey also further confirms that same day delivery is going to score a value of about $1.35 billion. To add some more value thanks to the rise in the e-commerce business. So to gain an upper hand in the last mile delivery process the shippers need to understand the trends. These trends will also tell them why you should opt for TMS trucking apps.
a. With the use of uber for trucking solution your last mile delivery will get faster fulfillment. The customer wants faster fulfillment and the shippers need to move the product at a fast pace. Shipments previously required one hour top process now just takes three minutes. Last mile logistics is finally the position from which the push comes faster. Millennials agree to pay 30 percent more for the same day delivery. If paired with the sudden spike, last mile delivery will continue to grow 10 percent every year.
b. New disruptors and venture capitalists are also influencing last mile delivery logistics. With the use of Uber for trucking last mile delivery logistics businesses are witnessing changes. The freight costs spend on fuel, labor, technology, asset tracking that amounts to $800. But with the use of uberization of trucking industry the supply chain is showing some good chances to curb the cost.
c. Shippers are embracing technology on a large scale. The use of uber for trucking closely impacts the last mile delivery. Mainly it impacts the tracking. It is through the use of Internet of Things, smart technology and sensors to successfully track shipments in real-time. With the use of smart trucking technologies, consumers and shippers can receive SMS alerts, email notifications for every shipment. With the combination of electronic logging devices, the use of last mile delivery logistics solutions will continue to grow.
d. In-house Delivery Services Are On The Rise, In a bid to reduce last mile delivery expenses, companies are now utilizing their shared vehicles for in house deliveries. As a matter of fact, a few of these companies have joined hands with their competitors in the same region in order to reduce asset expenses. These companies are using this mode of delivery for business purposes as the logistics are outsourced to another company. In the restaurant industry alone, third party or in house delivery market is expected to be valued at 24.5 billion at the end of 2022. 
e. A tap on the analytics will cut down on the cost of last mile delivery logistics. The amount of information coming from the automated transportation management systems can be applied to the analytics. The analytics allow the supply chain to isolate the cost bounding factors across every shipment. Although those small changes might not have large impacts on the initial costs, the overall costs can be pushed down. Thus encouraging more consumers to opt for same day delivery or one-day delivery or other faster delivery options.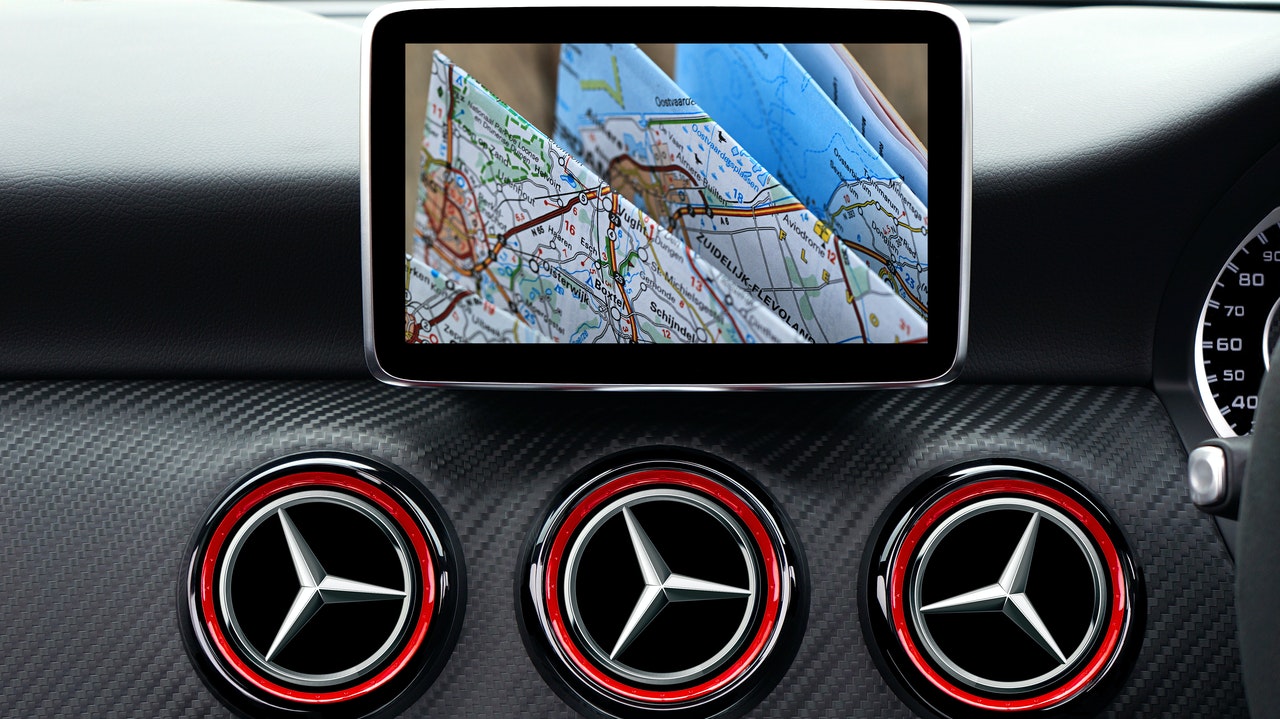 f. When it comes to urban freight, Smart Planning, Iot, Traffic Data And Uberfication is crucial as a huge amount of time and cost is spent on finding an unloading zone, walking, and finally delivery. But now, the delivery scheduling system will be developed with the help of big data.
This will provide real-time updates on traffic, availability of unloading and routes. According to some sources, smart charging stations for electrical vehicles will be placed in various locations. The uberfication of last-mile delivery is inevitable. Social delivery networks will increasingly influence urban freight. Information such as loading capacity requires data from private and public partners.
What Features Should Be There In Your Last Mile Delivery Logistics Solutions?
Last mile delivery logistics revolution has begun. And to stay prepared you to need to adopt the smartest technology like uber for trucking or TMS trucking apps. The level of technology is pushing the frontiers of last mile delivery and same delivery handling the complexity in operations.
In order to compete with large e-commerce giants like Amazon, Target or Walmart who are modifying the last mile delivery options – your organization needs to have these features in last mile delivery logistics solutions.
The technology can help to improve the last mile metrics. But how will you know which features in your last mile delivery logistics solutions can help or hurt?
Here Are Some Of The Features That You Last Mile Delivery Logistics Solutions Must Have To Go Ahead :
1. The uberization of last mile delivery solution must ensure tracking of on-time or late deliveries. So make sure the truck app has the facility to generate metrics of timely deliveries.
2. It must track the fuel consumption rates. Last mile metrics involves a number of fuel consumption rates depending on the preference of the company, but how fuel consumption rates are calculated can help the shipper to understand whether the driver is wasting or saving the fuel.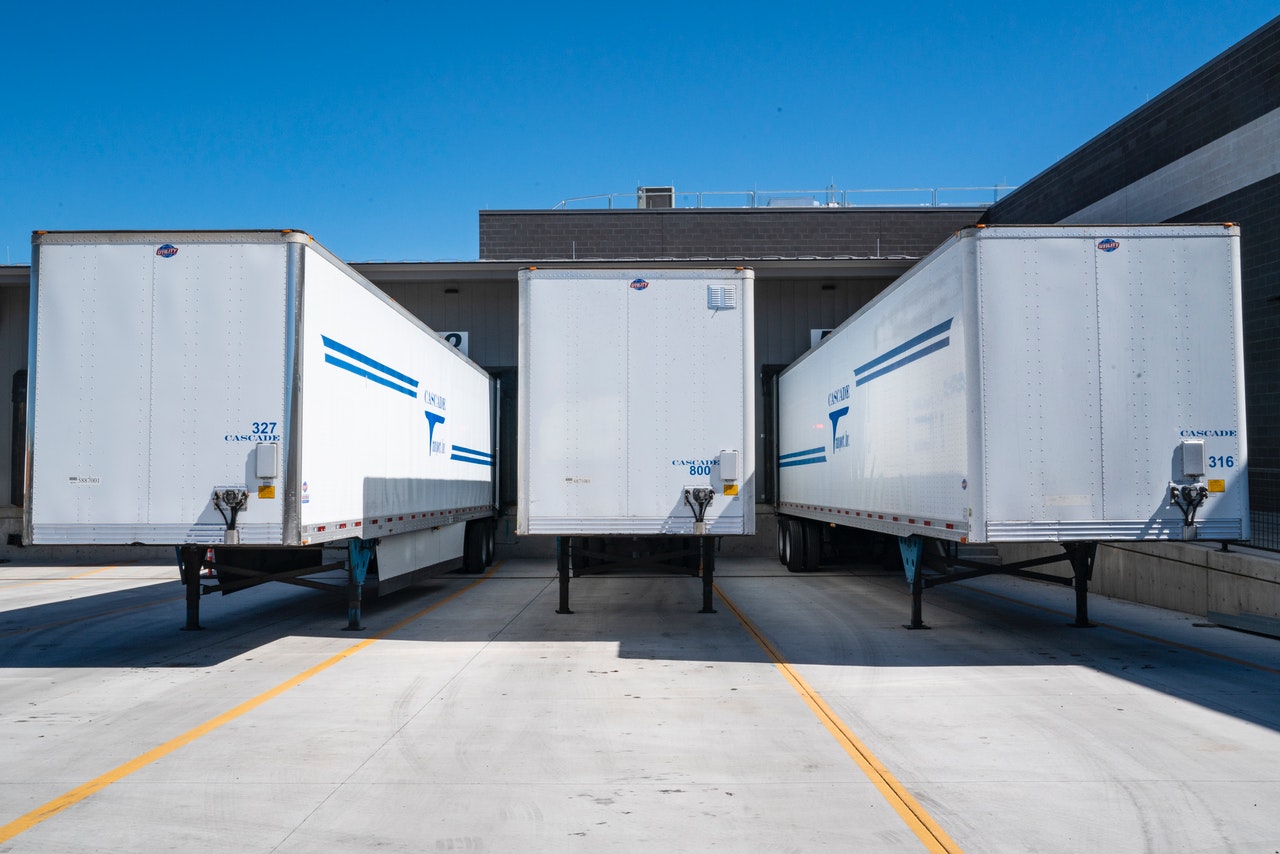 3. An app should focus and track the last mile vehicle capacity versus available. Every last mile delivery vans should consider tracking meter in the logistics solution that will display capacity utilized against the available capacity.
4. The transportation management systems should display the planned versus actual mileage, which is actually calculated by dividing the actual mileage per vehicle, driver or routes as per the planned mileage. Since higher mileage rates will forecast that your route planning has problems and you need to make changes to ensure faster deliveries.
5. The last mile delivery logistics solution should also have a feature to display drive hours in-motion and stationary to indicate the performance of the drivers.
Related Read: Must-have features of a logistics & supply chain solution
6. Cost per mile, per item and per vehicle should be tracked by the last mile delivery logistics solutions.
7. Last mile delivery logistics solutions should also track the number of stops per vehicle. This is highly important to monitor the fuel costs, but it also displays the route optimization practices. To improve route schedules the TMS trucking solution should reflect a number of stops in the route.
8. Average service time metric is a complicated process. From the average amount of time spent per order between the store, the warehouse and other pre-shipping processes also should track down to ensure smooth last mile deliveries through the app.
9. The last mile delivery logistics solutions should come up with the facility to help customers add their reviews. This will further help to improve the last mile delivery process and smoothen it.
10. The app should be able to calculate the order accuracy by comparing the known inaccuracies of the order against various shipped orders.
What to ask your logistics app developer before you hire?
If investing in truck dispatch software is a profitable source of earning revenue, then we should definitely give it a try. But we need to step gently and know some of the common aspects so that the truck app does not fail.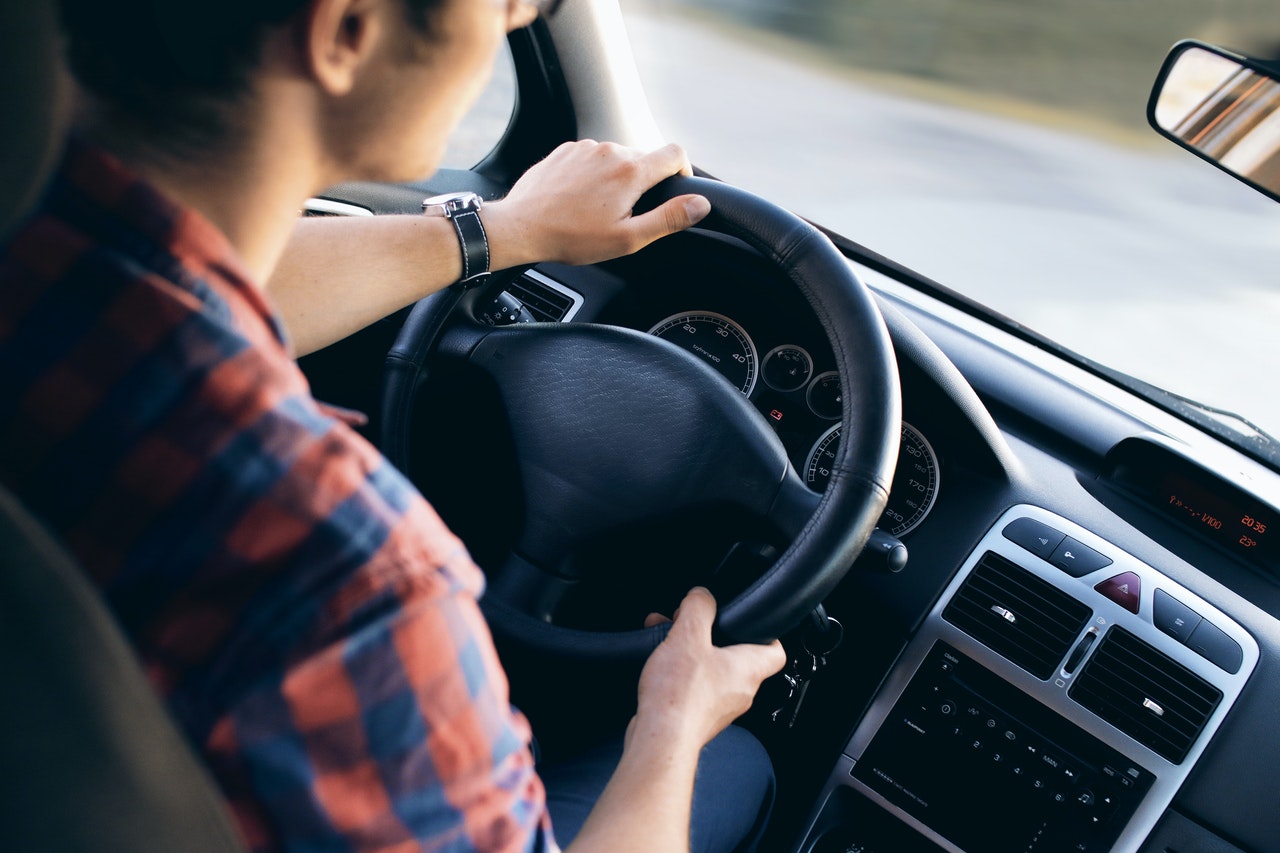 And this is where you need to be a little strict and take the following steps. Since you missed them while developing an app the last time –
1. Researching on the top companies who can help you build last mile delivery solutions.
2. Go to the popular business listicles and find out who's making the news with their truck dispatch software.
3. You can do some online researches on the kind of client handled by the list of companies you have sorted.
Here I will give you a quick guideline to choose the best agency and launch the next-best uber for delivery trucks. What questions to ask a truck dispatch software development company to stop committing the same blunder for the next time. What USPs can make you automate last mile delivery logistics business without hearing any client complaints. Please read on for your help –
Q1. Ask your truck dispatch software development company – "Can I see some of your works?"
The truck dispatch software development company should be happy to show the apps they developed. They should share their portfolio to know that you are investing in something profitable.
If they disagree to share their works or portfolio, simply do not trust those companies. Check the reviews and ratings of the past apps they have built and then hire them to build your project.
Q2. Ask the logistics app developers whether they follow a lean development process or something different
It is important for you to know that –
Is the truck dispatch software development company will sustain their help even in the critical hours?

Even you should know how long the agency took in the current project development.

What steps the logistics app developers took to solve the risks and challenges and automated the business successfully with an app?
Q3. Ask how skilled are the logistics app developers?
You need to seek assurance that the truck dispatch software company you hired have developers with proper skill sets. They must be able to build the desirable functions and features that will not make your app crash. To know that you hired the best app developers, ask for the details like –
Contacts

Educational background

Professional bio

Portfolio of their previous works

Past client reference

Links to off-site repositories

Social profiles

Awards or accolades if any
Q4. How relevant is their knowledge of user experience design?
It is important to focus on the user experience of the apps. With more than 5 million apps in Playstore and Appstore unique UX helps to set each apart. So hire a team that can build you a truck app like Uber with high aesthetic values.
Q5. Are they ready to maintain your truck app like Uber post-development?
Since there are many bugs to fix which might come after the app runs full-fledged. Simply developing a truck app like Uber does not end the job. The thing rolls on with releasing of new updates to adding new features and fixing the bugs in every version.
Conclusion
I think we're done. It is time to wrap up. Adding a seamless tracking technology to last mile deliveries helps to adapt many demands. And tailor last mile strategies to mesh well with the same demands. To stay competitive and survive the last mile revolution – I guess this guide will help you a lot. It is not just reducing the last mile delivery hassles, rather improve your business ROI at the end.
Do you think you need to put more limelight in your thoughts? Download our hands-on Logistics app Brochure or get a quick consultation with our experts.
This post was originally published on March 21, 2018 and has been updated for accuracy and comprehensiveness