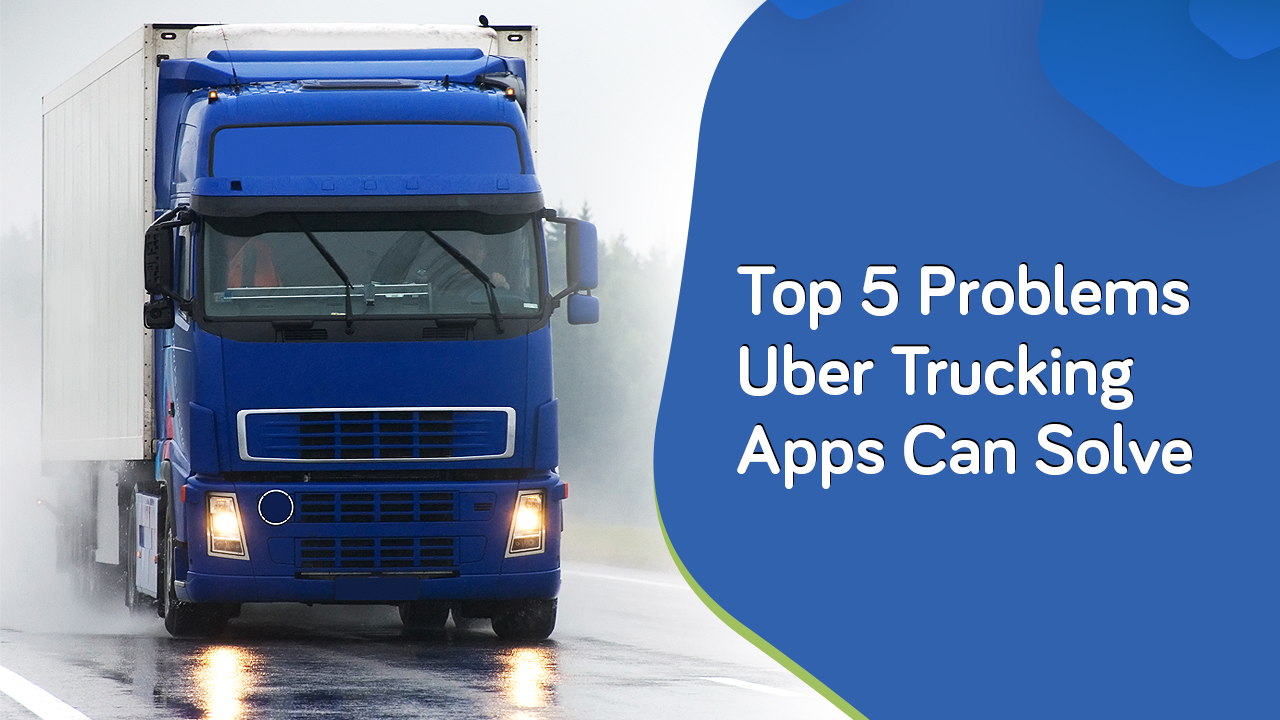 Top 5 Logistics & Supply Chain Problems Uber Trucking Apps Can Solve in 2020
Have you looked at the trucking industry? It is changing right now. With the coming of Amazon's Uber for Truck and Uber Freight, the industry has taken a plight. At the same time, Electronic Logging Devices is also undergoing vast changes. Thus, if someone keeps a tab on the trucking trends that affect both inside and outside of the industry, will find it as a daunting task. So, how automating the trucking systems or use of uber trucking apps can minimize the further risks?
Every year someone takes a stab at the logistics industry trends and clearly explains what works and what not. This time it was John Larkin, Managing Director of Transportation Capital Market Research from Stifel. And he said what can be the key trends for the logistics and supply chain industry in 2018.
Trucking industry trend will increase 3.4 percent in 2018
Click To Tweet
After receiving his share of knowledge and looking into the common trucking problems, we found that logistics apps can be the right solution. We will like you to share our thoughts on how logistics app development can put those key trends on high gear.
How Can Uber Trucking Apps Gear Up the Trucking Industry in 2018?
Here are some of the possible logistics app development trends that needs immediate attention in 2018. Let's see what problems Larkin predicted in logistics business this year.
#1. Blue-collar labor shortage is on the rise, but automation can be the way out
Automation and reduced regulation are not occurring at a fast pace compared to the shortage of blue-collar labor and demand growth.
Larkin is of the view that automation has not garnered the most attention in 2017 when it comes to the trucking industry. So it continues to feel the blue collar labor shortage. Truckers yet struggle to find drug free drivers and technicians to maintain their complicated tractors or trailers. From warehouse to distribution and fulfillment center, finding a competent worker has turned hard these days.
But automation in the trucking industry is going to resolve it. The logistics applications made earlier were not built in vigor. As the problems seem to a couple, automation finds application in the global and national supply chains to eliminate the current labor shortage that businesses US is facing.
Read More: How to Automate Your Business With Logistics App Development
Automation will reduce the burden despite the shortage. It is the only way that can manage your business with uber trucking apps API, GPS tracking systems or interactive dashboards. Thus, leveraging better outputs with a minimum number of drivers.

What loopholes can you fill up with automation?
A. Reduce Costly Errors – Logistics app development allows some features to integrate via  ERP system and give access to your address book, automated storage, and entry of fuel surcharges. You need not worry about the wrong entry any longer and thus reduce costly errors.
B. Reduces Transportation Costs – The rise in the transportation cost is easy to manage with the help of automation features. Business owners can execute policies to have immediate freight savings with tools like Transportation Mode Choice and Real-Time Freight Rate Access. You get multiple carrier choices based on cost, transit time, and insurance to make the best choice for a specific shipment. Thus saving more money.
C. Increases Customer Service – We know how much it cost you to lose a customer. But with automated logistics app development, you can enjoy features like real-time freight tracking, auto pick-up, insurance and customized accounting. These all contribute towards increased customer service.
Truckload volumes are projected to increase by 3.2 percent through 2018
Click To Tweet
D. Organized Control – Having an organizational control is something that you can gain over with the help of uber trucking apps. They allow you to regain control over freight management, costs, and risks as it uses TMS' rules based on optimized plans and routing guides. Automation is such that the logistics experts can alone handle them and does not need any technician to run.
E. Boosts Scalability and Speed – Logistics app development features help to manage the logistics, freight and transportation departments under one roof. Like the accounting feature helps to consolidate the weekly invoice into one, no matter how many shipments it has to do. So with logistics app development, you can boost your scalability and speed.
#2. E-commerce will require more on-time truck deliveries and get a logistics app developed is sure to improve the trucking revenues
At present e-commerce serves 13 percent of the retail market. In the next five years, predictions tell that e-commerce will control 17% and maybe 20 percent in next ten years. The change is taking place as brick and mortar stores are in constant replacement by these e-commerce stores.
Now how is it going to influence the logistics industry? E-commerce is one such industry that requires faster, time-definite and tailored supply chain to fulfill their deliveries. With the shipping request time like two-hour fulfillment, same day delivery or next day delivery, trucking industry can create more business.
Read More: How to Meet Last-Mile Delivery Challenges with Logistics Management App
How can logistics app development company help you fulfill the ecommerce delivery? Well, it is quite simple.
With uber trucking apps, you shed heavy manual tasks like data entry. With the last mile delivery app dashboard, it will be easier for your to get an organized warehouse. So you save a lot of time and approach towards a faster delivery.

What if your e-commerce partner wants same day delivery but your driver is stuck in somewhere for an hour? If you run a conventional trucking business, be prepared to face the customer's wrath in such instances. But what will happen if you power the business with uber trucking apps? You get GPS to locate delivery stops, weather condition, shortest route, traffic conditions and allow drivers to pre-plan their journey to get more business.

Bring the real change with a real-time push notification. Give the delivery details and truck's whereabouts to let your user feel confident in your service.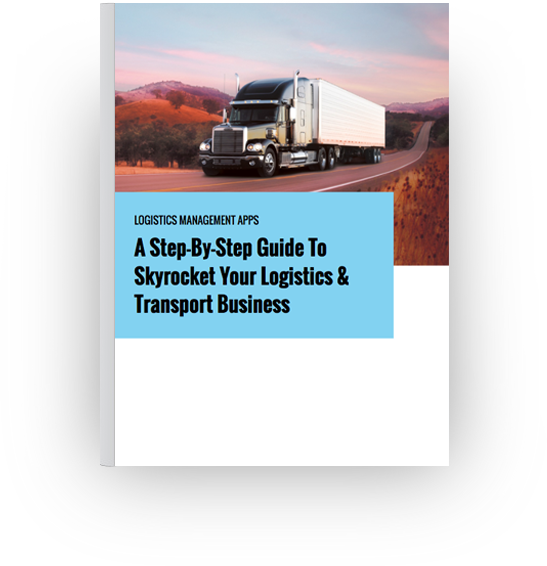 Tired of losing control over your trucking business?
This Ebook is for you!
#3. How to cope up with the fast changes in the logistics industry, if someone is still running a conventional business?
As technology is transforming the trucking industry and that too at an accelerating rate, it will continue to do so in 2018 and beyond. There are a plethora of venture capital firms who look forward to funding companies attempting to bring technology into the broader space of transportation and logistics space. Technologies are creating a lot buzz and focusing more on automating those labor-intensive processes in logistics and supply chain industry. Some common problems that the automation and uber trucking apps are making easier are –  
Matching the freights as per the deliveries or supplies

Looking for the rates

Control more organized billing processes

Allows network optimization

Makes fleet and driver management easier

Uber truck apps makes dispatch faster and easy

Plan and maintain your fleet in a more organized way
Read More: Logistics App Development Features You Need to Cope Up With Advanced Technology Changes
#4. The constant population shift has been an alarming issue for freight industry, but with automation, you can resolve.
With the growing population redistribution, you feel the rise in demand patterns. It is both for the consumers and the new business-to-business demands which allow impacting the freight flow volumes and even the lane balance, Moreover, at times the changes directly influence incremental infrastructure and the expenditure.
Supply chain thus must adopt the migration as fast as possible. And uber trucking apps can be an aid in this process. Since optimal locations for distribution centers, fulfillment centers, and flexible manufacturing centers can influence the population shifts, so with an automated logistics business it becomes easier to meet the increased demand. Optimal sourcing decision for raw materials, parts, and components can change the migration pattern that evolves continually.
Thus logistics companies, shippers, and receivers all need to be careful. But with the adaption of logistics app development collaborating the internal network and allocating assets to match the morphing population trends.

#5. Peak urbanization is a big issue for logistics industry, but uber trucking apps is resolving it properly
Re-urbanization trends tell that both young college students and professionals prefer to work, live and play in trendy neighborhoods. As singles delay family formation, they avoided home ownership and sometimes automobile ownership as well.
However, as soon as the family formation occurs and children enters the scenario, the migration trends re-accelerate towards the suburban region from populated areas. This puts pressure on the highway systems and suburban infrastructure. As the population density is less the last mile delivery becomes complicated. Due to the increased distance between stops, the traffic congestions worsens and reduces the number of parcels for the stops.
But with uber trucking apps, you can create last-mile delivery efficiencies reducing peak hour demand. As the logistics app development company provides you with the feature like GPS, it helps to make things simpler. You can cope up with timings., delivery and distance chalking out an efficient route mapping and reduce the last-mile challenges.
Are You Also Facing These Challenges? Let's Sum Up Quickly
Needless to say that the trends predicted by Larkin for the logistics industry in 2018 have been a heady mix. They are indeed hard to absorb in one sitting. But Larkin's projection can efficiently be managed if you hire a logistics app development company to build you interactive apps. And this is how they can help you – 
Automating logistics business helps to reduce costly errors and lessen transportation cost. It also increases customer service, gain better organizational control and improve scalability.

Meet the e-commerce delivery challenges with improved uber trucking apps

Uber trucking apps makes technology easier to manage and fall under one organized panel

To resolve the demand pattern and high population shifts, use of logistics management apps is the apt thing

Urbanization gaps help to be resolved with latest uber trucking app features that were kept untouched in the earlier years.
If you think that these problems are something which your logistics and supply chain is currently facing. Even if you have an app, but it might prove to be of little use. Then contact a logistics app development company who understand your demands and needs clearly. They will ensure that you close gateways easily, without any hassles and gain increased profits.
Related How-To's:

How Can Uber Trucking Reduce Risks in Logistics Business?

Ways to Launch Uber Freight Like Logistics Management App