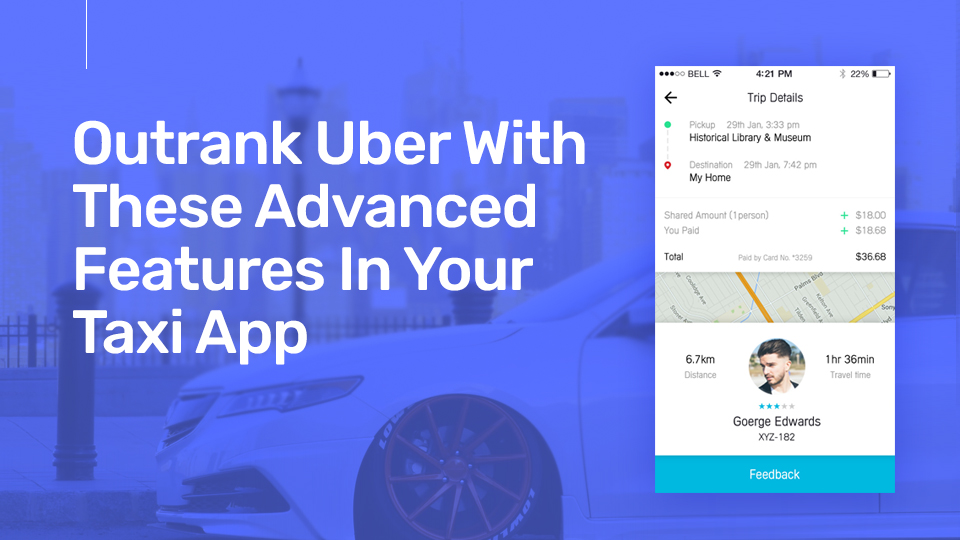 Beat Uber/Lyft With These 9 Advanced Features In Your Taxi App
When Uber took the road less traveled, a lot of startups started copying their model. And it has made all the difference. There is a gold rush that to build the next remarkable thing after uber taxi app, after the rise of a unique taxi solution, Uber. 
TBH, who doesn't want to be the next Uber? It gives you the prolific revenues, easier customer acquisition, hassle-free management and most importantly, an excellent ROI.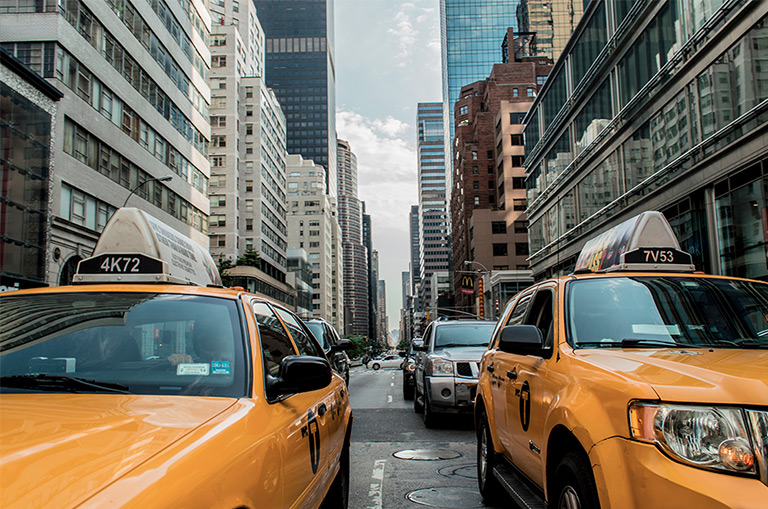 But if we consider today's scenario, the market is on the verge of saturation. Uber has almost acquired a lot of countries and though they have a high price- they are successful in capturing a wide market. So, what about your 'dream' taxi app startup idea? How are you going to succeed in the competitive market? Can your taxi booking app builder help you out?
Which Taxi Startup Other Than Uber Has Succeeded?
One of the most notes taxi app startups that rose from dust is Curb. It is a California based company that now operated more than 50,000 taxis and several hired cars in over 65 cities of U.S. The major difference between Curb and other taxi app giants like Uber and Lyft is that Curb doesn't have surge pricing. In fact, the fare is much lesser as compared to the rivals. Curb rides are billed to be affordable and it offers eco-friendly services. 

The special feature of Curb is that you can book your car 24 hours prior to your journey! And owing to the fewer prices, ridesharing options, and pre-booking features, they are now running successfully all over the U.S.
So, can you see what made Curb successful? The useful features which were actually in need. Simple.
Just having an idea is not enough. To survive and get accepted in the market, ruled majorly by Uber and Lyft. you have to create a taxi app that is different and advanced and all sorta beautiful. Each of them have one thing in common – they follow the success mantra for mobile app for cabs.
What Are Those Advanced Taxi App Features To Be Different Than Uber?
When it's clear that we need some advanced features to be different and really unique, let's go in details on what we need. To start with, Uber-like or any on demand taxi app model, you'll need a driver, user, and admin app. The admin or dispatcher panel stays behind the scene but the drivers and users remain at front. They communicate with your users. Hence, it is required that you bring on the most delightful and useful experience for them with the help of an experienced taxi booking app builder. And to create a taxi app, it starts with…
1. Give Your User The Option to Schedule rides
Remember how Curb did it?
No matter how fast your promise to send a taxi, there is no guarantee that the user will find a car just when they need it. The on demand ride gets too overwhelming, especially at prime/office hours. This is also a reason why you should think of a feature like scheduling a ride or ride later. What you need is a taxi booking app development team that takes care of developing this feature.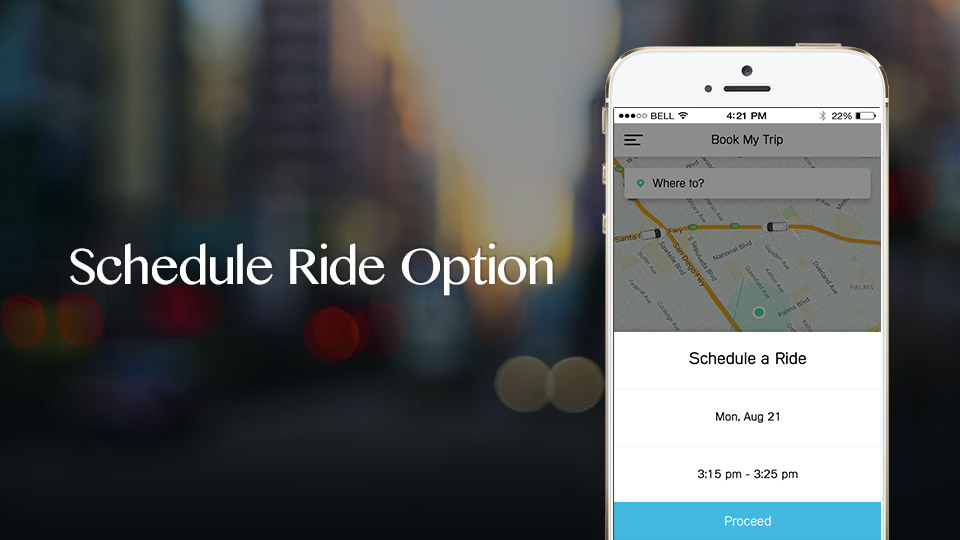 If you have an advanced booking feature, you must also think of adding options to edit their trip details and cancel the trip. You must think of the driving inconvenience here. Set up a time limit or cancellation charges if required. As an add-on to create a taxi app like Curb, you can think of sending a notification to the user, 30 minutes before the trip starts.
2. Let Your User Share ETA & Trip Status for Safety and Convenience
We all run behind time at some point in time. And safety becomes a major concern for both men and women. What majors are you taking for your users who are traveling late at night? Well, I would suggest having the feature to share ETA and current location status right on a button tap. This put our well-wishers and family at ease as they know our whereabouts.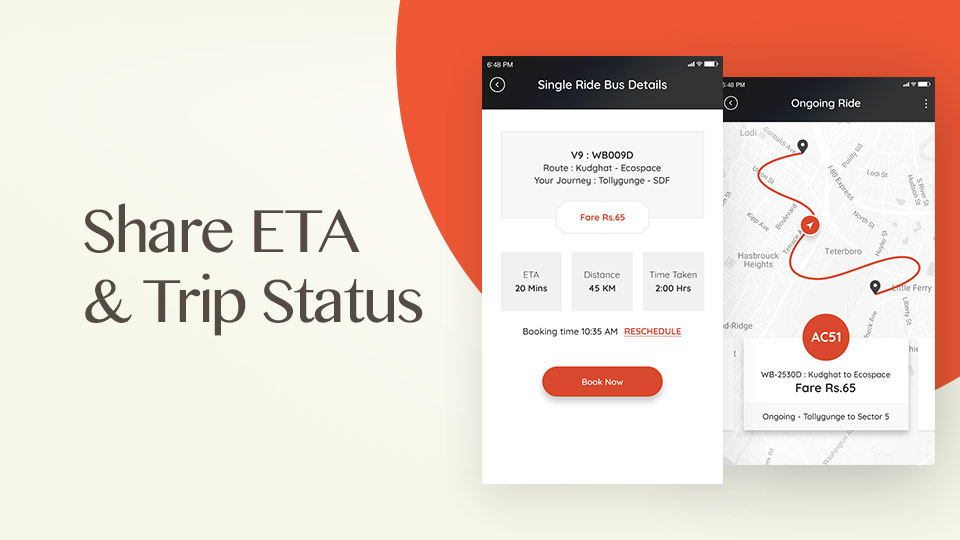 This feature can be integrated with the help of a single button message function, right from the app. You need to have it discussed with your app development team to understand- how they're gonna integrate the API for this. Make sure the message goes instantly to the concerned family member (as saved by the rider). For a backup plan, you can also integrate preferred social networks and email to share the ride status. Ask for this feature to your taxi booking app builder in New York.
3. Go Beyond the limited 'Extra Stops' When You Create a Taxi App
How many stops does Uber allow? Well, just 3! So, can you imagine what convenience you're offering your users if you increase it further?
This is the exact pain point of your user, which you can solve with extra stop feature while en route. There are times when people travel with groups and might need to stop at several places- to grab their necessities. With such a convenient multi-stop feature, users can enjoy their ride seamlessly. You can build taxi booking app which is better than Uber in this case!

Keep it the stop limited to 3 minutes and you are good to go.
4. What About Driver–Rider Chit Chats on In-app Messaging?
Ain't it at times difficult to call your driver and make him understand where exactly you are?
Uber has recently recognized the pain and started their driver and user in-app chat option. It was really inconvenient to switch between apps to communicate. This can be easily solved with in-app messaging.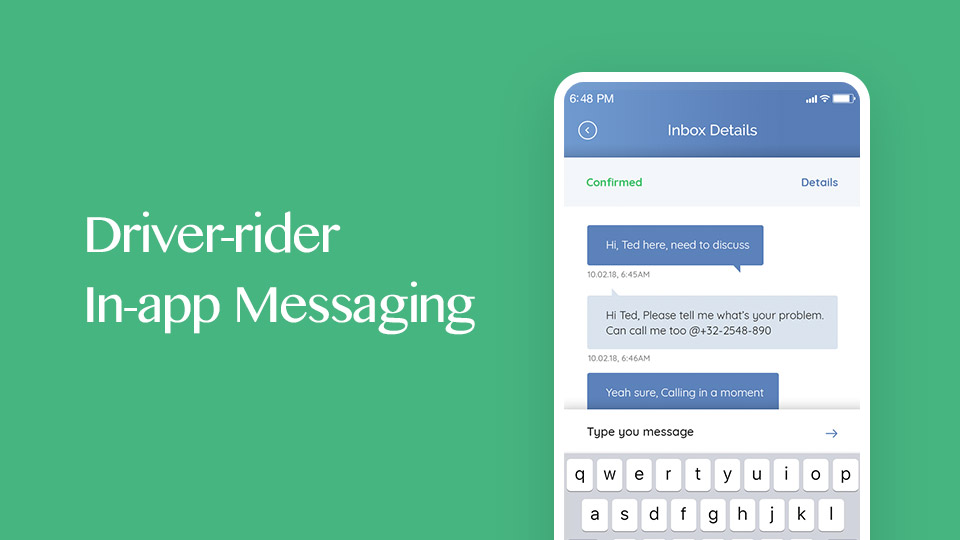 Real-time chats will help the driver and rider further to be at a common touch point. And for the convenience of drivers, they can send a thumbs up to reply, without getting distracted.
5. The Hero Feature- Bidding Between Riders and Drivers
Well, you should know that a majority of the taxi app users are frustrated due to the high far charges. And at times, drivers feel that they are underpaid. Is there even a solution to this drama?
It seems yes, there is. Introducing the bidding feature between driver and users. We did for one of our clients, Here is a snapshot!

How does this work?
Whenever a rider creates a ride request with a particular destination, we show them an estimated fare based on a rate chart. The fare can be modified from your admin panel. On confirmation, the rider creates a bidding request with a bid equal to the initial fare estimate. The bid goes to all the nearby drivers. Now, it comes to the driver. He has got two options:
1. Accept bid: Driver can accept the bid. In case driver accepts the bid, the acceptance request goes to rider which in turn has to be acknowledged by him. After which the rider can make a payment for the same and the trip is confirmed.
2. Make a counter bid: Driver can make a counter bid in case he doesn't approve the initial bid. After making a counter bid, the same goes to the rider. The rider has got two options for the same:
either counter bid, that will again go to driver or

accept the bid made by the driver, make a payment and book the driver for a ride.
The full bidding process to build taxi booking app is real-time and done with the help of MQTT (Message Queuing Telemetry Transport).
6. The Benefits and Convenience of Subscription-based System Feature
Another interesting and unique feature can be a subscription-based system. Never heard of it? Let me explain…
In the subscription-based system, a rider is asked to buy distance in kilometers against some specific money. These kilometers are purchased against different plans. You can adjust the plan right from your admin panel. It is in your control to ascertain KMs validity- for a month or two. After its expiration, rider subscription is auto-renewed with new KMs credited to account. To set the payment, a number of payment gateway integrations are available including Stripe, Braintree and CCavenue.

But what if the rider uses up the KMs? Well, let them buy a brand new subscription for the month! It's that simple. As the ride fare is deducted by the KMs traveled by a rider, they can renew it anytime. Think it is difficult for you? Let our experienced taxi app development team handle that!
7. The Side Hero Feature- Split Fare- Share Trip Payment with Others
There's nothing better than splitting the fare when you are traveling in a group, right? It seems to be the same for your users as well. They are always looking for a taxi app that can help them save more. But wait…
Split fare comes to the rescue. It makes riding affordable for everyone. When your user orders a ride with his group, they no more need to pay for the fare alone. And no more awkwardness to ask their friend to split the fare!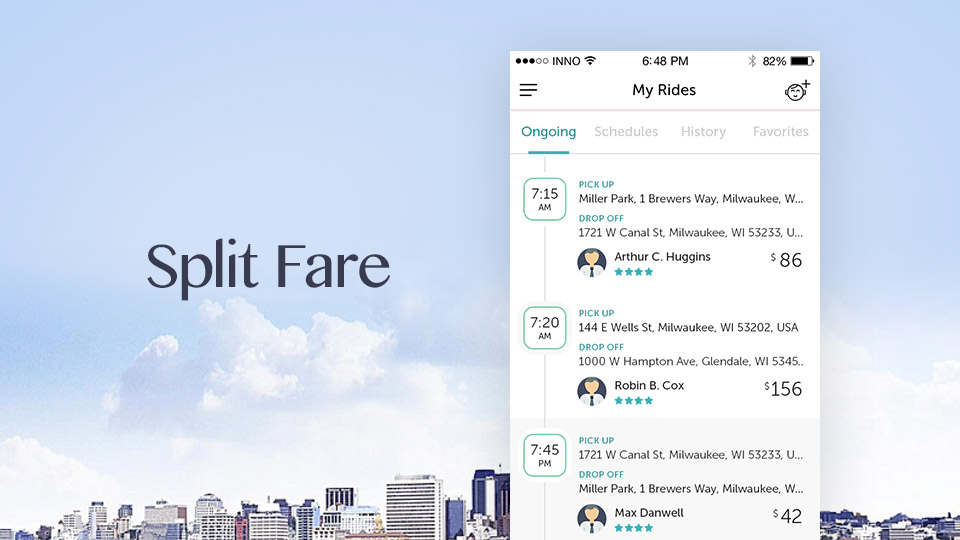 The app will automatically split the fare and share the details with everyone traveling. This nifty small feature can be a lifesaver for your user. No more calculations and your app is going to get more attention.
8. Fuss Free Driver Compliments and Tips
Rating the drivers might not always be the best way to explain the riding experience and services riders receive from them. And that's the reason, you might think about providing the riders a number of options to thank the drivers.
In the previous years, Uber had introduced, quite a few features for the riders to thank their drivers. Complimenting them with "Great conversation", "Excellent service", "Cool car" etc. are some of those.
Though there are other perks that you can add.
Tipping the drivers with monetary bonus might be considered as a prime feature as well. Providing the drivers with extra money other than the price charged would help to boost up their enthusiasm.
And what if the tipping gets cashless?
Cashless tipping can help to eliminate the discomfort the riders face while calculating and providing the riders with cash for real. Not only that but getting tipped cashlessly would also help the riders handle their funds easily.
9. 
Can Surge Pricing Attract More Customers? You Judge… 
Now this optional. Surge pricing is a great deal when it comes to leading taxi app giants like Uber and Lyft. Gett and Curb, on the other hand, are against surge pricing. Let me tell in brief how surge pricing works and why/why not it is beneficial for your taxi app startup.

Demand for rides increases mostly in the rush hours. So many people are requesting for rides and there are not enough cars to meet the demand. Other situations can be bad weather, festivities etc may cause a large number of requests from everywhere. In these cases, a majority of taxi apps shoot up the fare charge depending on the rider's location. Now, this can be quite frustrating for riders as they have to pay up to 2.5X to 3X the normal fare. But it ensures, the highest in demand rider gets the ride.
Rides have the choice to pay more or wait. This might harm your user base. So think before you implement it!
What's Your Take on These Advanced Features?
There is no limit to the imagination when it comes to setting the features of a taxi app. I have tried to help you with the most upcoming and trendy features which can differentiate you from others. If you are up to take risks, the entire market is yours. Want to discuss your taxi app idea with an expert? The top taxi booking app builder is there for you. Tell us how and where you want to launch your taxi app and we'll make the difference.