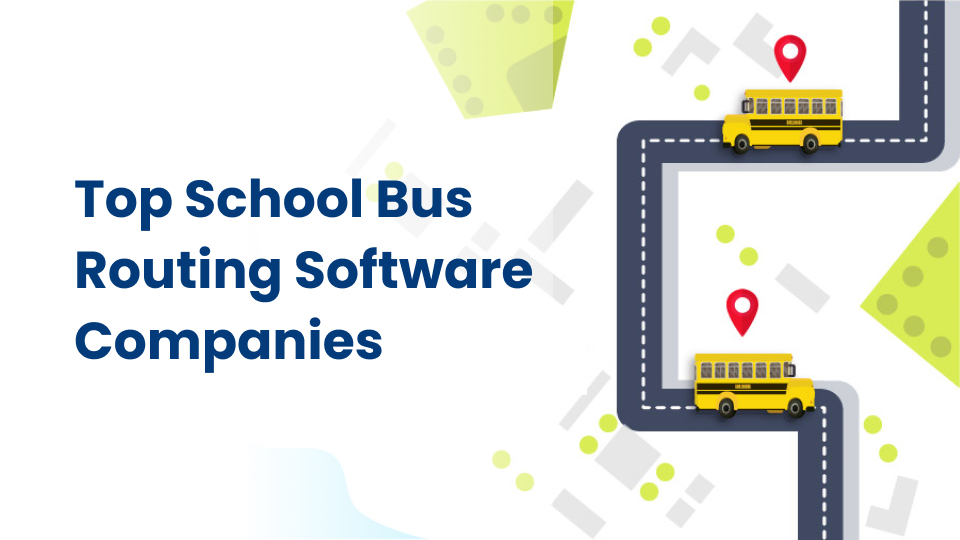 Top 10 School Bus Routing Software Companies
School bus routing software is becoming increasingly important for school districts worldwide. This software helps schools create efficient and safe bus routes that ensure students get to and from school on time. Also, it minimizes travel time and reduces costs. With the rise of smart technology, school bus software has become more sophisticated, providing real-time data and analytics that allow school administrators to optimize their transportation systems continually.
As per a report by Grand View Research, the global school bus tracking software market size will reach USD 219.6 million by 2027, growing at a CAGR of 14.6% from 2020 to 2027. The report also highlights that the increasing focus on student safety and transportation efficiency, along with the growing adoption of cloud-based solutions, are some factors driving the demand for school bus route software. 
Additionally, the National Highway Traffic Safety Administration or NHTSA estimates that approximately 480,000 school buses are transporting 26 million students in the US alone. It underscores the need for efficient and safe transportation systems, which school bus software can provide. 

What is bus routing software?
Bus routing software helps school management efficiently plan and optimize bus routes for picking up and dropping off students. It uses advanced algorithms to calculate the most efficient routes based on factors such as:
A. Students' addresses
B. Bus capacity
C. Traffic conditions
D. Time constraints
The software can also generate reports and provide real-time updates to ensure that routes operate as planned and quickly respond to any changes or disruptions.
Improve school transport services and ensure student safety with school bus tracking software
Bus routing software can benefit school transport in several ways. Let's focus on some of the key benefits:
I. Improved safety: By optimizing bus routes, school bus routing software can help reduce the risk of accidents and enhance students' safety. The software can identify the safest and most direct routes for each bus and the best pick-up and drop-off locations.
II. Cost savings: By reducing the distance traveled by buses, school bus tracking software can help save money on fuel and maintenance costs. The software can also reduce the number of buses required, which can result in additional cost savings.
III. Time savings: By optimizing bus routes, bus routing software can help reduce the time spent on the road, which can lead to faster pick-up and drop-off times. It can be particularly beneficial for students who live far from school or have long commutes.
IV. Increased efficiency: School bus fleet management software can help transportation companies and schools run more efficiently by streamlining the routing process. It reduces the workload for transportation staff and improves overall transportation operations.
V. Improved communication: School bus management software can provide real-time updates on bus locations and estimated arrival times, which can help improve communication between transportation staff, school administrators, and parents. It can help reduce stress and anxiety for parents waiting for their children to be picked up or dropped off.
Here, we've come up with a list of best school bus routing software companies to help you get the best solution for your institute. 
Best routing software companies for school buses
AllRide Apps is a leading technology company specializing in developing transportation management software for schools and districts. The company's flagship product is its innovative school bus tracking software, which enhances the safety and efficiency of student transportation.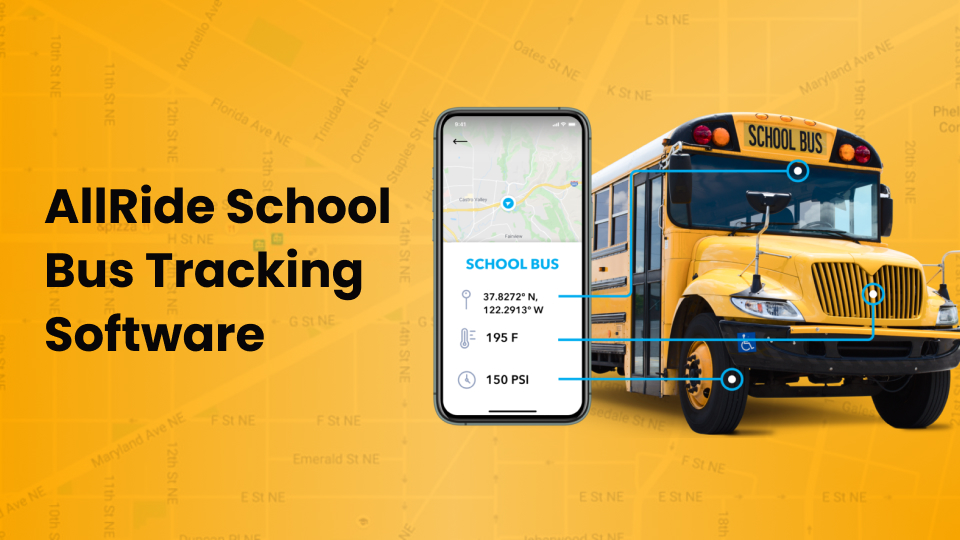 AllRide's school bus tracking software has powerful features that make it an indispensable tool for school administrators and transportation managers. Some of the key features of the software include:
a. Real-time GPS tracking of school buses
b. Automatic notifications to parents about bus delays and route changes
c. Tracking bus driver performance and adherence to safety protocols.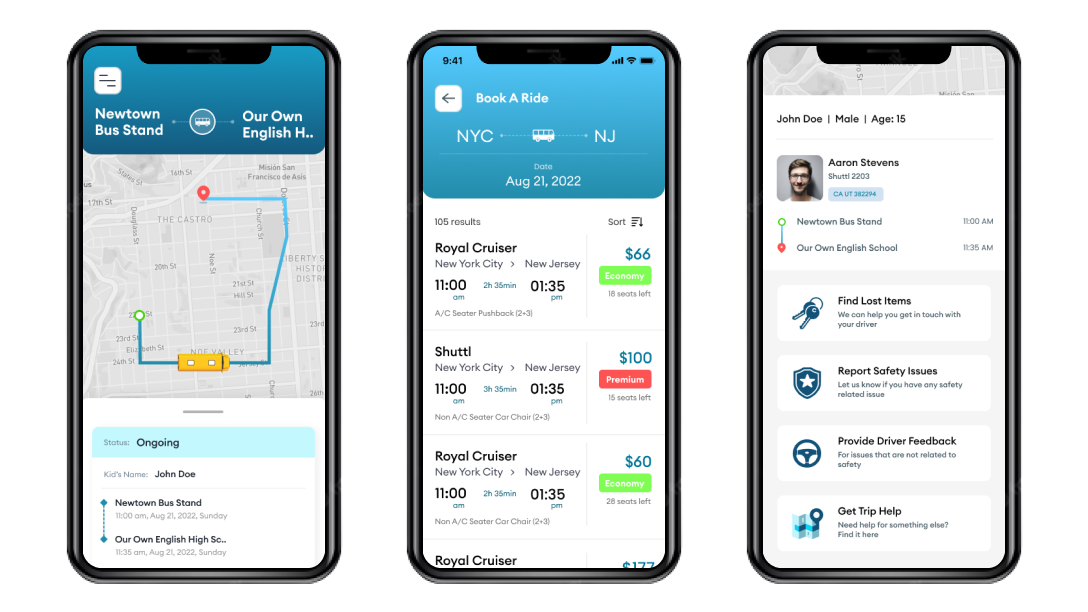 Moreover, AllRide's school bus tracking software also offers several unique selling points (USPs) that set it apart from other solutions in the market. The software is highly customizable, allowing school administrators to tailor it to meet the specific needs of their district. 
It also integrates seamlessly with other transportation management systems, making it easy to use alongside other software tools. Another key USP of AllRide's school bus tracking software development is its user-friendly interface, which makes it easy for both school administrators and parents to use. The software is available on multiple platforms, including desktop, mobile, and tablet devices, making it convenient and accessible for everyone. It has three modules: user app, driver app, and dispatch panel.

2. BusPlanner
BusPlanner is a company that provides software solutions for student transportation. The company aims to help schools and transportation providers run more efficient and effective transportation systems, ensuring that students arrive safely and on time. They offer tools that help school districts and bus contractors streamline their operations, including route optimization, fleet management, bus scheduling, student tracking, and more. The company is based in Canada and serves clients across North America.
3. Synovia Solutions
Synovia Solutions is a technology company that provides fleet management software and GPS tracking solutions for K-12 schools and other organizations. The company was founded in 2001 and is based in Indianapolis, Indiana, USA. Synovia Solutions offers a range of solutions to help improve safety, efficiency, and cost savings for school transportation fleets, including real-time GPS tracking, driver behavior monitoring, route optimization, and maintenance management. Hundreds of school districts nationwide help with their school bus software. 
4. Versatrans
Versatrans is a software company that provides transportation management solutions for K-12 school districts. Features of their software include routing and scheduling, GPS tracking, telematics, student transportation management tools, and mobile apps for parents and students.
5. Transfinder
Transfinder is a software company that provides school transportation solutions with advanced features. Transfinder's solutions enable school districts to optimize transportation operations, improve safety and efficiency, and reduce costs.
6. Edulog
Edulog is a provider of school bus routing and tracking solutions. Their software offers efficient and accurate routing algorithms, real-time GPS tracking, and student tracking features. Edulog's system also integrates with parent communication tools and provides comprehensive reporting capabilities for school districts.
7. Optibus
Optibus offers a solution that includes school bus routing functionality. Their software utilizes advanced optimization algorithms to create efficient and cost-effective bus routes. Optibus offers real-time tracking, driver management tools, and a user-friendly interface for school districts to manage transportation operations.
8. Zonar Systems
Zonar Systems offers a range of fleet management solutions, including school bus routing software. Their software incorporates GPS tracking, student tracking, and routing optimization features to ensure safe and efficient transportation. Zonar's system integrates with its fleet management platform, providing a comprehensive solution for school districts.
9. TransPar
Routefinder is a school bus routing software developed by TransPar, a leading transportation consulting firm. The software offers advanced routing algorithms, real-time tracking, and comprehensive reporting capabilities. Routefinder optimizes efficiency while ensuring student safety and provides tools for managing driver assignments and vehicle maintenance.
10. TripSpark
TripSpark provides various transportation management solutions, including school bus routing software. Their software offers robust routing optimization, GPS tracking, and student tracking features. TripSpark's system also integrates parent communication tools and provides a user-friendly interface for school districts to manage their transportation operations effectively.
Embrace school route software to ensure unmatched transport services & student safety 
School route software companies play a crucial role in improving the efficiency and safety of school transportation systems. These companies offer innovative solutions to help schools and transportation departments plan, manage, and optimize bus routes, schedules, and tracking. With their advanced technologies and features, school bus routing software companies enable schools to provide better service to students and parents, reduce transportation costs, and enhance student safety. Additionally, these companies contribute to the overall improvement of the education system by freeing up valuable resources that can be allocated to other critical areas of education.
Related Articles
School Bus Tracking Software Development Guide
A Comprehensive Guide of Implementing AI in School Bus Tracking System
The Only Cost Estimation You Need For A Bus Booking Software