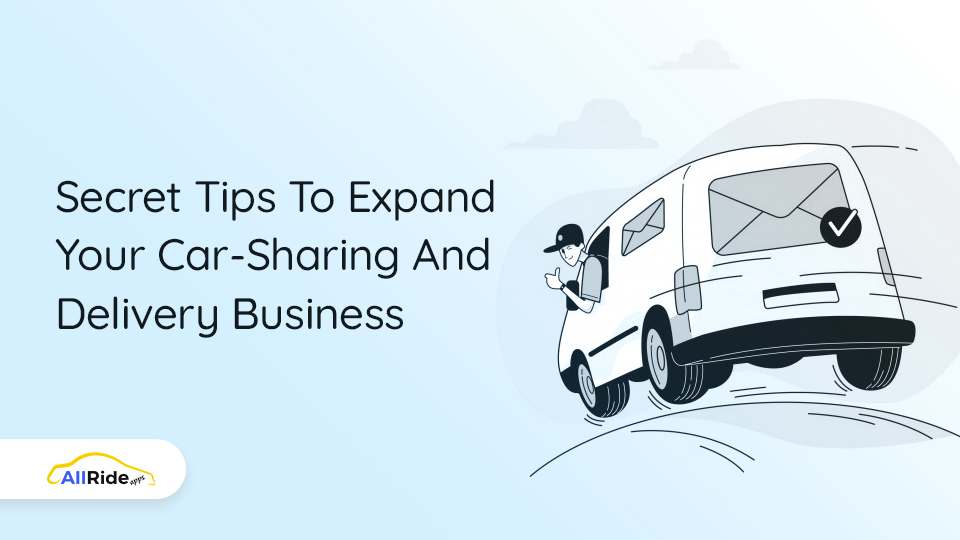 How To Scale Your Car-Sharing And Delivery Business?
Nowadays, people are having the least time to waste in public transports and a significant rise has been noticed in the income pattern of the middle-class population. Hence, this can be a very nice time to scale up your car-sharing and delivery business. The major target of your car sharing business scaling strategy must be focused on increasing efficiency and profitability. Car sharing and delivery businesses have the great potential of improving mobility in cities.
According to the opinion of 40% of respondents of a survey conducted by McKinsey&Company. "Out of those who did use car sharing, nearly one-third of them said that they expected to increase their use of car-sharing over the next decade". This is a great indication for us to figure out that although the business is having great potential. However, there are still untapped points of this segment which can surely promise nice returns. This also indicated the gradual evolution of the transportation industry which is now touched by the magic-wand of digitization. 
To provide a better level of understanding, this article deals with the methods of scaling the mentioned business in two parts. One part focuses on transport business scaling strategy and the other will explain to you how to scale a delivery business. So if you are a startup, or any individual seeking to start a car-sharing and delivery business, this article can provide you streamlined guidance in the process.
A. Transport Business Scaling Strategy
You can have the idea of or may own a transport business relevant to car sharing or third party logistic models. It is very significant and compulsory nowadays that your business must have digital support. Gone are the days when people were completely dependent upon print and broadcast media to know about the happenings in a town. Today, digital media speaks for itself.
For the digital reinforcement, your car sharing business plan must comprise an application development section. A car-sharing app can be a great tool in upscaling your transport business, only if it's updated with all top-notch security features. It helps the fleet managers on the grounds like – 
Tracking vehicles using real-time analytics feature of car sharing apps

Release from overburdening paperwork due to automated report generation feature of apps

Instant and real-time car engagement tracker for accurate monitoring

Accurate vehicle payment timeline estimation for better planning and payment schedules

Multi-device support and cloud network competency for any time, anywhere access to control dashboard 
From the above points, you can observe that you are getting a genuine and reliable tool for time, resource, and payment management. This will certainly be your first step towards increased productivity and efficiency.
This also signifies that proper fleet management is a very necessary section of your car-sharing business to ensure higher returns. You must identify which are the key areas that need to be improvised. Also, you need to check how can businesses be leveraged in terms of digitization of fleet workflow.

Key Areas Where Transport Businesses Can Improve Profitability And Efficiency
Fleet Management is the most important and inseparable segment of your car-sharing business. It is this section of your business operation which can ensure complete productivity of your business. In order to make the maximum out of your car-sharing business model, you have to adopt a car-sharing app and automation.
1. Manage Traffic Congestion Time
The real-time tracking and map access feature of car-sharing apps can be very helpful to tactfully handle hours with high traffic congestion. With the help of this feature, you can figure out alternate routes that your car can or fleet can follow to complete one trip, thus saving time and fuel both. This feature will certainly help in the navigation process and increase overall income per day.
A car-sharing app can also help you save time by not relying upon unnecessary or stressed dependency on paper works. All business activities get recorded with each billing done on this digital platform.
2. Cost-saving Business Scaling Strategy
To enhance profit at the optimized use of available resources, you must have a cost-saving business model. Your car-sharing app can guide you through the income and expense charts which can be very helpful for you to determine profit-making matrices. 
59% of respondents of a survey done amongst car-sharing fleet managers have reported that their vehicles are draining more money out of their vehicles than expected. Hence, car-sharing app development can be your first step towards a cost-saving business scaling strategy.
3. Ensure Better Communication And Collaboration With Drivers
The drivers are the face of your car-sharing business. It is their behavior, driving skills, and attitude which can bring both positive as well as a negative impact on your business. And it is known to all of us that every employee works well when the boss is around.
Your car-sharing app allows you to monitor the performance of the driver in each car of your fleet very closely. This is also known to the driver that he is under the scanner of his boss. Hence, this feature enhances the performance of the driver and prevents him from exceeding any behavioral limit with customers.
On a single click, you can instantly gain access to the entire contact details of your drivers from the app. This feature is generally available in the admin dashboard for facilitating smooth communication between fleet managers and drivers.
4. Prioritize Customer Satisfaction In Your Car Sharing Business Plan
Punctual, fast, and comfortable mobility is the primary lookout of customers when they avail of car service. In your car-sharing business, the mobility of your vehicles can face many constraints. It can be traffic congestion, the inability of drivers to take up the proper route, or any vehicle breakdown.
According to a survey conducted by one of the leading data analytics companies of the United States, it was recorded that 33% of customers are dissatisfied with car-sharing services. As they rarely find drivers reaching their pick up point on time or before ETA. 
To mitigate all or any of these situations, you must stay connected with your vehicle and driver all throughout the operation hours of the day. Your car rental software can be the greatest tool to help you with this. It enables you to get connected with your driver easily and suggest to him as to how to reach out to the next customer within the provided ETA.
Digitization To Make A Better Car Sharing Business Model
If you are thinking of digitizing your car-sharing business model, then your first step should be car-sharing app development. Tracking and reallocation of your resources are the most integral part of fleet management. This will be a great initiative in your car-sharing business scaling strategy.
Manage Your Car Sharing Business Like A Pro
Out of the numerous benefits of a car-sharing app for fleet management, the most imperative ones can be listed as – 
1. Convenience In Daily Scheduling
Route planning, fuel and time management, and efficient sequence of deliveries are the major factors of daily scheduling strategic planning. A car-sharing app provides all features to guide you through the performance of drivers. It will also guide you with the status of your vehicles to help you in making a proper daily schedule for your fleet. 
2. Monitor Your Fleet Closely
Not only closely, but you can also monitor your fleet from anywhere using any device. Depending upon the level and expertise implemented in your car-sharing app development, it can enable you to monitor your fleet anytime from anywhere. A high level of development can also provide you with details like vehicle fuel status, vehicle insurance, and permit dates, and other performance attributes.
3. Communicate With Drivers Clearly And Safely
It is very important to have a clear mode of communication with drivers to manage your entire fleet properly on road. Your car-sharing app can provide a feature in which you can address all drivers in your fleet collectively in case of any regulatory announcement or update. They can communicate back with you using the same system without taking their eyes off the road.
4. Track Your Driver's Riding Pattern
As already discussed, your drier is the face of your car-sharing business. Hence, along with him, his driving pattern also holds importance for your business. Car sharing app can help you record data related to instances of over speeding, excessive accelerating, and sudden braking which can cause problems to customers on the ride. 
5. Release Yourself From Payroll Stress
This is another factor that can stress you up in your car-sharing business. A car-sharing app has records of all indices in terms of hours of drive, days of work, and can take into account your reduction policies. You can get an automated salary or wage detail against each of your drivers from this app at the end of a particular day or month. 
B. Delivery Business Scaling Strategy
This section is going to feature all the important aspects which can explain to you how to scale your delivery business. All your requirements related to time, resource, and cost management can be easily met if you opt to go digital. In your delivery business scaling strategy, you must have the plan to adopt the means. This can help you in better routing, tracking, communication, and analysis activities.

Why Do You Need To Scale Your Delivery Business?
To obtain a perfect business mix of technological features, productive employees, and satisfied customers, you must adhere to a digital business model. The first step of this model is the delivery app development. Although not all, yet few most dynamic features of this app which can help you in your delivery business are – 
1. Helps You To Meet Customer Expectations
Your goals and commitments towards providing dedicated service to your customers can be a major USP of your delivery business. A delivery business app can be configured in the way so that all your priorities and set of rules get encrypted in its functionalities. This will help your customers know your policies and your employees will also be guided to keep up to the mission.

2. Helps You Know The Trend
The delivery business app can easily track canceled orders and can alarm you of customers who are having such habits. It can also provide you with comparative data as to which of your drivers are comfortable in delivering at which locality of the city, If you get to know about such trends, it will help you in better planning and operational strategy making roles.
3. Eliminates Man-Made Errors
A delivery business app development process is the outcome of technical precision and expertise. For this reason, all your business activities are segregated in convenient formats over a very user-friendly interface. Hence, you can access, monitor, update, and review every phase of your business which guarantees the least chance of error or waste of resources, time, or money.
4. Helps You To Reduce Paperwork
As a delivery business app will provide you with a live update of every activity going on in the fleet of your delivery vehicles and drivers, it can record those as well. Hence, your admin dashboard has the planning, scheduling, estimating, and accounting tools. This will release you from all types of stress-related to space, time, and cost management along with Payroll features too. This reduces your dependency over paperwork. The real-time tracking system will prevent you to resort to your guess regarding the location of your vehicles in the fleet.
In A Nutshell
Be it your car-sharing business or delivery business, if you are in the process of developing a business scaling strategy, digitization must be your first priority. The features of car-sharing and delivery business app makers your business monitoring task much easier and takes you closer to all aspects of the same. It also helps your customers to gain access to a better interface to interact with your business.
Allride has been a pioneer in transportation business and has delivered successful AI-driven solutions to its clients. Want to know more about how you can scale your car-sharing and delivery business effectively? Then have a FREE consultation with our experts today.