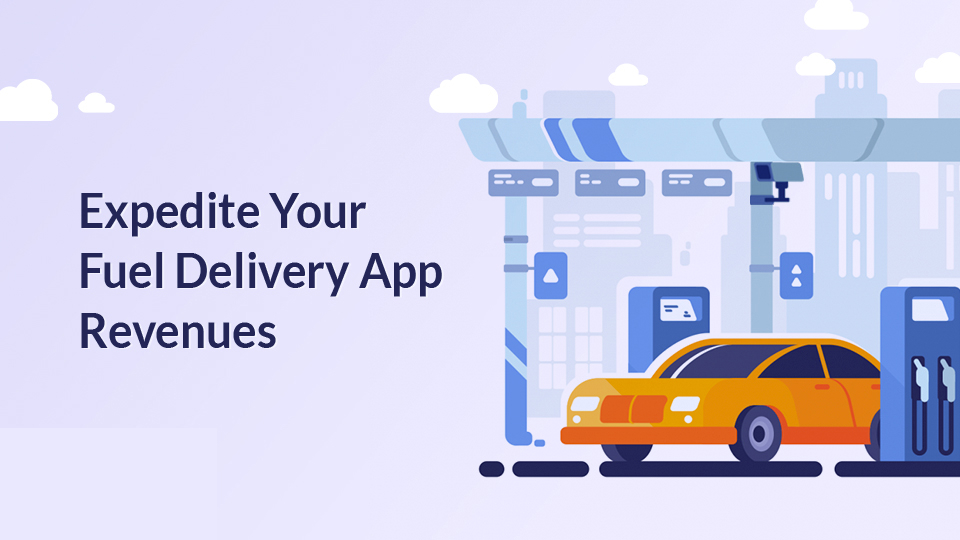 Expert Fuel Delivery Growth Strategy And Business Models
This article is a guide for anyone who is looking for expert fuel delivery growth strategy? Get your business a digital platform with the help of a fuel delivery app development company.
The idea of a gas station driving to you instead of you driving to the gas station hit the market in 2015 and took the users by storm. In a bid to provide an alternative solution to what is commonly perceived as an inconvenience, numerous businessmen and startups saw this demand as an opportunity to cash in. Several uber for gas delivery startups mushroomed all over the world and tried to grab a share of this untapped market by applying the best fuel delivery growth strategy.
If you think that the Uber for X industry has exhausted every possible scope of business that is yet to be explored, you are in for a surprise. Every year, the on demand market has something new to offer.
The oil and gas industry is currently worth at least $75 trillion and does not show any signs to slow down in the near future. It grows at an annual rate of 5% CAGR between the forecast period of 2020 – 2024. Despite global efforts to promote alternative energy like electric run vehicles, fuel powered vehicles will rule the market for many more decades to come.
As business owners realize the potential of giving users access to their service through an online platform, it is quite a challenge to survive the market without one. Fuel delivery industry too is shifting online at a slow pace. Early market adopters like WeFuel, Yoshi, Booster Fuels, and Gas Ninja are currently operating in several cities across the United States and Europe.
Popular Gas Delivery Business Models
On demand gas delivery systems differ in terms of business model and user journey. They all fall under the same parent category; fuel delivery, but operates according to their specific delivery plan. Just a few examples from existing fuel delivery startups:
1. WeFuel Model
Their business plan is pretty simple and quite similar to on demand food delivery services. You open the app, allow the software to access your location, choose fuel type, quantity, pay the bill, and you are good to go. WeFuel promises to come to your parked car on an average response time of about 20 minutes. They charge a delivery fee for their service.

2. Booster Fuels Model
"Park your vehicle, pin your location, gas delivered", read a poster of Booster Fuel. All you need to do is park your vehicle, pin your location, pop the fuel door open. Go about doing your job and they will fill your tank in a matter of few minutes. Booster Fuels has tie ups with companies that have their own parking lot like Facebook, Pepsi, PayPal, and eBay. They have their own fleets that are smaller in size compared to regular fuel vehicles, that can fit into any parking space. What makes them popular is the fact that they don't charge any delivery fee for their services.

3. Yoshi Model
Yoshi is more than just your regular fuel delivery company. They provide complete car services like car wash, oil change, tire check, engine cleaning, and of course, fuel delivery. You can get your tank filled on a regular basis for a subscription fee of just $16. The price per gallon drops if you get other services as well. They also have a free 30 day free trial for anyone who is willing to try their services. Yoshi has incentive programs like a free refill if you refer a friend or family member to try their service.
4. Filld Model
Filld does not come to your parked car for a refill service anywhere, but rather to your neighbourhood on destined days every week, twice. This way, they are able to provide the wholesale rate in a given area, thus reducing the cost. They charge a small delivery fee as well, which covers every vehicle on any account. You get a text message from them, asking if you want your tank filled. On replying "yes", they come to your locality and do their job.
Fuel Delivery Growth Strategy And Tips
If you want to start working on your fuel delivery business plan or take an existing fuel to digital platform, you must have a few smart strategies up your sleeve to ensure a sustainable revenue flow to your business. As industry experts, we know what makes a business more visible. Ready to explore them?
1. Market Research
Get an idea of what the fuel delivery market looks like in the location where you want to start the business. There is no doubt that uber for gas delivery is a huge one with tremendous potential, but that does not necessarily guarantee success if you launch one.

So dig up information on popular companies as well as the struggling ones. Visit their websites, CEO interviews, app store reviews, and take cues from whatever you have gathered. Learn from their failures and understand what made them popular or hated. Create user personas if you think that's helpful. If something has worked for them, it will work for you as well if implemented right.
2. Ace Your App Game
For any app based business or startup, the stability and overall quality of your software impacts user experience and profit. Also, you can think about fleet fuel management software. It is the smart tool through which you connect to a huge user base and attract more. So, pay close attention to what the user wants and do not ignore an issue if it is commonly faced by a considerable number of customers. As app development experts, we suggest you avoid these UX mistakes in your product.
3. Optimise Your App
There is no point in burning a large hole in your pocket for app development, it fails to attract enough users to give you a good return of investment. So we recommend that you follow a checklist that has worked for most app based startups and businesses. These tips are:
Put the keyword in the title and description.
Write a good, engaging description. We can even write one for you!
Use screenshot and videos from your app.
Keep updating your software with inputs from users.
Size matters: make sure your app's size is not too big. It discourages users from downloading.
Did you know that a better icon can boost your downloads by up to almost 560%? Put as much time and effort required to make an icon that is catchy. Try out a new one if something doesn't work.
What's Your Take?
Starting your business is no easy task, and working with hundreds of businesses for almost a decade, we understand that each business has different needs. We have a team of tech wizards with years of experience and expertise in creating fleet fuel management system software products that users love and has the potential to make your brand famous.

We have worked on multiple on demand delivery solutions in various industries, which made us industry experts in this arena. So for any queries or business needs, or simply want to validate your idea, do not hesitate to get in touch with our experts.