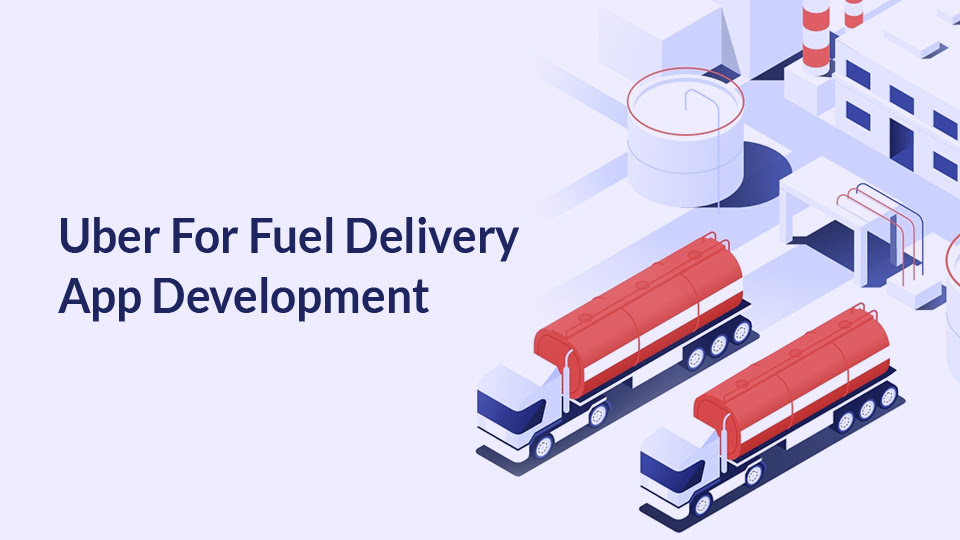 Comprehensive Guide To Gas Delivery App Development
This blog is a guide to anyone who wants to launch their on-demand gas delivery app-based business and is looking to hire a gas delivery app development company for their software project. 
The future is all digital. Codes and binaries make up the structure of the most integral part of modern living; technology. Every inch of our lives has been penetrated by smart and advanced solutions that are more efficient, faster, and easier to access. Technology today aids us daily – from booking a cab within a few seconds to getting instant medical care, it has become impossible to spend a day without a little help from technology. From booking cabs in a few seconds, getting freshly cooked meals delivered in minutes, and even getting instant medical help, there is little space left to be explored by technology and digitized.
On-demand gas delivery apps are adding fuel to this uber for the X market with innovative fuel delivery dispatch software. As the on-demand app industry was estimated to be valued at $335 billion by the end of 2015, the user base for instant services is expected to see a hike in the coming years. Uber for gas delivery is one such industry that is gaining the spotlight for all the right reasons recently.
Gas Delivery App Development Is Currently Gaining Attention
Millennials want everything at their fingertips and a few entrepreneurs are smart enough to realize the potential of this market. They have built and launched their fuel delivery systems, becoming the early adopters of this technology. A few of the largest stakeholders of this market are:
With a brand slogan of "Gas, unstationed" WeFuel is a fuel delivery system that provides on-demand gas refill to your parked car within an estimate of 30 minutes. Launched in January 2016, this Uber for gas startup currently operates in San Francisco, California. They charge you $7.49 per change while the price of gas per gallon may depend on the pin code.
WeFuel uses GasBuddy as the primary source for this data. Extra security measures like keeping a fire extinguisher nearby while refilling your tank makes them a trusted service in the city.
This Silicon Valley startup will fill your tank for a $7 delivery charge. The founder of Filld believes that they are more like Amazon, rather than Uber as reported to The Verge. He believes they are doing what Amazon did with books, to gas.

Source: sanfrancisco.citymomsblog.com/This startup was founded in 2015 and since then, it has been serving customers in Washington D.C. and Vancouver. Filld also provides B2B service to fleets in Portland, Washington D.C. and Vancouver. You can get your car's tank filled on the destined days of the week. They text you on those days to know if you need a refill. On replying yes, Filld will come to your location and do their job.
This app-based service fills gas to vehicles in office parking lots. Founded in 2015, it operates in 20 cities across the U.S. FuelOS, that powers the entire networking system of this business is a software responsible for routing, dispatch system management, and built-in predictive analysis.
Fortune 500 companies like eBay, PayPal, and Oracle are using Booster fuels' services for their employees. Health clubs, retail centers, and university campuses are also using the facilities of Booster Fuels to their benefits. They charge no delivery fee, which is a major USP of this startup.
Yoshi, a gas, wash, and service provider startup raised about $15 million in funding and expanded from just 3 cities to 16 in just one year. They charge a monthly subscription fee of $20 and provide services like changing tires and car wash apart from delivering gas. Customers get discounts if they choose ancillary services and a free fill-up upon referring to friends or family.
How On-Demand Gas Delivery Apps Work?
The success of building a sustainable network system depends on the tool on which your business is centered – the on demand delivery app. Despite the fact that on-demand fuel delivery startups are popularly known as uber for gas, these services have more resemblance to food delivery apps. How so? Let's understand the architecture of apps like WeFuel or Yoshi.
Account setup: first-time users should create their account with vehicle details.
Set location: help the service know where your car is parked for easy tracking.
Choose delivery frequency and date: some gas delivery businesses allow you to avail their service by setting date and time for delivery that will be convenient for you.
Select fuel amount: Choose how much gasoline you want in your vehicle.
Pay online: pay for your order using secure payment gateway apps.
There are dozens of gas delivery apps and all differ in terms of service and user experience. But the fundamental idea of these app-based services remains the same. The one with the best user experience, service rates and efficiency will win the game of attracting the highest number of users in the long run.

Leverage The Gas Delivery App Development Benefits
Startups and business entrepreneurs around the world are looking for ways to expedite their profits through an online platform. Gas delivery startups that exist today were built with one pain point in mind: driving to gas stations is not a task people look forward to. Therefore, the idea of a gas station driving to you instead of you going to one became highly popular. There are several challenges that Uber for gas delivery services are tackling successfully. Let's analyze these:
On-demand services are gaining popularity due to the efficiency it provides compared to services that lack an online platform. Fuel delivery systems are helping customers with a rapid solution that is fast and cost-effective.
Gas stations often have scores of vehicles lined up for a tank refill. If you want to avoid waiting in the queue, fuel delivery services will come to your rescue. Wondering how such services save you money? Apps like Booster Fuels aim to refill vehicles parked in the parking lots of companies, universities, health clubs, and others. And they have no subscription or delivery charge for this service.
Solves A Real Life Problem
Imagine that you are in the middle of a highway or someplace far away from a gas station. And you are out of fuel. 5 years back, this could have been a tricky situation. But now, help is just a few clicks away. Put your location, fuel details, and you are good to go in a few moments. Fuel delivery companies like Filld even let you schedule fuel delivery and refill at your doorstep.
One of the most effective tricks of customer retention is to establish a two-way communication system. Gas stations provide a service that does not allow any space for connecting to their customers. An app-based service, however, fills that gap with built-in features like push notifications, feedback options, customer satisfaction reports, or chatbots.
Automation Reduces Business Expenditures
This century saw a rise in the utilization of automation and artificial intelligence like never before. Business owners are starting to realize its potential in reducing time, effort, and expenses.
Software that analyses data and estimates logistical information eliminates the need for manual research work to an enormous extent. The admin panel of your app is more than just a central control system, it is a powerful tool that gives you every information you need.
Gas Delivery App Development Cost Estimate
If you want a software solution for your fuel delivery business, then getting the features right is one of the most crucial tasks. The final cost of developing an application depends on several factors: technology used, development time, and UX apart from the features. Post development and delivery, there will be some maintenance fees charged by your gas delivery software company.
A B2C business like WeFuel or Booster has 3 panels in their apps – one each for users, drivers, and web admins. To give you an idea, these are the features you should consider for gas delivery app development.
User App Features
Needless to say, this is an important panel as the success of your business depends on the performance of the user app. No one likes a buggy app or a poor user-experience, which can be avoided by hiring a gas delivery app development company that tests a product thoroughly before delivery. Here is the list of features:
As this is the first screen of the app, this is where you try to create a good first impression. The registration process should be as simple as possible. Users are likely to abandon your product if too much information is asked during login or registration.
If you are thinking of a business model like Yoshi, who provides car washing, repair, and tire changing services apart from refueling vehicles, let your customers choose their requirements before filling in more details.
For any on-demand service, instant booking option is mandatory. Let customers book the type of service they with one-click order option. Previous orders can also be listed to allow users to repeat without entering more details. After order confirmation, it can be canceled anytime.
For easy identification of the car by delivery stuff, the car model and registration number of the vehicle. They can fill in the details for more than one vehicle.
After the customer puts in their details and requirements, an order summary will be generated with a detailed breakdown of the charges. This step will come right after the customer confirms their order.
Location Access And Tracking
Let customers share their location through auto-detection or manually. This will help the users get instant service and if that area is serviceable. Users can also view the live location of the delivery vehicle as it arrives.
Details like fuel type, amount of supply needed along with other details like any special request or information that the user might want the service provider to take care of.
Give your customers the option to get their vehicles refilled at a set time on particular days. Filld has a model for delivering to a particular neighborhood on destined days. They have wholesale rates depending on the location and a small delivery charge. If you are thinking of a model similar to that, then a subscription feature that allows them to fill out the details is a must.
The importance of payment gateway integration especially in an on-demand app cannot be underestimated. No matter what type of service you are providing, it is important to let your users transact securely with trusted payment gateways like PayPal, CCAvenue, or Stripe.
Make your software more user friendly by giving them an option to communicate with the drivers after the order has been confirmed for instant help. You can also automate this to an extent with the help of a chatbot.
Keep your existing customers from switching and attract new ones with referral program benefits and first-time use discounts. No one likes to pay more, and incentives like giving special discounts occasionally equals a happy customer base.
Establish an effective way to keep in touch with your customer base with push notifications. Many companies misuse this feature with excessive advertisements which eventually leads to blocking. Push notifications are an important tool for data collection if used right. Also, special discounts, refund confirmation, and order status will be sent via notifications.
Account management and profile details let users edit important details from the account settings section. Customers will be able to add or remove vehicle details, payment options, subscriptions, and view order history.
Driver App Features
The driver app is the software through which your business runs smoothly. It connects your users to fuel delivery service providers. A good app experience equals happy workers and better service. Before you hire a gas delivery app development company, make sure that they can integrate these features. What features must you consider for the driver software?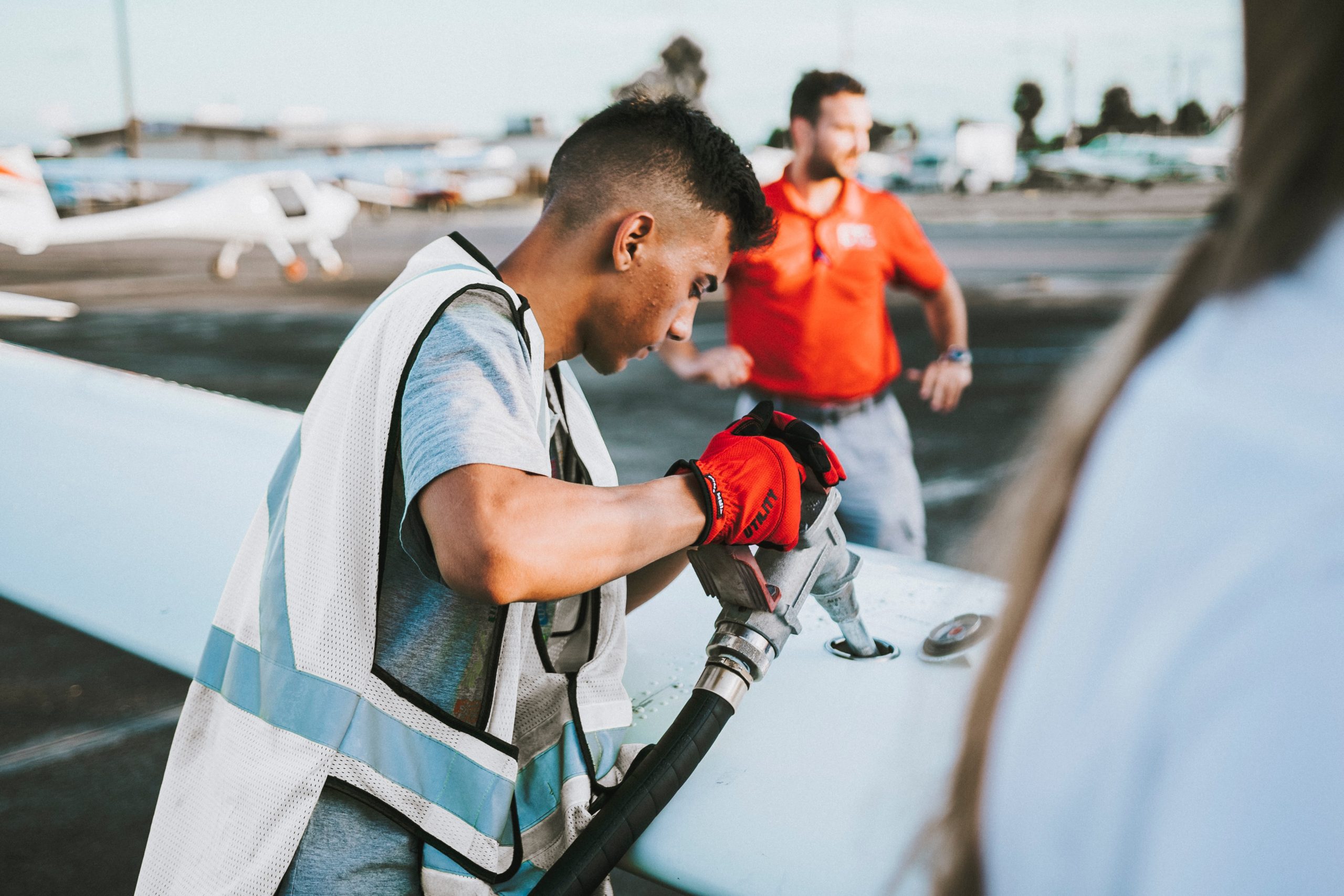 Let new employees sign up for your business with minimum effort. Basic details like name, number, driver license documents, bank details for payment, identity proof, and other details you might need. This, of course, will be followed up by verification in person in an office closest to them.
Delivery agents get instantly notified in their apps with an alarm for new order requests. They can accept or decline the request. On declining, a list of reasons can be given from which they choose an option for declining. If accepted, it will open the order details.
Drivers will have access to view all current and pending fuel delivery requests with order related information such as location, fuel type, special request, type of service needed, timing, and amount of fuel. They will also be able to view their delivery history data.
Just like the user app, the driver app will also have a section dedicated to managing their account or profile details. They can edit their payment options, availability, change location preference, and edit basic details like changing passwords.
Availability toggle allows drivers to turn on or off their availability from the app. When on, new order requests will be alerted so if turned off, no new order requests will be assigned till switched back on.
In order to ensure that the entire process of delivering fuel or other services is completed with no complications, GPS integration is a must. Let your drivers navigate to the order location easily, using the shortest routes.
From the payment section, drivers can view their earnings against each transaction. This feature can also show the daily, weekly, or monthly earning.
Let your delivery agent communicate with the customers to ensure that any issues are resolved at the earliest. In-app chat feature duals up as a feedback tool that lets you know what common issues are faced by customers.
Admin Panel Features
The admin panel of your gas delivery app is the control center of your entire business. You can handle, manage, and do a lot more through a powerful web admin software. As the owner, you will have control over a number of functions. What are the most important functions of the admin panel?
You can secure sensitive data with industry-standard encryption methods like SHA or AES. You can also implement standard authentication methods like OAuth 2.0.
From the driver dashboard, you can easily manage all data related to delivery agents. Using this feature, you can handle requests for new registration, remove a driver, view their account information
Complaints and feedback from both customers and drivers can be managed from the admin panel. Resolve issues related to the app or service using the backend web app. This helps you collect important data on the common issues and shortcomings of your fuel business.
Keep track of all your entire fleet from one platform. GPS integration helps you to monitor the live location of each vehicle while out for service. Additionally, you can mark a vehicle unfit for use if any internal damage is detected. Add new ones to your fleet.
Handle all payments made to your employees from this section. Bonuses, late payment issues, and payment history can be handled by the web admin.
Manage all routes from the web app panel. Also, you can easily add new routes and remove the ones not in use anymore.
Data And Revenue Analysis
Keep track of revenues earned on a daily, monthly, or weekly basis. You can also view the expenditures for fleet maintenance, fuel costs, and all other factors that contribute to keeping your business up and running.
Protect your fuel resource from theft by using fuel auditor which compares actual fuel dispensed to the fuel purchased. The auditor effectively records fuel tanks with a given frequency to record usage of fuel.
Technology Stack To Power Your Fuel Delivery System
Gas delivery app development is no easy task but with the right strategy and tech stack, you can create highly functional and powerful software. What technologies go into creating complete software?
Twilio, SNS

SMS gateway

Stripe/ Paypal/ CCAvenue

Payment gateway

G maps

Routing and navigation

Firebase Analytics/crashlytics

Analytics

Smart locks

IoT integration

MQTT

Real-time messaging

Atlas, RDS

Database

AWS EC2

Webserver

AWS S3

Cloud  storage

APNS/ FCM

Push notifications
How We Add Fuel To Your Gas Delivery System
Like most software, the overall experience and stability of an app depend on how superior the quality of code is. Gas delivery app development is no easy task, and working with hundreds of local businesses and fortune 500 companies for almost a decade, no one understands this business better than us. Also, we have developed many on-demand delivery based solutions over almost a decade.
So if you have an app idea like Booster Fuels or Yoshi (or literally any other gas delivery company that you can think of), our team of experienced industry experts can validate it for free. They can even suggest ways in order to make it more marketable. So don't wait up, contact the leading gas delivery app development company today!