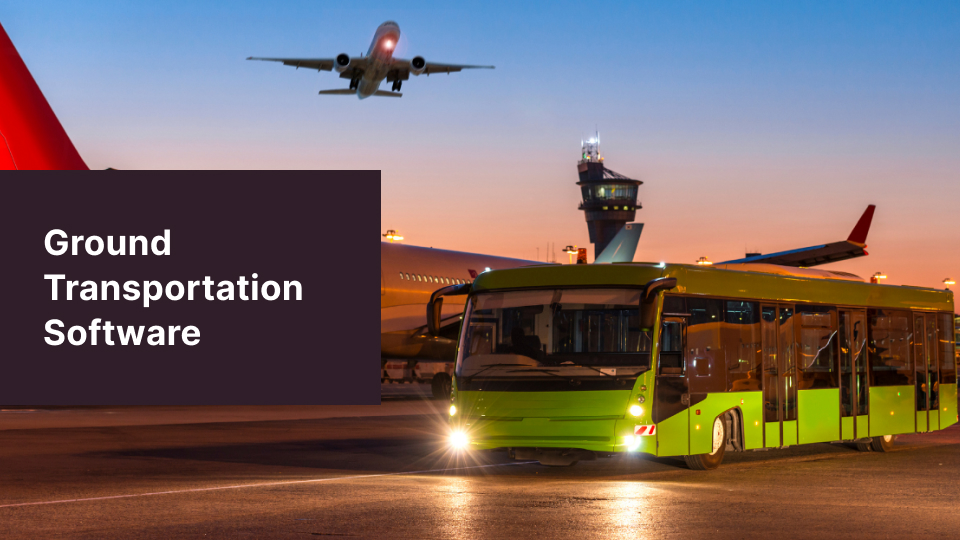 Top 10 Ground Transportation Software
Ground transportation software, or transportation management software (TMS), transforms how companies manage and optimize their logistics operations. This advanced software solution streamlines the entire ground transportation process, encompassing everything from route planning and dispatching to real-time tracking and performance analysis. With the rising complexity of supply chain management and the increasing demand for efficient last-mile delivery, ground transportation management solutions have emerged as a game-changer in the transportation industry.
By integrating various data sources and deploying advanced algorithms, transportation management systems enable businesses to make data-driven decisions, reduce transportation costs, improve delivery times, and enhance overall operational efficiency. 

What is ground transportation software?
Ground transportation software is commonly used by businesses and organizations involved in managing and coordinating the movement of goods, vehicles, or passengers on the ground. 
Here are some key aspects and functionalities of ground transportation software:
Fleet Management
Dispatch and Routing
Scheduling and Booking
Tracking and Visibility
Billing and Invoicing
Compliance and Reporting
Integration
Analytics and Optimization
Customer Engagement
Security and Safety
Emergence of ground transportation management software
It empowers businesses to adapt to the dynamic and fast-paced nature of the modern supply chain landscape. With the growth of e-commerce and customers' ever-increasing expectations for quick and reliable deliveries, more than traditional manual processes are required. Ground transportation software provides real-time visibility into the movement of goods, enabling proactive problem-solving and ensuring on-time deliveries.
It optimizes fleet management, leading to reduced fuel consumption, lower carbon emissions, and a greener approach to transportation. As environmental concerns grow, companies that adopt eco-friendly practices through TMS gain a competitive edge and contribute to a more sustainable future.
The software's ability to analyze historical data and predict demand patterns helps businesses strategize effectively, allocate resources efficiently, and ultimately increase customer satisfaction.
As the ground transportation industry continues to evolve, embracing technology like transportation management software has become necessary for companies seeking to stay ahead of the curve and remain competitive in a rapidly changing market.
Ensure your business profitability with ground transportation management system
Ground transportation reservations software offers a wide range of benefits for businesses involved in logistics and fleet management. Here are some key advantages of using ground transportation software: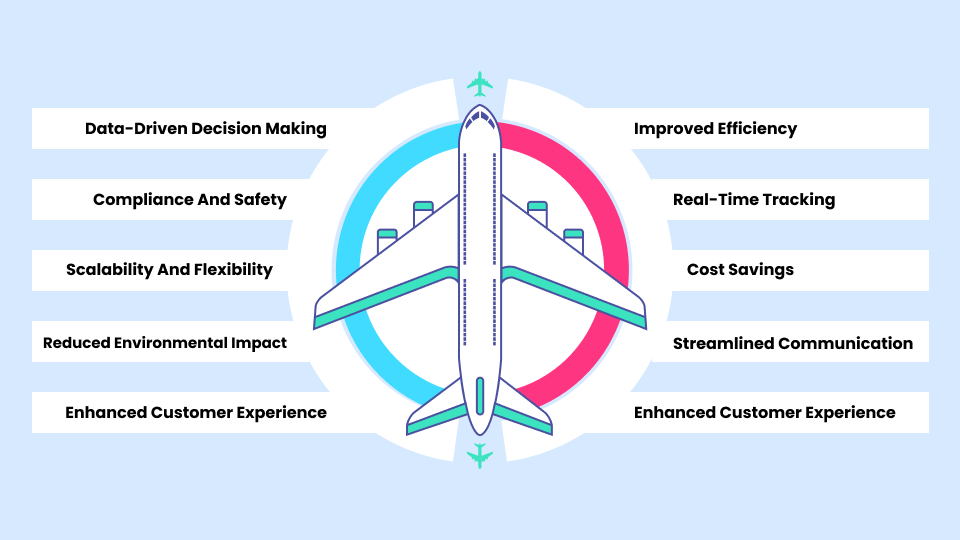 A. Improved efficiency
Ground transportation software optimizes route planning and dispatching, leading to more efficient operations. It reduces idle time, minimizes detours, and enables drivers to take the most time-effective routes, ultimately saving time and resources.
B. Real-Time tracking and visibility
 With GPS tracking and real-time updates, businesses can monitor the exact location of vehicles and shipments. This enhanced visibility allows for better coordination, proactive problem-solving, and accurate estimated time of arrivals (ETAs) for customers.
C. Cost savings
 By optimizing routes and reducing fuel consumption, ground transportation software helps lower overall transportation costs. It also helps prevent unnecessary vehicle wear and tear, leading to reduced maintenance expenses.
D. Enhanced customer experience
Accurate and timely deliveries enhance customer satisfaction. Ground transportation software ensures smooth and reliable deliveries, improving the overall customer experience and fostering customer loyalty.
E. Streamlined communication
The software facilitates seamless communication between drivers, dispatchers, and customers. Instant updates and two-way messaging enable efficient coordination and quick responses to unexpected changes.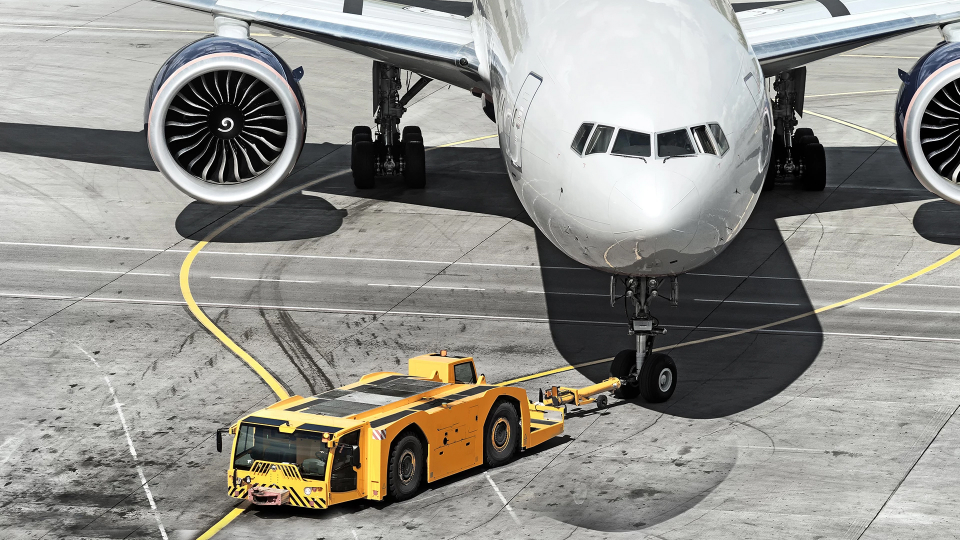 F. Data-driven decision making
Ground transportation software collects and analyzes data on various aspects of transportation operations. Businesses can use this information to make data-driven decisions, identify inefficiencies, and implement continuous improvements.
G. Compliance and safety
Many ground transportation software solutions incorporate safety features, such as driver behavior monitoring and compliance management. This ensures that drivers adhere to safety regulations, reducing the risk of accidents and associated costs.
H. Optimized fleet management
The software enables businesses to manage their fleet more effectively. It helps with vehicle scheduling, load optimization, and asset utilization, leading to a more productive and well-organized fleet.
I. Reduced environmental impact
By optimizing routes and minimizing fuel consumption, ground transportation software contributes to reducing the carbon footprint of transportation operations, promoting environmentally friendly practices.
J. Scalability and flexibility
Ground transportation software is designed to accommodate the needs of businesses of all sizes. It can scale to meet the growing demands of a company and adapt to changing business requirements.
Best ground transportation management software
AllRide Ground Transportation Software is a comprehensive solution that has transformed public transit. It offers a seamless and efficient transportation experience for both passengers and drivers. This ground transport solution comes with a user-friendly interface and robust features.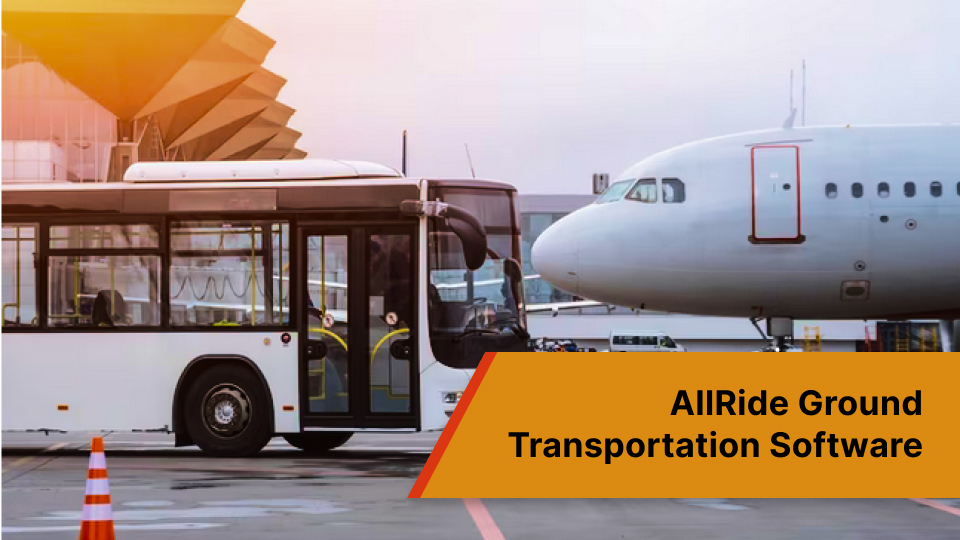 Features
a. Real-time tracking
Now passengers are allowed to track their assigned ride in real-time on a map. This map accurately estimates when the driver will reach to pick them up from their destination. This way, the software helps ground transportation businesses reduce wait times and improves user experience. 
 b. Secure payment gateway integration
AllRide ground transportation reservation software can integrate multiple secure payment options, such as credit/debit cards, mobile wallets, and in-app systems. 
c. User-friendly interface
AllRide ground transportation management system has an intuitive and easy-to-use mobile app that allows passengers to book rides with only a few taps. 
d. Estimated fare calculation
Before confirming the ride, passengers can view an estimated fare based on the distance and time of the journey. This transparency enables users to make informed decisions.
e. Mapping and navigation
The mapping and navigation module is integrated into passenger and driver apps to provide accurate real-time tracking and optimized route guidance.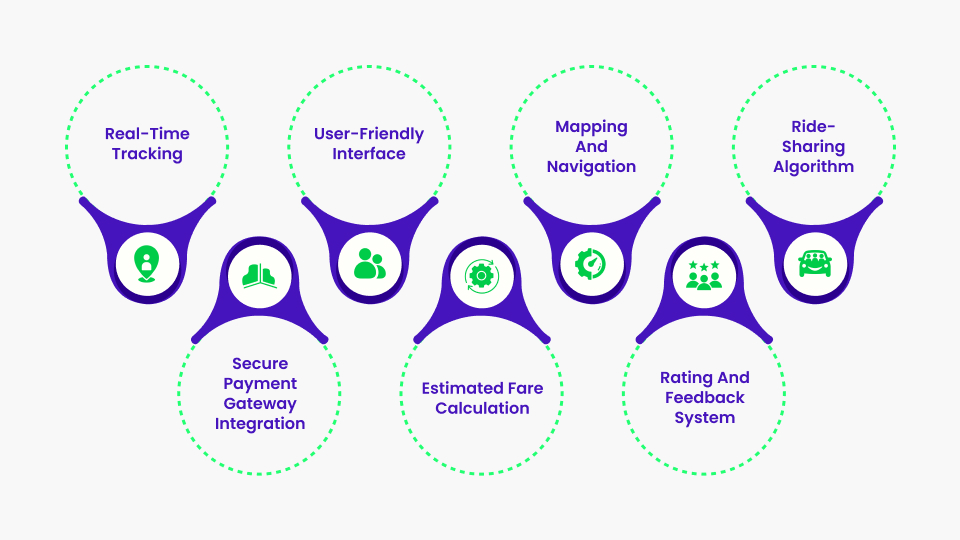 f. Rating and feedback system
This module records and manages passenger and driver ratings and feedback, helping to maintain service quality.
g. Ride-sharing algorithm
The ride-sharing algorithm enables the platform to match passengers traveling on similar routes, promoting cost-effective and eco-friendly transportation options.
AllRide's commitment to providing a reliable, safe, and user-friendly ride-hailing experience makes it a preferred choice for daily commuters and travelers. 
Modules
a.  Passenger app
This module is the primary interface for passengers to book rides, track drivers, make payments, and rate their experience.
b. Driver app
The driver app enables registered drivers to accept ride requests, navigate to the pick-up location, and receive payments for completed rides.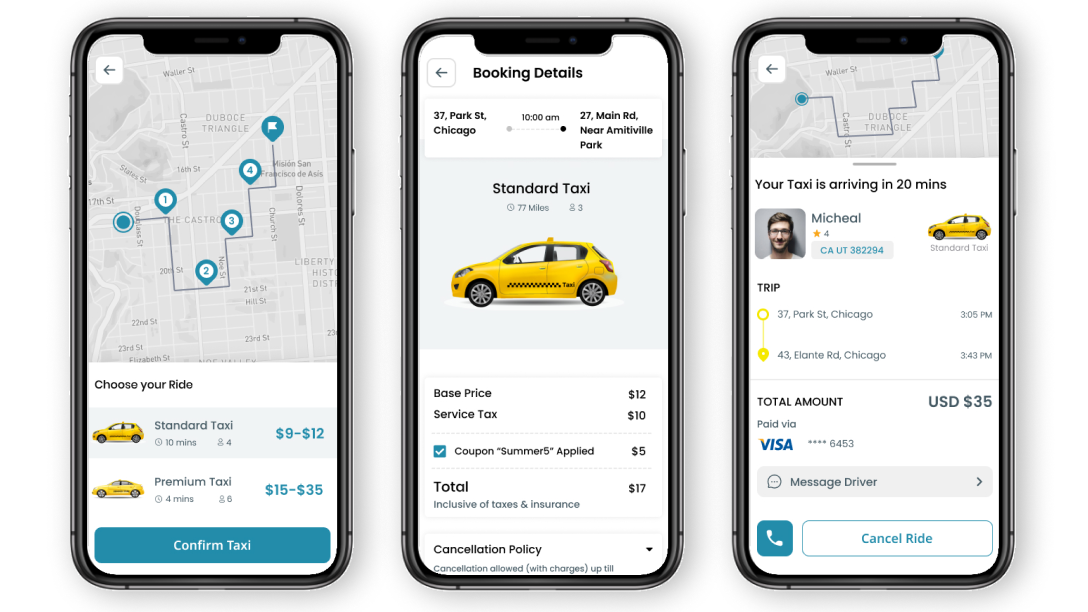 c. Admin panel
The admin panel is an essential component that allows the platform's administrators to manage and monitor the entire system. They can oversee ride requests, verify drivers, handle support issues, and manage financial transactions.

2. Limo Anywhere
Limo Anywhere is a cloud-based solution that provides robust features for limo and black car service providers. Limo Anywhere's broad set of features, flexibility, and accessibility (desktop & mobile) make it a must-have platform for any livery provider to help you increase productivity and grow your business.
3. TaxiCaller
TaxiCaller is a cloud-based solution that makes operations easy to handle and efficient for chauffeur and private hire services. It offers an innovative and cost-effective solution for businesses and their consumers. 
4. GroundSpan
GroundSpan is a ground software designed for airports, hotels, and corporations. It provides features such as automated dispatching, tracking, and invoicing for ground transportation providers.
5. Blacklane
Blacklane is a global chauffeur and airport transfer service provider that provides an online booking platform for individual and corporate travelers. 
6. Ridebits
Ridebits is a cloud-based software that covers the entire cycle from accepting trips with your rates, assigning drivers, simple billing, and the tools to track everything with a bird's eye view.
7. GroundCloud
GroundCloud's software platform allows transportation businesses to manage their operations through a single dashboard. It includes a mobile app for both customers and drivers.
8. TripSpark
TripSpark's people transportation technology provides transit agencies and private operators in the USA and Canada with the critical operational software and in-vehicle hardware they need to run efficiently and provide outstanding service to their customers.
9. OnTime 360
OnTime 360 is a transportation solution that comes with various next-gen features. It increases operational efficiency. 
10. GroundWorks
GroundWorks is a comprehensive transportation solution designed for ground transportation companies. Its features make transportation operations easier. 
Get your ground transportation business ready to move to the next level
If you are yet to power your business with the blessings of technologies, this is high time for you to consider the right ground transportation software suitable for your business requirements.

Consider what you want to achieve through the software and swipe on the right solution. All the best!
Related Articles
Transportation and Logistics Mobile Apps NEED These 4 Features
Top 10 Transportation Scheduling Software
10 Top-Notch Cab Booking Software
How AI-Driven Cab Management Software Is Turning Into A Disruptive Integration?
How To Build A Cab Booking Software With Minimum Investment?