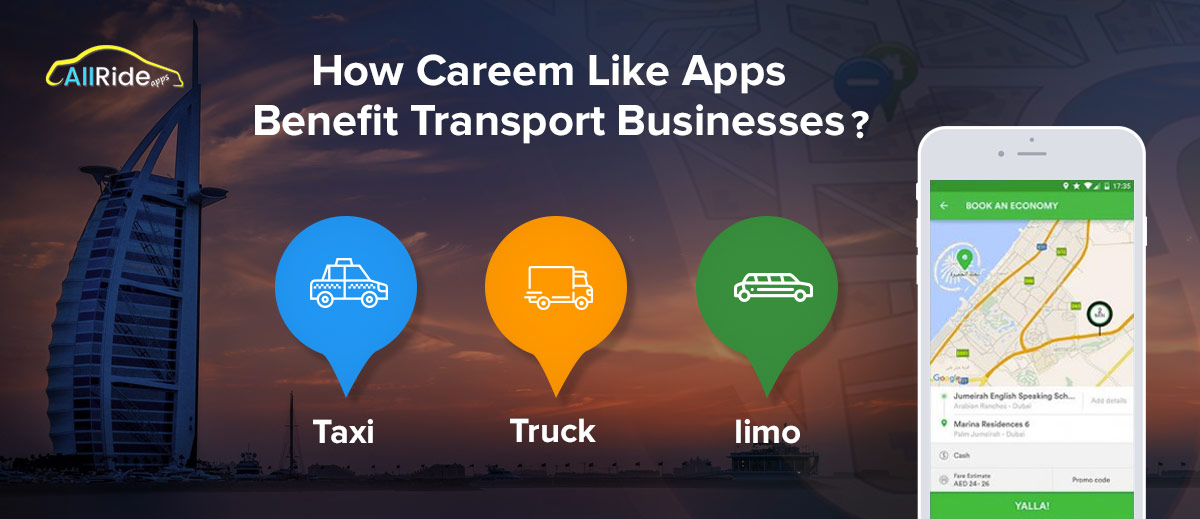 How Careem Like Apps Can Benefit Transport Businesses?
Few years ago, the current ride-hailing giant Uber, sent their first ever cab to ride through the streets of San Francisco. The fleet of black cars for smartphone clad customers created such a massive wave that it gave birth to numerous spawns. DiDi Chuxing, Lyft, Gett, Ola and many others came in the transportation market, all over the world.
Following the footsteps of Uber in U.S. one remarkable name that took a piece of the transportation-app pie, is Careem, but in the Middle East! The homegrown ride-hailing app is now one of the most popular on demand cab apps. It has created a lot of buzzes. The disruption caused by Careem has attracted a lot of startups from different sectors. Taking a cue from the Careem's model in the Middle East, players from different industries are successfully transforming their businesses. The model was successful enough to reduce the roadblocks of transport industry!
What Are The Possible Roadblocks In The Transportation?
If you too are in transport industry- say for example you have a truck/logistics business to handle- you might have faced difficulties to:
Handle inventories- good, trucks, fleet

Manage drivers and employees

Track your fleet, speeding, deliveries

Generate bills, salary management
These are few issues that long-haul supply chain businesses face.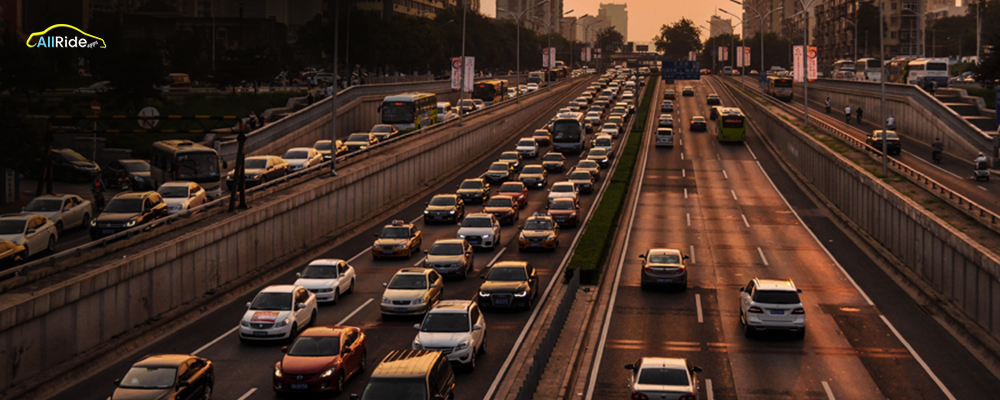 Similarly, for on demand taxi businesses, entrepreneurs face problems like untracked cabs, uncontrolled driver behavior etc.
But, thankfully, apps like Careem and Uber gave a way to improve the condition. The transport industry was facing troubles in absence of convenient transportation option. Whether it is about goods transport or people transport, there are several loopholes which need to be filled. And Careem's ride-hailing model is one of the best ways to manage these loopholes. Not only taxis, but trucks, bus, limousines but any transport business can learn from Careem's model.
But what made Careem the hot cake in the Middle East?
Let's find out their story!
The Middle East is the one of the most urbanized-convenience-seeking-lifestyle loving people's place. With an increase in population, number of vehicles are appearing on roads. People or goods are transported from point A to B choosing different transports.

Owing to the highly exotic tourism in the Middle East, convenience transport was always a necessity. In Dubai, for instance, public transportation has increased exponentially over the past few years. Amidst such growth of ridesharing services, Careem showed up.
Careem app's Co-founder Magnus in an interview said he, with his team, traveled a lot to find out the inconvenience in transportation. The problem was big enough to start the venture Careem taxi app development- to make transport easy as pie for every commuter, at any point in time. The ride-hailing service is currently plying over 50 cities, majorly in the MENATP region. It includes Middle East, Pakistan, Turkey and North America. And now the brand grew as the biggest homegrown ride-hailing giant following the footsteps of Uber.
So, venturing into transportation business is undoubtedly profitable when you are in the Middle East. Be it taxi, truck, bus or limo rentals, you can just get started with Careem like taxi app development idea. Let's find the major transport businesses that can implement Careem taxi app development idea.
1. What On-Demand Taxi Businesses Can Learn From Careem Taxi App Development Model
400 cities, 65 countries- Uber literally disrupted the ride-hailing industry. And has staked claim all around the world. This has given many small taxi business try their hand in on-demand ride-hailing services. And Careem grabbed the same opportunity in Middle East region. So, if you have a taxi business with a good number of taxis, why go for traditional offline business?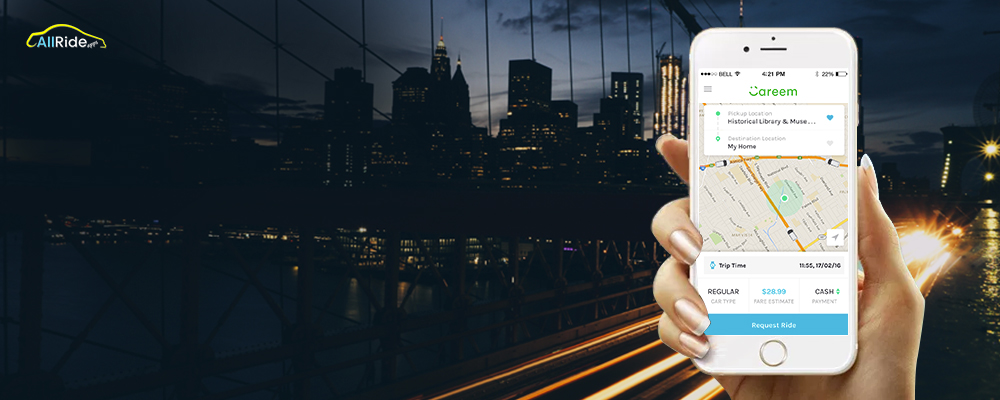 Let's get a brief overview of what you get in Careem taxi app development package:
Driver's app
Vehicle Tracking System (GPS)
Notification to drivers
Rate Card
Automated e-receipts
Trip/Cab tracking
Android & iOS device support
Passenger's app
On-demand booking

Scheduled bookings

Flexible payment options

See estimated time of taxi arrival

Address History
Well, that's not it! You can check the entire feature list for Careem taxi app development here!
So, with a taxi app solution, you get a driver app, passenger app, and an admin app. You get a complete dashboard to manage your business right on your fingertips. If you have independent drivers working for you, you can keep a tab on the overhead costs, vehicle maintenance, insurance, salaries and everything else. Why don't you get a demo of how Careem like App will look like? Or maybe have a look at the cost to make an app like Uber!
2. The Growing Travel And Tourism Industry
$64 billion- is the whopping contribution of Tourism to the UAE's economy! According to a leading report, this gigantic figure is about to double in the coming decade. So, it's undoubtedly one of the most promising sectors to invest. As tourist come from all over the world, the transport industry has the maximum scope to grow and flourish. With such earmarked growth of tourism, businesses dealing with transport services like car rentals, limousine rentals, and even luxury bus services can reap advantages.
But how Careem like apps will help your business idea? A custom app for your business will have- user and driver app, along with a detailed dashboard. You get complete visibility of the business, details that matter.
Additional benefits you can implement with your app:
You can let visitors do mass booking for groups

You can add option to navigate through the city through your app

Find popular restaurants nearby

Let tourists book hotels directly
These will help market your app better as it comes as a complete package. This will make more tourists download your ride-hailing app that comes with different other benefits.
Related Read: Want To Be The Next Careem In Middle East? 4 Things To Know!
3. Immediate Scope For Logistics And Truck Industry Growth With Careem Like Apps
The MENA region that comprises of the Middle East and North America, is the major logistics and supply chain hub.
The countries that count up in MENA are Bahrain, Algeria, Djibouti, Iran, Egypt, Israel, Jordan, Iraq, Kuwait, Lebanon, Malta, Libya, Oman, Morocco, Qatar, Syria, Saudi Arabia, Tunisia, United Arab Emirates, West Bank, Yemen and Gaza.
Accounting to the booming economic diversification and a transforming wave in politics in MENA region, UAE is becoming one of the most crucial trading hubs. And it will define the supply chain, Logistics, and LTL growth. But if you lack proper inventory management, internal collaboration, increased client demand, delayed deliveries etc. never expect good returns!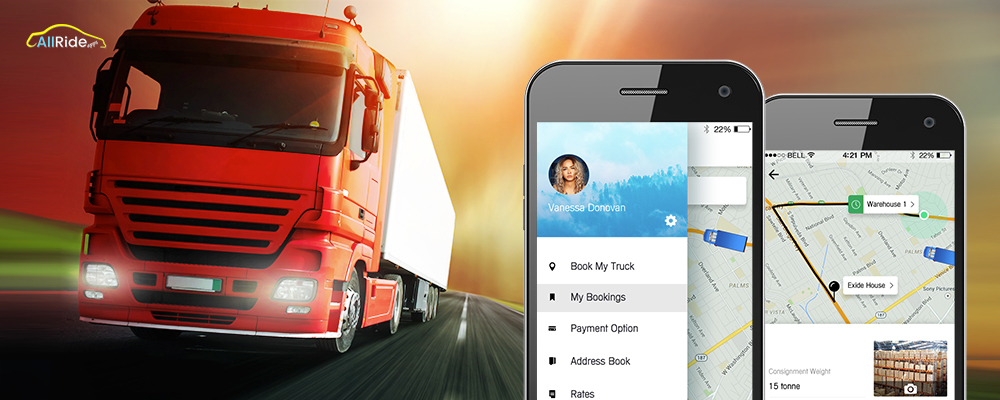 So, for such a large scale supply chain management, it is hella important to link transportation with modern facilities. Whether it's warehouse management, inventories, fleets or deliveries- loss of control will never give you enough scope to get ROIs. But with a solution responsible for people and fleet management, you can meet all the growing demands.
Linking your freight forwarding service with mobility will have numerous benefits, viz.,
You can track your fleet on your fingertips

Driver's log will be automatically recorded

Assign pickups right on time

Pre-plan your delivery routes to eliminate confusion

Deliver, on time, every time
Furthermore, with logistics and truck app development software, you will achieve a better position in the market. But how to do that? Well, by gaining trust. As you deliver your goods with transparency at every level, your merchants will trust you more. Implement these 10 features in your logistics management app and have more ROIs.
4. The Luxurious Limousines On Demand
Middle East regions, especially Dubai and Abu Dhabi are known for the luxurious life, led by people.
Undoubtedly, limousines are their personal favorite. If you are living in the posh areas of Middle East, you will find different limousine services around.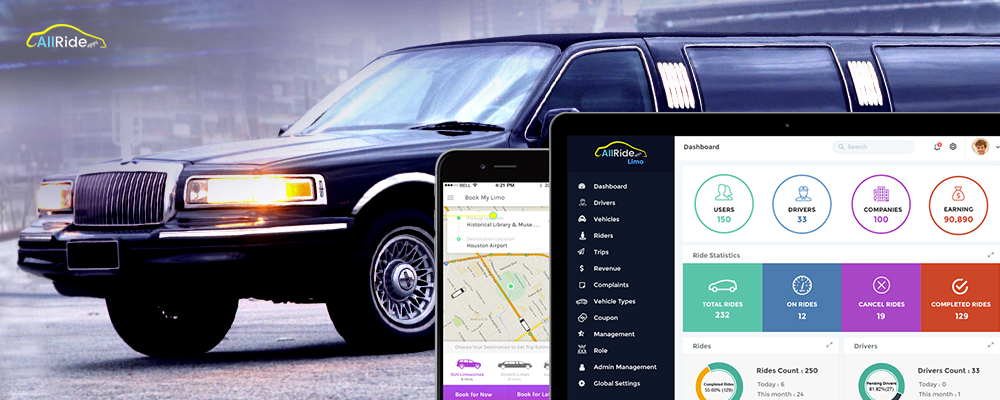 And if you too have a service to provide, going mobile is the best decision to make. Anyway, ride hailing apps have made a grand entry with Careem. Going on live with limo app development will give your users a convenient mode of travel. Whether it's for leisure or work, users can book a luxurious and comfortable journey by limousines. Careem taxi app development model will work well with limousine service as well.
What Do You Think?
It's clear that the Middle East is the breeding ground for transport apps. Whatever transport niche you are in, going on an app is a viable option. Customizing the Careem taxi app development solution as per your requirement is what you need to take care of. Choose an app development company that provides you a readymade solution for your needs. Get into a detailed whiteboard session with seasoned designers and experienced developers to kickstart your plan.