Want To Be The Next Careem In Middle East? 4 Things To Know!
Struggles of getting a cab on time is REAL!
You might have in a situation where you wanted to hire a taxi.
But after an endless wait and frustration, you end up paying more than required! Conventional transport services often fail to provide the customer centric services. May be apps like Careem and Uber understood the pain and tried to reap advantages out of it.
Uber made its debut in 2009 and upturned the transport industry. After making it customer oriented, Uber eliminated daily refusals, hassles and inconvenience caused. But slowly, many competitors are showing up and giving a tough blow to Uber. One such remarkable name is Careem, the underdog taxi startup which is giving a serious tiff to Uber!
What's making Careem so unique that even the ride hailing giant for 9 years, Uber, is facing a blow in Dubai?
Though California based Dubai has acquired a larger presence globally, it's still behind Careem's territory. Uber's competitor is gradually getting pace compared to Uber in social media conversation, according to a leading report.
Careem is overpowering Uber, as locals perceive it as a homegrown brand!
In that report, it was also clear that Careem's social footprint has jumped to almost 108 percent. And hence it's getting massive positive feedback from the locals. They are actually serving convenience wherever they are plying- solving the challenges that commuters face. In fact, every business must aim to solve their end user's problems. And taxi apps all over the world has disrupted the transport sector by introducing ride on demand!
If you too have a taxi business and want to take your business on app in Dubai, take Careem as your reference. You must take your traditional taxi service on app and who knows, you can be the next Careem or Uber!
So What It Takes To Make An App Like Careem? What's The Masterplan?
The technology of Uber and Careem's booking front has been evolved. Taxi app startups from all over the world are coming up with new and unique ideas to solve a unique challenge or trying to make the journey safer etc. And doing all these, every other taxi startup is looking for one thing-
Success!
To taste this success, you need to make sure you are making user experience easy as pie. And at the same time, it must grow your client base in your target area in the Middle East.
When you are targeting the Middle East, you need to assess few things:
Who are all your competitors?

Do you have a scope of developing a taxi app?

Can you target enough audience for your taxi app in Middle East?

What are your long term goals with your app?
With the right strategy, you can reach out to clients in major cities like Dubai and Abu Dhabi. And to build that strategy, you need to answer these question in advance. After you are done with this quiz, decide whether you want to go for cross-platform taxi app or a native app. So, with whatever platform you choose, to develop apps like Careem and Uber in Middle East, look for backend development with front end- you will need a server, that's why. There will be two individual interfaces- for the driver and passenger.
Well, that was quite brief. Let's dig into the best technologies that will help you create apps like Careem in Middle East.
1. Choosing GPS Based Tracking In Your Taxi App
Your taxi booking app like Careem and Uber need to handle numerous requests at a time. And these request will come from different locations. It's also important that your taxi reaches the user's location on time. So, it's a requirement that your app is tracking user's location continuously, which will locate the nearest driver within few seconds.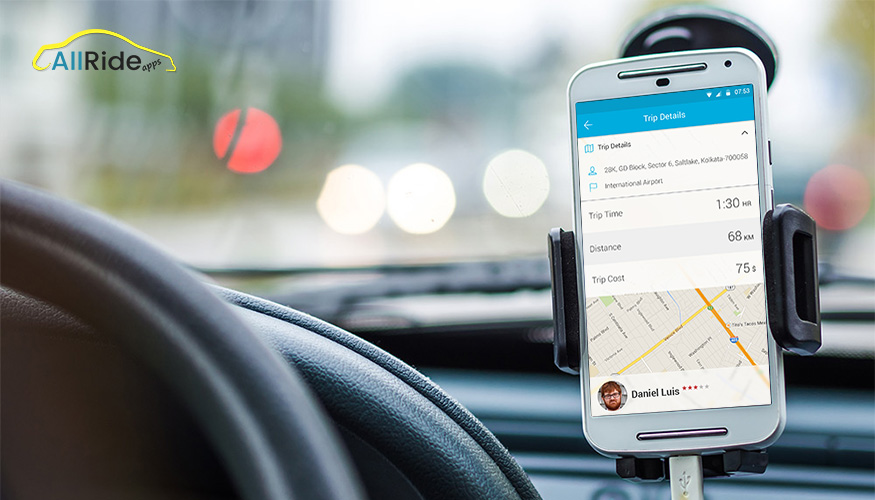 For iOS, core location framework is used. This framework uses device GPS to track user location which in turn gives the ETA (Estimated Time of Arrival).
For Android, there's a location manager that allows the app to get periodic updates of user's geographical location. It also fires the application just when the device enters the geographical proximity.
2. Why You Must Keep Taxi App Performance Top Notch
So, you are geared up to create apps like Careem and Uber in Middle East. But have you done any homework? Developing any ride app comes with associated responsibilities. Any taxi app development company cannot assure you of the best support required for your platform. And when we are talking about support, your app must be robust enough to handle thousands of requests in a day!
Well, to make your app perform like it's nobody's business, you need to ensure a top notch performance. The very best technology required for this is AWS, Amazon Web Service. It's easy to access and the best in class. So, for your target audience in Middle East, AWS can be your best bet. It will make your app robust enough to avoid crashing when request increases.
Apps like Careem and Uber in Middle East follows a robust server to handle the load. They have made their computing power strong enough to perform without crashing. Hence, your users will be more satisfied and hence will stick to the app!
3. Hassle Free 'Payment-less' Payment Integration
Uber, Careem, Didi Chuxing- any taxi app name you take, they have made payments a no hassle job.
They have automated the system so that you don't have to reach for your wallet. There's always an option to pay in cash and in addition, you can keep popular payment options like Paytm. Though Careem has a cash, credit, and Careem wallet option, you can offer Debit card payment option too in your taxi app.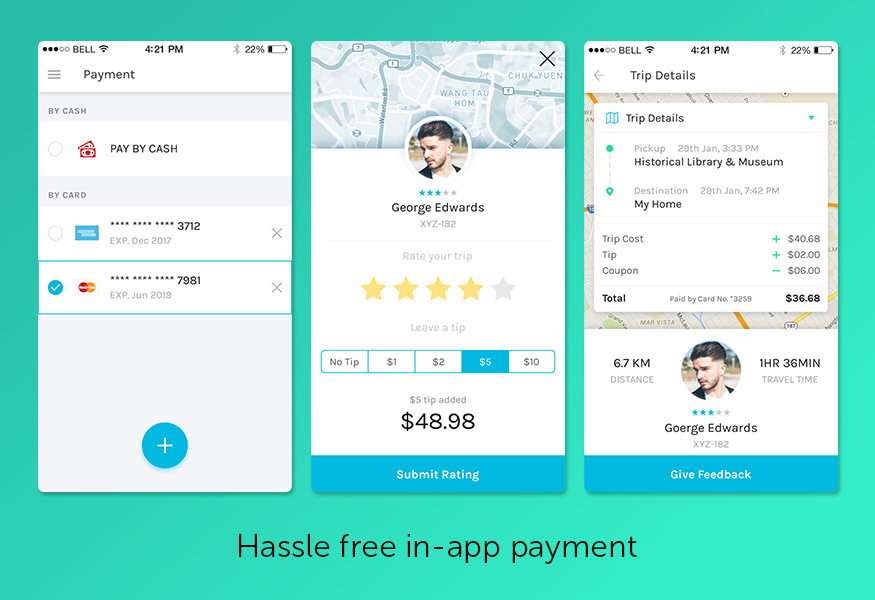 To have a seamless and cashless payment integration for apps like Careem in Middle East, you can go for technologies like Braintree, CCAvenue, and Stripe(for iOS). These technologies also manage mobile payments. The iOS SDK is the best platform to use when you need to add payment integration in your app. It makes the APIs for native payment easy to use for apps like Careem and Uber. For making it seamless further, one tap purchase is what you need to integrate. Braintree can be used for saving the user information which will prevent user to provide their information now and then.
I would also like to suggest the developer friendly Stripe API for Android and iOS taxi apps like Careem and Uber in Middle East.
4. Finally, The Cost Estimation To Create Apps Like Careem And Uber
I know you were looking for 'cost' for a long time!
Let me help you a bit here. The cost for developing apps like Careem and Uber for Middle East will entirely depend upon the features you choose. Talking about Careem and Uber they have kind of similar features that have transformed the entire transport industry. Both the transport giants have a seamless UI/UX feel, rare errors and least bugs. So, it's high time you uncover the vile to understand what determines the cost of apps like Careem.
FYI, you can always outsource a development team that will help you get a robust solution within your budget. Let's look at the features you need to discuss with your taxi app development team:

Careem's Passenger App Features
User profile and stats

On-demand booking

Billing

Feedback

Automated e-receipts

Scheduled bookings

Edit Profile

SMS alerts

Vehicle tracking system (GPS)

Flexible payment options

Ride history
Careem's Driver App Features
Vehicle Tracking

Automated e-receipts

Notification to drivers

SMS alerts
Now the big question- if you want to build apps like Careem and Uber targeting Middle East, the more functionality you add, it will cost you a bit. The more functionality you add, the more you will be charged. You can always develop it better than Careem. Outsourcing from different countries will charge you differently but they are always cheaper and reliable.
Related Read: How Can You Generate More Revenues With Apps Like Uber and Lyft?
Adding features like Social media integration, chats, split cash feature, group message etc., will cost you more.
So, it completely depends on what features you add or what design to incorporate. Let me give you a detailed cost estimate for you apps like Careem and Uber.
What's Your Take?
If you are really strategizing for Middle East area, rest assured that a home grown taxi app will get more audience. Just keep your focus on alleviating the pain of daily commuters, come up with new ideas and take your taxi business live on an app! for more information and a cost quote, know how we help!