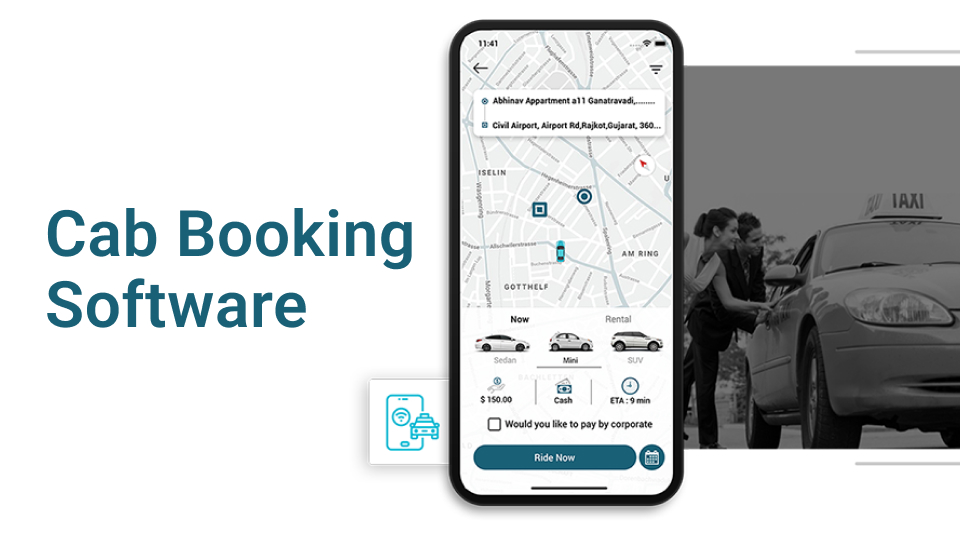 10 Top-Notch Cab Booking Software
A study by Allied Market Research indicates that the global taxi market will grow by 12.3% between the years 2020 and 2027. Moreover, this market's valuation is expected to rise from 69.18 billion USD in 2019 to 120.89 billion USD by 2027. So, now is the best time for businesses to invest in the development of cab booking software.
There are a number of players already in the market, and new and better software solutions are being developed regularly. But which one is the most effective? Let's find out.

What is a cab or taxi booking software?
An online cab booking software is a system that allows you to manage the tax-booking task on a digital platform.
Therefore, such a software lets commuters book cabs online easily, as well as ensures smooth processes for all stakeholders—drivers, customers, and business owners.
Leverage the dynamic features of a software for your taxi booking app
A business can leverage the many features of a taxi booking software to unlock its operational efficiency and increase its revenue. In this regard, the benefits of cab booking software are aplenty, which include the following:
A. Easy onboarding and booking
A software solution allows both drivers and commuters to register on the application with just a click of a button. App users are also able to book a cab with a single swipe.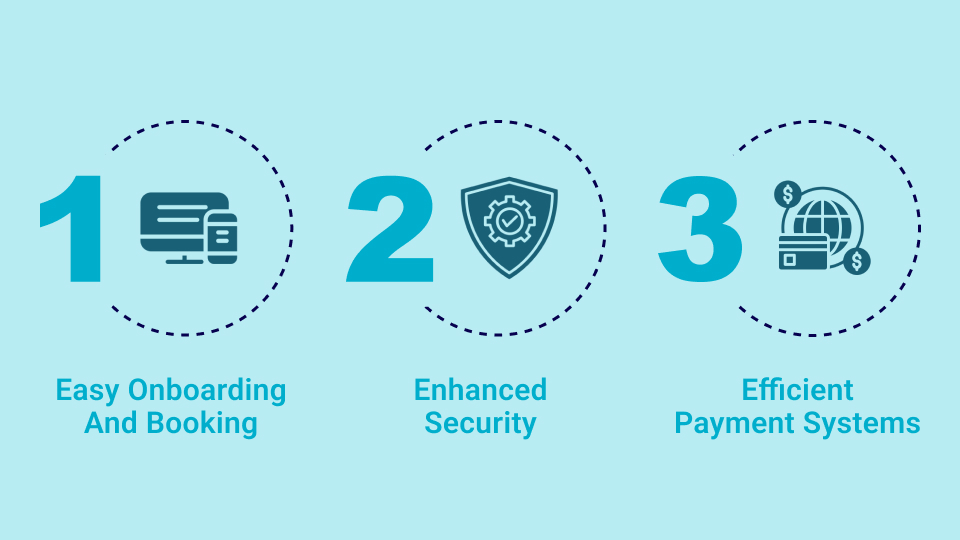 B. Enhanced security
The software solution displays a driver's details, such as their name, contact, and vehicle number, thereby increasing reliability and minimizing the perceived risks for customers.
C. Efficient payment systems 
A taxi cab booking software extends a diverse range of payment options, such as mobile banking, mobile wallets, and cash payments. This efficiency translates into superior customer experience, and hence repeat sales. 
Top 10 taxi booking software
AllRide apps recognize that in order to be a successful cab business in today's market, an innovative software solution is a must. Therefore, AllRide Cab is an AI-driven, smart cab booking software for transport businesses.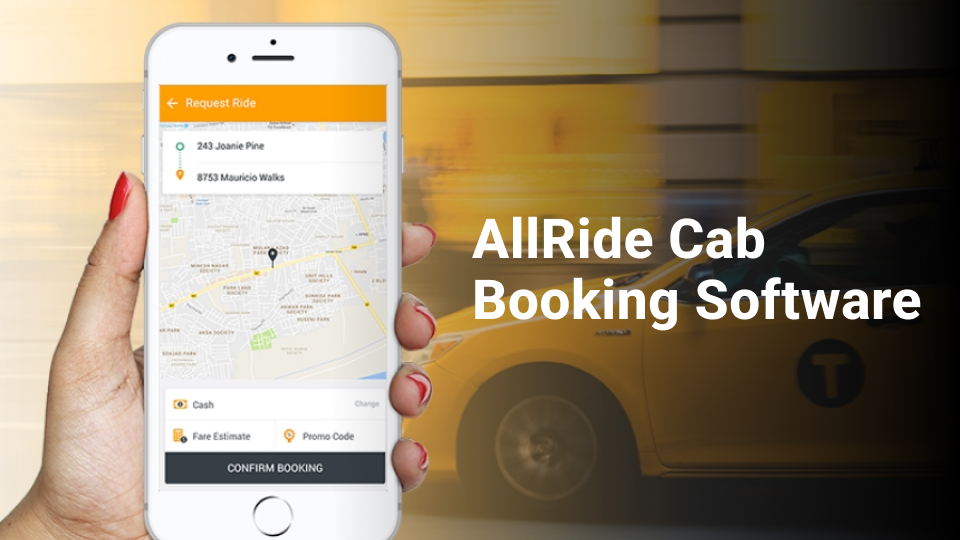 This off-the-shelf solution for cab-sharing is tried and tested, and is hence reliable. Moreover, the software solution can be customized so that your taxi services beat the rest.
Some key features of AllRide Cab are:
a. Instant and scheduled bookings
b. Real-time location tracking
c. Fare bidding
d. Fleet and driver management
e. Ride sharing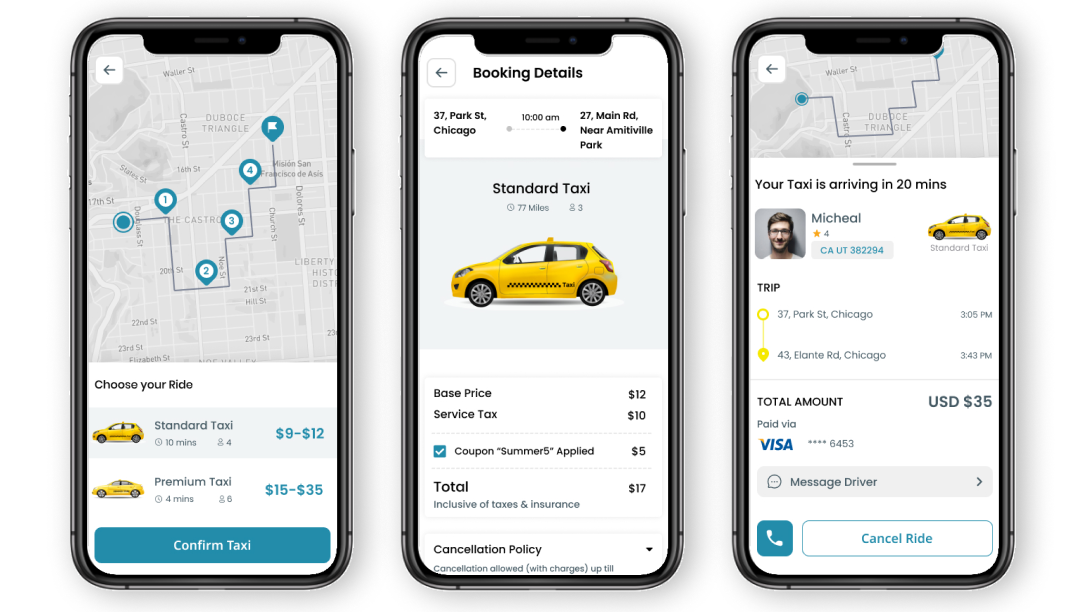 If you wish to test out AllRide Cab, simply book a demo here.
Let's now take a look at the other software solutions for cab booking.
2.   Waze Carpool
Wave Carpool is a crowd-sourced navigation application created to circumvent the traffic. It serves as a platform that connects carpoolers spread across an area so that they can save time and money.
The platform also speeds up the entire process of scheduling a ride by way of automation. As a result, Waze Carpool is efficient and easy to use.
3.   Lyft
Lyft provides mobility as a service across a range of industries to deliver various transportation solutions. It connects drivers with an automobile with commuters who need a ride.
So, commuters can use its app to request a ride, upon which the nearest driver available is appointed for their pickup. In addition, commuters can give ratings after their rides, which results in superior customer experience.
4.   zTrip
zTrip offers transportation services with safe, secured, and licensed vehicles. It is designed to function as a hybrid service, combining the convenience of online cab-booking apps and the traditional cab services.
Riders can easily book trips through its mobile application. This application also allows real-time tracking for commuters. Commuters can also provide their feedback after their rides are complete. 
5.   Curb
This one is a transportation network that offers ride-sharing and taxi services. Curb connects licensed taxi drivers with commuters through a smartphone application.
The application also provides airport transfers and pre-scheduled rides, so users can access various transportation options through a single app.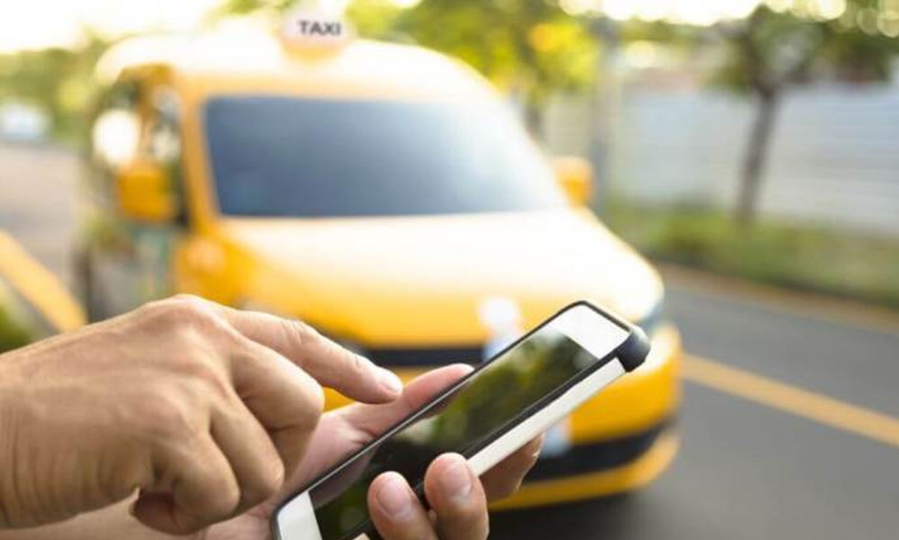 6.   Gett
Gett is an on-demand, ride-hailing platform that offers transportation services to both commuters and businesses. With Gett, commuters can easily book on-demand rides through its smartphone application or its website.
Alternatively, users can also book a ride in advance. Moreover, Gett offers corporate transportation services for the delivery of goods.
7.   Flywheel
Flywheel is another transportation technology platform that provides ride-hailing services to commuters. It functions as a mobile app-based platform. It also works in collaboration with taxi fleets in order to offer an integrated platform for several mobility solutions to users.
8.   ARRO
ARRO taxi app allows commuters to hail a ride with a tap of a button, with an aim to simplify their taxi experience. With the application, users can enter their destination, upon which they receive the ETA of the nearest available driver.
Moreover, ARRO allows its users to automatically pay their fare with the card on file, which results in time-savings and convenience.
9.   Yelowsoft
This taxi booking solution software allows you to manage various operations through a single application. It also extends critical insights in the form of analyses and reports, while ensuring that you easily manage the driver's app and the customer's app.
10.  Elluminati
Elluminati provides mobility solutions for different business segments. Therefore, this platform supports on-demand businesses with varied and innovative products in segments like delivery, transportation, and services.
Furthermore, with Elluminati, cab fleet managers avail of a single suite to manage their operations without much hassle. It also aims to ensure smooth booking processes for both drivers as well as riders.
Level-up your business with a smart taxi booking software
Given the potential growth of the global taxi industry, more and more businesses are now scrambling to access it. As a result, there are a number of cab booking applications, and newer ones are entering the market by the day.
And to beat the competition, you must provide innovative solutions by a cab booking software so as to differentiate your services from that of established peers.

In addition, with the help of such a software solution, you can easily create your forte among targeted customers, giving your enterprise the much-needed edge over its competitors.