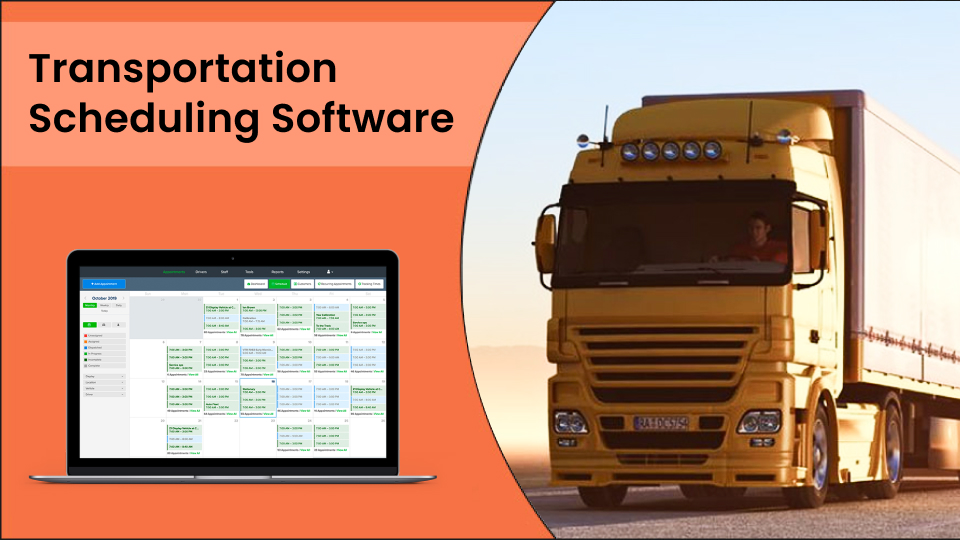 Top 10 Transportation Scheduling Software
The success of any business, especially transport companies, depends on time management. From planning and procurement to lifecycle management and logistics, every aspect of your business should run like clockwork, as even a slight delay in services can hurt your reputation and revenue. Therefore, it is crucial to invest in transportation scheduling software.
A software enables efficient booking and resource management, which results in superior customer satisfaction. And given the dynamic trade environment of today, it is critical to use a transport booking system that allows your business to successfully navigate the otherwise complicated scheduling processes.
This blog delves into the top 10 software to help you automate the scheduling process in 2023. Let's take a look at them!
What is transportation scheduling software?
A transportation booking software, in simple words, automates the scheduling process to help you eliminate spreadsheet-based or even manual scheduling. As a result, such software can offer you better visibility into your business operations and a clear picture of staff and fleet usage.
Some key features of such software are real-time optimization, automated scheduling and its efficient deployment, and improved accessibility.
Therefore, such software allows you to build more effective and efficient transport operations, and keep pace with the ever-changing business environment, by leveraging technology.

Deploy automated scheduling with a ground transportation software
As with most things in business, transportation often does not pan out as planned. Nevertheless, transport scheduling software lets you roll with the punches and gives you the agency to pivot as and when required. With such a software, you can track vital issues such as breakdowns, emergencies, and traffic congestion.
The software also sends alerts in case of accidents, thereby allowing dispatch to reschedule and/or reroute and minimizing disruption.  In addition, it allows you to keep your customers at par with updated arrival times, so you stay in their good books and win repeat business.
And most importantly, a software effectively eliminates manual processes, as manually determining transport schedules typically take long hours and additional labor.
Moreover, with the assistance of a transportation booking software, you can allow potential customers to book services online, through your social media accounts or website, for instance. This means that the software can help in lead generation, as you get new customers when you are not even actively seeking them.
Supply chains are continuously growing to meet the expanding customer demand. So, if you are currently relying on the age-old scheduling processes, it is about time that your business makes room for scheduling software. Doing so will help your business grow and give it a competitive edge in the highly dynamic transportation environment.
Top 10 transport scheduling software 
Today, the good old days of paper schedules are left behind, and everything takes place digitally. And the transportation landscape is no exception.
AllRide Apps recognize the need of the hour, which is to change with changing times. Therefore, AllRide Logistics is built as an AI-driven logistics management solution so that businesses can use the power of automation in their logistics.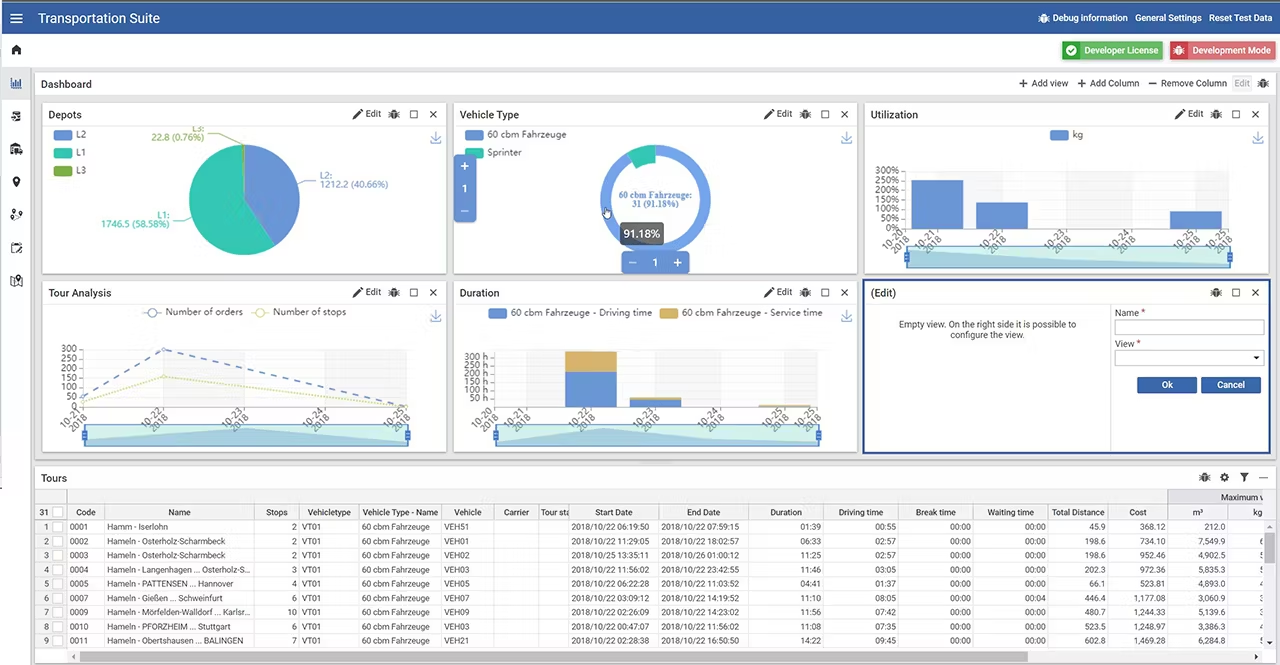 The AllRide Logistics transportation scheduling software allows optimization in the following ways:
A. Ride management with easy-to-use navigational features
B. Advanced trip tracking and bidding
C. Smart shipper app experience with features like scheduling a pickup, trip management, and rating the driver.
D. Fleet management with different vehicle types
E. Driver management with all the related details about the drivers, their trips, and payments.
F. Efficient management of operators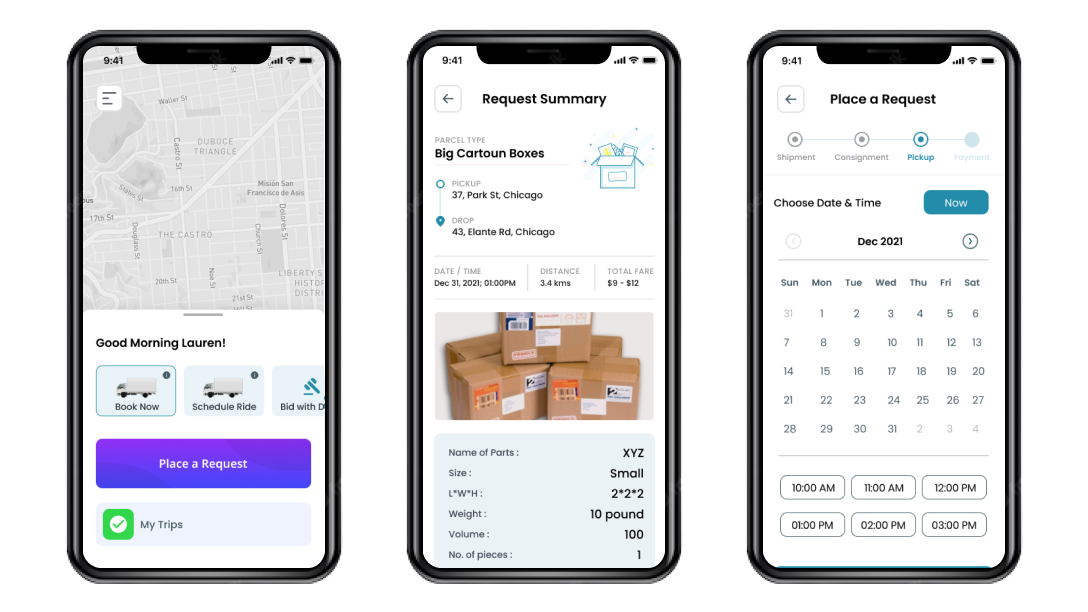 Try AllRide Logistics; book a demo here!
2. Ridecell
This fleet automation and mobility software works with an existing management software to improve the operations of delivery fleets. The software offers fleet-specific solutions for various fleet types, leading to lower cost of operations and more uptime. Furthermore, it allows you to streamline last-mile operations with automated workflows and actionable insights.
3. TransitScreen
TransitScreen is another ground transportation software that focuses on real-time transportation information displays, which are modernized to meet present-day business needs.  It offers personal and public transit information through mobile devices, displays, and so on. Therefore, its services optimize the location of your transportation choices, thus building confidence when you are using them. 
4. Masabi
Masabi brings Software-as-a-Service (SaaS) fare collection and mobile ticketing to public transportation.  With this software, mobile ticketing involves turning a smartphone into a ticket machine as well as a ticket. Therefore, it offers much-needed convenience to passengers, who otherwise would need to carry cash and wait in queues to purchase tickets.
5. SkedGo
SkedGo creates customized and intelligent mobility solutions for a number of entities, namely, enterprises, cities, and governments. This software offers personalized mobile-as-a-service technology like corporate mobility and trip planning for start-ups and corporations. So, businesses can create their own mixed/multi modal MaaS, such as parking, book and pay features, itineraries and events, journey planning, and so on. With its services, SkedGo makes transportation more sustainable, accessible, and seamless.
6. Passport
Passport makes it easy to manage parking enforcement, mobile-pay parking, digital permitting, and payments—everything in one place. It also gives you real-time access to data and insights as well as secure citation payments, along with access to robust reports so that you can make strategic decisions. The software also works with a range of enterprises, such as private companies, governments, and universities.
7. Kyyti
Kyyti specializes in offering integrated and on-demand mobility solutions for private and public transportation operators. It provides scalable and flexible solutions, which you can customize to client-specific needs. Kyyti offers various solutions, such as commuter programs, demand-responsive transportation, and paratransit services.
8. Calendly
It is a transport booking system that aims to eliminate back-and-forth emails involved in the scheduling processes. It offers you tools to set up event reminders via text or email, schedule meetings or events, and create a website widget. You can also use the tool to create a booking page for customers, where they can find all the relevant information about your services.
9. TripShot
TripShot is a simple yet powerful mobility management platform that tracks and optimizes transportation and fleet services. It offers efficiency by consolidating disparate systems, lowering hardware costs, and leveraging the perks of the latest tech to level up any operation. Moreover, it is built to be of use to drivers, riders, and operators alike.
10. MercuryGate
This software is equipped to handle all modes of delivery. The software package has an architecture that is simple to integrate with various platforms. In addition, the platform offers enhanced visibility into different critical transportation processes, thereby helping you to make better informed decisions. All in all, with MercuryGate, businesses can optimize as well as execute operations through a single platform.
Choose a transport booking software that's tailored to your business needs
Due to the application of automation in transportation, there is now a world of opportunities for your enterprises today, but only if you are well-prepared for them. 
In this regard, time management is an indispensable tool that plays a crucial role in business success. And to ensure that operations run on time, you must make use of the latest technology.
With the help of a transportation scheduling software, your enterprise can leverage intelligent tools for simplified scheduling and real-time optimization, and you can finally unlock the full potential of your business.