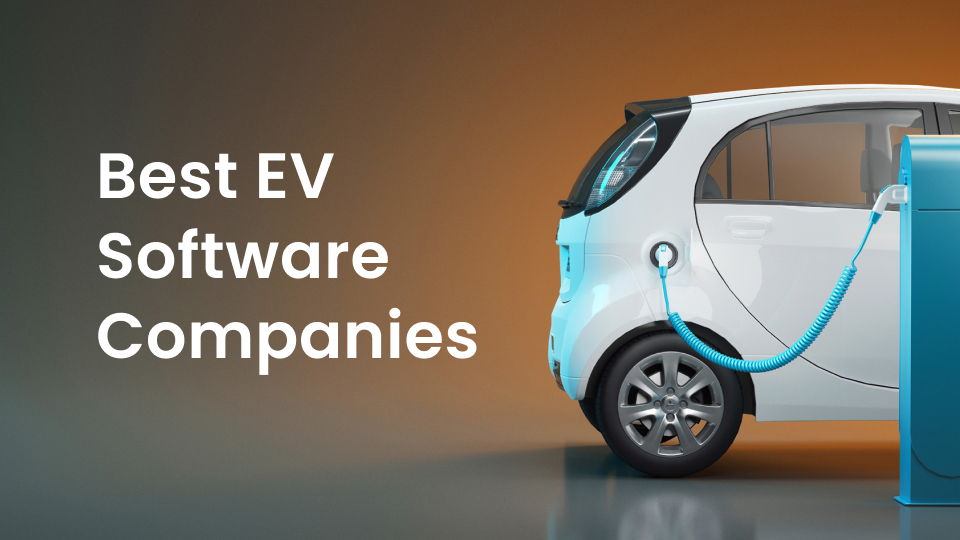 10 Best EV Software Companies
Recent figures from the International Energy Agency suggest that over 10 million electric vehicles were sold globally in 2022. Moreover, the agency expects sales to grow by another 35% in 2023 and reach 14 million (source). What do you think is working as a catalyst behind this growth? It might be the flawless offerings of EV software companies.
With these numbers, it is evident that the popularity of EVs is skyrocketing. And as a result, there is an increasing demand for reliable software solutions that ensure a flawless experience for EV owners, enterprise managers, and drivers.
Though there are several electric vehicle software companies currently on the market, they can be drastically different from each other, which makes it difficult to take a pick. This blog discusses the best EV software available right now, so you can make an informed decision when choosing one.  

What is EV software?
As the adoption of EVs increases, so does the requirement for a strong logistical backbone of infrastructure. In this regard, hardware delivers several thousands of kilowatts of electricity to electric vehicles worldwide.
But EVs also have to cope with several hindrances, which is where EV software comes in. Some of the issues facing EVs are the lack of charging infrastructure, maintenance requirements, and fast battery wear-down.
For optimized performance, the hardware needs to be coupled with a suitable software solution that addresses scaling challenges and adoption blockers. And these software are offered by a number of electric vehicle software companies.
Power your EV fleet management with trusted software companies
Companies around the world offer solutions to manage the EV infrastructure more efficiently and solve the pain points for EV owners. These software solutions pave the way for the new "computer on wheels" and offer the ecosystem that drives up EV adoption. Businesses, especially fleet operators and managers, can benefit greatly from the benefits of EV software.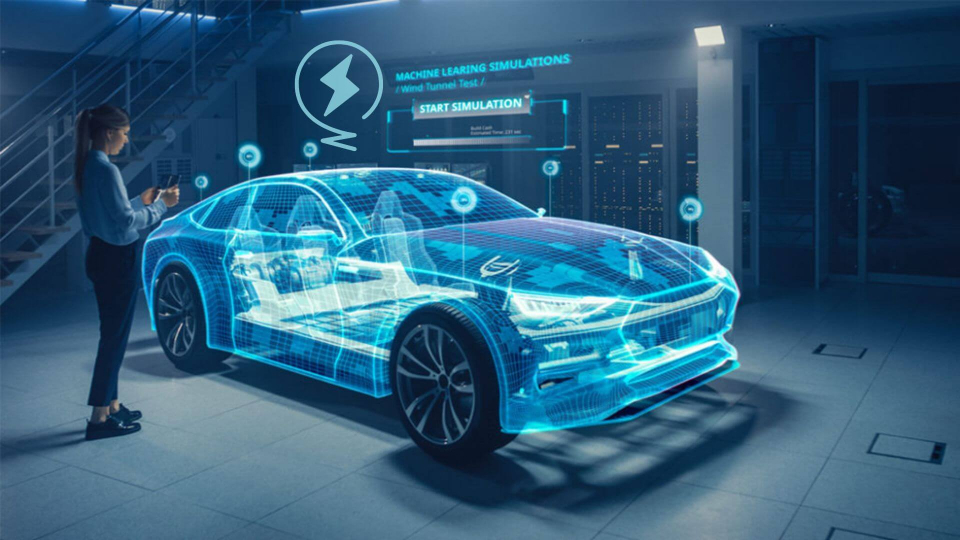 An EV software offers a holistic view of your fleet operation. You can have real-time information of all the aspects of the EV fleet operation, such as deliveries, vehicle locations, ongoing jobs, ETA, and completion status, among others. As a result, as a fleet manager, you can monitor the fleet activity more effectively.
At the end of the day, enhanced fleet safety is paramount for all the stakeholders of an EV fleet operation. EV software solutions are designed to monitor whether the safety protocols are maintained, all the while taking prompt corrective actions as and when required.
Furthermore, EV usage already comes with improved profitability, as the vehicles are relatively low maintenance and have superior performance parameters. Including EV software to maintain efficient operations only adds to the bottom line.
Therefore, partnering up with software companies for EVs will allow your business to implement advanced software solutions that support efficient, accurate, and safe operations of electric vehicles.
Top 10 best software companies for EVs
AllRide recognizes the need for fleet managers to keep up with the latest tech. The AllRide Cab is therefore carefully designed as an AI-powered integrated platform, which offers smart solutions for fleet management, car rental businesses, electric vehicle tracking app development, and ride sharing.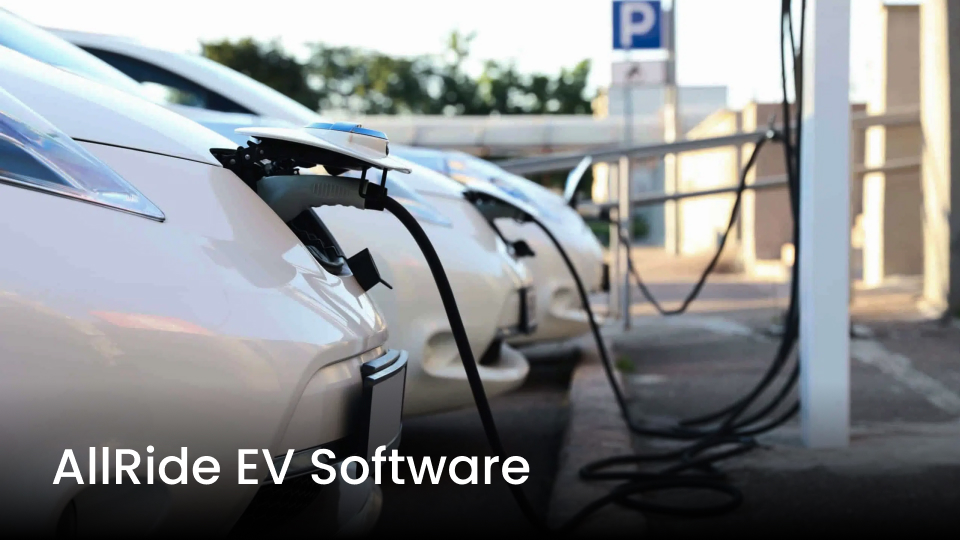 As a leading electric vehicle fleet management software, AllRide Cab offers a smart and connected software ecosystem. Here are the top features that make AllRide Cab resourceful for your fleet business:
A. Digitized Fleet and Driver Management
B. Instant and Scheduled Bookings
C. Real-time Location Tracking
D. Fare bidding
E. Ride Sharing
So, you can expect a considerable surge in the operational efficiency, and thus the profitability, of your enterprise—whether it is a ride-sharing, car rental, taxi, or on-demand ride-sharing business.
Want to give it a try? Just book a demo here.
Let's now proceed and take a look at some of the other EV software.
2. Fleetio
Fleetio is a SaaS tool for fleet management and maintenance. It comes with many modules, including asset assignment, inspection, and preventive maintenance. Moreover, it provides real-time access to asset details so that you can manage your fleet at any time and from any location.
3. Samsara
Samsara provides a wide range of tools that allow efficient fleet management. Samsara's software solutions are designed to include driver-safety monitoring, fuel efficiency optimization, and real-time GPS tracking. As a result, they allow organizations dependent on physical operations to develop actionable insights by harnessing IoT data.
4. ChargePoint
This one offers software for EV fleet managers, which is designed to allow better management of EV charging stations. One of the best companies for EV software, ChargePoint's unified EV charging management software provides rich insights and complete control, so you can streamline data and enjoy automated charging management.
5. Geotab
Geotab is another electric vehicle fleet management software that enables unparalleled EV fleet management. The company accomplishes this feat by allowing fleet managers to manage and monitor their EV vehicles.
Moreover, it allows managers to compare the performance of the EV fleet vehicles against the traditional engine vehicles. Therefore, with Geotab, you can keep track of energy use and optimize your vehicle allocation.
6. Fleet Complete
This one brings a holistic approach to fleet operations through its connected platforms. These platforms offer you the flexibility to scale your operations as your business grows.
With Fleet Complete, you can easily manage your entire screen from just one screen. In addition, you can gather information in real time about maintenance needs, vehicle performance, and expenses.
7. GreenRoad
One of the most robust software companies for electric vehicles, GreenRoad offers an assortment of fleet management software solutions. Its software is specially designed to help businesses manage their fleets with the least hassle.
GreenRoad also allows superior fleet management by offering valuable insights on driver information, dispatching, and scheduling. Its tech also aims to improve driver behavior by providing coaching and feedback to EV drivers by way of a mobile application.
8. Enel X
Enel X offers advanced energy management solutions with a goal to accelerate the transition to a sustainable future. Therefore, its range of software solutions are designed to advance the EV infrastructure. Enel X software solutions include IoT platform, asset management software, as well as the Enel X Way app.
9. EV Connect
Unlike most electric vehicle software companies that focus on creating cloud systems that lock in customers to hardware, EV Connect has developed an open standards-based solution that is hardware agnostic.
Therefore, it empowers fleet operators and managers to manage the complex infrastructure and satisfy the ever-evolving needs of EV drivers. EV Connect's range of tools also allow seamless management of EV charging stations, by offering driver analytics, allowing payment processing, and enabling real-time monitoring.
10. FleetWave
FleetWave allows you to use intelligent data to optimize fleet management. It offers a number of software solutions for fleet maintenance, asset management, driver management, and fuel management.
In addition, FleetWave allows the integration of any third-party application and automates your processes to work a lot more efficiently. It also offers instant and in-depth fleet performance data alongside detailed reports.
Choose from the best EV software companies and drive into an electrified future
As the demand for electric vehicles grows, it is critical for fleet businesses to economically and sustainably upgrade their transportation systems. In this regard, it is imperative for present-day businesses to team up with EV software companies.
This collaboration will help fleet businesses to utilize smart software solutions that are at the core of the EV infrastructure. And when driven by electrification and innovation, a business can optimize its operational efficiency, increase profitability, and meet all its goals.