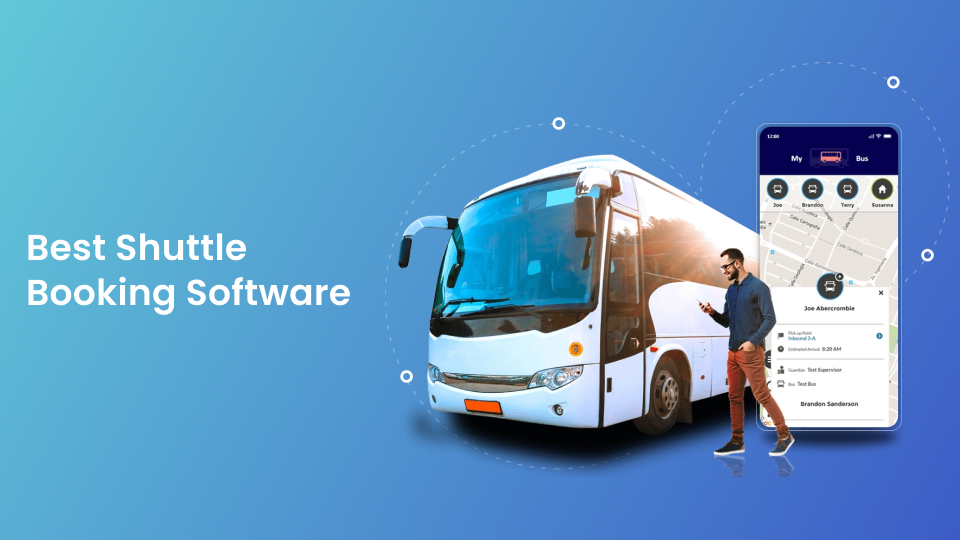 Top 10 Shuttle Booking Software
Today, shuttles are one of the preferred modes of commute for a large population in the world. Data suggests that there are countless shuttle operating agencies, working with several thousands of buses on different routes. And in a bid to tap into the potential of the industry, an increasing number of shuttle booking software have come up.
A present-day transportation business can function optimally only when it integrates software solutions into its existing infrastructure. Such software solutions are designed to make it a breeze for operators to manage their shuttle services and for customers to easily avail of them.

This blog has a compiled list of the top 10 booking software for shuttle operators. So, if you require a suitable software solution for your shuttle operations, take a look at the list below.
What is shuttle software?
A shuttle software allows operators to streamline, control, and manage all of the dispatch processes—from operating to scheduling. Such  software also makes it simple for shuttle operators to automate a number of complex and labor-intensive processes, such as appointment booking and driver assignment.
Therefore, automation by way of a software will allow your in-house shuttle system to function more efficiently and boost profitability.
Maximize your ROI with shuttle service software
For any present-day business, its technology infrastructure plays a determining role in success. And developing and optimizing this infrastructure is of utmost importance to shuttle operating businesses in particular.
A shuttle service software underpins operations in a myriad ways. This is because software allows businesses to work at full capacity and provide services to more locations and commuters.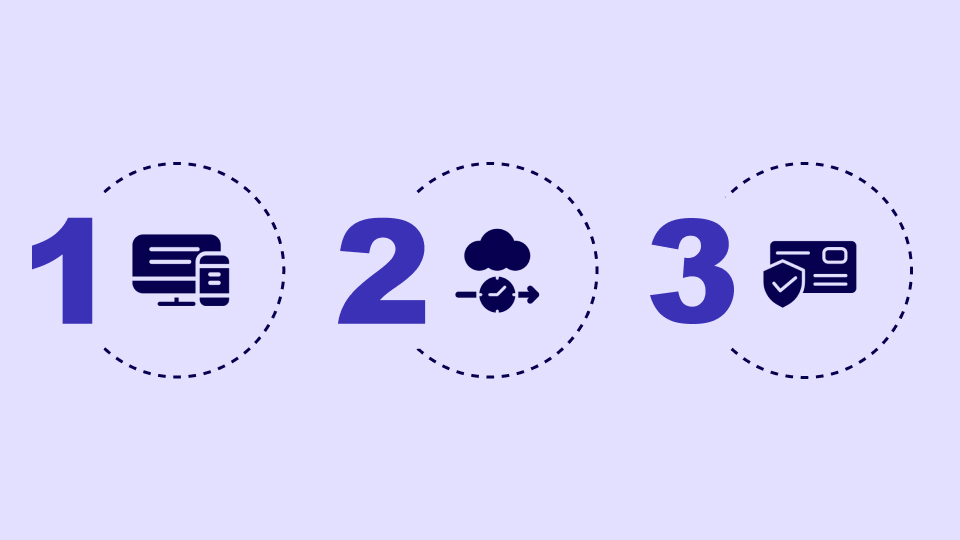 Firstly, it offers a user-friendly interface optimized for a range of end-user demands. Customers can make online bookings and reserve a shuttle in just a few simple steps, via a variety of devices.
Secondly, the software is designed to enable seamless and secure payments that can be made both online and offline. Businesses can also leverage software to offer booking confirmations and follow-ups to commuters, which results in enhanced customer engagement.
And thirdly, software enables the much-needed real-time tracking of shuttles by operators and commuters alike. It also provides shuttle operators with deeper understanding of all aspects from booking trends to driver data and revenue.
Best software for shuttles 
AllRide Apps realize that individuals are increasingly in need of faster, safer, and easier modes of commute. But although shuttle services can promptly fill this demand, doing so requires businesses to have a reliable online platform in place that fulfills users' expectations.
Therefore, AllRide Bus aims to automate operations and improve customer experience through smart, AI-driven technology. It offers a range of solutions for all business needs, namely, bus ticket reservation software, school transport management software, and, of course, shuttle booking software.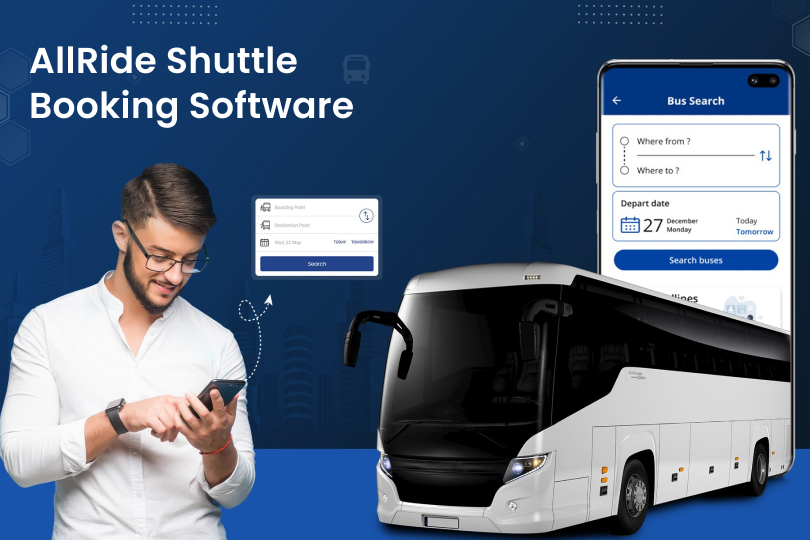 The integration of AllRide Bus into your shuttle operations results in seamless automation, through the following:
–  A responsive user app that offers instant booking, live GPS tracking, and customized pickup and drop-offs.
–    A trusted driver app that allows viewing pickup and drop locations, accepting and rejecting booking requests, and seamless GPS navigation.
– A powerful dispatch system for fleet and driver, customer, and revenue management.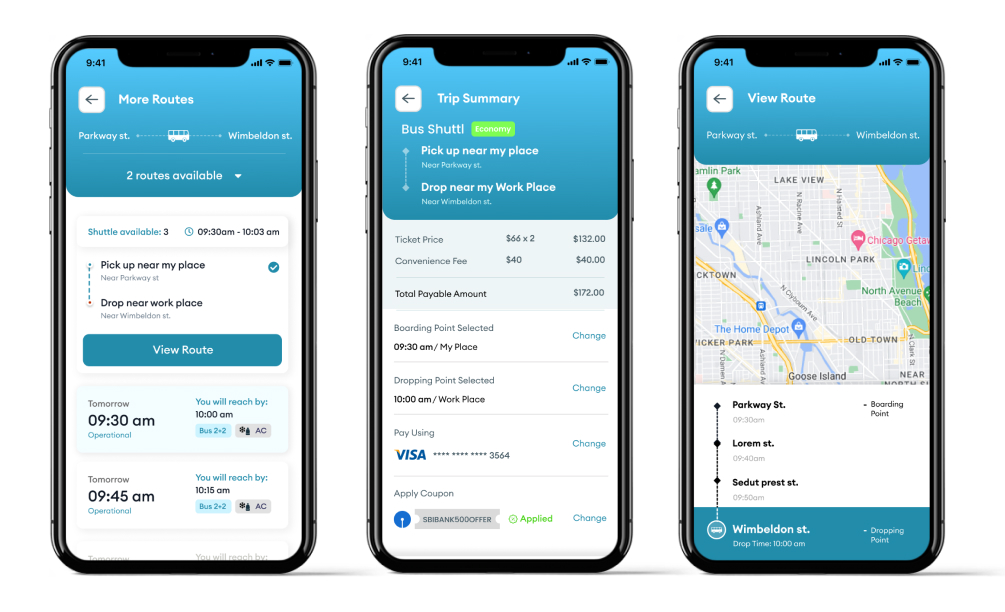 Want to give it a shot? Just book a demo here!
On that note, let's delve into the other shuttle dispatch software that are currently available.
2. ShuttleQ
This is a cloud-based fleet management software that offers you complete control over your shuttle fleet. ShuttleQ focuses on dispatching, tracking, and scheduling shuttles and automates the management of your business. It also provides drivers and operators with real-time updates on route details, performance measures, and so on.
3. TransLOC
TransLOC is a software that offers intelligent mobility solutions aimed at enhancing any transit service. Its flagship cloud-based transportation management system, or TMS, is designed to assist operators in improving the efficiency and reliability of services. Furthermore, its range of services improve rider experience and offer reporting and analytical tools for shuttle operators.
4. WeDriveU
One of the leading shuttle service software, WeDriveU specializes in customized transportation services to corporates, universities, and hospitals. That said, its transportation solutions are carefully designed to meet the unique and specific needs of each client. Its solutions take into account numerous factors such as vehicle selection, route optimization, and scheduling requirements. 
5. ShuttleWizard
ShuttleWizard is a shuttle booking platform, wherein travelers can first compare and then book private car services or airport shuttle from different providers. As a result, it effectively simplifies the otherwise cumbersome process of booking transportation services for commuters.
It offers customers details on pickup and drop-off locations, available times and dates, and the total number of passengers in the vehicle. In addition, one can view and manage bookings through a mobile app or website and avail of real-time tracking and 24/7 customer support.
6. GroundAlliance
GroundAlliance is a software that provides ground transportation companies with management software solutions. It extends services to a number of transportation providers, like taxi and ride-hailing operators, chauffeur and limousine services, and shuttle transportation services. Its software solution allows operators to streamline their dispatch processes and bookings and improve customer experience.
7. Numetric
Numetric offers analytical solutions by way of a cloud-based, easy-to-use suite of applications. These applications are purposefully built to allow faster in-depth critical analyses. Moreover, it enables organizations to easily share data, thereby making room for the optimization of investments.
8. INRIX IQ
INRIX IQ offers innovative and intelligent connected car services as well as mobility analytics. It provides solutions for transportation and automotive industries and enterprise customers. Most importantly, with INRIX IQ, operators can gain valuable insights into how vehicles and commuters move.
9. Rezdy
Rezdy is another provider of reliable software designed to complement several kinds of shuttle services and business models. It aims to enhance the operations of shuttles by providing access to real-time insightful information.
Moreover, it designs software that extends easy navigability on various devices. Rezdy also ensures that customers are never left waiting, so it provides them with tour updates and notifications.
10. PHPJabbers
The PHPJabbers offers the right tools for transfer companies and shuttle operators to handle client inquiries. Its point-to-point shuttle system software can be integrated to allow customers to book shuttles to predefined locations and from any device.
In addition, businesses can easily customize its software to fit their needs. Based on their specific requirements, shuttle operating businesses can set their preferred currencies, add automated booking rules, as well as adjust payment methods. They can also use its shuttle service management system to organize timetables of operations with ease.

Optimize your operations with the best shuttle booking management software
With the advent of shuttle service software, everything—from managing operations to availing of the services—is just a few taps away. Each year, more and more travel startups are putting their best foot forward in a bid to leverage the growth of this industry.
So, as a shuttle operator, you must make use of the latest tech to design a hassle-free mobile application and website that offer satisfactory user experience.
With the help of a reliable shuttle booking software, you can easily optimize your services, satisfy existing customers, and attract new ones, all the while gaining a competitive edge in today's bustling market.