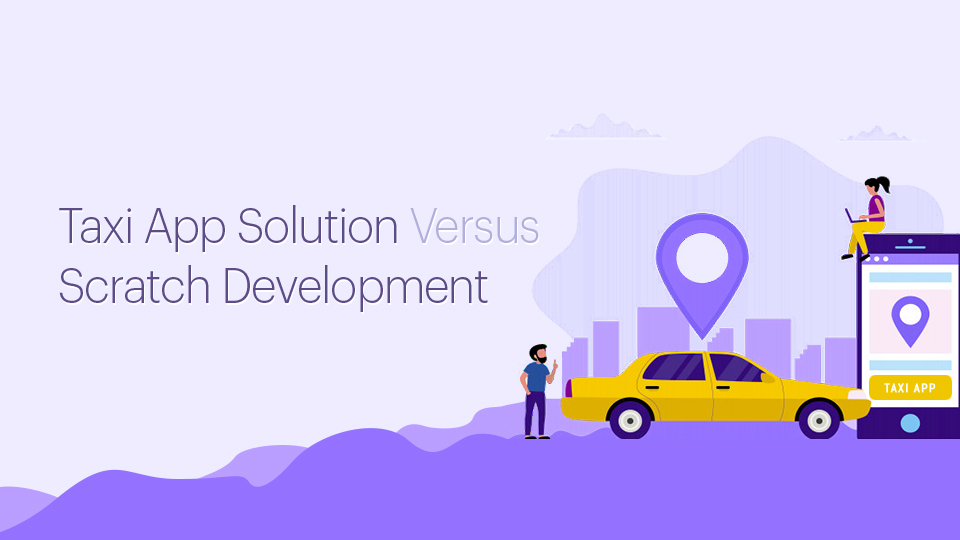 Build Or Buy: What Is Better For Your Taxi App Solution?
Uber revolutionized the cab industry to the extent that this term is now used to describe any on demand services, especially the taxi app solutions. From uber for tutor, uber for cannabis, uber for laundry, uber for delivery trucks, there are hardly any services left to be uberized.
Over the years, this cab booking giant became serviceable in almost every major city in the world. The result? Startups, cab companies, and individual entrepreneurs saw uber's success as an investment opportunity.
There is no doubt that being the next uber is quite a challenge, but not impossible with the right business model, development partner, and growth strategy. BidRide, a local cab booking company is giving Uber and Lyft a run for their money!
Success Stories Of Uber Like Cab Services
The cab booking market is currently worth billions of dollars and expected to be valued at a staggering 60 billion dollars. Despite the fact that taxi app solutions remains unmatched in terms of its services, issues like surge charges and security have always remained a major concern for users. And what seemed to be a concern for users turned out to be an opportunity for some. Many cab booking services entered the market and are doing well for themselves. These are a few examples:
1. Lyft
Based in the United States, Lyft cabs are available in 60 cities around the country. It is the main competitor of its rival Uber which is available around 700 cities throughout the world.
Related read: Beat Uber/Lyft With These 9 Advanced Features In Your Taxi App
One of the main reasons why users preferred Lyft over Uber is due to its transparent pricing policies. Riders were often left disappointed at the final fare they were charged after taking a trip. Despite the prices being more or less the same for both, Lyft has acquired a more driver friendly image over the years.
Lyft is the second largest transportation company in the States with 28% market share. They have their own escooter sharing services as well.
2. Hailo
One of the largest cab hailing services in the UK, Hailo was founded in 2011 and operated in several cities in Europe. It was largely successful after its launch and has expanded to cities like Boston, Osaka, and Atlanta.
The Hailo application is available for download in both the platforms; Google Play Store and the apple store. It has fundings worth over a hundred million till date. By 2019, it operated in more than a hundred European cities.

3. Grab Taxi
Popular for it's secure and pleasant rides, Grab Taxi is a Southeast Asia based on demand cab booking and food ordering company. This app based solution was created as a cure to the horrible cab services in Malaysia. Despite the success of uber in the region, Grab became immensely popular.
Grab eventually expanded its services to countries like the Philippines, Singapore, and Thailand within just one year. This company buys smartphones for its drivers as they expand to new areas. They made cab drivers install and sign up for their app by reaching out to them in airports, taxi queues, and other busy centers.
4. Bidride
BidRide does not operate in scores of cities, but deserves a special mention nevertheless. It is a Milwaukee based ride sharing app and is immensely popular in this region. This uber like app has a feature that makes it unique from most on-demand taxi apps; riders can bid from private taxis as well as shared cabs.
Related read: 7 Questions To Ask Before Hiring a Taxi App Development Company
This cab booking app was designed with a user-friendly interface with a motto to curb surge prices. Launched in October 2017, BidRide hit the Milwaukee riders like a storm.
What The Majority Of Taxi App Solutions Providers Focus On?
As the number of investors looking for on-demand taxi app development saw a rise, so did the number of taxi app development services. In a bid to meet the needs of these investors, app development companies are coming up with a variety of software solutions. Some offer scratch development, and some a ready-made solution.
Demo of InnoRide, our taxi app solution
Businesses often face the dilemma of "build or buy". If you are trying to build your own taxi booking software or taxi app solutions, think of getting an online platform for your business first. There are a number of reasons that suggest that choosing a ready made solution would be the right choice. Why so? Let's discuss these details.
1. Time
Businesses who choose to buy pre-built software solutions often consider time as their priority. Software development companies takes months, and often years to deliver a project. Depending on requirements like features implemented, the technology used, design, architecture, and more, the delivery time differs.
It takes no genius to figure that buying a pre built solution is the go to option when you are trying to cut down on building time. And faster the delivery, quicker the launch of your project. It also helps you focus on important aspects of your project like increasing customer base, choosing the right business model, and building an effective strategy.
2. Quality
As app development companies are coming up with their own taxi app solutions, the stiff competition turned out to be a boon for entrepreneurs looking for taxi app development services. Each of these companies are offering robust solutions that are appealing in terms of the design, rich in features, and seamless in user experience.
Of course, this by no means implies that if you go for scratch development, the quality of your product would be compromised, but the chances of errors are always greater if there is a time deadline to be met. So it is highly recommended that you buy the solution instead of risking issues with the app.
3. Tried And Tested
Before rolling out a pre built software in the market, quality analysts will test it thoroughly and screen for errors rigorously. What does this mean for the consumer? A top notch solution lacking any technical glitches, free from bugs, and superior performance.
When you build a product from scratch, it will definitely have issues related to performance and other shortcomings. There is no telling how long it will take to fix those issues. No guarantee if the development team will be able to get to the bottom of the problem and work out a solution. This will increase the project's delivery time. And a delay in delivery time could disrupt your business plan completely.

4. Cost Effective
As software development companies compete to sell a product that is not just great in terms of quality, offering the lowest price in the market is also remains a priority. The price of the solution depends on a number a factors mentioned before.
Since software companies are selling a product created with the purpose of selling to multiple clients, the development cost is not borne by one client alone. To make this simpler for you, let's assume the price of creating an app is a hundred dollars. You will pay the entire cost if built from scratch. But if the product is sold to more than one client, the company will be able to sell at eighty dollars and still make a profit.
So ready made products are not just better in terms of quality, but more cost effective. If budget is a constraint for your brand, no solution is better than a pre built one.
5. Customizable
Many people who argue against building the software instead of buying it do so as they believe that a pre built solution may not fully fit to serve a particular business. But this is a wrong notion as pre built solutions are fully customizable. Don't like the colors? Change it. Don't want a feature? Remove it? Need a plugin? Add it.
Related read: A Complete Uber App development Cost Estimation For Your Taxi Business
Some app development companies that offer ready-made solutions may also make it white label. What is a white label app? And how does a white label taxi app help you get rid of your business hassles? It is simply a ready made solution with your own, personal brand name and logo. It becomes your intellectual property after you purchase a custom pre built solution.
6. Hassle Free
If you have ever partnered with a business for a project, you probably know man hours and involvement that is needed to make sure that the project is delivered exactly as per your requirements. This is true especially if your project partner does not turn out to be as promising as advertised.
But purchasing a taxi app solution can save you and your company of all these hassles. Apart from a few customizations, there isn't much to overlook. A white label app is simply the best solution for your taxi business. So why not avoid all the trouble and go for the easier option?
Ready To Start With Your Taxi App Solution?
Are you thinking of starting your own taxi app business? With the tremendous rise of on demand cab services, this would be the right time to develop one. Working with numerous startups and big businesses, we value our clients like no other.
Our taxi app solution is of premium quality, completely free of bugs and technical glitches as tested thoroughly before launching to the market. If you have any questions or need help with your taxi app business, do not hesitate to contact us.