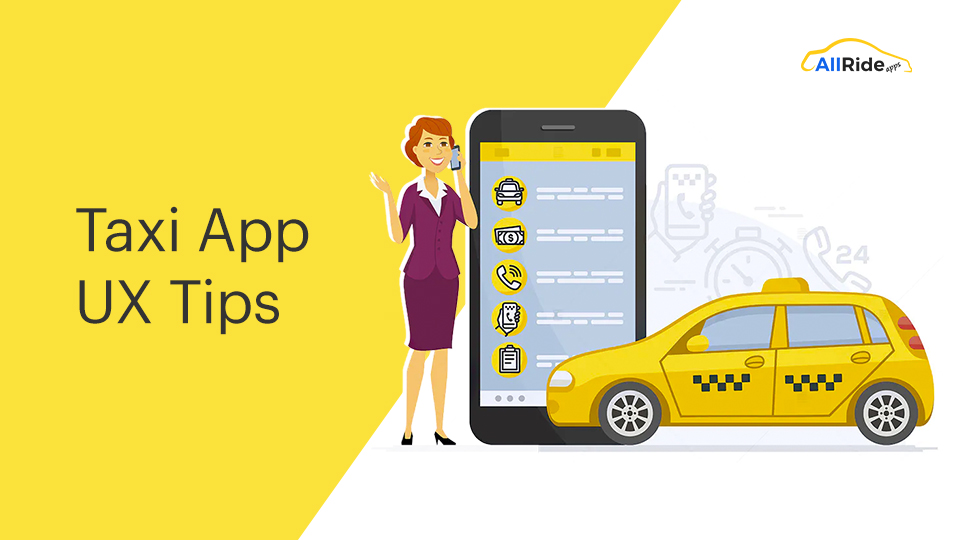 Expert UX Tips For Better Taxi App Design
The world of smartphones, internet, and mobile apps, especially on demand app services has transformed consumer behaviour rapidly over the last two decades. Smartphone users prefer services that are fast, reliable, and free of technical errors, when it comes to apps. This has resulted in an intense competition among app based startups and businesses to deliver an application with unbeatable user experience, innovative designs, and seamless navigation. Let's talk about the taxi app design. 
One of the most popular on demand apps – taxi apps became an instant hit after the launch of a unique taxi app solution – uber. But this cab booking giant was not perfect. It had its own issues and failed to meet certain user expectations. Entrepreneurs and business owners saw this as a golden opportunity to generate revenues. And the only option to beat uber was to create a better taxi app design. 
Fast, convenient, cheaper at times, and available at all times, it is not surprising that cab booking apps are loved by passengers. Ride hailing apps saw a steady growth in the number of passengers using cabs as a way of transportation – from 4.5 million to 160 million in just three years. But when demand is high, so is competition for providing the service. And in order to survive the market, your users must experience a product that is matchless. 
Taxi App Design: Understanding The UX Process
Good user experience involves a lot of hard work. A process must be followed for the best outcome; the end goal being user satisfaction, usability, and utility. A few steps are involved in the taxi app design process. What are these?
Step 1: Research for the pain points of your users. Conduct a competitor analysis to find out what works and what does not. 
Step 2: Evaluate everything you have gathered in the first step. Create user personas and look up consumer behaviour statistics. 
Step 3: Design the prototypes and wireframes. If you are creating an MVP, do not go beyond the bare necessities. Keep the basic utility in mind. 
Step 4: Develop your product in the market. Follow the basic app store optimization checklist for improved visibility. 
Step 5: Analyse your taxi app for better user feedback and error reports. Work on those to improve the overall quality. 

UX Tips For A Better Taxi App Design
Most taxi apps out there are doing a pretty decent job in providing online cab services. But having the right features is not always enough. You need to keep design and interactions in mind for the best user experience. Follow these simple yet valuable tips to keep getting more customers and keep competition away!
     1. Simplicity Is The Key
Ever heard of KISS (keep it simple, silly)? Why do we keep hearing this over and over again? What's the deal with keeping things simple and what makes it one of the most recommended mobile app UX principles? 
Well, most users want a service that is easy to use. A product that gets the job done, more than anything else. Adding more features increases the clutter which is rarely visually appealing. Think from a user's perspective. What are the features that must absolutely be present in a cab booking software? If you are not sure, you can make a list and create an online poll.
One smart way to verify this information is create an MVP for the taxi app and take feedback from the users. Or go through the reviews of competitor apps and find out where they are facing issues. Make sure your product is free of those problems. 
    2. What's New In The Market?
In order to keep your customers from switching to a competitor, it is absolutely vital to keep updating your app with the latest market trends and demands. But before diving into the research part, you need to keep a few metrics in mind. This includes age, location, payment preferences, and other factors. 
This is because folks living in New York may want different features from people living in smaller towns. Similarly, teenagers and septuagenarians are likely to have different preferences. If a new payment method comes to the market and gains popularity, make a point to integrate that payment gateway in your mobile app. 
Remember, keeping up with market trends is not just an important factor for taxi app, but for any product you are creating. This will help you to gain more customers and retain the existing ones at the same time. 
      3. Easy Login, Limited Permissions
"Your password must contain at least one uppercase, one lowercase, one symbol, one number, and has to be a minimum of eight letters." – No user friendly app ever.
Wonder why the Internet is full of memes on this type of login requirement? We get the need for a strong and secure password, but there are several other ways to ensure security other than asking your users to sweat their brains out for a semisimple registration. We recommend integrating social media registrations for simple, safe, and fast account setup. We also suggest auto verification of the one time password for mobile number authentication. 
Another mistake made by a surprisingly high number of applications is,  asking for too many permissions right at the beginning. What you can do instead is ask for those permissions when it is needed. For example, the software should ask to have access to contacts if the user wants to invite their friends or book a ride for someone else. 
      4. Need For Speed
No, slow and steady does not win the race. And certainly not that of taxi app services. Users today have little time and patience for slow and laggy product. And if they have other options, you had uninstallment coming. So you have to work on making it fast, even if that means spending more. Trust me, this will turn out to be highly beneficial in the long run.
When Uber was initially launched, the application took about 15 – 20 seconds to load. With each update, this improved, as did the user experience. Now it does not take more than 5 seconds. So, what measures can you take to improve your load speed and make it highly responsive?
For starters, do not keep a page blank while loading. This might leave your users frustrated or create an impression that the app has frozen. We recommend putting a loading sign, even better, a sign that that shows the percentage loaded. You can also skeletons like the ones you find on facebook or quora app. 
      5. Tapping And Buttons Made Easier
We users interact with the app by clicking on texts, icons, or action buttons. That's what smartphones are all about – gets an action done by responding to clicks and taps. Any clickable item on your app should not just be highly responsive, but easy to understand. 
If you are creating clickable icons, the annotations used for the purpose must be easily comprehensible with minimum texts. Try to reduce the clutter as much as possible. Jargons are a definite no for any text, be it for onboarding, explaining icons, action buttons, or even terms and conditions. Language is the main form of communication between the app and the user. And communication should be direct and easy.
Keep the size in mind; any clickable item should be adequately in size. Most smartphones today come with big screens and space is almost never an issue. So the in app interactions like texts and buttons should be reasonably speed and sized. If a user wants to click on menu but taps the menu instead, it contributes to poor experience. 

      6. Bandwidth And Battery
Apart from the in-app interactions which are mostly visual, metrics like battery consumption, the size of the application, and rate of internet consumption makes a difference in experience. These may not be an integral part of your app UX design process or be apparent to the user at first, but with gradual usage, it could reduce the overall quality of the software. 
While searching for a taxi application, the user will come across at least a dozen options. If an app is like say, 50 MB, most users are likely to install a competitor's app with lesser download size. You can optimize the size of your app by keeping minimum number of features and reducing unnecessary animations.  
Battery drainage is also an issue faced and hated by smartphone users. You should not build your taxi app in a way that consumes too much of the phone's energy by running in the background. Using less bright colors helps as well. Aslo, take care of the internet usage, by reducing background activity. Requesting a taxi should not be heavy on the users' pockets. 
       7. It's All About The Users
Your taxi app might have a brilliant design and responsiveness. All that is great. But when it comes to usability, that's not all that matters. A significant portion of what contributes to its success is how content the users are with. This depends on several factors – like errors, bugs, crashes, difficulty of finding a particular page are just to name a few among many others. 
To make your app more user centric, fixing technical glitches and working on users feedback is not an option. One sureshot way to ensure that your app has almost no bugs is to buy a white label app – the best way out for your taxi business. The moment a user complains about an issue in the app store, make a point to reply by apologizing and assuring that the issue is being looked into. 
You can use app store optimization tools to understand your users better. Some of these are free, and does a decent job. A sentiment analysis tool for example helps you understand a common problem in your software by collecting all the similar complaints. 
Ready To Build Your App?
Building an application is no easy task, and working in this industry for almost a decade has taught us plenty. From what customers wants, which design would be most appealing for a particular type of app, how to integrate a feature to marketing the final product – it is hard to put a price on our expertise. 
If you are building a taxi app, or any ride and transportation software, we are ready to help you. For any questions or queries, do not hesitate to contact the top taxi and transport app development company.