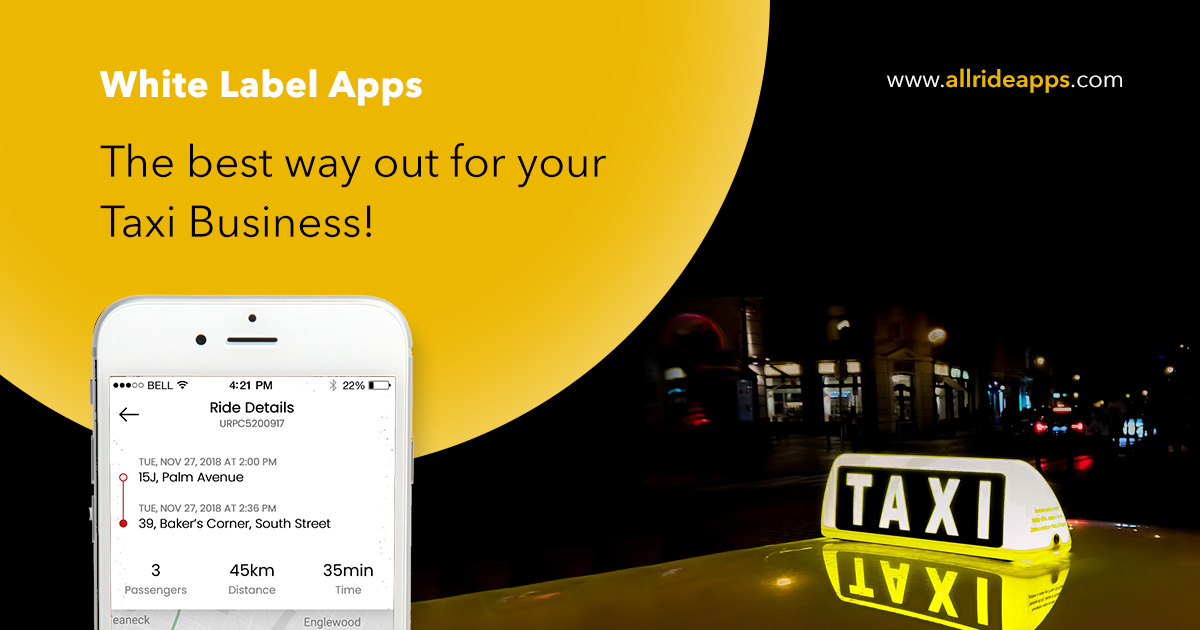 Get Rid Of Your Taxi Business Hassles With White Label Taxi App
If you're reading this, I can pretty much assume you are familiar with how a white label taxi app works. And probably looking for something similar for your difficult-to-manage taxi business. Well, I agree with you- managing taxi business is not a piece of cake. It demands attention, hard work and a peace of mind.
But we all know how taxi apps like Uber, Lyft and Grab have not only gained a brand name but have reduced the hassles of handling taxi business. They have improved the prevailing condition of getting a ride on time and also have created a better management for taxi owners. But have they done it? What magic did apps like Uber and Lyft have which any other local startup doesn't?
Well, it is all about the white label taxi apps.
What's The White Label Taxi Apps All About?
The white label app refers to the applications that are customized as per the branding of the seller. And when it is about the taxi business, white label apps provide taxi businesses with a far better service and help users experience a swift booking service as they can now communicate with the drivers with just a few clicks.
This acts as a lifesaver for the taxi business owners as it helps them get to know their users better and enhance their brand image.
So, still confused about stepping into this arena of white label taxi app?
Let's talk about some points that might help you get a clear idea about why your taxi business needs a white label taxi app solution.
1. Visibility Gets Tremendously Enhanced!
Mobile phones, today, are an inevitable part of man's day-to-day life. And that's why projecting your taxi business through a mobile app is definitely gonna increase your brand visibility and gain you more ROI.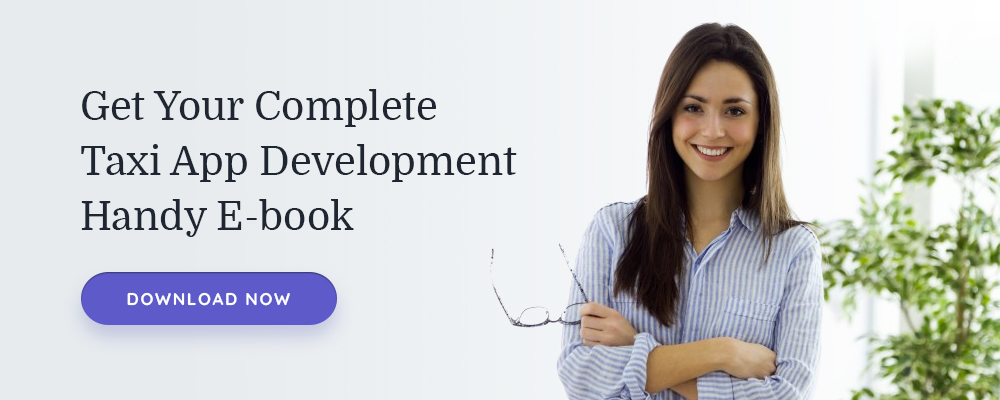 People today, rather than roaming around their locality in search of stuff they need, prefer to get stuff ready with just a click on their smartphones. What else can be an easier way than being able to book it through a mobile app and receiving it on your doorstep?
Taxi businesses, who come with a mobile app solution, have become the darlings of the tourists nowadays. They rely on mobile apps for getting their cabs ready just outside the airport.
Therefore, it is pretty clear that a white label taxi app is definitely gonna attract a huge amount of audience towards your taxi business.
2. Customer Feedback Is Important, Even You Are Quite Aware Of It
The quality of service delivered largely depends on customer feedback. The feedback that you receive from your customers about your service helps you reach out to the sectors of your business that require special care. Not just that, customer responses also help you track which areas are performing well for your business.
A ride-hailing app will allow the customers to give their feedback about the service they enjoyed. It can be through reviews, ratings and even through comments in the app stores.
Positive feedback will let you know that the customers that you'd served are quite happy with you. On the other hand, negative feedbacks come as a warning for you letting you know about which areas of your business require more attention and desperately need to be worked on.
In the reviews, your customers would point out the particular pain points that they have faced. And if you emphasize on those and improve your service likewise then you are likely to attract more customers in the near future.

3. Track Your Cars And Solve Issues On The Go
On-demand taxi app giants like Uber and Lyft enable their customers to track the cabs in real-time and allows them to monitor the cabs. With this feature, riders can now track the exact location of their drivers and have an exact idea of the time of their arrival.
This life-saving feature will also let the drivers get to know the exact locations of their clients which will guide them to reach the pickup point in no delay, using the shortest route possible. In this way, it will reduce the cost of operations. Besides, when your customers get picked up real quick, it boosts customer satisfaction and cuts off the cases of booking cancellations preventing losses of ROI. So do you think this benefit of the white label taxi app can help you?

4. Auto-Pilot Mode Takes Away All The Hassles
Before Uber revolutionized the taxi business, taxi owners had to seek out for customers. The customers then would inspect the cabs before starting negotiation for the price for hiring.
Taxi apps now have an easier option that jumps over these hurdles swiftly. It is nothing but the autopilot mode. The apps now provide customers with details of the cab including the details of the driver and the payment information. In this way, the customers can easily get their cab ready and pay for it after completing their trip.
5. Brand Credibility Gets A Boost
If your business is the dish you are making to impress, then I guess brand awareness is the secret ingredient that you don't wanna miss out, instead if you put it right, it will help you get the best impression with your dish!

Ride-hailing app giant, Uber, has spread its business over 80 countries, and in near about 670 cities worldwide. Got any idea about the reason behind this successful growth? Simple. The boosted up their brand awareness through their mobile app. Uber was successful to hit this milestone simply by utilizing its mobile app to grow its brand name. As a result, it was able to spread its business all over the world.
White label taxi app introduces your business to a large amount of audience which increases your brand reliability. Eventually, it will help you gain the trust of the mob quite easily. And if your app is user-friendly enough for your users to customize it according to their preferences then it will boost your chances of reaching your goal of building your brand reputation.
6. Monitor The Efficiency Of Your Drivers
The performance of drivers can easily be monitored through mobile apps. The performance of the drivers does affect the fuel expenditure, customer satisfaction as well as the car condition and utilization. Minutely monitoring the drivers' performances will unimaginably help improve efficiency and eventually boost your business drastically.
Many drivers usually involved in speed driving and harsh braking. Monitoring their behavior would keep you aware of such instances and help them with safety tips to reduce accidents and improve their performances.
Rewarding the drivers for their performance would also help them keep an eye on their individual behavior and reduce your headache.

7. Keep Track Of Your Customer Information  
To serve your customers with quality services, all you need is to understand their tastes and preferences. The taxi app will let you gather adequate information about your users. Such data include location, contact information, and call data between users and drivers. This valuable information will help you create personalized offers and discounts for your users and will help you retain customers easily.
You can even send push notifications to your customers depending on their preferences. This will help you improve the quality of the service you provide with the white label taxi app.
8. Increase Your Profits
Taxi businesses that get curated by third-party apps usually end up paying a big part of their revenue as commissions to the app owners. But if you build your own taxi app, this expenditure will get cut off. In this way, you'll be able to increase your annual ROI which will boost up your business.
9. Hassle-free Maintenance With White Label Taxi App
Handling the maintenance service of your taxi business all by yourself is definitely gonna cause you much hassle. And for that, you need to hire some system administrator to make sure things fall in place.
But companies that provide white label apps also do offer maintenance services for a minimal package or on a monthly fee basis.
White label app users don't need to scratch their heads to keep up the maintenance or performing troubleshooting just in return for a small fee. With the white label solution, you can now keep your calm and have your work done at the same time!
Winding It Up!
A white label app can help your taxi business can help you get your head out of the hassles of a regular taxi dispatch system and utilize your time and efforts in nourishing your business's unique branding. Focus on building your own brand and selling and spreading your services making it effortless for your company and customers.
So, why not opt for it?
If you are already into the taxi business, it is better to go mobile with a white label solution for your service. And if you still have some queries, feel free to contact us. We have a superb team of experts who can easily solve your confusion and give your thoughts a new horizon. And guess what, this one-to-one consultation is absolutely free of cost!
We are there for you. Allrideapps never disappoint their clients!