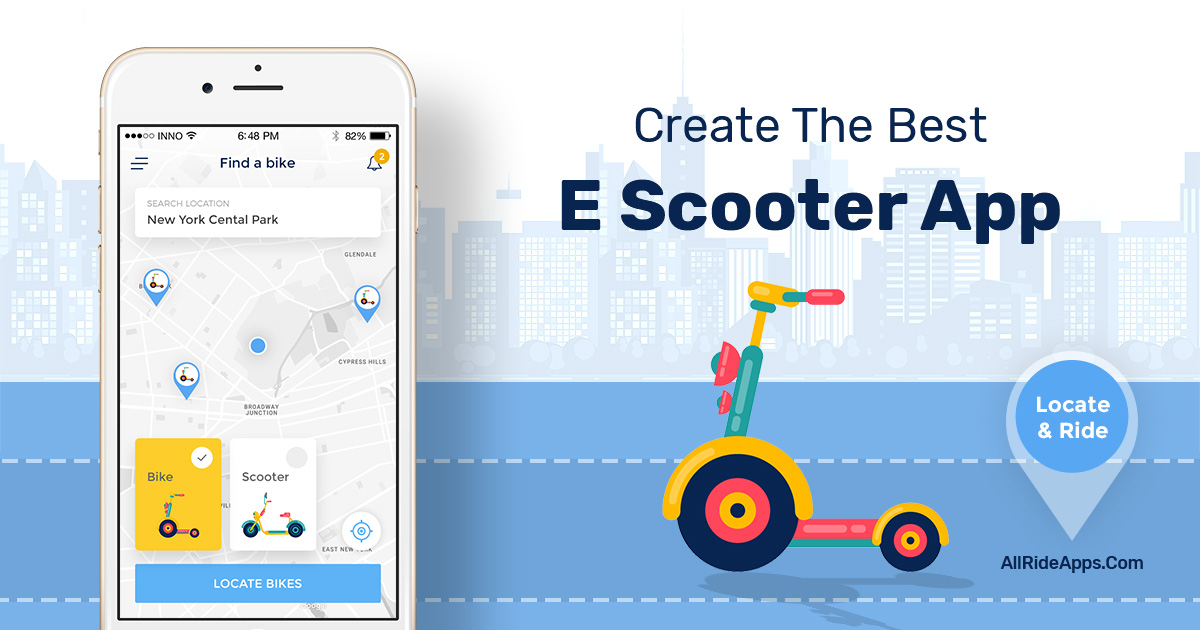 8 Ultimate E-Scooter App Features That You Cannot Skip
With the constantly increasing popularity of the on demand ride sharing services, it's newest inclusion the e scooter gig. And getting it instilled with the ultimate e-scooter app features makes it more acceptable to people worldwide. It is no secret that mobile apps are changing the transport businesses for good. 
With over 250+ scooters under its authorization, Denver from Lyft is planning further to add a 100 more with it. Even the ride sharing e scooter app that has been gaining popularity in recent times is Bird. Bird, a dockless e scooter app by Uber, is the most popular e scooter app there in the major cities of North America.

Most Critical E-Scooter App Features To Keep In Mind 
Well, I guess, it is your time to give this startup a thought and if you're reading this then I guess you have landed in the right place. Because we are just about to discuss the most critical e-scooter app features that should get added to any new e scooter app startup that wishes to grab the e scooter app throne. We also have an in depth guide on scooter sharing app development with panel wise features. 
1. Locate The Scooters With Just A Click!
The e-scooter app should make it easy for its users to locate the available e scooters. They would find it easy to decide which e-scooter would be better for them to hire. This would make the whole process a cakewalk for them.
Similar to the cab booking service, the app you are gonna build should also allow users to find the location of e scooters and hire them with just a few clicks.

2. QR Code Is The Next Gen Key!
Users should find it easy to book their e-scooter. Introducing the QR code would let the users scan the code of the respective e scooters easily by using their smartphone cameras, and book it for a specific time period.
You can also add a feature that allows the user to end the ride or allows the user to take small halts and lock their dockless bike for a small period of time.
3. Tracking Made Easy!
GPS is another essential e-scooter app features which you cannot just miss. When the users feel like ending their ride, they will have to park their dockless bike in the parking area specified by the administration. The tracking facility would not only make it easier for the users to track the location of the corresponding parking area but would also let the users park their vehicles safely, facing no further harassment.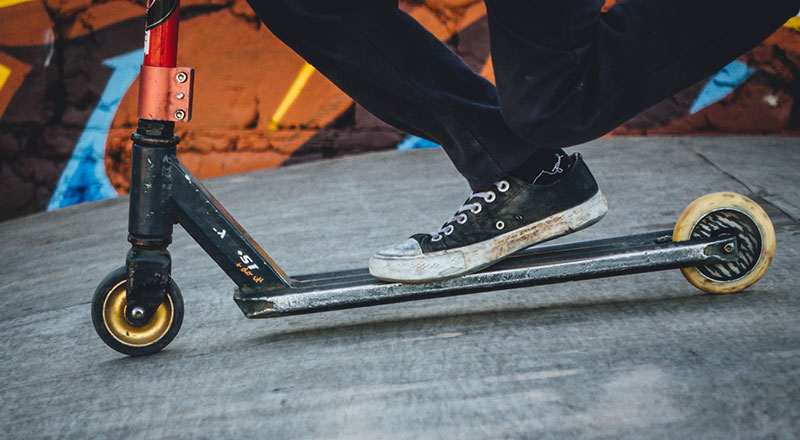 4. Let Payment Be Hassle Free!
A secure and hassle-free payment method letting the users pay for the services online would be an effective add-on to your app. Keep in mind to add as many as payment methods you feel would be necessary to help your users pay online. Stripe, PayPal, Braintree are the most trusted and most frequently used methods for in-app payments.
5. Ride Memories Do Matter!
Letting your users access their ride history is a must-have feature that should be included in your app. Ride histories are pretty useful at times. They help the users figure out the previous rides they had and the amount they had paid to avail the service.
There are certain cases, where the user forgets or gets no time to check the amount deducted from their wallet for availing their previous ride. They usually tend to check that afterward and that is the time when this e-scooter app feature comes into action.
6. Push Notifications To Keep Them Engaged!
Push notification comes as a deciding e-scooter app features during its development. This feature lets them get to know valuable information regarding their rides and all. Push notifications are also useful on the other end. It is a way for companies to keep their users stuck to their app by informing them about various deals and discounts.
7. User Feedbacks Are Priceless!
If you want to create an e-scooter app that stands out, then you should keep working on your software and keep it updated with all required changes.
The review and feedback feature works as a lifesaver for your app. It would help your users to share their ride experiences with you as well as it will let you know of the roadblocks you need to keep an eye on. Through this feature, you'd get to know of the extra perks your users want you to add in the e-scooter app.

I believe, this feature creates a real-time bond between the user and admin panel and would help your business thrive its way in this competitive market.
8. Coupons And Discounts To Keep Your Users Engaged
This is a kind of engagement method to make your customers keep using the application and prevent them from switching to a competitor. Because who does not love discounts, right?
Discounts or cashback for referrals not just keeps the users happy, but helps you increase the customer base. You will also know what works to keeps your customer engages, and what does not.
What's Your Take On Leveraging The Ultimate E-Scooter App Features?
I feel it is high time for you to give the e-scooter domain a chance. And if you want to make it big in this market, these are the three points, you need to keep in mind.
1. All you need to focus on is making the communication easy. It is the main reason why people are looking forward to this means of communication.
2. You need to consider the traffic and save the riders from getting stuck in the traffic and help them reach their destination both safely and on time.
3. Lastly, serve your users with convenient parking options and also make the process of getting the desired e scooter for hire a lot easier.
If you already have some similar app idea in your mind, feel free to share it with us. At Allride, we have a team of highly skilled developers who are quite capable of making your dream come true. And when it comes to ride sharing apps, we do have a portfolio for that as well.

And to let you know, we are one of the top transport app developers in the US, Australia, and India. Let us know of your requirements and we will get back to you ASAP!