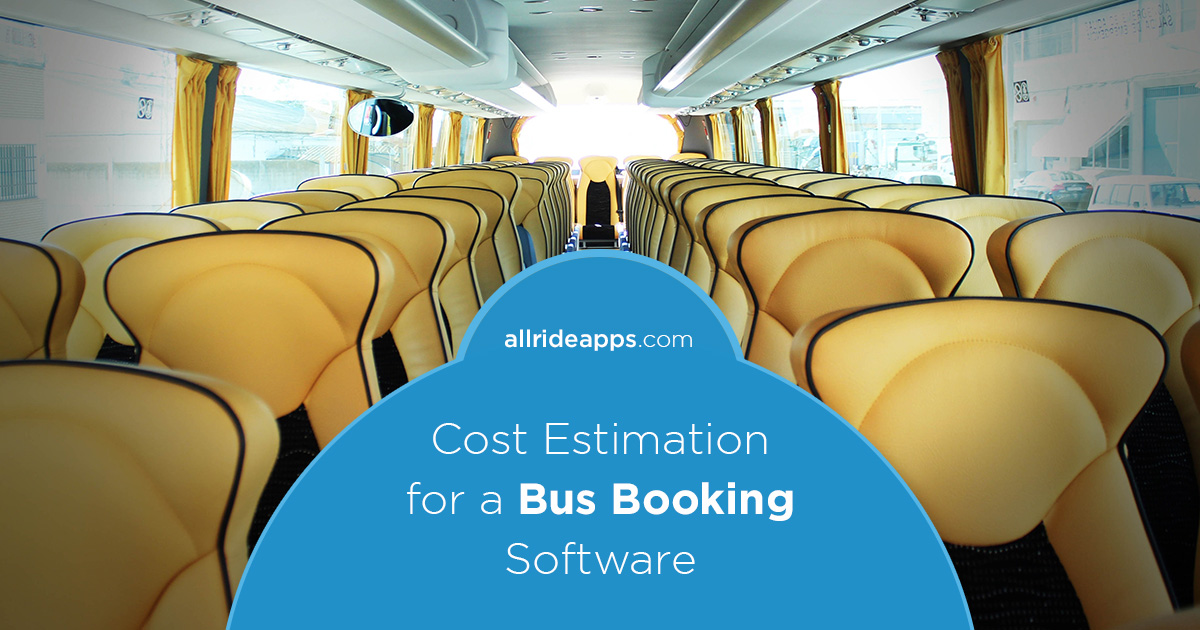 The Only Cost Estimation You Need For A Bus Booking Software
"Travel isn't always pretty. It isn't always comfortable." – Anthony Bourdain
Well, with the right and smart choices, that is not the motto we believe in.
Change is the only constant – and smartphone owners can vouch for that. A lot of business owners have expanded their transactions to an online platform. And given the present trends in growing demand, the transport sector witnessed huge changes, which deserves special mention. Therefore, the most clever thing to do if you own a business in this sector is to create an app. Providing your services on app can have several benefits and its impact on growth will definitely be positive.  
Let's take the example of bus booking software development.
It is no secret that transport and logistic apps are shaping our future. Talking specifically about buses, the past decade witnessed a tremendous rise in the number of users who booked tickets using bus ticket booking apps.
In the United States alone, the number of people who booked their bus ticket online went up from fifty million in 2015 to a hundred and fifty million in 2019. The scope for business in the sector for bus booking is therefore largely profitable.
You can thus safely conclude a few things:
The number of consumers who buy their tickets via apps is increasing.

This will create a higher demand for bus app service providers.

With a number of options, consumers are likely to choose the app with the best user compatibility and experience.
This raises an obvious question.
What is the reason for this demographic shift when it comes to purchasing tickets on app? What can be the reason that transport startups are going for bus booking software development?
Advantages Of Having A Bus Booking Software For Your Business
1. Confirmed Seating
Travelling, especially, long distances should be a pleasant experience. No one wants to strain their legs standing in crowded buses.
Several bus ticket booking apps provide the option of choosing the specific seat you prefer. Window seat or aisle side? You decide!
2.  Stress-Free, Hassle Free Solution
You are ready to go somewhere, but it's raining and the buses are not plying on their normal routines. Cab fares are hiked up. There could be a possible delay in the estimated time of arrival.
Would you not wish you had a solution for situations like these? This is where bus transportation apps like Redbus come handy. You can easily pre-book your tickets and travel hassle free. In the same way, think of your customers. With your bus reservation system, you're going to improve the travel situation to great extent. 
3.  No Surge Prices
Don't you hate it when uber charges you more than the usual fare? We all do.
Having the comfort of a cab in a bus sounds far-fetched, but is not.
These prices don't occur in pre-booked transportation services. All of the pre-booked bus services are air conditioned and have comfy seatings. In fact, some luxurious buses have better seats than most cabs without the surge pricing. The best part is that the price for these services does not fluctuate with demand.
4. Customer Care is An Added Benefit
Do you need help with bookings?
Are you facing issues with cancellations?
Is there an error to report?
Contact the service provider whenever you want. Options like live chat, email, and calling should be included in order to enhance the user's customer care experience. One of the many reasons why Amazon has successfully created a huge global presence is due to its unparalleled and uncompromising customer care. You got to have a better customer care in you bus booking software to stand out. 
5. Cheaper Travel With Coupon Codes.
Several bus app development services have incentive programmes which let the user redeem coupons if they make their business more popular by inviting more people to use it.
If you own a bus service, the best and smartest way to profitise your business is by taking it to the next level with a charter bus dispatch software. Yes, we are talking about an online platform. If you are thinking of creating one, then you must include these functional features.
Related read: Beyond Uber – Success Stories of 5 Other Transportation Apps
So What Are Those Intricate Features That Adds Up The Cost?
We know what are the benefits of creating smart bus management software for your business. But what exact features are required? How can you make your bus app stand out and what will be estimated time and cost? To start with, you need :
Customer app

Driver app

Operator Module

Admin panel
Let's find out in details.
1. Important Features For The Customer App
Customer app, as you can assume is one of the most important aspects of bus solution. It has to provide the best user experience and an easy to book seats. Practically, the customer app features and design pattern should add be simple, intuitive and engaging. It is going to be the branding face of your bus tracking system.
So, it's time to get the feature details straight.
Registration & login: This must include social login like google and Facebook for quick account setup.

Seating availability: Allowing customers to select the preferred seat.

Payment option: A number of online payment methods to be included, as cashless transactions are the future for any app services.

Offers, promotions, and redemptions: Keep your customers from switching with these incentives.

Booking confirmation: Required on the app, via SMS & email.

Account management: Manage wallets and tickets, update information, view previous trips.

Customer support: Important not just for providing help and assurance, but feedback for further improvement.

Push notification & updates: Crucial for trip reminders, offers, and updates.
Wondering about the time needed? Here's an estimation for this feature in bus booking software:
Payment Gateway Integration (Stripe)-

18 hour

Add or Scan a card –

10 hours

Get Exact Price –

6 hours
2. What Features Do You Think Are Important For The Driver?
For drivers, the app has to be really simple as they have to perform a lot of actions there. They will access route details along with getting paid for the rides done. The driver app will also connect them to the operators and provide them with live updates. You need to implement the right features in your bus app and follow the complete guide of its development. 
Login and registration: This will have all other information like license, previous records, preferable timings.
Manage bus stops: Having a sign on map for each stop for a better location.

Service option: Choose a service provider which will have all the information included.

Payment dashboard: All details regarding remuneration, preferred payment method and cashing credit.

Notification: Better service offers, update and so on.

Trip history: Useful feature for both driver and customer.
3. Important Features For The Operator in Bus Booking Software
This can be an optional module for a bus business. If you are running a large business where the number of buses plying on roads are higher in number, you might need a separate operator module. Let's find out what you need here.
Login: Separate account for every agency

Dashboard: This should include money management, seatings, route, booking, tracking.

Manage special packages like renting, pilgrim booking, change of routes due to natural calamities.

Customer review: Rating and feedback.

Driver management: All driver related particulars like payment, s

ales dashboard, n

otification, alerts, updates.
4. Features For the Admin Dashboard:
The admin dashboard is going to be one place management for all the buses, bookings, payments and everything else. You can manage your apps, track your vehicles, assigned bus routes etc. Let's find it in details. 
Login: Necessary no matter who the user is.

Dashboard: Users, along with their info, managing users.

Billing info for Travel agency/operators

Refund, cancellations, commissions, ticket along with types.

Live tracking of bus: Important for every type of users like driver, customer, admin

Cloud storage: Vital to make sure that no information is lost.

Advertisements: Investment with promising returns, in the long run, to keep the business growing.

Notification: for all important updates regarding the business request, update.
5. GPS Integration: Why You Should Definitely Include This
GPS is an important feature for any travel related app. This is not just for the live location of a bus, but for automatic location detection of the user while logging in. This helps the user to make an estimate on when to leave their house or how away the pickup point is. As a lot of riders tend to track the vehicle on their phone after booking, it also keeps them busy till the arrival of the bus. 
The driver app should have their GPS with each rider, bus stops, and gas stations. Along with live traffic, the driver should be able to view the ETA (estimated time of arrival).  
The operator too needs to keep a track of all his vehicles for logistics purposes. In case a bus is lost or stolen, it can be recovered faster. 
Following is the time required for this feature in bus booking software:
Route routing and location integration-

30 hours

Geo location-

4 hours

Create a ride-

36 hours

Track your ride-

20 hour
6. Your Bus Booking Software Needs
Top Notch
UI/UX Design
This is the user interface and probably the most important aspect with options of cities, (from and to) routes, date. If you don't want the customer to uninstall the app, the experience of the customer should be smooth, seamless, uninterrupted, and free of technical issues. The target should be to make it as user-friendly as possible. The most important and used icons should be in the home screen while other options on the top left.
For the best user experience, always talk to an expert designer to create your app.
Ready to Develop Your Bus Booking Software?
If you are a bus service owner and require an online platform, creating an app may seem like a herculean task. But with an expert team of dedicated developers, you can take a sigh of relief. Here at Allride Apps, we provide a unique solution for all your app based needs.
Developing an app takes time and dedication. Of course, the time and price would depend on the features you want. To provide you with a rough estimation, the time needed is around 180-200 hours and cost varies between $20K to $40K.
We have the perfect solution for you. Request for a free demo of our bus ticket reservation software.