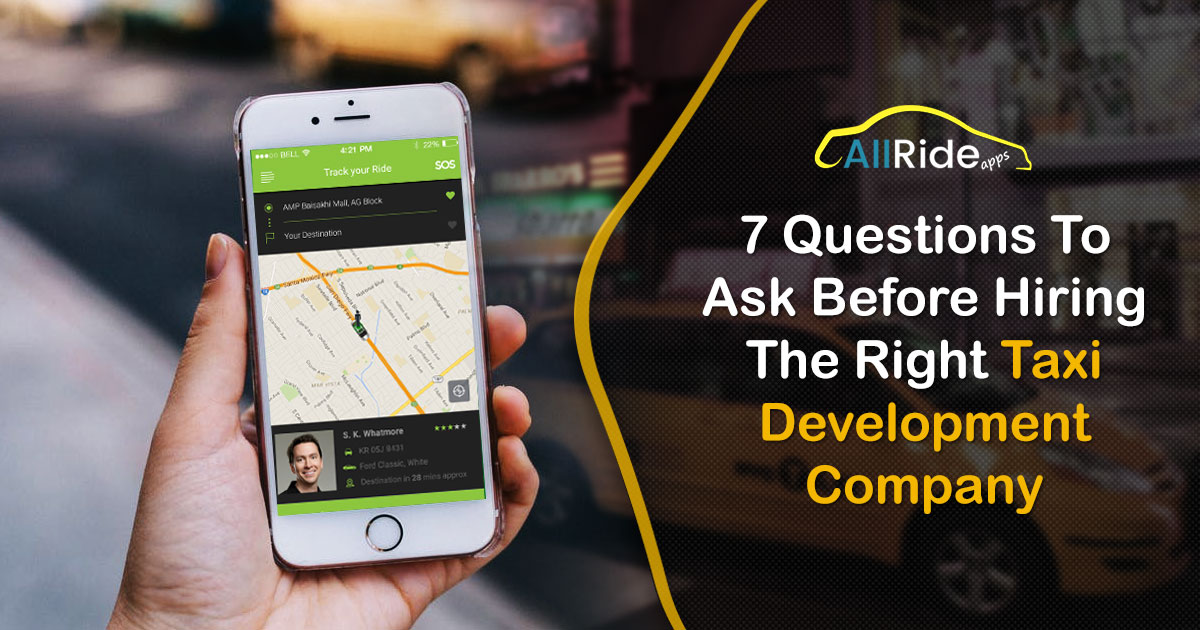 7 Questions To Ask Before Hiring a Taxi App Development Company
[vc_row][vc_column][vc_column_text]
[vc_column][vc_column_text]
I had to rush to the airport, and there was almost everyone giving suggestions to download one or the other taxi app. Some called for Uber, some for home-grown Ola, some asked for local apps like EasyCabs. Pretty confused I was. Who the hell make these apps? Don't they fear the fierce competition in the market? What makes them unique? More precisely, how they choose a taxi app development company, to ensure that their apps do not fail?
That was enough for me.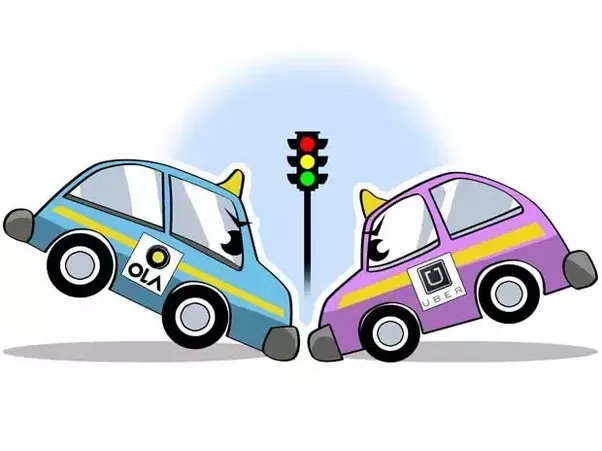 If investing in apps like Uber and Lyft is profitable in today's transport avenue, then we should definitely give a try. But prior to that, you need to hire the right taxi booking app development company.
I came across different business literature that tells taxi app development is a little bit expensive. (Especially, in cases when you want to be different from the players like Uber or Lyft).
All you need to do is- be more straight-forward to your app development partner. Watch this video to know what are the things that you need to clear up before you hire any.
Is Your Taxi App Solution Just Like Others or Have the Spice?
If you clone the app scripts of Uber, you are sure to see Dooms Day sooner. But originality does serve its own purpose.
Look at Lyft – you can book a car with Lyft in 7 days advance. But Uber does not give such a facility. Lyft allows in-app tipping whereas Uber doesn't do that. (Source)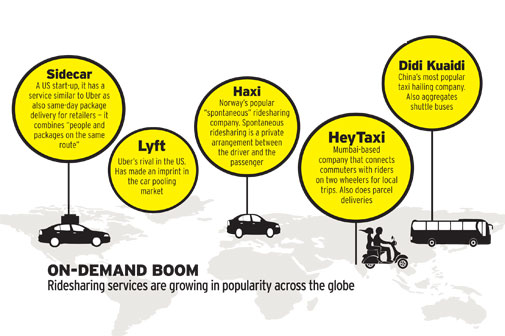 (Source: Business Today)
Now, these are some of the features that help Lyft to brag. Thanks to their taxi app developers, who have been so innovative and has produced quality bug-free apps. After all, launching apps like Uber and Lyft should also ensure that we churn out more revenues with some of the best-in-class features.
Also, launching apps like Uber and Lyft should also ensure that we churn out more revenues with some of the best-in-class features.
Bonus Read: How to Generate More Revenues With Apps like Uber and Lyft?
Well, am way too outward. Cutting it short, let me get into the main discussion. I will give you a quick guideline to choose the best agency to be the next Uber competitor.
7 Questions to Ask Before Hiring a Taxi App Development Company
What question to ask a taxi app development agency to stay ahead of the common app crowd. What USPs make your app better than Uber or Lyft? Please read on for your help –
Q1. Ask your taxi app developers – "Can I see the taxi apps you already built?"
We know that technical expertise is one of the important things to consider. But there is no substitute for actual experience and results that come up while running the development process.
Bonus Read: Our Taxi App Development Process 
The app development company should be happy to show you the apps they developed. Essentially their portfolio since this is one of the best ways to tell if you can get a good return on your investment.
If the team of taxi app developers cannot show you a portfolio with good results, then it is not a reliable company to hire. Do check reviews and ratings of their past apps and see if it is wise to develop apps with them.
Q2. Ask your taxi app developers – "Can I talk to your past client?"
This is an extremely crucial question to ask. But it will help to get a more impartial and independent look, about how well the agency can perform. While talking with the past clients you will gain an insight into how the agency handled the relationship throughout the development process.
If you can talk to the client who also came to create an app like Uber or Lyft, their feedback will be more relevant. Ask past clients if the taxi app development company was able to meet the deadlines. Even how they dealt with the pressure and how was their communication.
Bonus Read: Know How Our Taxi App Developers Communicate 
How the taxi app developers handled these issues while creating an app is also a good indicator. Especially for those who are looking to develop an app like Uber and Lyft. 
Q3. Ask your taxi app developers whether they adopt a lean development process or not?
You will like to know how the agency operates in the critical hours.

You should know how long the agency took in their latest project.

What steps the taxi app developers took to solve them successfully?
These things help to determine if you are going to work with a reliable taxi app developers. Since you must do business with someone who can create an app like Uber following a lean development process. Since lean developers tend to get things done more efficiently and have a better approach to the Minimum Viable Product. 
See what our CEO has to say on lean app development Strategies, which he wrote for DZone recently.
Q4. Ask how skilled are the taxi app developers going to work for you?
Get an assurance that the taxi app developers are able to build desirable features and functionality that you want in an app like Uber. So the basic skills of an app developer are vital.
The agency should tell how they would implement the proposed feature or functions and mention the appropriate plugins or frameworks that would help. To know that you have hired the best taxi app development company, ask for their developer's details like –
Contact information, a bio with his professional and personal details, a portfolio of his previous works, past client reference he worked with, documented links to off-site repositories like Github, social media profile like LinkedIn, list of awards or accolades and education credentials.
Q5. Ask what is the approach towards user experience and design?
No bragging! But at AllRide Apps, it is our design that made our clients win great favors from their customers. We never sacrifice the user experience of the apps developed in our lab.
There are more than 5 million unique apps in Android and iOS apps stores, and UX is the only way to stand out in this crowd. Without great taxi app design and UI/UX, the app will suffer from a lack of users and popularity.
So hire taxi app developers who will create an aesthetic app that is simultaneously a joy to use.
Q6. Ask if the taxi app development company follows the general coding standards
An agency is easy to rely upon if they enable organized coding systems. They should allow taxi app developers to work together on the same project using reusable libraries, components, and necessary tools for various code maintainability.
Why I'm saying that it is important to know that if the agency uses the standardized systems?
As it could be a potential warning – that if you develop apps like Uber and Lyft from someone who is so disorganized, your apps are sure to fail! Like it is now common for the app development companies to use Bootstrap as a standard coding practice.
Q7. Will they maintain your taxi app solution post-launch?
Finally, it is important to know the kind of after delivery support the taxi app development company can provide.
Simply developing an app like Uber does not end your task. The task rolls on. Such as releasing new updates to fixing bugs in every version or add new features and functions.
Bonus Read: AllRide Apps Provide 3 Months of Free Support!
Just like real-life things that breathe and need constant maintenance, your taxi app solution also needs the same. So ask if the taxi app developers provide support and maintenance programs. No matter whether it is at an hourly rate or at a monthly fee.
What's Your Take?
Now if you are trying to build an app like Uber and Lyft it is important to have an app vision first. Moreover, you should be asking the prospective agency to plan and do business with you. Since when it comes to taxi app development there is so much to consider. it is not just the project budget or development cost that settles everything.
Check if the taxi app development partner matches with the kind of technical expertise required to build an app like Uber and Lyft. Do they have the proper skill sets, accountability, and work history to build successful apps.
Simply being the Uber clone does not make you become its competitors. You need to add that secret sauce to be more successful!

Want to Build a Successful Taxi App?
[/vc_column_text][/vc_column][/vc_row][vc_row][vc_column][vc_column_text]
[/vc_column_text][/vc_column][/vc_row]