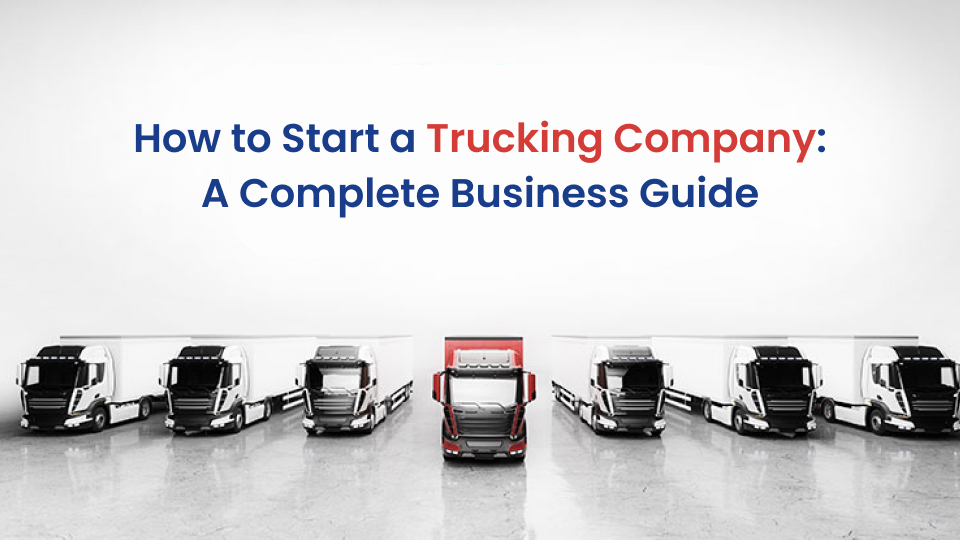 How to Start A Trucking Company: A Complete Business Plan
Trucking is one of the emerging industries in the US. According to the data revealed by Markets Insider, trucking carries 71% of all the freight in America. The trucking industry provides almost 6% of all full-time job opportunities in the country. These stats show that you can drive huge revenues from truck businesses. To start a trucking company, you must consider many aspects, such as hiring resources, picking the correct business entity, and arranging finances.
This article will detail the entire process of starting a trucking business to help you get started.
Table of Content
1. Reasons to Start a Trucking Company
Due to the emerging driver and truck shortages, many owner-operators are looking for financing and leasing opportunities. As most people opt for online shopping and look for items to be delivered to their doorsteps, the trucking industry will be in utmost demand in the coming years. It creates scopes for you to earn more money. Let's look at the four significant reasons to make your trucking business profitable.
A. Addressing the shortage of drivers
According to industry experts, the trucking industry will need 100,000 drivers in the coming years. Most companies are frantically searching for drivers to meet their requirements. When you think about starting a trucking venture, it will give you a tactical advantage. You will help meet the need for more trucks and drivers.
B. Meeting the need for innovation in the industry
In this digital era, every industry adores innovation; the trucking industry is no exception. Innovative technologies increase efficiency in fleet management and establish less fuel-intensive routes. Ultimately, it helps a business improve its overall customer experience; this way, a trucking business can ensure long-term success. Some companies are using new-fangled truck app solutions.
C. Leveraging the benefits of a recession-proof business
Trucking is one of the economic pillars for most developed countries. A trucking business owner plays a vital role in getting the chance to carry the goods to warehouses and stores. The best thing is that the trucking industry is recession-resistant. Most businesses need a trucking company to move their products and materials across the country.
D. Easy to start and scale the performance
Many people keep searching for how to start a trucking company with no money. You do not need to invest much money in the trucking business before it becomes profitable. You have the freedom to expand the business, considering the demand. If you have a truck and a valid driving license, you can create it yourself. Eventually, you can expand. Once the business is established, you may consider a truck booking software solution to scale the performance and manage daily operations.
2. 5 Steps to Start a Trucking Company
A. Drafting a Business Plan
To start from scratch, you need to write a business plan. An ideal business plan highlights the reason behind the company's foundation, the capital required to create, financial prospects, costs and predicted profits, and other strategical details. It will allow you to concentrate on the core areas of your business.
A business plan acts like a blueprint and allows you to follow a structured process while setting up the business. While starting a trucking company business plan, you can look at how your competitors are approaching.
B. Preparing for Business Registration
When the business plan is ready, you should move to the next step- registration. You need to register your business with any local or state government body. This step demands a few considerations, including

Choosing the correct business entity
Before submitting the final paperwork, you should look at different available business entities. If you are starting a one-person or self-owned business, it is better to look into limited liability companies or LLCs. Each business entity provides multiple personal liability protections, ownership structures, taxation methods, and other technical aspects.
Picking the right business name
Along with registering the company, you should ensure that you are choosing a unique and relevant business name. Always remember that your business name will leave the first impression on your clients, so it must be able to communicate your brand, unique selling points, and image.
C. Obtaining Licenses, Permits, and Insurance
As a next step, you should ensure that your trucking company is legitimate and safe. For this, you should consider business licenses, permits, and insurance. You should consider the grants to start a trucking company.
Business license and permits
Trucking companies encounter many unique challenges and liabilities. Hence, it is crucial for a business to be prepared for all licenses, insurance policies, and permits needed for trucking a company, following the state regulations.
Business Insurance
You must make your business insured to avoid huge losses. Before selecting insurance, look for all possible options and consider which one may benefit your business in the best possible way.
D. Choosing the Right Trucks
If you have made further progress and want to expand your business, you need to invest money in the right truck. Some people want to know how to start a trucking business with one truck. It is not a bad idea in the initial stage. While choosing the truck, consider the following things, such as
Price
Level of operational flexibility
Weather-resistance feature
Multiple dealerships across the country
Weight carriage capacity
E. Learning the Legal Requirements
Lastly, you must educate yourself about the legal requirements before stepping into the new trucking venture.
3. Gearing up for your New Venture?
Hopefully, now you know how to start a trucking company. Take your time, do the market research and analyze your business goals, funds, and vehicle availability before getting it started.
---
Articles you may Find Useful
How To Create Uber For Delivery Trucks With Truck Dispatch Software
Answered: Your Most Burning Questions About TMS Trucking Solution