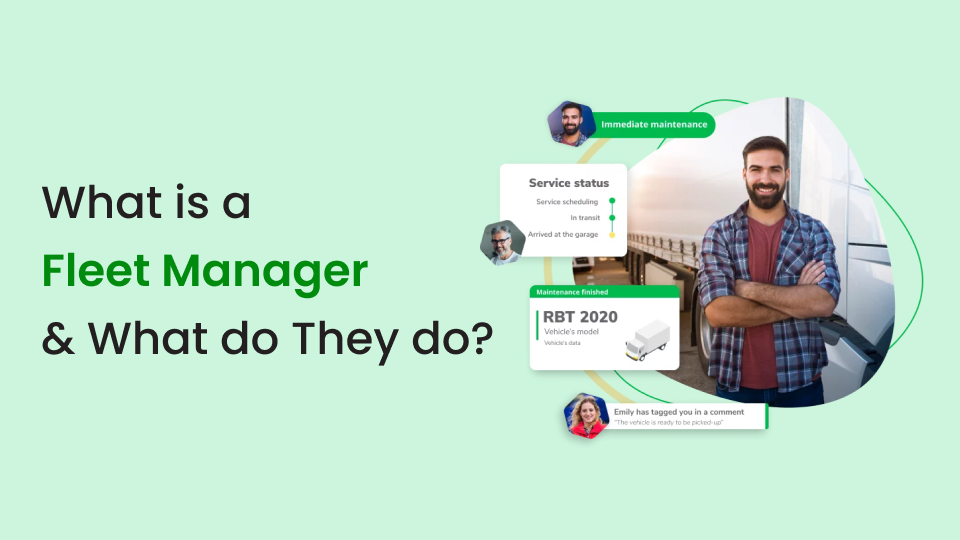 What Is A Fleet Manager & What Do They Do?
You might feel satisfied the last time you ordered something and received the desired product on time. However, do you know there is a long process following which a product gets delivered to a customer from a warehouse? This entire process is called fleet management. An expert fleet manager handles every detail, big or small, thus ensuring that each task is on the right track and on schedule.
This article will discuss the role and responsibilities of the manager, who is in charge of running fleet operations of a company.
Table of Content
1. What is a Fleet Manager?
A fleet manager is one who manages all the company's vehicles or fleets. The manager is responsible for monitoring the company's fleet, maintaining proper maintenance schedules, and looking after the safety standards, following the state rules and regulations. Keeping track of the vehicles includes several aspects, such as purchasing new vehicles if required, maintaining the existing ones, and many more.
A manager must deal with the fleet-related financial aspects and ensure further productivity improvement. Along with these, generating company policy, managing drivers' behavior, and vehicle safety are also included in the scope of work for fleet managers.
2. Fleet Manager Roles & Responsibilities
Depending on the industry type and size of the business, a fleet manager's duties and responsibilities may differ from one company to another. Some of these critical roles and responsibilities are:
A. Purchasing or Leasing Vehicles
Fleet managers play a significant role in purchasing and leasing vehicles. They should decide when to buy new fleet vehicles and when to rent or resell the existing ones. Fleet managers need to contact trusted manufacturers and engineers to assemble the fleet parts for vehicle purchasing. Moreover, they need to participate in cost negotiations.
When leasing the vehicle, the fleet managers should carefully monitor the vehicle's health, engine condition, and life, kilometers crossed. Managers also review the terms and conditions with the vehicle owners when it comes to leasing a vehicle for the company.
B. Supervising Fuel Expenses & Consumption
Fuel is one of the essential expenses in fleet management that ranges from 25%-30% of total fleet management costs. Hence, it is one of the most critical fields for a fleet manager to deal with. Thus, the manager should use a fleet card or fuel card. Also, the fleet managers can tie up with the fuel gas station companies to measure the fuel consumption and fuel costs. Telematics technology helps managers to keep track of fuel usage, filling, and many more things with the help of GPS trackers and Fuel Level Sensors.
C. Managing Fleet Maintenance Schedules
Maintenance of vehicle health is essential for any fleet management program. So, after defining the vehicle types and documentation, the fleet manager must schedule proper vehicle maintenance. Fleet managers also deal with spare parts, maintenance costs, the current state of the inventories, etc.
D. Overseeing the Safety Standards & Legal Compliances
Fleet managers monitor the organizational fleet safety standards. They are also responsible for developing the organization's vehicle management and driver safety protocols and safety policies. It is important for the managers to coordinate with the company's management team and health officials to set safety protocols.
E. Tracking the Fleet
Fleet companies use software applications to track vehicles with valuable features such as GPS tracking and fuel monitoring systems. These features help track the vehicle's location, fuel consumption, and mileage data. Also, managers can get data on vehicles' idle time, route optimization, trip planning, and driver management.
3. Key Skills a Fleet Manager Must Possess
Operational experience and a bunch of fleet manager skills can take fleet management of a company to the highest possible level. Some of these skills include
a. Familiarity with digital analysis
b. Grip over business management
c. Financial comprehension skills
d. Knowledge of fleet-related cybersecurity
4. How Can a Fleet Manager Get Certified?
Certification requirements may differ from one country to another. Many programs are available for fleet management certification. These programs cover several topics from management, such as
a. Assets
b. Finance
c. Information Technology
d. Maintenance
e. Risk Management
f. Professional Development
5. How Has the Fleet Manager's Role Changed Over the Years?
As technology and the types of vehicles are constantly changing, it is evident that the role of a fleet manager will also keep changing. Different types of fleet management software solutions are coming into existence. Thus, to keep up with the changing requirements and skills, a professional should always keep an eye on the current industry's ruling trends. Fleet managers should also familiarize themselves with the latest technologies and modern vehicles.
6. Major Challenges Fleet Managers Face and Solutions to Overcome Them
Is there any job that does not have any challenges? No such jobs exist. Fleet management also has a fair share of challenges. Listed below are three significant challenges a fleet manager often faces and their solutions:
A. Cost
Cost is one of the major concerns in the fleet industry. Thus, managers must be able to analyze the company's requirements, vehicle cost fluctuations, and the market's volatile nature. Hence, an efficient manager will be able to foresee the possibilities of rising prices. Considering all these facts can help reduce costs and avoid excessive hikes.
B. Consumption
Fuel consumption poses a significant challenge to fleet managers. Hence, they should manage and identify effective ways to reduce fuel expenses. It is difficult to predict fuel prices and plan a budget accordingly. Nowadays, fleet companies are using fleet management software to track fuel consumption to hold control over it.
C. Driver Safety and Productivity
Many fleet managers find difficulties in ensuring driver productivity through technology. Thus, to address these challenges, proper training and education of the drivers are advisable. Managers should also build and manage fleet and driver safety policies to minimize accidents and related repair costs and liabilities.
7. What Lies in the Future of Fleet Managers?
According to the Markets and Markets Survey, the size of global fleet management will grow to 34 billion by the end of 2025. Undoubtedly, the fleet manager's role will continuously gain importance with the emergence of electrification, OEM, and sustainability.

---
You may Find These Articles Useful
Is Your Present Fleet Management Software Efficient Enough?
What Top 10 Features Can Make Your Logistics App Churn Out Revenues