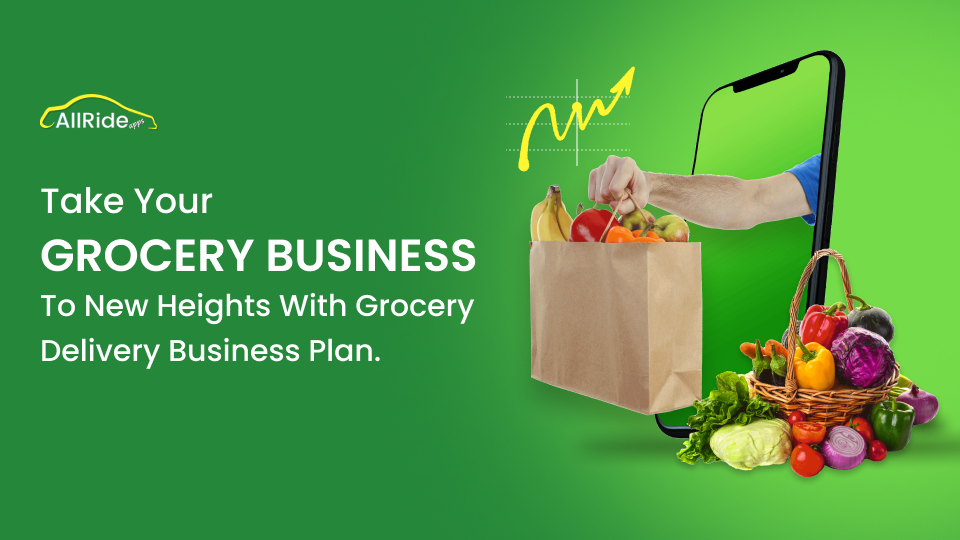 Your Cheatsheet To Create A Successful Grocery Delivery Business Plan
The grocery delivery business has witnessed significant development over the past few years but due to the onset of COVID 19, the market has earned a lot of profit. The grocery delivery business is one of the fastest-growing businesses in the e-commerce world. Gone are those days when people used to go out to the local shops to buy groceries. In this modern world, people are packed up with a lot of tasks and it becomes difficult for them to take out some time to purchase groceries from offline stores. Given the fact that everybody has mobile phones nowadays, the introduction of the on-demand grocery delivery business software is quite obvious. We have a Grocery Delivery Business Plan ready for you. 

Latest Trends Of Grocery Delivery Business
Now let us have a look at some fascinating data about the latest grocery business trends provided by Statista:
The report states that the total number of sales accounted for $5,638 billion in the year 2020.

Over 260 million Americans are anticipated to purchase groceries online over the forecast period.

The online sales of consumer packaged goods have increased by 56%.

A survey conducted by Nielsen stated that over 70% of consumers across the world will be buying groceries online by 2024.
What Is The Future Of Online Grocery Delivery Businesses?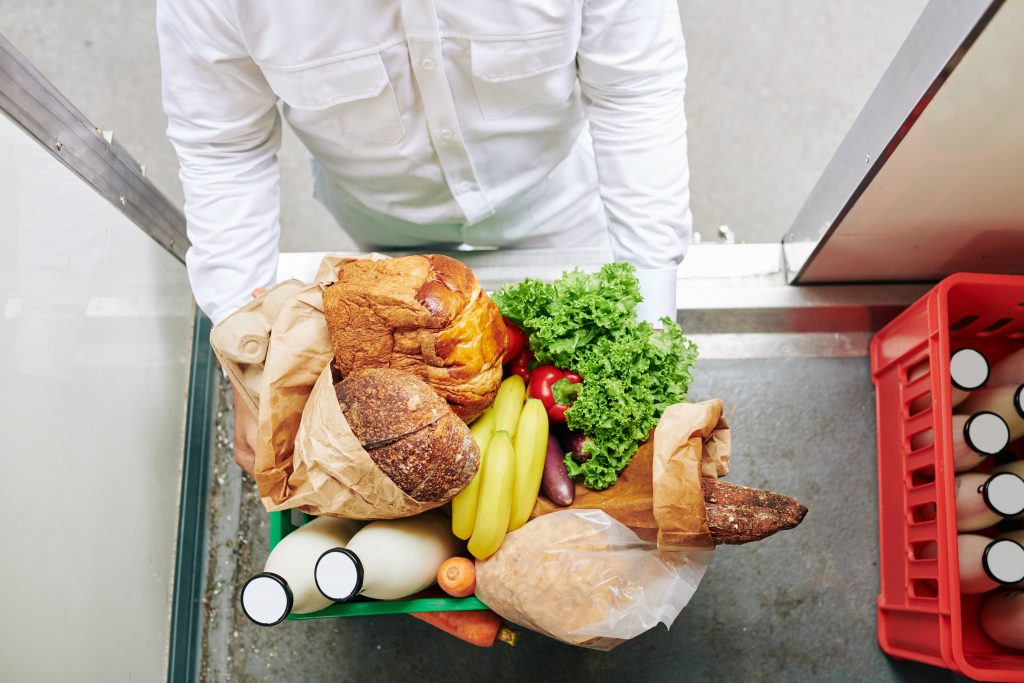 The data which are listed above clearly shows the rising trend which means the businesses are willing to create their own online portals. In 2020, many businesses have introduced their online portals due to the emergence of the COVID 19 pandemic. People are much aware of the deadly virus and taking all possible measures to stay isolated. This is the reason they prefer buying groceries online. So if you are also planning to come up with an online grocery delivery business, then this is a win-win idea and we have got you covered with Grocery Delivery Business Plan.
For Sellers:

Edible items, perishable items, and other grocery-related items have to be delivered within 24 hours. An online grocery delivery business will immensely help the small stores sell their products online to their customers and deliver the ordered items on the same day.

For Customers: Online grocery delivery business will help the customers in shopping for different grocery products. Customers don't have to go outside and stand in the queue for purchasing grocery-related items. The grocery delivery management software itself will help them to order their preferred items within the comfort of their home.
Your All-in-One Online Grocery Delivery Business Plan
Step 1: Choose Your Business Model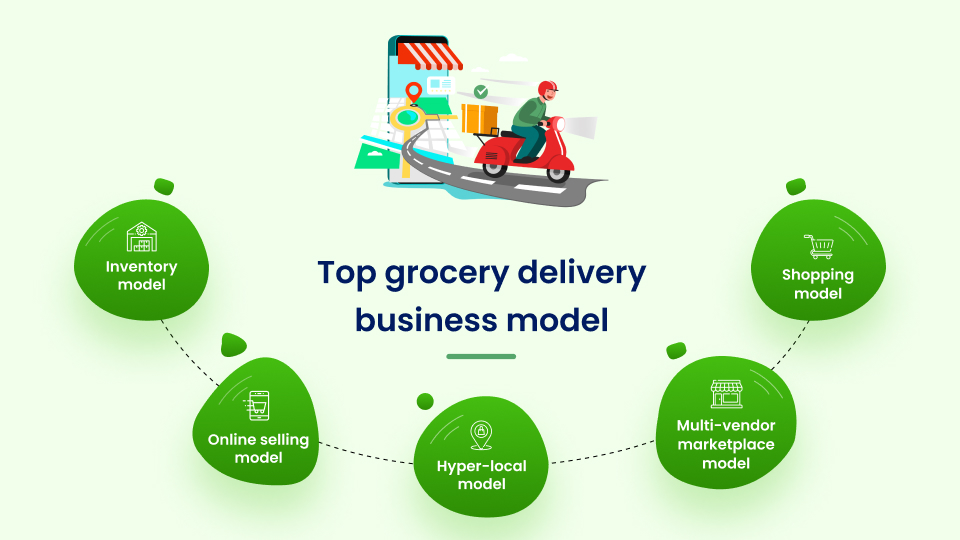 Choosing a proper business model is extremely important before you start any business. Grocery delivery businesses mostly collaborate with many grocery wholesalers. Doing this helps them to cater to a large number of products along with different varieties. Online grocery delivery businesses mostly prefer using same-day delivery of groceries according to the preferences and convenience of the customers. It is also important as these items have the shortest shelf life and the customers these days generally prefer to get fresh items when it comes to food shopping. 
Tips For Individuals And Small Businesses
Following are the important steps that you need to consider while setting up your grocery delivery business:
Collaborate with local stores for delivering orders to the customers. For every order that the customers place you will get a commission. In this business model, the stores will be handling the bills, market services and you are responsible for the delivery. 

Next, create an account with a wholesaler. Customers will place the order to your account and you will be earning the profit. In this option, the customers will be providing you with their shopping list and you will be doing the shopping for them.
The above-mentioned steps are the initial part of your online grocery delivery business plan, at an individual level. In fact, you can earn a huge amount of profit by doing the deliveries. But if you have a dream to expand your business by creating your own grocery delivery software and hiring a team that will be responsible for handling different tasks then you need to keep on reading this article. 

Tips For Startups
Now we will be discussing how an on-demand grocery delivery model actually works:
Suppose you are an online grocery delivery service provider and you have collaborated with local grocery shops that do not provide any home delivery services to their customers. You create a grocery multi-vendor marketplace where you have listed all the local grocery shops in the locality. Now the customer can select the preferred local vendor for ordering their grocery from your platform. Then you will be delivering their ordered products to their home. 

Now another option is that you can simply put the list of the items on your application without mentioning the name of the local vendors. The customer will add their preferred items in their shopping cart. Next, they can order directly from your application. You can purchase the ordered items from the local grocery stores and then deliver them to the doorstep of the customers.

Let's say you are an offline grocery vendor and you have decided to open your own online grocery delivery business. As the owner of your store, you build your on-demand grocery delivery app. This model is basically known as a single vendor online grocery business model. 
Step 2: Select Your Grocery Delivery Solution
There are three different application solutions from which you can choose.
Custom App Solution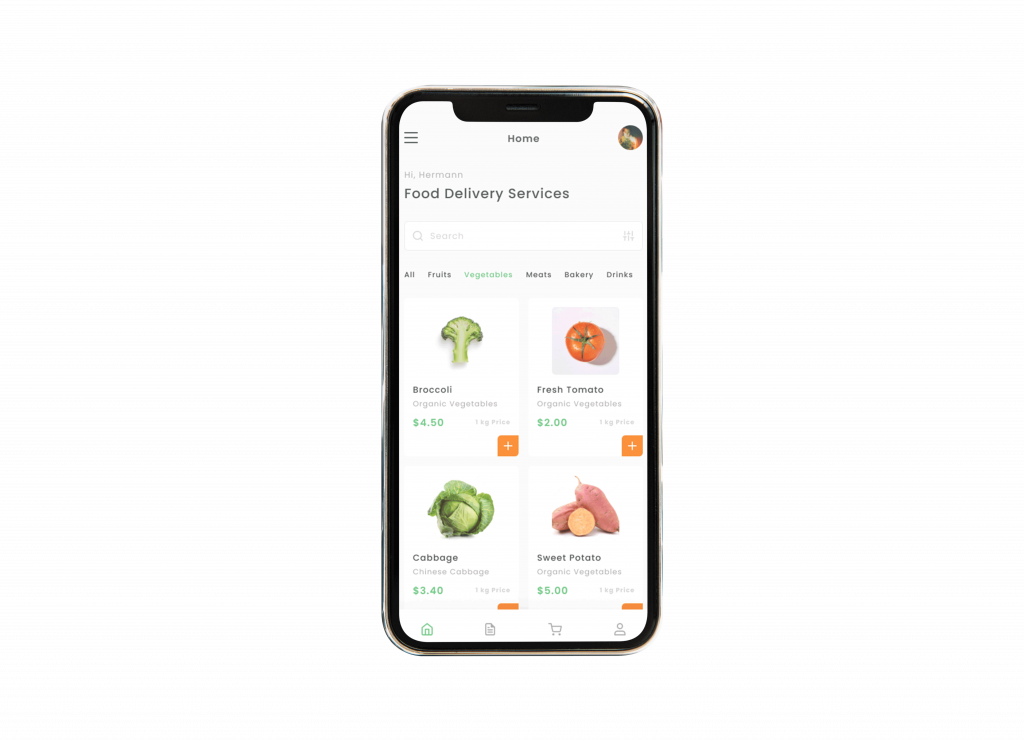 In this type of application, you will have complete control over the User experience and design. In fact, you can ask the developer for creating a fully customized application according to the needs as well as features requirements. A custom application will help you to stand out ahead of the race.
Advantages:
Better UX and UI

Complete control

The app is compatible with the existing enterprise solution.

You can integrate as many features as you want.

There is no requirement of recording costs like subscription fees and others.

You will be getting dedicated technical support. 
Disadvantages:
You need to invest more money as compared to a ready-made application.

It takes around 3 to 4 months to develop such an application.
Readymade Application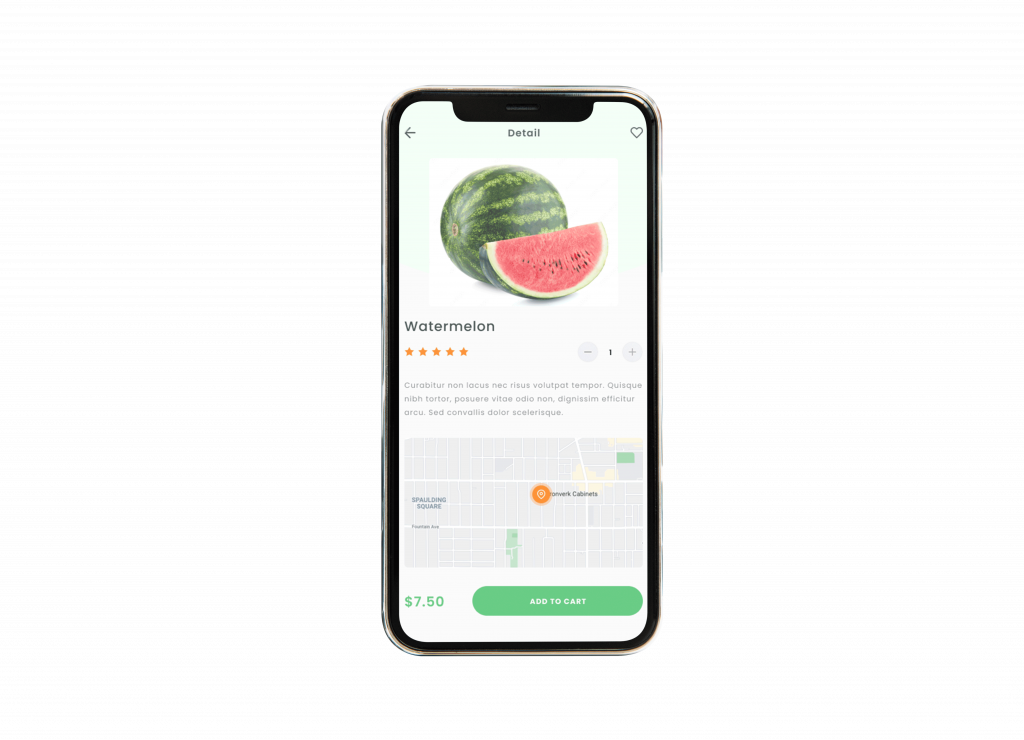 A ready-made application is already developed and you can directly buy it from a grocery delivery app development company as it needs minor modifications from the developer.
Here you just have to choose the product you think can fulfill your needs and requirements and finally purchase it. The app development company will make some minor changes in the app according to your branding needs like the app name, app logo, and finally deliver it to you. 
Advantages:
It is cheaper compared to the custom application.

You can immediately start using the app once you purchase it from the developer.

It takes mostly two to four weeks for the delivery.

No monthly subscription fee.
Disadvantages:
Features and functionalities are fixed

You need to compromise on the UI and UX designs.

Adding any new features or eliminating the existing ones can be challenging.
SaaS-Based App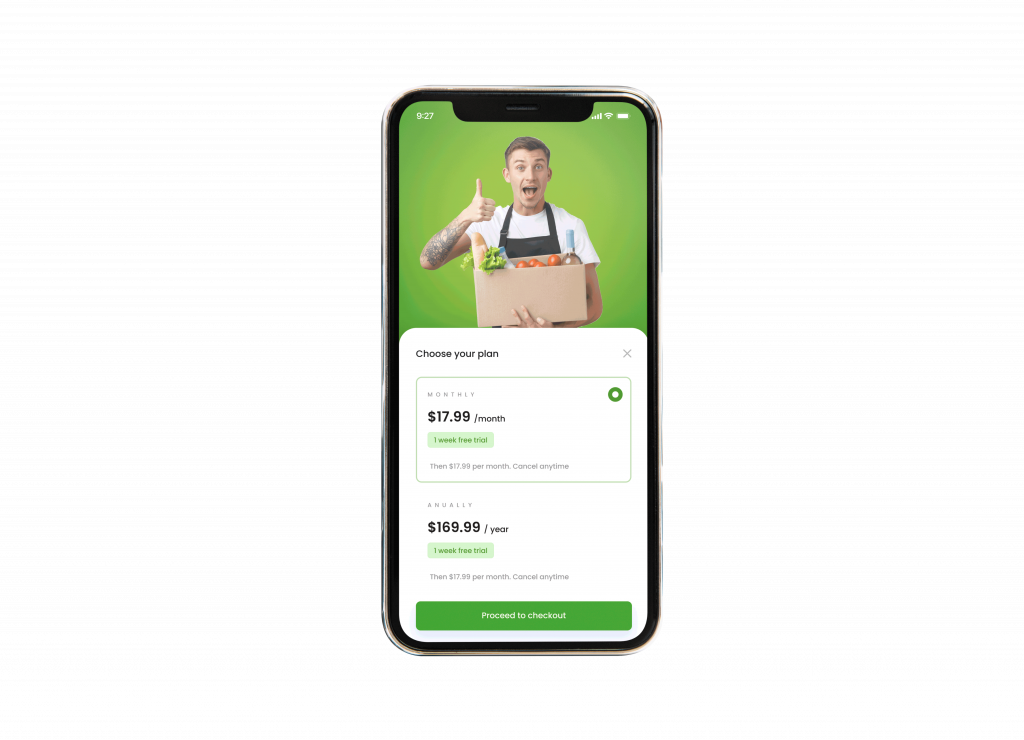 By using the SaaS-based application, You can easily manage the grocery delivery business by following the monthly subscription model. This type of application is already developed and ready to use. Once you subscribe, the application is all set and prepared for your business with the customization that you have asked for. You can connect with the grocery shop to the application in no time.
Advantages:
They are ready-to-use apps.

No need for heavy investments.
Disadvantages:
There is a monthly subscription fee so you do not completely own it.

Lesser control over the features and functionalities. 
Step 3: Finalize Your Monetization Strategies
There are different revenue models which you can choose to make your business profitable for yourself and for the vendors, from your Grocery Delivery Business Plan. Following are the important revenue Business models which  we have listed according to your needs: 
Subscription Model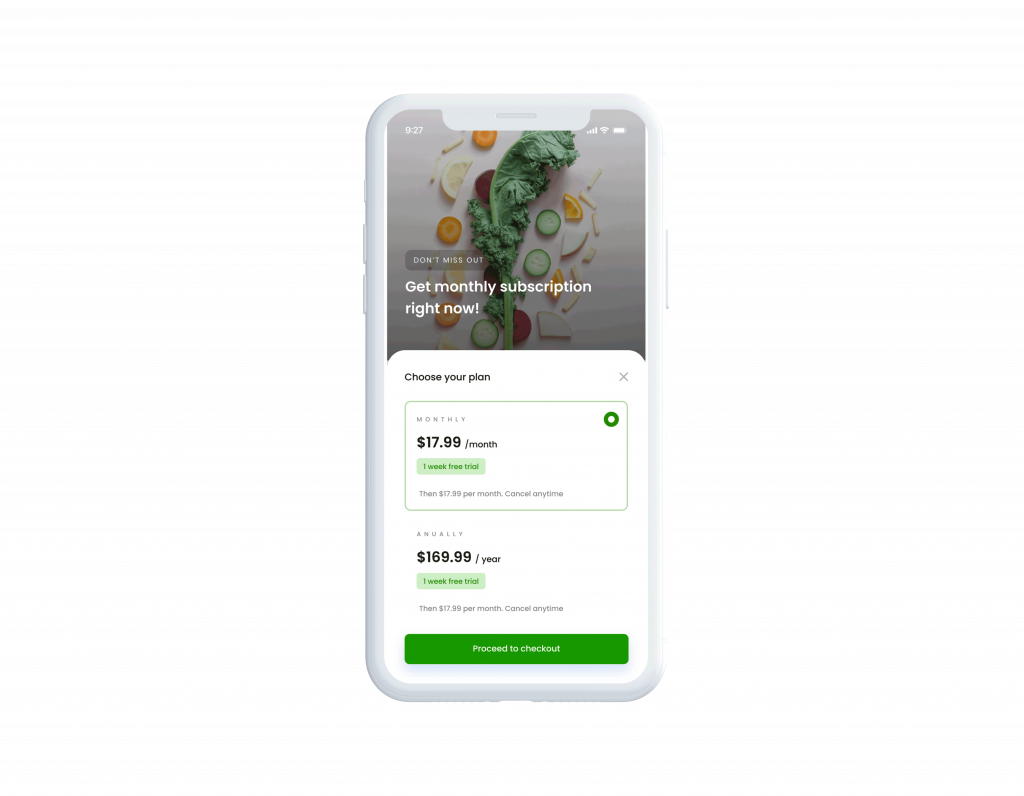 Some vendors do not want to share commissions. In this case, you can onboard them by asking them to pay a fixed membership fee. The subscription period can vary from early to quarterly to monthly. This way vendors do not have to pay any commission to you and you can easily earn revenue through the membership fee.
Commission Based Model
Whether it is online or offline,  it is the oldest and the preferred way when it comes to generating revenue in the Marketplace for all the entities such as business owners and vendors.
Advertisements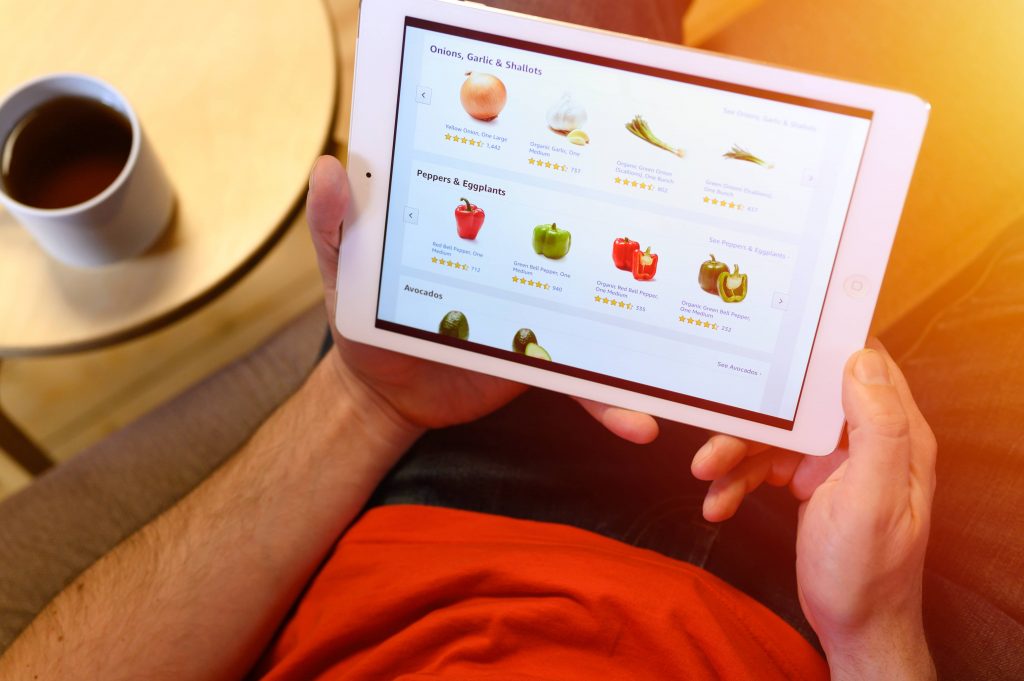 Here, you will be receiving promotional fees from the vendor on promoting their shop on your application. The advertisement methods are sponsored listing, banner ads and others.
Step 4: Build Your Brand Name
As you are done with all the above-mentioned steps now it's time to choose the name which is brandable. While doing this think about other players and their names and how they have named their businesses. Come up with a name that can easily click the mind of your audiences and the targeted market. You also need to do some research to come up with an innovative brand name. Make sure to do some research if the name is not already taken by someone else. Check from any domain registered website that the domain name is already taken. As you finalised with a brand name,  register with a domain registrar. 
What Are The Challenges You Might Face And How You Can Overcome Them?
Delivery Aspects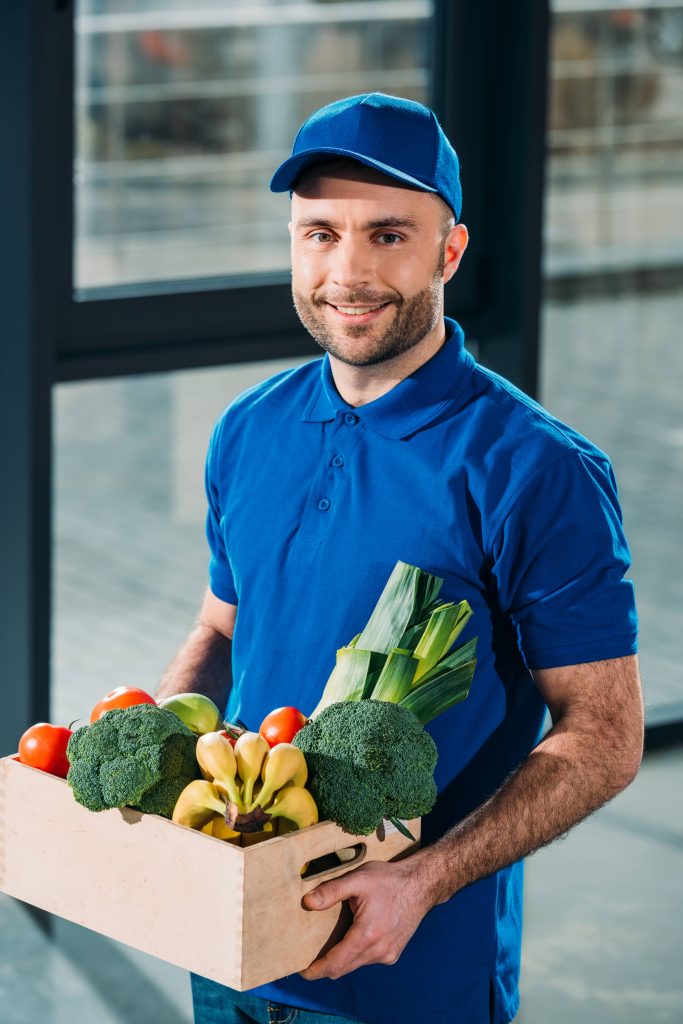 When it comes to online stores, delays in delivering the products, delivering the wrong items, and quality issues are the common things that you may face. These issues can create a negative impact on your brand. You need to take care of the customer satisfaction things as unsatisfied customers can get you out of the online world. So you need to sign up with a reliable delivery service provider which can always take care of the demands of the customers. Make sure to optimize the delivery network for faster deliveries by dividing it into hyper-local networks.
Highly Competitive Market
The online delivery market has become extremely competitive. As you are just taking a step forward in entering this market,  you need to compete with established names such as Walmart or Instacart. So you need to do proper market research before launching your delivery business and check if the same business is available in your targeted area. If there is already a strong competitor in your targeted area,  try to figure out how you can stay ahead of them and make a  marketing plan. 
Storage Infrastructure & Quality Assurance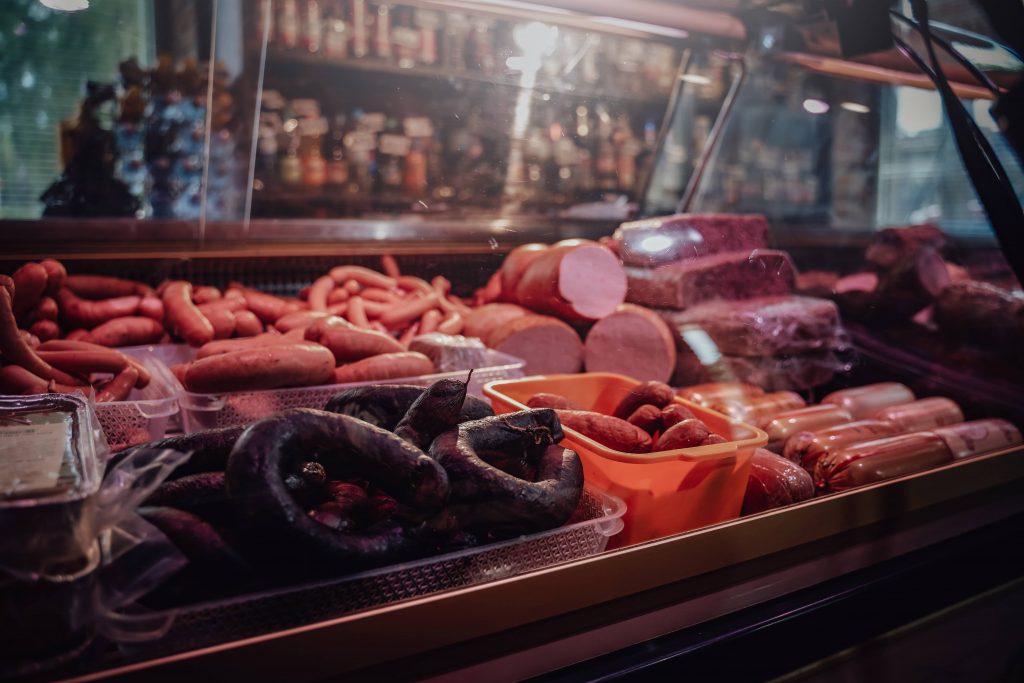 As grocery items are perishable you need to store them in refrigerator chambers. Opting for the storage infrastructure can increase your cost of operations. Not only this there are also some customers which avoid purchasing groceries online because of quality issues. For this, you need to integrate a robust inventory management system with your online store which will help you in automating things in a better way and reducing the storage cost. 
Lesser Profit
These days customers have many choices from which day they can select their preferred Store. With the emergence of digitization, they are easily able to compare different stores and marketplaces before placing an order. Not only this but also well-established companies are already offering a better product at better prices. So there is minimal scope in increasing your profit margin. But there is also a solution where you can offer more competitive pricing as compared to your competitors. For this, you need to find out and list the locally produced item which is not offered by your competitors and this way you won't have to compete anymore. Another thing you need to keep in mind is customer service. Try to provide the best customer service as it will help you in increasing the customer base and you will get maximum orders online. 

Grow Your Grocery Delivery Start-Up Like Never Before
Among various other niches present in the eCommerce world, the grocery delivery business is growing rapidly and many startups are showing interest in this niche.  Grocery being the daily need, people want it to get delivered at the comfort of their home. Try to understand the pain points of the customers and invest in the right platform to become a successful entrepreneur. This all-in-one Grocery Delivery Business Plan is just a handy guide for you to start with an amazing grocery delivery ap. Get in touch with AllRide Grocery Delivery experts and get an intuitive application for your business.