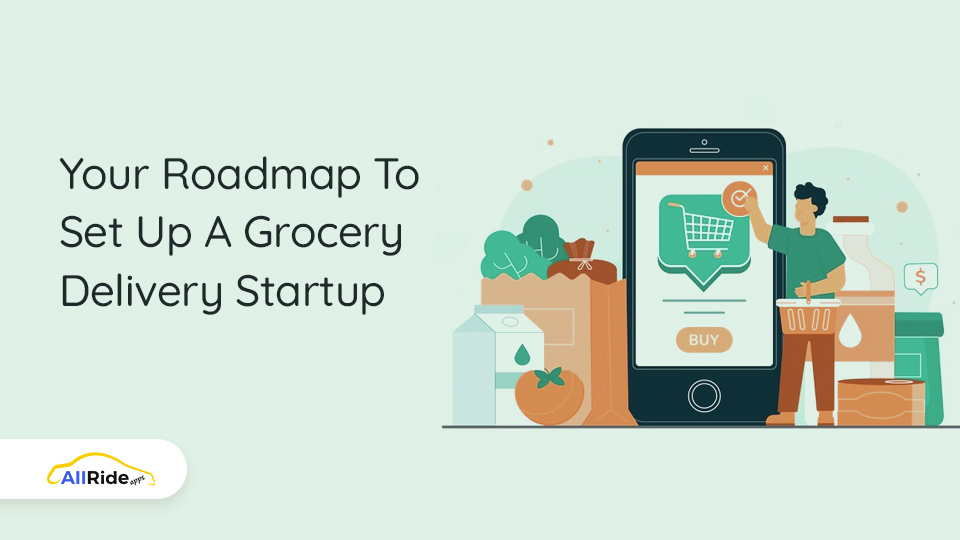 11 Wow-Some Tips To Start An Online Grocery Store Business
People barely find time to shop the essentials, and thus they tap their mobile screens and Voila! the order is placed. Millennials especially are too lazy to leave their cozy beds and go out for grocery shopping on weekends. Now thanks to the "lockdown phase", which is giving a new boost to the on-demand grocery delivery business. This demand from the commoners has led to the stakeholders in investing in the online grocery store business and try out their luck in the competitive market. 
It will simply remind one of the Genie in Aladdin's tale, who produced whatever was demanded. The only difference with the grocery store is that you need not rub the screen of your phone or laptop but just go 'tap tap'.
The rise in demand and popularity is, of course, not a hidden fact. Most of us have got hooked on it because of the easy availability of the grocery items at our doorsteps. If there is an issue with the item, we can simply get it replaced or get a cash return. Life has been made easier with the help of a responsive and user-friendly online grocery app or grocery websites.
The Real Story Behind Online Grocery Store Business
The Internet is filled with the success stories of the most renowned apps and online grocery shops across the length and breadth of the globe. Apps like Flip, MealBoard, Amazon Pantry, have been setting major trends in the market. Presently several food delivery apps have turned into partial online grocery store businesses due to the COVID-19 outbreak. 
The success of these brands is mainly because of their
i. Swift and smooth deliveries
ii. Good deals
iii. Delivery of fresh spices, fruits, vegetables, etc.
iv. Online payment modes
The online grocery stores can be accessed from anywhere, and the items can be delivered to your desired location without a fuss. Cross-continental purchases and deliveries are made possible only if the online store has the delivery access. And it has become possible because of end to end grocery delivery software.
Steps To Start With Your Online Grocery Store Business
Enlisted below are some of the quickest but most essential steps to follow before you finally launch your online grocery store business. Make sure that you include what you feel is important as well.
1. Choose The Delivery Locations Or Areas
Before you go forth with your idea of launching an online grocery store, you need to focus on the word 'where'. It is important to decide in which locality, area, state, or country your online store will be valid. Here you need to keep in mind that the vicinity should be well within reach of the warehouse. This will make purchasing groceries online easily.
2. Main Target Audience
The point to consider is to 'whom' you will be delivering the items. Since anyone can avail the service, the target audience will be all. Online shoppers can have varied demands while placing the order.

3. Get In Touch With Brands And Dealers
The next thing to do would be to approach the grocery item suppliers and store partners. Select which items you would like to supply for online grocery shopping and get in touch with the partners or stores accordingly.
4. Warehouse
Maintaining a proper warehouse to deliver from is essential. The place must be sufficiently spacious for the grocery delivery services to take place and the executives to work in a healthy environment. They must be able to gather here and sort out the items to be delivered. Plus, this place will also receive the items from the vendors.
5. Design And Plan
Before you get a website designer or an app development team on board, you must do your research well. Look for the strategies followed by your competitors, and you will form an idea about what you want. When you get in touch with the development team. Both the team and you can execute your ideas to design the most attractive and reliable online grocery store.
6. Get A Professional Web App Development Team
An attractive website must be developed to attract customers. Using the best grocery delivery business software and responsive features to suit mobiles and other screens would also increase the usability of your online store.
7. Expenses To Be Covered
Keep an estimate or a budget for your online grocery store business, so that you are prepared to go ahead with the idea of starting one. Some of the areas that the expenses would be covering are:
i. The online grocery store development charges
ii. Registration fees
iii. Salaries of your employees 
8. Buy A Domain For Self-Acquisition
Once you have purchased a domain, then no one can take away your brand name. You can book your spot and go ahead with your further plans.
9. Make Awesome Promotions
Plan out ways as to how to reach out to the people. Promote offline advertisements. You may introduce certain referral codes, offers, discounts, and cashback to lure people enough to download and use your online grocery store. Plus you can also waiver the service charges as an introductory offer using a grocery delivery management software. 
 10.
Select Modes Of Payments
Make an array of payments for both digital modes and cash-on-delivery. In this way, you can encourage customers, they can have relaxation in the options of payment through debit or credit cards, e-wallet, net banking, etc. They can choose to pay in whichever mode they are comfortable with. For serving this purpose, you need to have tie-ups with banks and online payment platforms. The payment gateway will help to attract more users.

11. Launch Your Online Grocery Store
When all these ends are met,  the grocery delivery app development team will do final testing of the website. Once this stage is passed, you are ready to launch your online store. In case you notice any problem on the website, then make sure that the development team is notified immediately.
Welcome The Inevitable Challenges
It is pointless to turn your face away from reality. There will be a lot of threats and challenges when you step into the real business market. But do remember that these are the parameters that will help you to sail through tough times. 
It is vital to know beforehand the challenges that your online store can face. In return, you will be able to cope with them.
1. Cut-Throat Competition From Other Brands
Of course, your online store is not the only one. Thus, it will face strong and tough competition from the other online stores. Since others are already established, people will trust them blindly. 
However, you must see the positive side of this situation. Even these famous online grocery stores were unknown to all. So take those baby steps and see the miracle happen once you start providing awesome services. 

2. Understanding User's Demands
Let us face the fact that the demands of the users will never cease. They will always want the best service from your end. Since they are the ones who are going to make you healthy, wealthy, and wise, you have to cater to them. If your store succeeds in delivering them satisfaction and happiness, they are sure to refer it to others. So this will be a bonus.
3. Getting Honest Feedback For Your Service
Well, getting honest feedback can put you on Cloud 9 or simply pull you down as quicksand. So, what can you do when you get some harsh or negative feedback? In such situations, it is better to tackle the issue with seriousness and getting to know the problem personally. 
Making fake promises will only be detrimental, so you have to speak through your services. However, on the other hand, positive feedback will simply give you the right boost. Also, when you receive negative feedback, take it as a piece of advice and try to improvise in that particular area. 
4. Keeping All The Necessary Items Available
You will keep all the necessary items on the list. Yet it might happen that your store has run out of stock. So keep the users notified to avoid any miscommunication.

5. Being Innovative In Approach
Are you wondering what will make you stand out in the crowd when you start an online grocery app? Then the obvious answer is 'innovation'. You must offer your users what others are not offering. So put the best creative team at work and find out more creative marketing and website designing strategies.
6. Attractive discounts
Users cannot resist attractive and good discounts. While letting the users enjoy these discounts and sales, do not deviate from your target of making a mark. Also, huge discounts might affect your business, so you also have to look into your financial gains.
Start With Your Online Grocery Store Today
Hopefully, the abovementioned views and ideas will be helpful to start your ecommerce website. Do make sure to implement them as per your need and benefit. The demand for an online grocery will never recede or cease. People have already got used to the idea of placing orders from their laptops or mobiles. 
This is hassle-free, and they need not worry about any adverse weather conditions to get what they want. Make sure that you keep yourself updated with the changing demands and the trends of the market. You have to go by what the contemporary world desires. Failing to do so will only make you lag. 
However, with an expert and proficient team of our AllRide delivery software solution professionals, you will have half the battle won of a business model. Give us a call today and share your grocery delivery software idea with us.