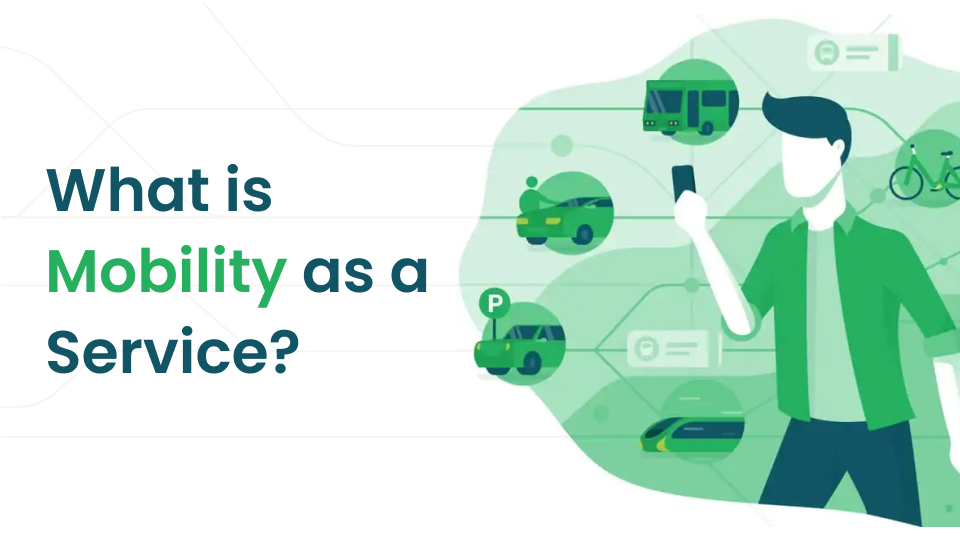 What is Mobility as a Service? Everything You should Know
In the last couple of years, the world has witnessed a drastic change in every sphere of human life. How people work, socialize, and travel has dramatically changed. The outbreak of the CODIV-19 virus has made businesses rethink how they should operate, innovate, and maintain communication inside and outside the company. 
Additionally, the pandemic has changed the customers' preferences and expectations. Transport is one of the industries hugely affected by the pandemic. A report by IBM  in 2020 revealed that 48% of public transport users ( bus, subway, and train users)opined that they would like to travel less through these public vehicles.
According to another report, due to the significant disruption in the transportation industry, 95 % of US car miles will shift to self-driving, shared cars, and electric vehicles by the end of 2030. Is the transportation industry prepared for this change? If yes, how can it be possible? The answer lies in the concept of Mobile as a Service or MaaS.
1. What is Mobility as a Service or MaaS?
The transportation industry is going through a period of significant disruption. New technologies, services, and products have supplanted the previous ones. The days of personal vehicles coupled with public transportation are gone. Modern transport is more complex but also opens a bunch of new opportunities.
One of the most demanding technologies in the current transportation industry is Mobility as A Service (MaaS). This customer-centric transport model is a real-time platform. It includes any confluences of transport methods. It integrates multiple forms of transport services juxtaposed into only one mobility service. Anyone can access it on demand. 
2. How does MaaS Work?
In the last few years, multiple initiatives have taken place in the transportation sector. They have come to be known as MaaS. The existence of different industries has complicated this concept for businesses. To make things easier, one needs to learn three critical components of the idea:
A.Providing service to customers, users, or travelers must be the main focus.
B.Offering not only transport facilities but also Mobility
C.Maintaining integration of services, information, payment, and ticket
Booking. 
To get an insight into how it works, you need to learn some vital aspects:
MaaS Alliance
MaaS adds value to the commuters' experience and deploys a single application. It offers Mobility with a single payment platform. The best thing is it avoids diverse ticketing and payment options. A MaaS provider can aggregate several forms of transport mode- bus, metro, ride-sharing cars, taxis, etc. 
This service also brings new models to the table that can streamline and operate many transport alternatives. Som of its advanced features include access to enhanced user and demand information. Moreover, its main aim is to become the best value proposition for its users. It is a holistic approach that nurtures high expectations. 
Multimodal and Demand-led Technology
MaaS helps mobile service providers to meet the ever-evolving and diverging requirements of modern commuters. It promotes the development of a more responsive, efficient, and resilient transport system for commuters. Also, it provides commuters with customized travel plans via a digital platform. It offers real-time transport information as well as payment and transaction processing.
Integration
Integration is a widely used term while defining MaaS. Let's take a closer look at the four integration levels of this service.
A. Level 0- No Integration
It is an introductory level that indicates the situation where individual services are provided for each different means of transport without integration. 
B. Level 1- Integration of Information
This level refers to the integration of information. Further, it can be classified by the existing functionalities. 
C. Level 2- Integration of Booking and Payment
This level indicates the integration of booking and payment. Besides, a level 2 service highlights single trips, a travel planner, and public transport like bus ticket booking apps. 
D. Level 3- Integration of Transport Services in Passes and Bundles
Level 3 integrates the offered services. Further, the added value of Level 3 is the best alternative to car ownership. 
E. Level 4- Integration of Societal Goals
This level defines the integration of societal goals. At this level, the MaaS services surpass the barrier between the demand for and the mobility supply. 
Collective and Individual Demand-Responsive Transport
Demand-responsive transport, or DRT, is an integral part of MaaS. It is divided into two categories- Collective and Individual demand responsive systems. Moreover, individual demand responsive system refers to the ride-hailing app car services. Some examples of this category are Ola, Uber, Lyft, etc. 
Collective demand-responsive transport services insist on transportation from door-to-door or stop-to-stop. It is a flexible public transportation service. It does not rely on a fixed timetable. Some examples of this category are Lyft Line, UberPOOL, Citymapper Ride, ViaVan, etc. 
3. What are the New Forms of Mobility?
MaaS is not limited to the integration of multiple mobility service modes. In many cases, it launches new forms of transportation. Some examples are e-bike sharing, car-sharing, and other innovative as well as robust forms of demand-responsive transportation, and supplements the existing public transportation systems. 
Embrace MaaS and Explore a Bunch of Opportunities
More and more cities from the different corners of the world are exploring Mobility as a Service. These services may differ from town to town. However, every MaaS project needs the minimum integration of search, book, and payment functions. Take your time, develop a proper understanding, and go the extra mile to implement MaaS services.
Articles you may Find Useful
How Can You Generate More Revenues With Apps Like Uber and Lyft?
Is Carpooling App The Answer For Ever-Growing Traffic and Air Pollution?