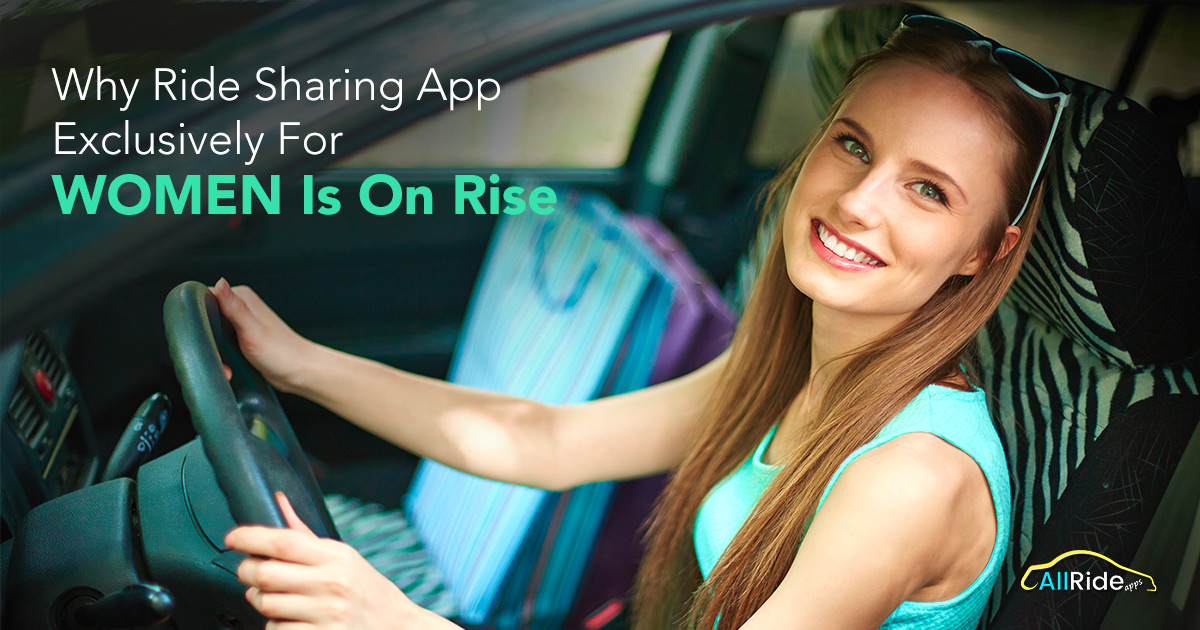 Why Ridesharing App For Women Is On The Rise- The Untapped Market
[vc_row][vc_column][vc_column_text]A few days ago, one of my friends called me hopelessly at night. She was out of her breath. The reason for her distress was nothing, but the taxi driver of the carpool, who misbehaved with her. And that too in the presence of two male passengers, who refused to stand by her.
She got down from the cab, at 1 AM in the middle of the broadway and had to walk at least half a mile to her home. Strange but that's what happened to her. Instead of two 'male' co-passengers helping her, I drove to pick her up in those odd hours!
The story is not new to many. You too may have witnessed or read the same story on social channels, newspapers or from peeps. These daily struggles and odd situations just not harass women, but cast a psychological impact in their daily life. However, with the huge rise of on-demand cab booking services and even with the launch of rideshare apps,  things have not fallen into place.
What we need is a lease of new life and that could be…possibly a women-oriented cab service. Perhaps!
Frankly, many of us may call it 'sexist' or find ridesharing for women to be discriminatory. But the fact is, you might find numerous stories which relate to my friend's incident. 
So, I think there is a desperate need for female ridesharing apps in the market. Well, I can list you down many reasons that call out for ridesharing app for women. But in this post, let's break down the 5 important reasons that tell why ridesharing app for women has absolute takers. If you are into transport business, you can move forward to this new app idea before it gets saturated.
1. It Concerns About Women Safety!
Though Uber has marketed their service all over the world, they still have trust issues. By trust issues I mean, SOS! Just not Uber, similar cab app services lack features for women safety. Whether it's Delhi or New York, harassments faced by women from cab drivers has been reported a number of times. Recently, a man disguised as Uber driver assaulted a teen girl.
#POLICE: #Man posing as #UBER #driver #sexually #assaulted #teen… https://t.co/F7tG4AmmDQ #news #rideshare #women

— Ultimate eBook (@ultimateebook) February 24, 2017
Innofied got a chance to work with a similar business, who launched a women oriented rideshare business exclusively for their country. It's called the RydeZone. The mission was to let corporate women drive safe at night. They deployed female drivers that make the ride even more comfortable. The idea was not just making an Uber clone, rather, RydeZone aims toward women safety.

So, if you are thinking to launch a women ridesharing app, what you need to consider first is integrating features that concerns/addresses women safety. And that's where we can have features like alarms, SOS buttons, anytime pick-ups, female only drivers and much more.
2. Ridesharing App For Women Has A 'Compatibility' Factor
Many women love to travel with female drivers as male counterparts can get uncomfortable at times in the odd hours of the night. Female workforce work late night these days. Especially corporate women who are working out of their schedule. I know women who leave office at 10 or 12 in the night. Can Uber, Lyft or similar on-demand cab service app can guarantee their safety? NO!
Uber is safer than taxis, but still not safe enough for female passengers!
I agree all male drivers are not at fault, but with women drivers, the ride becomes more comfortable. It adds convenience to the journey in terms of security. So, if you are already into taxi business, you can add the option to choose from male and female drivers.
3. Safer Ride Anytime For Women
Whether it's getting out from a drastic date to reach out for clubbing at night- it's never easy to scroll through various cab apps that offer cheap and quick rides to your destination. And keeping in mind the numerous cases of harassments and rapes in the past year (no matter where you are US, UK or India), we always think twice before booking a cab service.
You can surely have Uber and Ola cabs on your fingertips whenever & wherever you want. But, women are skeptical about cab apps like Uber when they are traveling alone at night. What if they accidentally get stuck in an awkward situation? What if the driver is drunk? You never know! So, in such situations, taking up the ride from any location with 'female assistance' can only be trusted. When female drivers take you back from your workplace, you can ride in repose!
4. It Makes Women Strong And Independent
A name worth mentioning here is of Riding Pink, a women-only taxi booking service launched in Kuala Lumpur with a goal to provide women a flexible and safer transport alternative. They are trying to make women self-dependent and self-reliable while they travel. The freshness in the thought of launching an all-women taxi service is empowering women workforce.
5. Women Can Earn Like The Male Drivers
When we talk about equality, then why not equal payscale opportunities for women?
Click To Tweet
With women-only ridesharing workforce, female drivers can earn like male counterparts. Women from all spheres of life can be independent. Whether she is a single mother, stay at home parent or even working adult, she can have extra income at her peace of mind. So, if you are thinking to start a ridesharing service, think of numerous opportunities you open up for women!
Your Take On All Women Ridesharing App
It's just not about safety, but something about a great contribution to the society. You do not build apps just to earn profits, you build it for humanity as well. There are many in the market to take away the women-only ridesharing app idea. So if you are planning to build one – have your marketing strategy right on! 
If you have an idea to build ridesharing app for women, make sure you have a whiteboard session with a leading mobile app development company. Start off with a minimum viable product of your app idea and launch it in the market. Maybe you can have the driver rating and alert as test features. Well, the idea of women ridesharing apps is not to say that all men are terrible or evil, but we just want to bring out a better option for women.
[/vc_column_text][/vc_column][/vc_row]