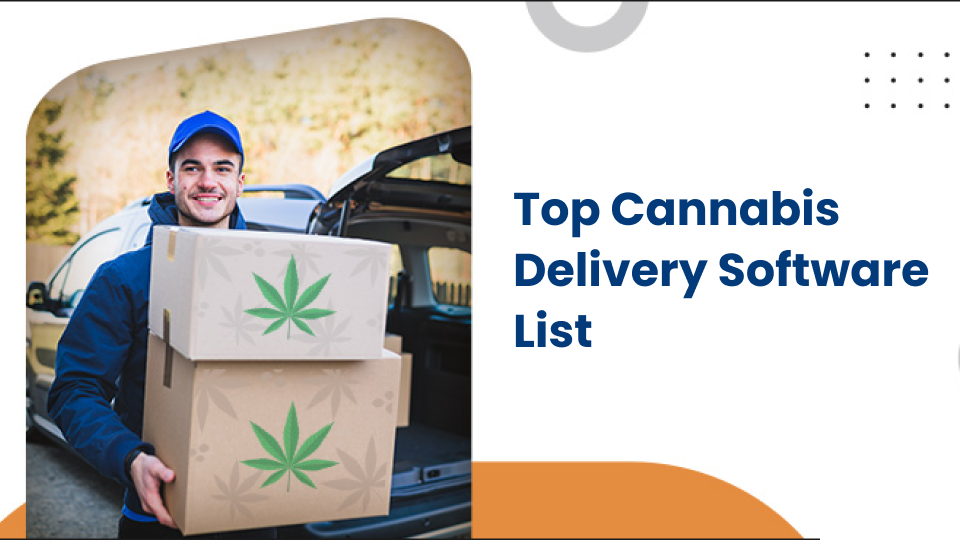 Top 5 Cannabis Delivery Software Picks
The cannabis industry has witnessed incredible growth in recent years due to the legalization of cannabis in many states and countries. With the increase in demand for cannabis products, medicine delivery businesses are seeking ways to improve their customer service and streamline their operations. Cannabis delivery software has emerged as a crucial tool for these businesses to manage their delivery operations efficiently. This software helps them manage their inventory, track real-time deliveries, and ensure compliance with regulations. Additionally, cannabis delivery management software can help cannabis businesses expand their customer base by offering customers a convenient and secure delivery service.
A report by Grand View Research reveals that the global legal cannabis market will reach USD 97.35 billion by 2026, with a CAGR of 32.6% during the forecast period. Furthermore, a report by Research And Markets suggests that the cannabis delivery market will grow at a CAGR of 23.8% from 2021 to 2028. However, these statistics highlight the significant growth potential of the cannabis industry and the importance of cannabis software in helping medical businesses improve their operations and customer service.
Benefits of Using Software for Cannabis Delivery Business 
There are many benefits of using software for managing the delivery operations of cannabis businesses. Let's take a look at some benefits of cannabis software:
A. Streamlined ordering process: Cannabis delivery software enables customers to place orders for their preferred products online, which can reduce the time spent on order-taking and processing.
B. Increased efficiency: The software automates taking and fulfilling orders, enabling dispensaries to handle more orders and increase efficiency.
C. Enhanced customer experience: Customers can view real-time updates on their order status and receive notifications when their order is on the way. It can help improve their knowledge and increase customer loyalty.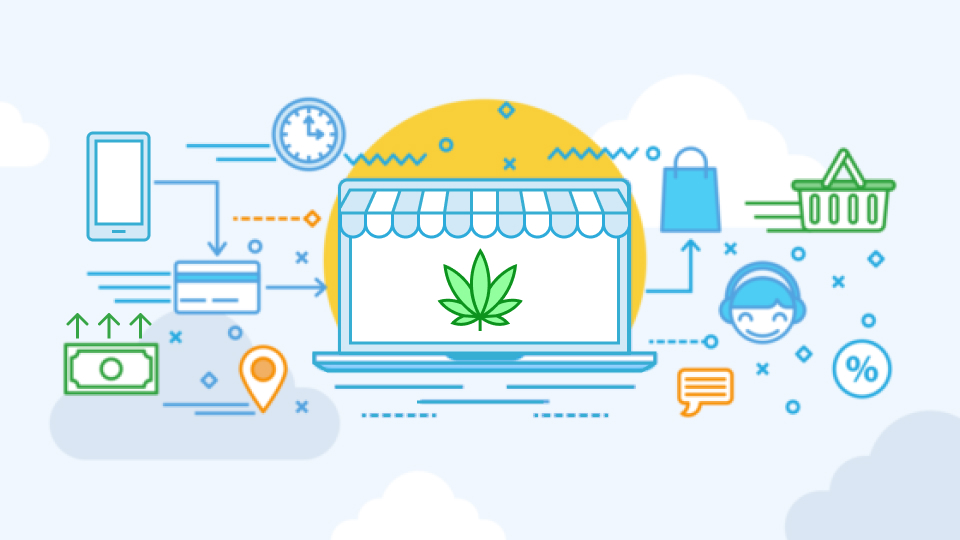 D. Improved inventory management: With delivery software, cannabis delivery businesses can easily manage their inventory levels and ensure they always have the right products in stock.
E. Compliance with regulations: Cannabis software can help dispensaries comply with state and local regulations, ensuring they operate legally and avoiding costly fines and penalties.
F. Improved reporting and analytics: The software can provide dispensaries with detailed analytics and reporting capabilities, enabling them to understand their customers better and make informed business decisions. Also, real-time data and analytics help optimize routes for faster delivery. 
G. Increased revenue: By streamlining the ordering process, improving efficiency, and enhancing the customer experience, cannabis delivery software can help dispensaries increase their revenue and profitability.

Now that you know the benefits, you might be eager to explore top-performing solutions from cannabis software companies. We've created a list of the top 5 cannabis delivery management software to help you.
Top 5 Cannabis Software List
AllRide provides delivery software to streamline the cannabis delivery process for customers and businesses. The software is user-friendly and accessible. It comes with a range of features and modules to cater to the needs of different users.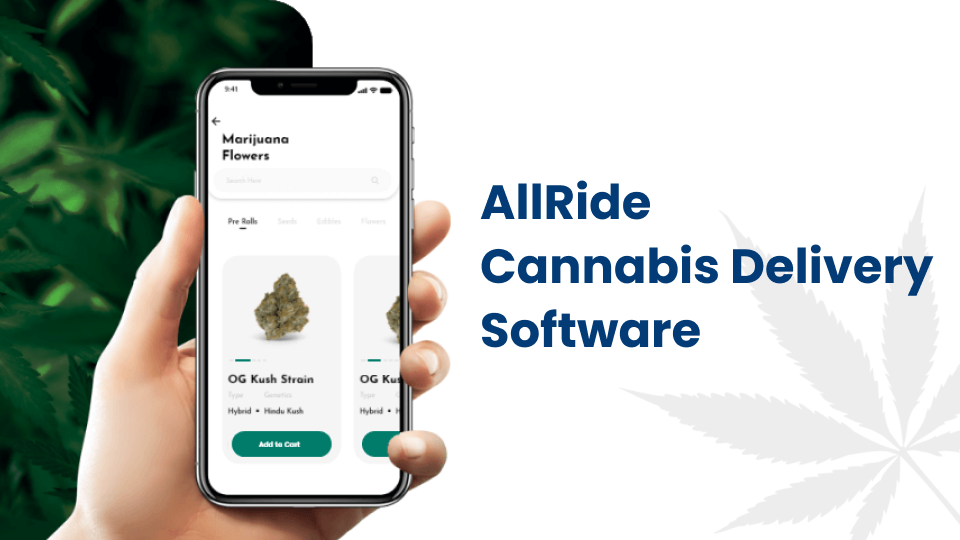 A. Features
1. Easy ordering: AllRide allows customers to place orders for cannabis products through a user-friendly interface. Customers can browse various products, view prices and descriptions, and select their desired items.
2. Real-time tracking: AllRide provides real-time GPS tracking for deliveries, allowing customers to see where their order is at any given time.
3. Customer management: It also allows businesses to manage their customers with tools for customer segmentation, loyalty programs, and more.
4. Inventory management: This software includes inventory management features, allowing businesses to track stock levels, manage product listings, and more.
5. Analytics and reporting: AllRide provides businesses with various analytics and reporting tools, allowing them to track sales, monitor customer behavior, and make data-driven decisions.
B. Modules
I. Customer app: The app is designed to make it easy for customers to order, track deliveries, and manage their accounts.
II. Dispatch panel: The dispatch panel provides businesses with various tools for managing orders, inventory, customers, etc.
III. Driver app: It is designed to help drivers manage their deliveries, including navigation tools, real-time tracking, and customer communication tools.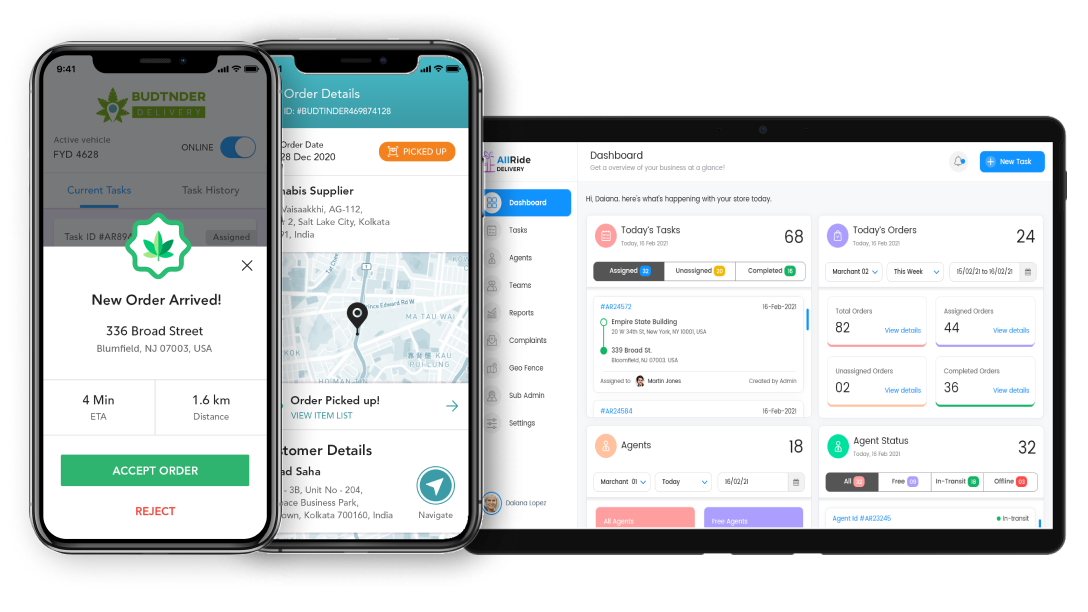 C. Pricing
AllRide offers a range of pricing plans to suit the needs of different businesses. Pricing depends on the number of users and the features required, with custom pricing available for larger firms. However, interested customers can contact AllRide for a quote based on their specific needs.
2. POSaBIT
POSaBIT software is designed specifically for cannabis businesses. It offers a range of tools for managing sales, inventory, compliance reporting, customer engagement, and loyalty programs. It enables them to drive sales transactions, track inventory levels, and generate reports while providing a secure and easy-to-use platform for customers to purchase. POSaBIT's compliance software helps medical businesses comply with state and local regulations, including those related to financial reporting and cash management. The company is committed to advancing the cannabis industry by providing innovative software solutions that help businesses operate more efficiently as well as securely while promoting financial transparency and social equity initiatives.
3. Treez
Treez is a California-based technology company that provides point-of-sale (POS) and enterprise resource planning (ERP) software solutions for the cannabis industry. The company's software helps cannabis businesses manage their operations, including inventory tracking, compliance reporting, and customer relationship management. Treez's POS software provides a user-friendly interface for admin teams of companies to manage sales transactions, track inventory levels, and generate reports. Also, its ERP software integrates with the POS system to provide more comprehensive data analysis and business insights. 
4. WebJoint
WebJoint is a California-based technology company that provides software solutions for cannabis businesses. WebJoint's solution offers tools for managing online ordering, delivery logistics, and compliance reporting. Its point-of-sale (POS) software enables cannabis businesses to manage inventory levels, process transactions, and generate reports. Moreover, its delivery management software provides real-time tracking of delivery drivers and routes. 
5. MJ Freeway
MJ Freeway is a Colorado-based technology company that provides software solutions for the cannabis industry. Its cannabis delivery solution offers a range of tools for managing operations, including inventory tracking, compliance reporting, and customer relationship management. The company's point-of-sale (POS) software enables medicine delivery businesses to manage sales transactions, track inventory levels, and generate reports. Moreover, its supply chain management software provides end-to-end visibility and control over the cannabis supply chain. Additionally, its solution also offers features for managing patient data, integrating with third-party apps, and generating business insights. 
Make a Smart Choice & Take Your Cannabis Business to the Top
Cannabis delivery management software offers numerous benefits to both customers and cannabis businesses. It streamlines the ordering and delivery process, providing customers convenience, privacy, and access to a broader range of products. It enables efficient inventory management, real-time tracking, and increased sales for businesses. Additionally, cannabis delivery software can help reduce costs associated with traditional brick-and-mortar operations and compliance with regulatory requirements. You only need the right software for your business if you want to leverage all these benefits. Tap on the right software and ensure the success of your business.