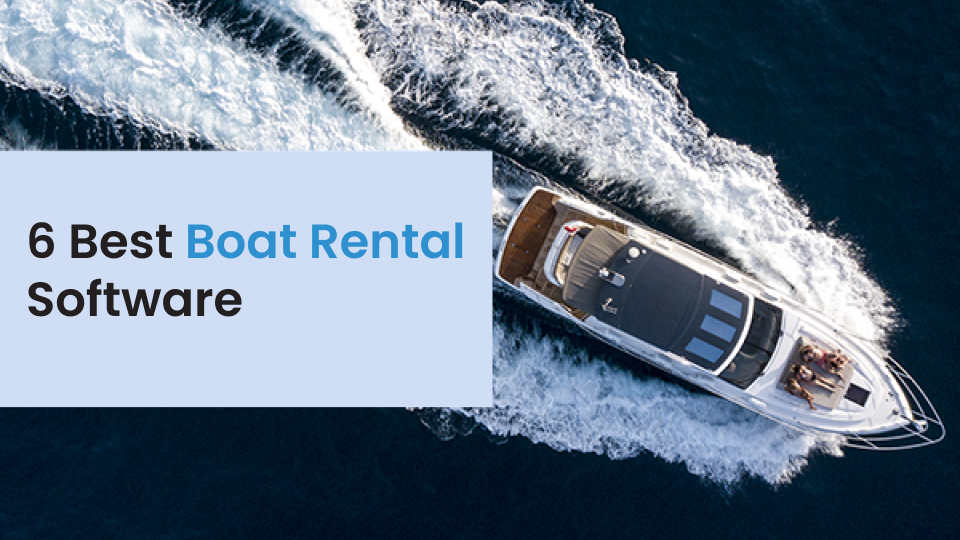 6 Best Boat Rental Software for Small Businesses
Is launching a business with little money possible? Many aspiring business owners keep asking this question. The answer is YES! With the help of connected devices and software, it is possible. The emergence of the Sharing Economy and online rental services have made it possible. Boat rental service is a new addition to the list of online rental services, and boat rental software is the need of these businesses. 
Ways to Leverage Boat Rental Booking Software for Your Business
There are many ways you can utilize the benefits of boat booking software. Let's take a look at some of the key ways:
A. Reduce Workloads : A boat rental booking software automates and speeds up the booking process. It provides relevant information about the riders' requirements. This way, it can help you save time in collecting data. Moreover, it will enable you to send automated emails to customers to confirm their bookings. 
B. Streamline and Manage Listed Boats Efficiently: Most small businesses need help managing the boats when the number of boats increases. The use of software can address this problem. It helps companies to manage the details of trips and riders. The advanced system collects, categorizes, and stores all important data.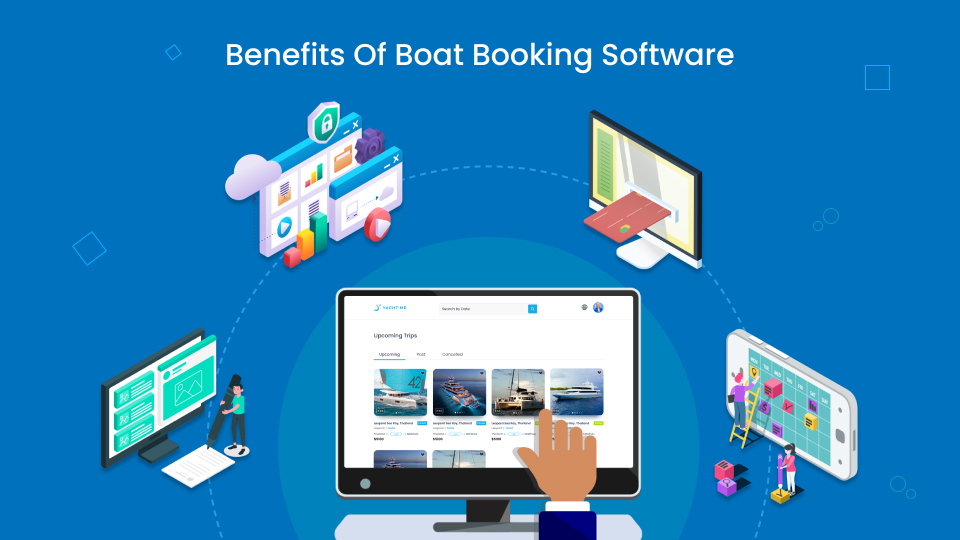 C. Say Goodbye to Manual Work: Boat management software eliminates manual work and improves customer experience. With this solution, you can synchronize all bookings and ensure that the service is available for a rider who is booking. 
D. Keep Connected with Riders and the Partners: A boat rental Management software keeps the riders, business owners, and partners connected. It maintains transparency and keeps every party informed about the trips and deals. 
E. Make Payment Faster: Most online customers look for online rental services offering fast payment options.  Boat rental software makes these things easier for the services making online payment quicker and hassle-free. 
Now let's take a look at the top 6 boat booking rental software. 
Top 6  Boat Booking Software
Competing with established players in the market can be challenging for startups and small boat or cab businesses. AllRide Cab helps them stand out and gain a competitive edge. It is a smart, flexible, and easy-to-use software that makes transport businesses easy to deal with. It has a simple interface that anyone can navigate.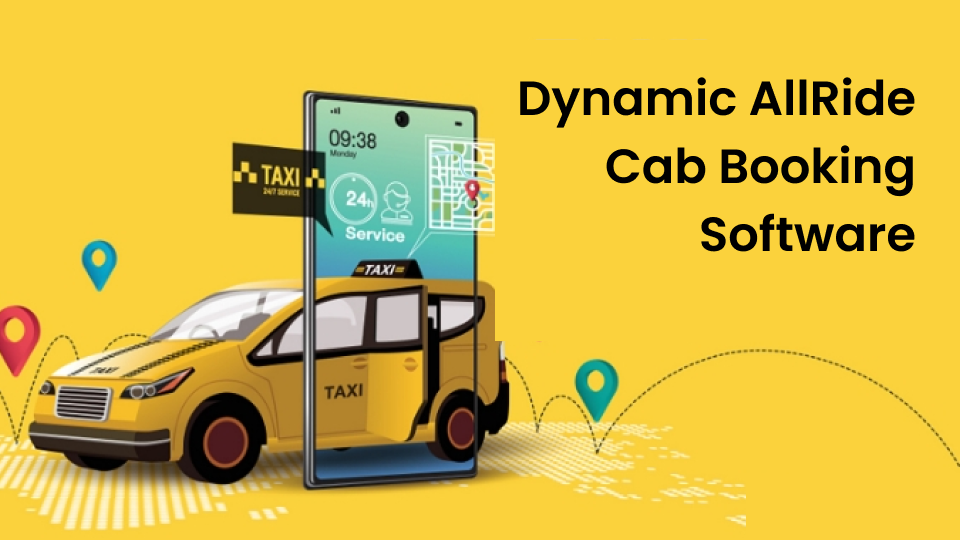 Here are some features of this software that can help transport businesses, including boat and cab services. 
I. Easy Booking: AllRide cab provides riders with a hassle-free online booking experience. Riders can book a vehicle using the AllRide mobile app. They can select the pick-up and drop-off locations, choose the type of vehicle, and schedule the ride as per their convenience.
II. Safe and Comfortable Rides: AllRide prioritizes the safety and comfort of the riders and the drivers. The vehicles have safety features such as GPS tracking, panic buttons, and real-time monitoring. The drivers receive important notifications on time.
III. Convenient Payment Options: AllRide enables transport businesses to offer various online payment options. This enables riders to pay for their rides conveniently, without any hassle.
The smart and connected AllRide cab ecosystem includes the following modules:
A. User App
B. Driver's App
C. Dispatch System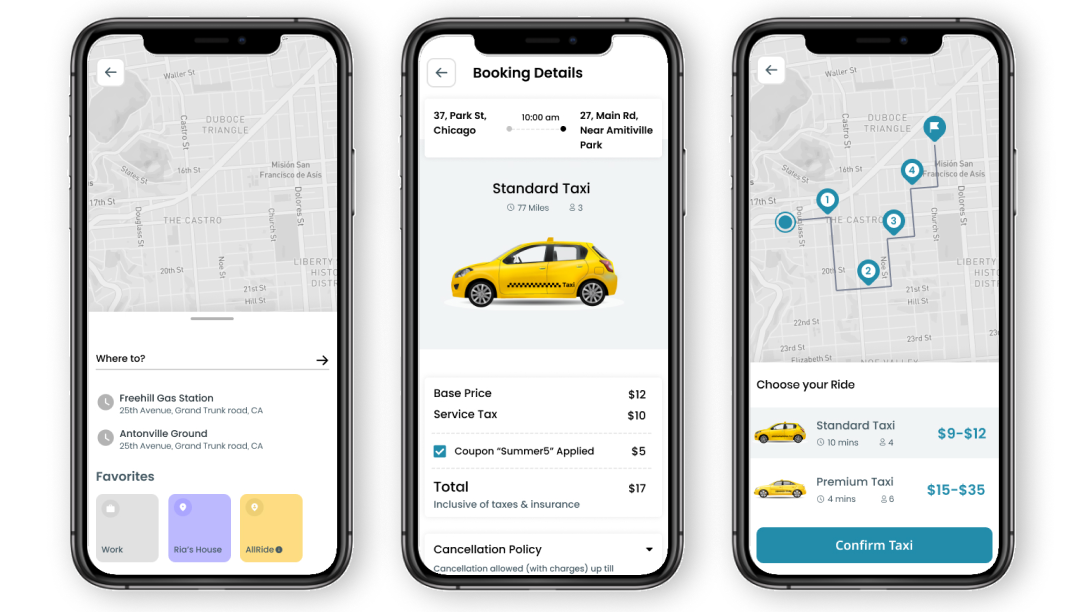 Cost
The cost of the AllRide cab depends on various factors such as the distance, time, and type of cab selected. However, the pricing is competitive and affordable for transport businesses. The company ensures no hidden charges or extra fees for its services. The fare is calculated based on the distance traveled, and the riders can also get an estimate of the fare before booking the cab. 
2. Bookitlive
 Bookitlive is a cloud-based boat booking software that allows customers to book and pay for their boat rentals online. It also provides features such as automated reminders, calendar integration, and real-time availability updates. The software also allows boat rental businesses to manage inventory, track bookings, and generate reports.
3. BoatBookings
BoatBookings is a boat rental booking platform that connects boat owners with customers. It provides a user-friendly interface for customers to search for and book boats online. The platform lets boat owners manage their ships, availability, and pricing. The platform also provides a commission-based payment system, which charges boat owners a fee for each booking made through the platform.
4. GetMyBoat
GetMyBoat is a boat rental marketplace that allows customers to search for and book boats from a global network of boat owners. The platform provides real-time availability updates, secure payment processing, and a range of boat options, from small boats to luxury yachts. It also provides boat owners with a platform to manage their boats, pricing, and availability.
5. BookedIN
BookedIN is an online booking software that allows boat rental businesses to manage their bookings and schedules. It provides a customizable booking page, automated email and SMS reminders, and payment processing features. The software also allows businesses to track customer information, manage inventory, and generate reports.
6. ReservationKey
ReservationKey is a booking software for vacation rental businesses, including boat rental companies. The software provides features like online booking, payment processing, and real-time availability updates. It also allows businesses to manage inventory, track bookings, and generate reports. ReservationKey also integrates with popular payment gateways, such as Stripe and PayPal.
If you are Providing Boat Rental Services, you should not Overlook the Importance of Technology! 
Boat rental software has proven to be a handy tool for businesses in the marine industry. The software has enabled companies to streamline their rental operations, improve customer experience, and increase revenue. According to a report by Grand View Research, the global boat rental market is expected to reach $4.86 billion by 2025, with North America being the largest regional market. This growth is primarily attributed to the increasing popularity of boating as a leisure activity and the adoption of advanced technologies such as boat rental software. With these statistics in mind, it is clear that boat rental software will continue to play a critical role in the success of marine businesses in the coming years.