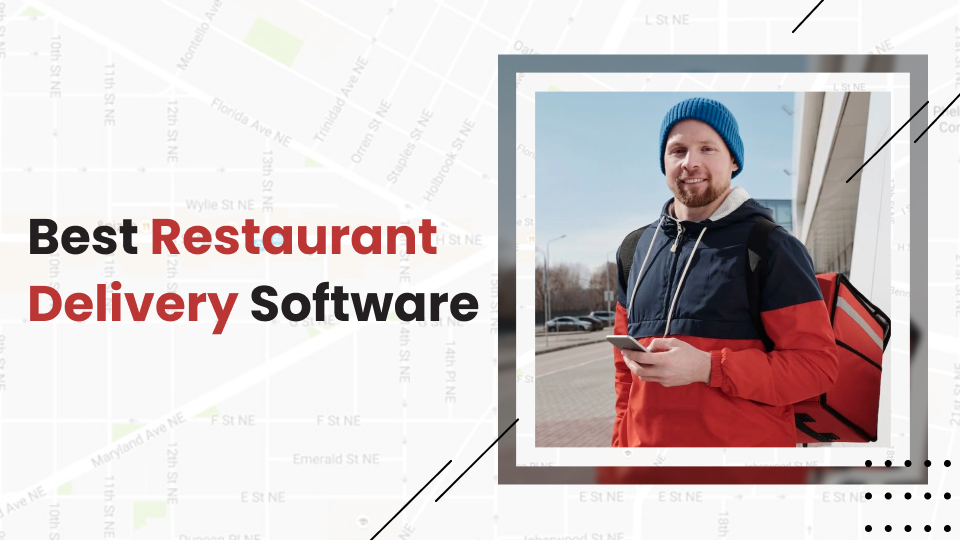 10 Best Restaurant Delivery Software
Ordering takeout from your favorite eatery through an app is the only innovation the food industry has witnessed. Do you think this way? However, the truth is beyond this. The food delivery industry has a long history. It dates back to the era when smartphones did not exist. In the 19th century, food delivery started its journey for the first time. Two Italian royals were the first online food delivery customers. After that, many things shaped the industry, like wars, technological advances, shifting labor approaches, etc. Moreover, the recent revolutionary innovation leveraged by the industry is the best restaurant delivery software. 
According to a study by the National Restaurant Association, 60% of U.S. consumers order delivery or takeout at least once a week. According to another study by the same organization, 79% of consumers say that using technology for restaurant ordering and delivery makes their experience more convenient. A survey by Statista found that the percentage of U.S. consumers who used a restaurant's mobile app to order food for delivery increased from 11% in 2019 to 32% in 2020, and it indicates a growing trend toward online ordering and delivery.

Add Value to your Food Business with a Restaurant Delivery Software 
Restaurant delivery software can add significant value to food businesses, such as:
1. Streamlining the Delivery Process: Restaurant delivery software automates the entire process of receiving and fulfilling delivery orders. Moreover, it can help reduce errors and increase efficiency, allowing restaurants to handle larger orders easily.
2. Increased Reach and Revenue: Restaurants can offer multiple delivery options. This way, they can expand their reach beyond their physical location and cater to customers who cannot visit the restaurant. This can result in increased revenue and a more extensive customer base.
3. Valuable Data and Analytics: Restaurant delivery software provides businesses with valuable data and analytics on customer preferences, order volume, and delivery times. This information can be used to optimize delivery services, improve menus, and identify growth opportunities.
4. Improved Customer Satisfaction: Delivery software improves communication between restaurants and customers, enabling them to provide real-time updates and respond to feedback promptly. As an outcome, online food delivery businesses will enjoy improved customer satisfaction and loyalty.
5. Competitive Edge: With the growing popularity of food delivery services, having a reliable and efficient delivery software solution can give restaurants a competitive edge in the market.
Now that you know the benefits of online food delivery software, let us list the best restaurant delivery software. 
Best Restaurant Delivery Software
AllRide is one of the best restaurant delivery software solutions. It is designed to streamline food delivery operations for small and mid-level businesses. It offers a range of features that enable businesses to manage their deliveries, track orders and optimize routes for faster delivery times. With AllRide, companies can ensure that their customers receive their orders on time, every time.
One of the key features of AllRide is its real-time tracking capabilities. It helps to ensure that orders are delivered on time and that customers are kept informed of their delivery status. Businesses can track the progress of their delivery drivers in real-time, allowing them to adjust their routes as needed. Additionally, AllRide provides businesses access to detailed delivery analytics, allowing them to track key metrics such as delivery times, order volume, and driver performance.
Another benefit of AllRide is its user-friendly interface. The platform is designed to be easy to use, even for businesses with limited technical expertise. AllRide food delivery software has three modules- 
A. Customers app
B. Orders management app 
C. Dispatch panel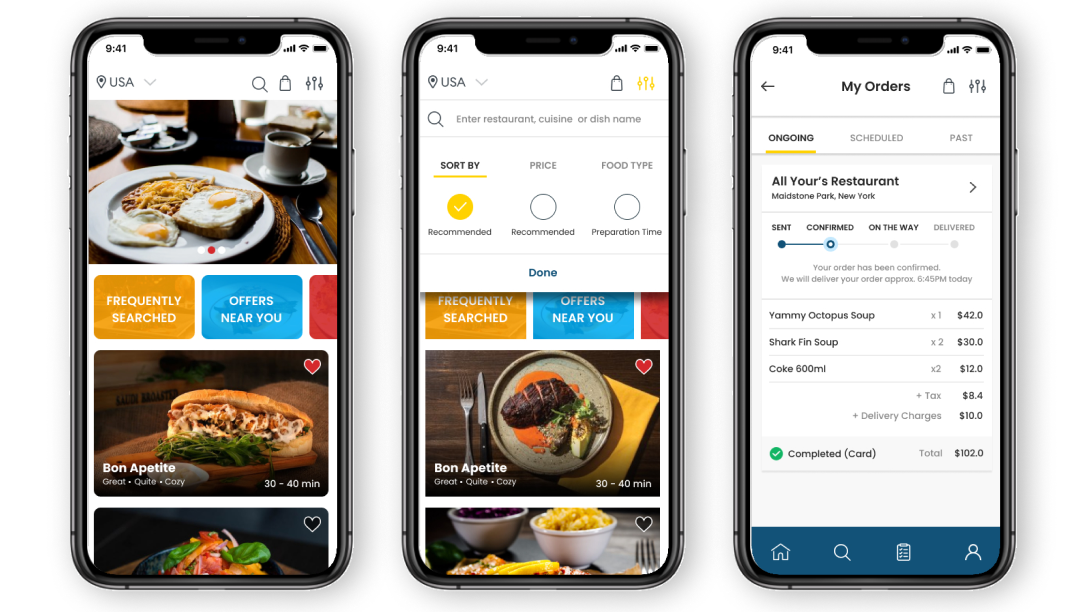 If you own a small food delivery business and want to take your business to the next level, you must try AllRide Delivery.
Want to try? Request a Demo!
2. Grubhub
Grubhub is a popular restaurant delivery software allowing restaurants to manage their online orders and logistics. It offers real-time order tracking, payment processing, and customer management tools. Grubhub also provides restaurants with access to a large customer base through its platform.
3. Routific 
Routific is a cloud-based software solution that specializes in optimizing food delivery operations for restaurants and food delivery businesses. The software allows businesses to streamline their delivery processes by automatically planning the most efficient delivery routes based on various factors such as delivery windows, traffic patterns, and vehicle capacities.
4. OpenTable 
OpenTable is a software platform that offers food delivery services to customers. It allows users to browse menus, place orders, and pay for their meals all in one convenient place. OpenTable partners with restaurants and other food providers to offer a wide variety of cuisines to customers. With its easy-to-use interface and comprehensive search features, OpenTable helps customers find the food they crave and get it delivered right to their door. Additionally, OpenTable offers a rewards program that allows customers to earn points for their orders, which can be redeemed for discounts on future purchases.
5. StoreKit
StoreKit is a food delivery software designed to help restaurants and food businesses manage their online orders and deliveries. With StoreKit, businesses can set up an online storefront, accept orders from customers, track inventory, manage menu items, and process payments. The software also provides real-time data analytics and reporting tools to help businesses optimize their operations and make data-driven decisions.
6. ChowNow
ChowNow is a food delivery software and it offers eateries a customizable online ordering system. It enables restaurants to manage their online orders, accept payments, and track order progress. ChowNow also provides marketing tools to help restaurants attract new customers and grow their business.
7. Toast 
Toast is a restaurant management software and it offers features such as online ordering, delivery management, and customer relationship management tools. It also provides restaurants with data and analytics to help them optimize their operations and grow their business.
8. Square 
Square is a payment processing software. It offers various features to restaurants, including online ordering and delivery management. It also provides restaurants with marketing tools to help them attract new customers and grow their business.
9. FlipDish 
FlipDish is a food delivery software that allows restaurants and food businesses to set up their own online ordering platform. With FlipDish, customers can browse menus, place orders, and pay online, while restaurants receive and manage orders through a user-friendly interface. The software also includes features such as real-time order tracking, automated order confirmation and delivery notifications, and customer data analytics to help businesses improve their operations and customer experience. FlipDish aims to streamline the food ordering and delivery process, helping businesses increase revenue and build a loyal customer base.
10. Radaro
Radaro is a food delivery software that helps restaurants, cafes, and other food businesses streamline their delivery operations. It offers a range of features, including real-time tracking of delivery drivers, automated dispatching, order management, and route optimization. With Radaro, customers can track the status of their orders and receive notifications when their food is on its way. The software also integrates with popular third-party platforms, such as UberEats and Deliveroo, to help businesses expand their delivery reach. Overall, Radaro helps food businesses improve efficiency, increase customer satisfaction, and grow their delivery operations.
Streamline your Restaurant Delivery Operations with the Best Software Solutions
Restaurant delivery software has become a valuable asset for restaurants. These top 10 restaurant or food delivery software solutions provide a range of features, including order management, delivery tracking, and integration with popular food delivery marketplaces. As more customers demand convenient delivery options, it is clear that delivery software will continue to play a significant role in the food industry.

Whether you're a small restaurant looking to grow your delivery service or a large chain seeking to optimize your delivery operations, there is a delivery software solution that can meet your needs.