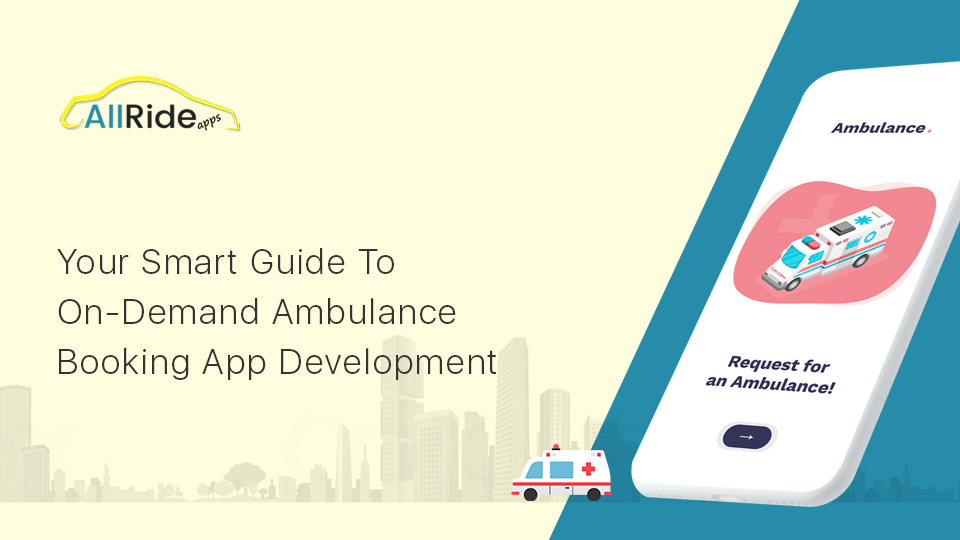 Your Business Guide to Ambulance Booking App Development
A painful accident, severe brain stroke, or massive cardiac arrest, all reaches close to fatality if the ambulance arrival is delayed. The intervention of digital tools for real-time activation of ondemand ambulance transportation service is very necessary now. From that perspective, if you're thinking about Ambulance Booking App Development, you are certainly proceeding on the right track.
According to an online report, the World Health Organisation (WHO) stated that there must be one ambulance per 80,000 people in any country which is now one for 1,50,000 people. It also mentioned that the minimum standard response time for an ambulance must be 8-10 minutes. But unfortunately, it is not attainable using manual ambulance booking systems.

The figures in the statistics clearly indicate the fact that all hospitals and clinics are not having dedicated ambulance services. It also depicts that still there is a scarcity of ambulances with respect to the increase in daily medical emergency cases. Hence online ambulance booking processes can surely be an effective measure in bridging the gaps between patients and ambulance service providers efficiently. 
The crisis has hit the medical industry harder in the times of the COVID-19 situations. These are the few most obvious points which makes it necessary to initiate Ambulance Booking Application Development. Let us take a deeper dive to understand its need in a better way.
What Is The Need For An Ambulance Booking App?
We all are aware of the technological advancements which are facilitating the medical processes to increase mortality rates and surgical efficiencies. But the same thing is lacking when it comes to the methods by which patients can get access to such advanced treatments. One such issue is the on-time availability of ambulances to carry patients under precarious conditions to the required healthcare center. 
Ambulance Assistance Team
Many times ambulance assistance or service teams shadow the need of a doctor when it comes to immediate first aid or minor relief cases. The team of paramedics and health workers can very efficiently rescue you out of the immediate trauma using preliminary rounds of medications. But there are certain factors which keep them away at times of need, like – 
Inability to track the accurate location of the victims or patients.

Lack of information on tentative availability of ambulances near them.

Unpredictable routes and road conditions often is a great reason for the delay in their arrival.

Lack of coordination between the hospital or clinic, ambulance driver, and the team.
A digital solution like an ambulance dispatch software can resolve all these issues to ensure efficient ambulance services.
Ambulance Driver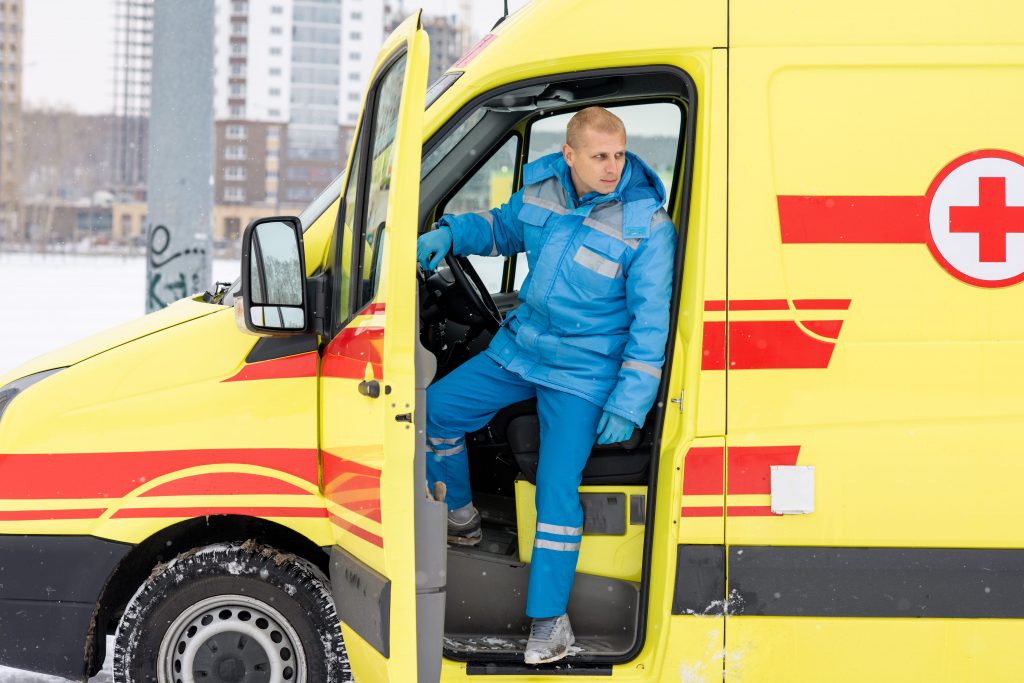 It can happen that in spite of availability, you are unable to get connected with an ambulance in an emergency. There can be many factors leading to such a condition like – 
Disturbance in communication networks.

Ambulance drivers often fail to spot the exact location where they have to reach.

They lack real-time interaction tools to coordinate with respective hospitals or clinics for updates.

They can never beat or break the traffic conditions and rules along with route difficulties.
Owing to the major difficulties based on communication, location tracking, and interaction, your ambulance booking app can be the most worthy solution.
Patients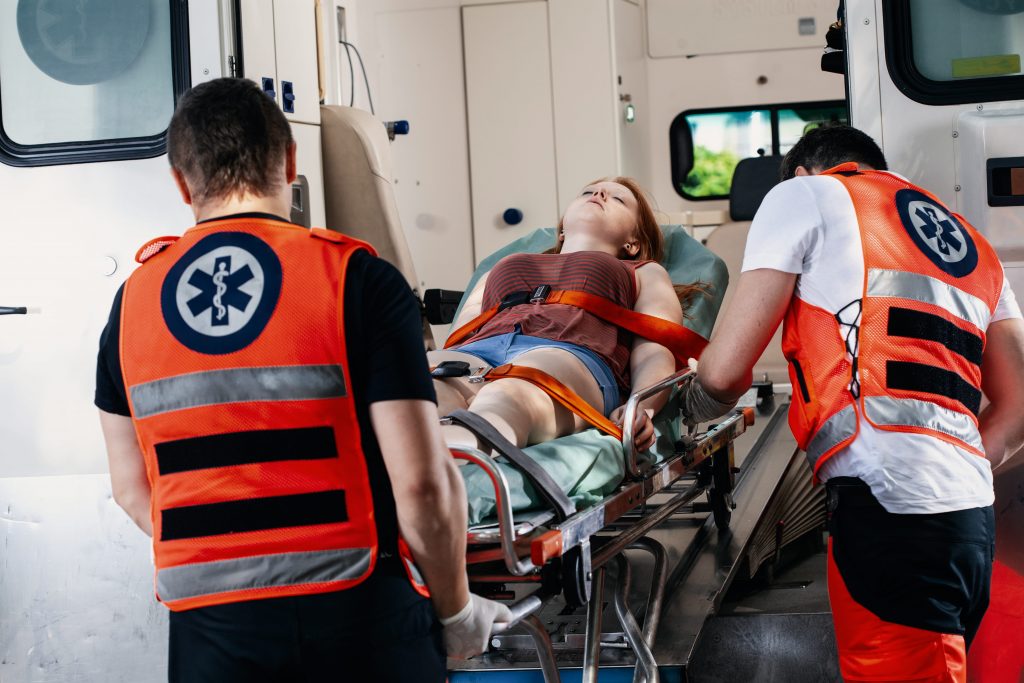 If you are the patient or someone attending one, the waiting time for the ambulance arrival is stressful and can be responsible for life-risk as well. An online ambulance booking app can ward off many difficulties of patients like –
Knowing the availability of ambulances near the pick-up location.

Get location information of the ambulance en-route to the pick-up location.

Establish smooth communication with the Ambulance Service team.

Get an accurate estimated time of arrival of the ambulance.
If patients or their attendants get to know about the status and location of the ambulance, it releases them from a great deal of mental stress. This is possible only with an ambulance booking app.
Organizations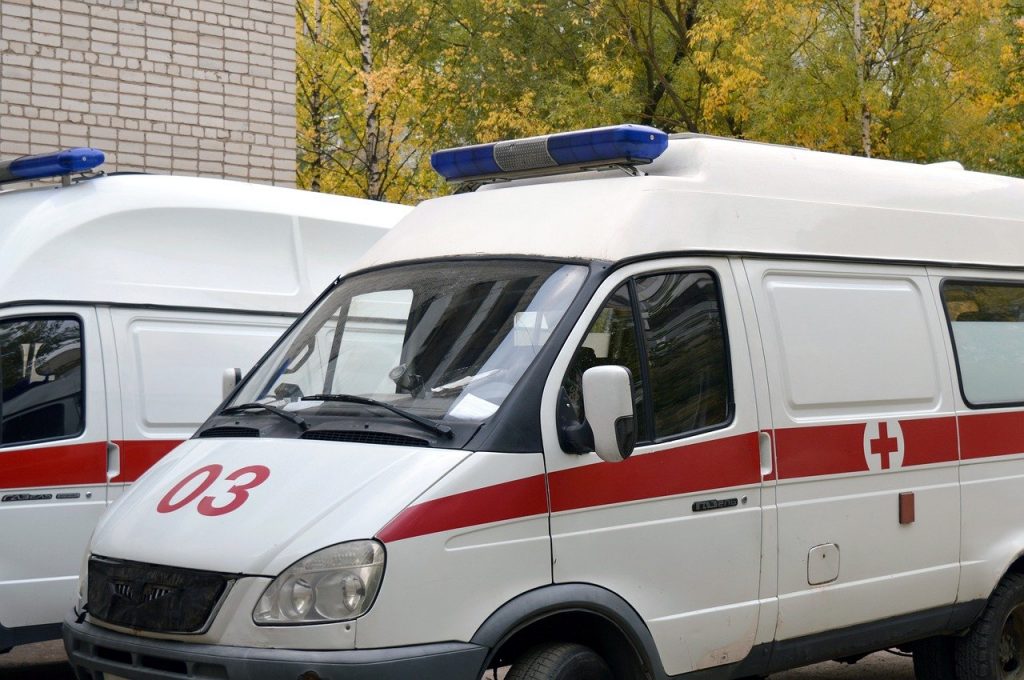 Government, semi-government or private organizations hosting ambulance services or providing emergency medical services face multifarious difficulties. They can be like – 
Get a list of ambulances seeking maintenance or repairs immediately.

Monitor performance of ambulance service team members and drivers.

Spot and track ambulances moving around the city or town helping patients.

Track the availability of emergency relief equipment and medicines in ambulances.
These are just a simplified sample of the multitude of problems faced by ambulance providing organizations which can be solved by an ambulance booking app. 
Now as it is very clear how the emergency medical service providers and patients face difficulties when it comes to ambulance services, it is the right time to find a solution. An Ambulance Booking App is the answer to such problems. Let us know how!
How Is The Ambulance Booking App Helpful?
As you have already learned about the major challenges faced by medical emergency teams, ambulance drivers, and patients, you should be keen to know about the solutions. The solution is a digital intervention in the form of an Ambulance Booking App. Here is how it is helpful –
Indicates Ambulance Availability
By this feature of an Ambulance Booking App, you can provide real-time updated information on the availability of ambulances. Patients can easily spot the ambulance near them and decide which one to book for their purpose.
Establishes Proper Communication Channel
An online ambulance booking service always ensures that all the operation points are well connected for smooth coordination. Be it the patients' end, the ambulance team and driver, or the hospital or clinic, the app binds all with seamless communication features.

Real-time GPS Tracking Features
The major reason for restlessness in patients or their attendants is the long wait for the ambulance till its arrival. Be it patients or ambulance service providers, it is very important to know its accurate location for booking and operations respectively. 
GPS trackers synced with location features of the drivers' devices transmit accurate location details to all in the app network. An Ambulance Booking App always tracks the accurate location of the incoming ambulance and shares the exact estimated time of arrival on user dashboards.
AI-supported Route Guidance
Every movement of the ambulance is recorded by the app interface to provide proper route guidance. This AI-supported route guidance feature helps drivers to know about any route disturbances beforehand. It also suggests alternative routes for convenience to reduce delay.

Ensures Authenticity
Every person registering on the ambulance booking app is required to go through a brief registration process. In this process, they have to provide all their details related to their identity and communication ready for verification. So it ensures the authenticity of users as well to avoid any operational deficiency in your business. 
Data Management
The app stores all data of every user, be it the patient, driver, service provider, or ambulance service team. This can help you as an admin to monitor all data straight from your dashboard to monitor and improve the operational efficiencies of your business. Reports related to ambulance duty travel, driver performance, and revenues can be easily accessed from the dashboard of the app on a single tap.
By now you must have understood the importance of the online ambulance booking system. If you are planning to go for Ambulance Booking App Development, the following is the guide on how you should start it.
How To Commence Ambulance Booking App Development?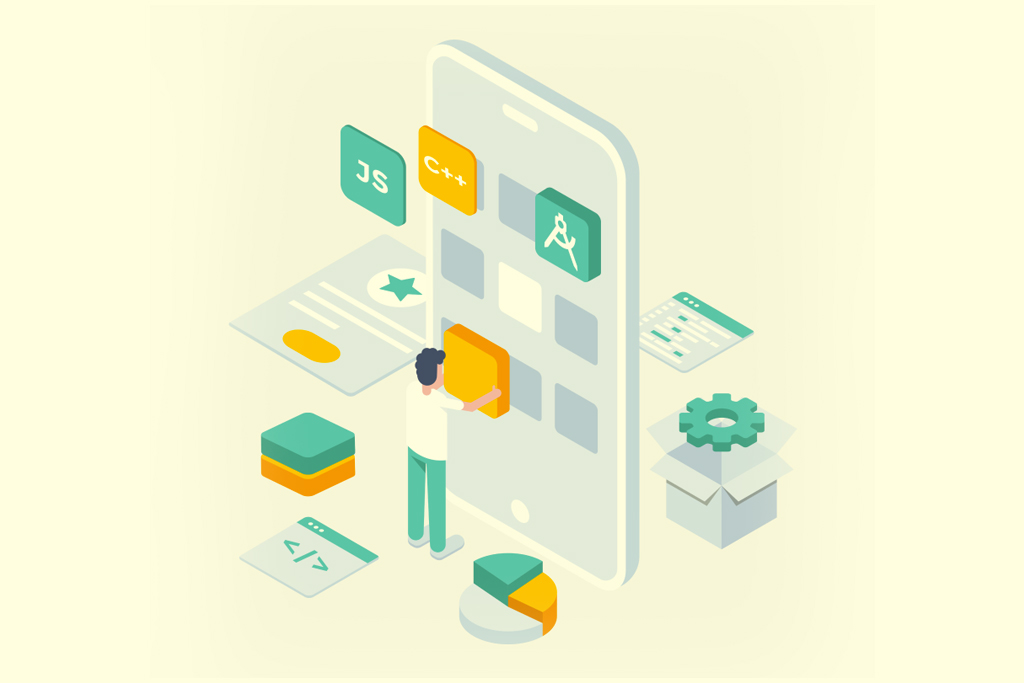 It is evident from facts and statistics that ambulance services face severe drawbacks when it comes to manual operations on a whole. Hence, if you are planning for Ambulance Booking App Development, it must be concrete and foolproof as your app can be a lifeline for the patients. Here are a few things that you need to consider before initiating your ambulance booking app development: 
Market Research and Analysis
As it is already known that an online ambulance booking service is a great need now, so assure yourself that you will have to face great competition. To cope up with the competitive spree, you must do a great deal of research on fields like:
How other Ambulance Booking App models are working?

Who are your local competitors and what is their strategy?

Compare what uniqueness your plan has which others are lacking. If you find no uniqueness, try to come up with something creative.

Create surveys and take feedback from social media users as to what they are expecting from a modern on-demand ambulance booking app.
In this way, play with all the tools you need to reach a complete business model and implement it in the market.
Work out on the Features of your Ambulance Booking App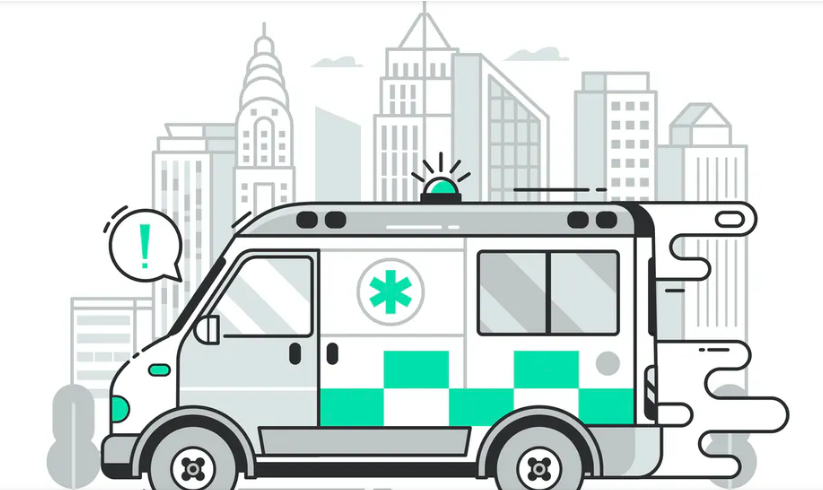 You must remember that the availability of ambulances and their on-time arrival are the major challenges which you will be dealing with. Hence, your app must-have features that can solve these two issues effectively. For an ambulance booking app, there will be three panels, namely, the User or Patient App, Driver App, and the Web Admin Panel.
The three panels have different purposes and so the features in these three apps should be compatible with the same.
User App Features:
User Registration and Authentication 
Your app must be able to confirm the identity of the user by allowing him or her to create credentials by a brief registration process using which they can log in any time they need the app.

Selection of Ambulance Type 
Users must be able to select the type of ambulance they need as per their journey and medical requirements. Based on their selection, the app will display the availability of the selected ambulance type.
Select Booking Type 
The user app must allow users to categorize their booking type as normal or emergency based on which the ambulance driver can take the initiative to reach faster.
Ambulance Tracking 
Users must be able to track the ambulance booked until it arrives. Accurate and precise GPS features must be embedded in the app to facilitate this.
Multiple Device Support 
The app must be downloadable and operable in all types of Android and iOS devices to be accessible to all types of users. Cross-platform functionality can make your app versatile and increase the number of downloads on all types of devices from the respective app store.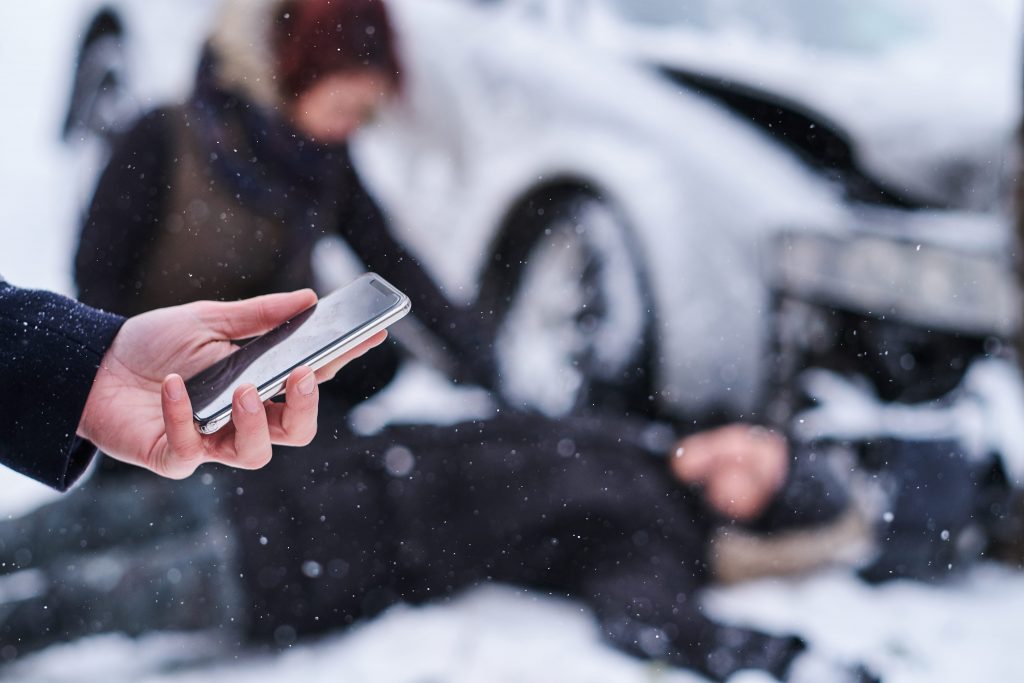 These are the basic features that your ambulance booking app must have to relieve the users from all stress related to ambulance booking. You can research to find out more features or implement unique functionalities in your app to provide better solutions to users.
Driver App Features
For drivers, the most important information they must have are pick and drop locations, accurate GPS, and route guidance. These three features will always help them to provide quick service. 
Registration and Authentication
It is the matter of the ambulance and the patients it will carry, so it is very important to verify driver details for authenticity. 
Route Mapping
The app must be able to guide the drivers through the route and suggest better routes in case of any over commotion.

Communication Facilities
The app must allow drivers to communicate with the patients or attendants and the hospital or clinic for any sort of reference.
Booking Control
Drivers must be able to accept and reject booking orders. If any driver finds that he is far from the pick-up point, he can cancel the order so that the nearest ambulance receives it. 
Multi-language Support
Users may place orders in their preferred languages. The driver also may not be well-conversant in English. So the app must have proper language translation features.
These are the inseparable features from the Drivers' app as, without this, your ambulance booking app will be of no use. 
Web Admin Panel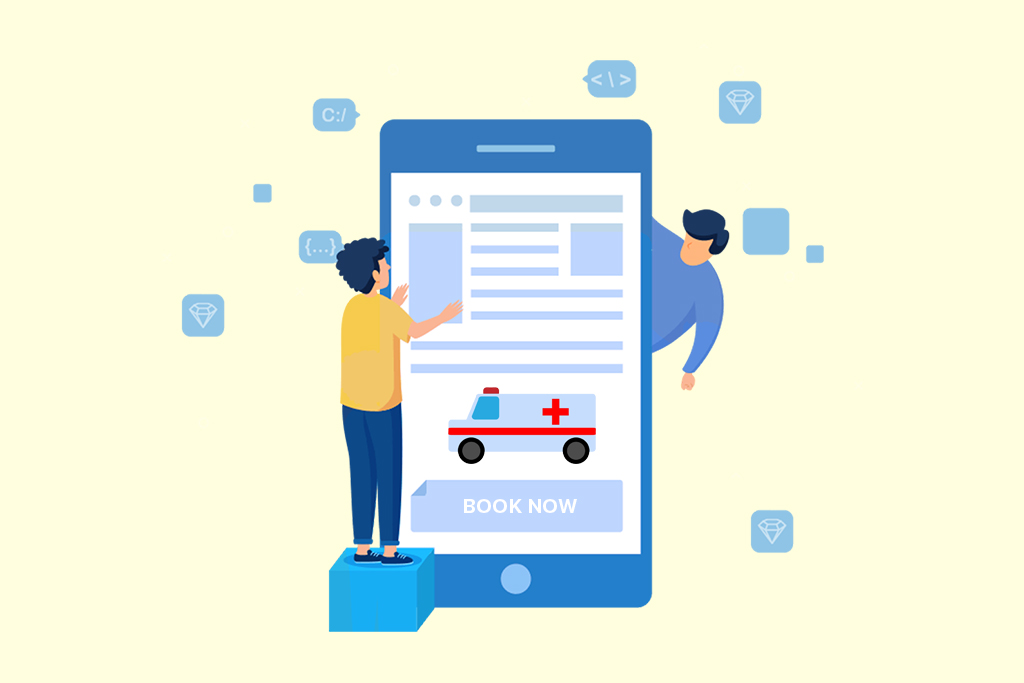 This is your panel as the owner of the entire business concept. Your app must be the control panel of the entire online ambulance booking software with features like – 
User Management
You must be able to control the user activities with all permission to add, edit, delete, and list user details whenever required.
Driver Management
This feature of the app must enable you to monitor all activities of the drivers along with their attendance and performance.
Ambulance Management
You must be able to manage the ambulances in terms of their running, maintenance schedule, driver allotment, and availability with the help of an ambulance management software. 
Booking Management
Your app must be able to show you all booking details and history with real-time booking alerts for you to monitor better.
Revenue Management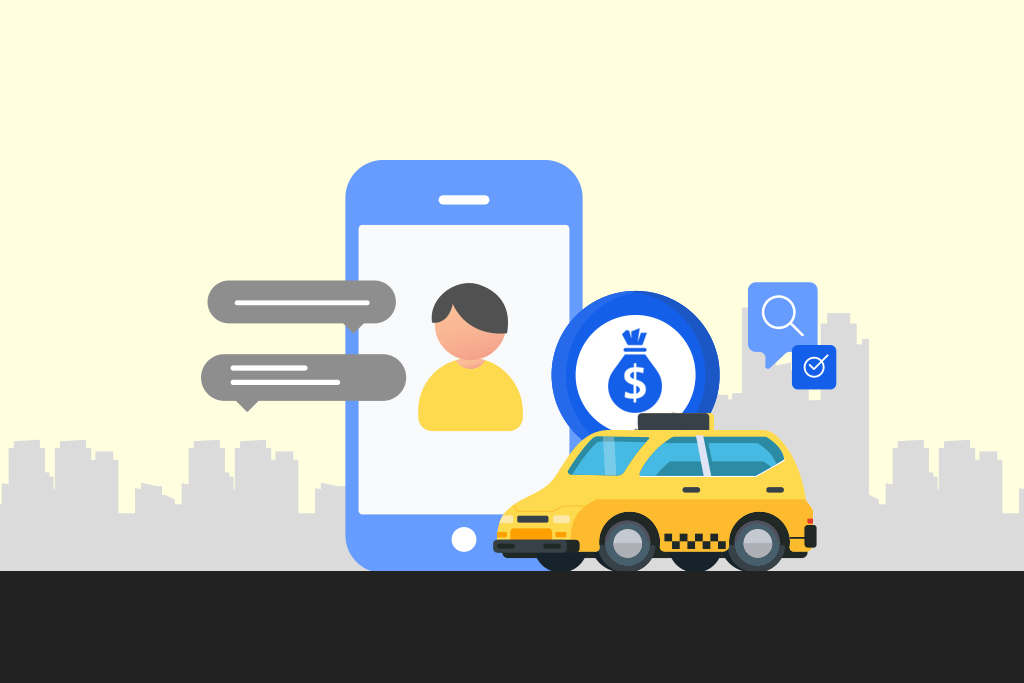 All details related to the earnings and expenditure must be stored on the app database for your future reference and review as part of the revenue management.
To support all these features, the web admin panel must have a highly interactive and intuitive dashboard. Keeping all management parameters in your scanner is very important and your app must support you in this initiative. 
Cost Estimation
You must understand that cost of development of your ambulance booking app depends to a great extent on factors like:
Features of the app

Platforms the app is built for

Numbers of modules and screens you want your app to have

Your market area of operating the business

Functionalities of the app compatible with your business model.
Based on these, your developer will provide you with an accurate estimate for Ambulance Booking App Development. Surf and scan through various options to get the best developer or development team to make the app for you.
Technology Stack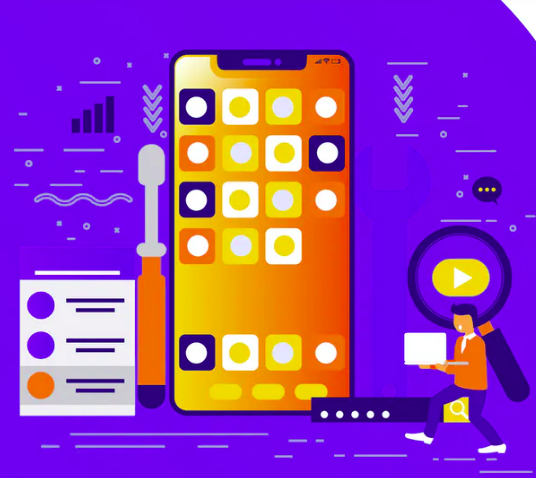 If you are the developer, then there is nothing to worry about, but if not, you must have knowledge of the technical framework of app development. In this context, you must have the basic know-how of the following aspects – 
Front-end Development: The performance goals are primarily related to the render time, HTML, CSS, and JavaScript manipulations for fast app loading.
Backend Development: The backend development tools required for mobile apps are language and frameworks, web servers, database management systems, microservice platforms, local development environments, collaboration services, and website performance testers.
Development Platform: A development platform known as a Mobile App Development Platform (MADP) is a kind of software that lets businesses create, test, and launch their mobile apps in a short time for smartphones and tablets. You must also know about cross-platform and hybrid app development processes. In all your attempts to know development technology better, always focus on ways to make your app simple and easy to use.

The Guide Closure
Ambulance Booking App Development is certainly a very good plan at this stage where medical emergency cases are steeply rising in numbers. To monetize your idea, you must conduct all research and learn basic technologies before handing it over to any development team. In case you are not in the mood to do so, consult with leading app development companies like AllRide to guide you throughout the entire process of Ambulance Booking App Development.