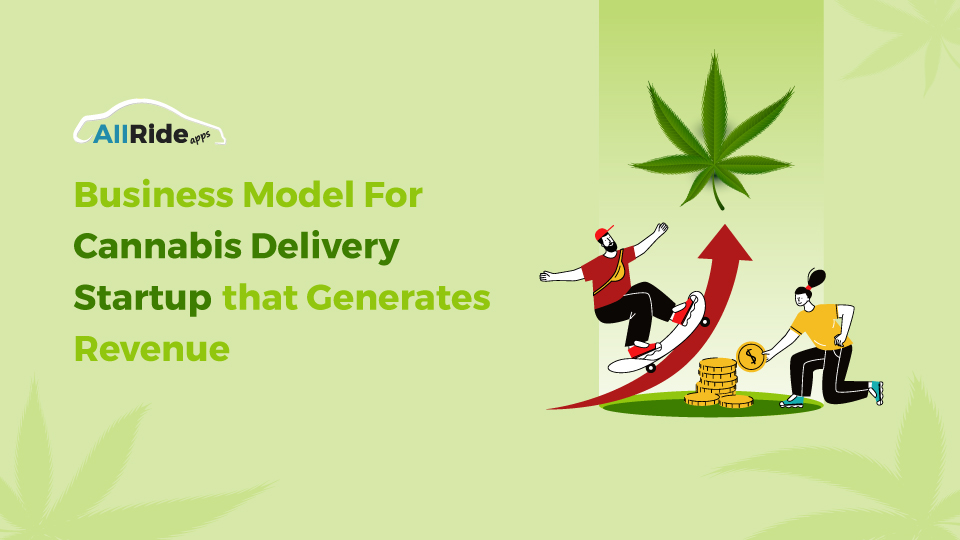 The Business Model For Cannabis Delivery Startup: Generate Revenue Like No Other
If you are looking for the right business model for cannabis delivery startup then this blog would be the perfect starter. After the legalization cannabis industry is open to so many opportunities and limitless potential. The projected growth of  $20 billion by the end of 2022 is already in order. 
Both the medicinal and recreational use of marijuana has been questioned and gone through a lot of research phases lot. But an industry that is about to be worth 42.7 billion U.S. dollars by 2024 has brought business opportunities, especially for delivery model startups. 

Keeping all the stats and facts in mind,  which definitely indicates an explode for the delivery market we have curated this business model considering the current situation. As the competition is going to be fierce, only preparation going to save the day. Startups will need a trusted cannabis delivery software along with a proven business model. Read on to discover the different aspects of cannabis delivery startups and how to run one. 
Choose from the Different  Business Model For Cannabis Delivery Startup
There are three separate categories of business model for cannabis delivery startup. 
A direct-to-consumer model, single storefront, and a multi-merchant business model. The basic aspects of 3 different business models are as follows: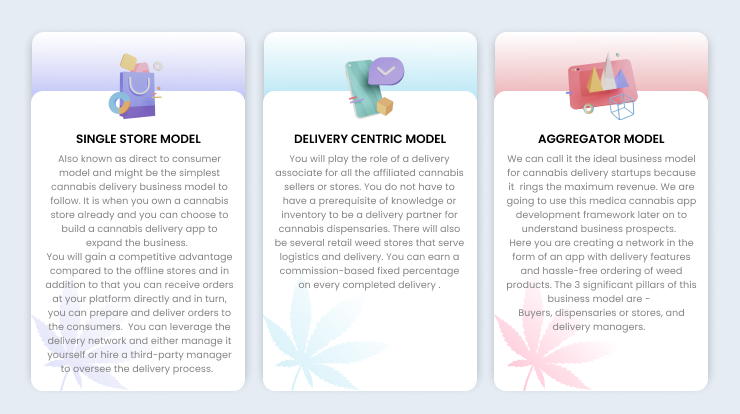 Revenue Generating Business Model For Cannabis Delivery Startup
We are using the aggregator-based business model which is an entirely app-based delivery framework to get a basic idea about how a startup will earn revenue. There are a few components in the business model that we are focusing on, like finding the minimum viable audience, the medical cannabis app development structures, business promotion, and all other aspects in the following section. 
1. Definition of the Target Market with Legalization Factors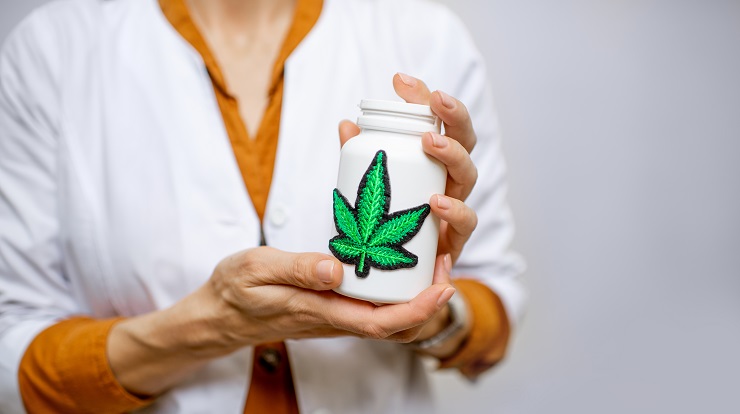 Target market tops the checklist of prerequisites of building a weed delivery startup. The first thing would be checking whether or not it is open for the cannabis trade, is it an open market or closed market. Although the future seems very bring for cannabis supply there are still some federal-level restrictions on the herb. 
Legal parameters must be taken care of at the first stage of a startup, even before the operations can take place. Official documents, delivery permits are going to be priorities at this stage.  You should also figure out market demand, consumer behaviors, demographics, and business opportunities because they vary from region to region. 
2. Business Value proposition
The Aggregator model establishes sustainability effortlessly for small-scale economies. 
This particular  Business Model For Cannabis Delivery Startup requires a concrete value proposition for all the 3 players in the delivery framework- the store owners or dispensaries, the aggregators (your role as the startup owner or the admin), and of course the end consumers. 
For Customers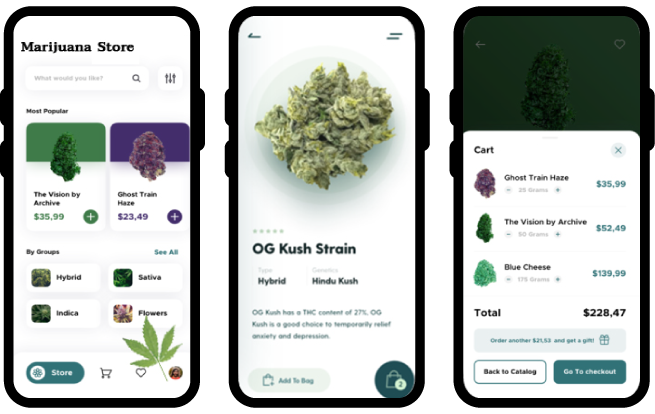 A value proposition for a cannabis delivery startup must consider consumer demands and requirements like easy order placements, cashless transactions, zero contact delivery (popularity is high post-pandemic), live order tracking, enhanced browsing experience. Other important factors like easy returns, secure payment gateways should also be included in the proposition. 
For Aggregator
You will play the key role of an aggregator in the cannabis delivery business model. As a platform that connects businesses to consumers, you can charge commissions for each order placement and delivery completion. The revenue generation in this case depends on the order rates, the more orders are placed, the more will be the earnings. 
For Delivery Drivers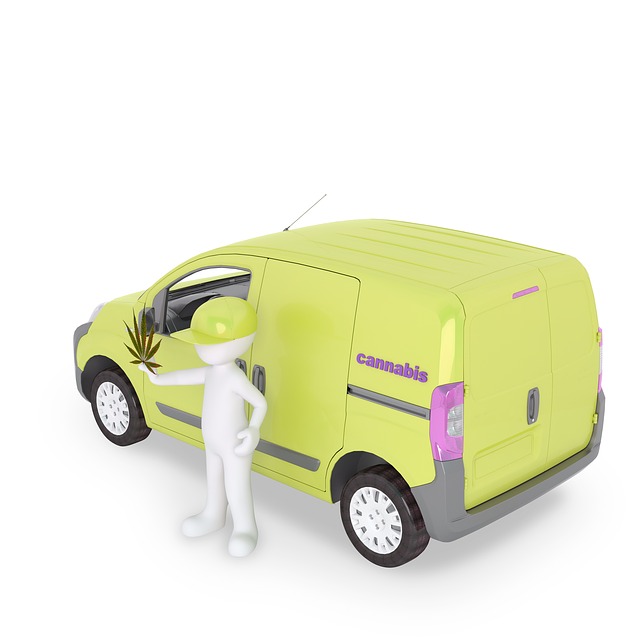 Delivery managers will be playing a significant role in this business model. They should be earning flexible work schedules, freelance opportunities, hassle-free payments, online transactions, additional income opportunities, technology-equipped UI, rating system, bonus points, and more. 
For Dispensaries 
The affiliated dispensaries are an essential part of this aggregator-based business model for cannabis delivery startups. They should have access to a larger customer base online, opportunities to offer a wide range of browsable products, increased profit generations, and more from the delivery value proposition. 
From a societal and community point of view, the proposition should be useful to the local communities and administrations for managing economic growth equally. For medicinal purposes, this business model can cater to a wide range of communities of patients through user-friendly apps. 
3. Key Partners in Cannabis Delivery Startup 
The medical cannabis app development framework requires 3 constant pillars to sustain the aggregator business model. 
Except for these 3, the fourth key partner will be the startup,  i.e. you are the Admin of the cannabis delivery app. The role involves monitoring and handling weed delivery operations, order management, delivery assistance, and more. 
4. Resources 
After getting an idea of the cannabis marketplace, acquiring proper licenses, going with a cannabis fundraising strategy, choosing business partners, and before setting up a monetizing strategy and a development team for executing the medical cannabis app development process you should consider making a list of resources.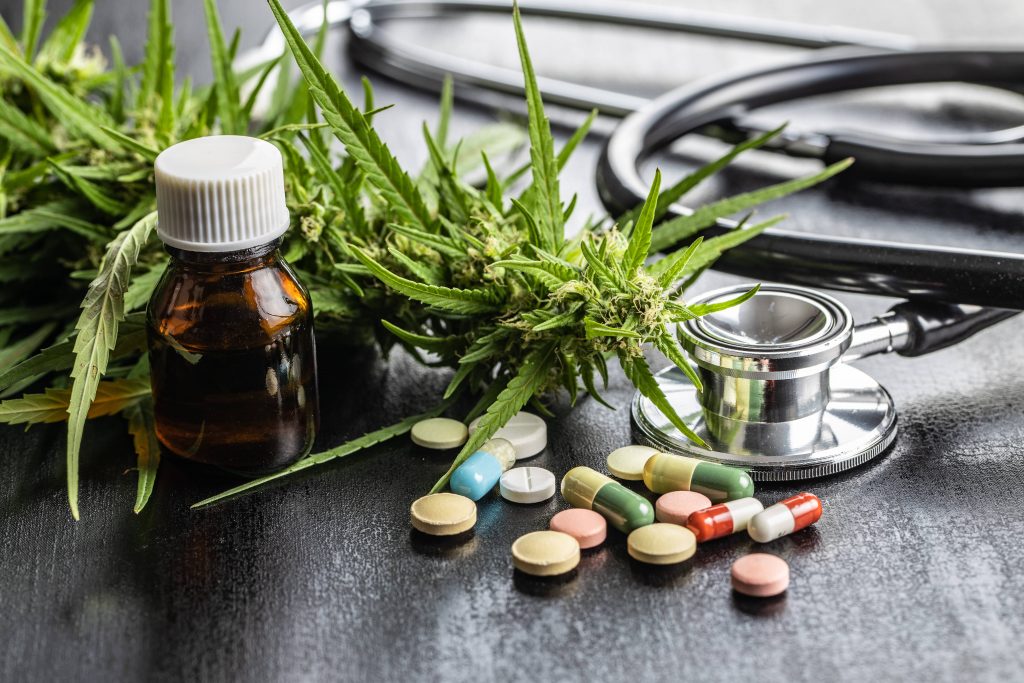 This is an ideal resource list from our end: 
Dispensaries/ retail stores (Affiliated/non-affiliated)

Cannabis legal and Tax Advisor

Market research and analytical data 

Consumer behavior data assets 

Supply Chain Management

Product Knowledge

Data for medicinal marijuana, CBD, THC, Cannabis, and Hemp

Finance and Venture Capital

Delivery Solutions Platform – Digital assets e.g. Application for the driver, admin, user, & dispensary.

Revenue plan – Delivery and commission fee, Advertisement cost, Membership plans, etc. 

Business Website / Teaser pre-app launch for boosting rank and traffic

The app development team for process automation

Skilled Drivers who own vehicles

Salient Features – analytical & innovative capabilities

Organic and paid Marketing initiatives 
5. Cost Structure for Cannabis Delivery App Development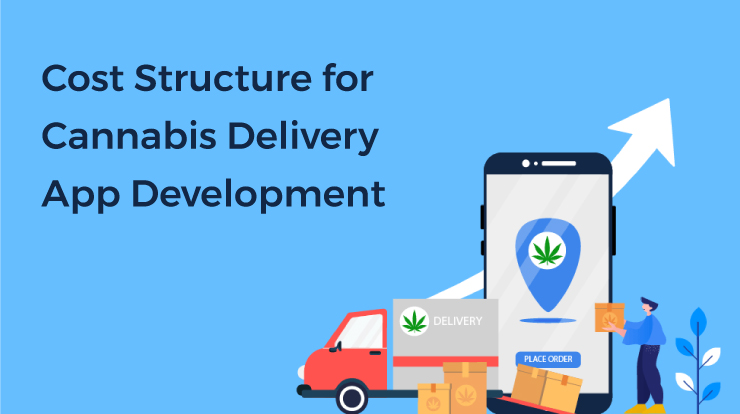 Cost estimation is a crucial part of the business model for cannabis delivery startup. Most of the app development companies will hand you over an estimation between $40,000 and $50,000. A detailed discussion with the experts is in order, to get into the intricacies of app development cost. 
For medical cannabis app development, costing parameters vary from company to company. Before proceeding with the development, it is worth evaluating the key parameters contributing to the app development cost. 
UX/UI Design Cost
Hiring a team of designers who understand the business logic and are able to customize app designs when required. The complexity of features and functionalities define the ideal timeframe for the design completion. Freelance designers may charge you around $15 to $25 per hour. If you are moving forward with a technology partner or an app development company then you do not have to hire them separately. 
The App Development Cost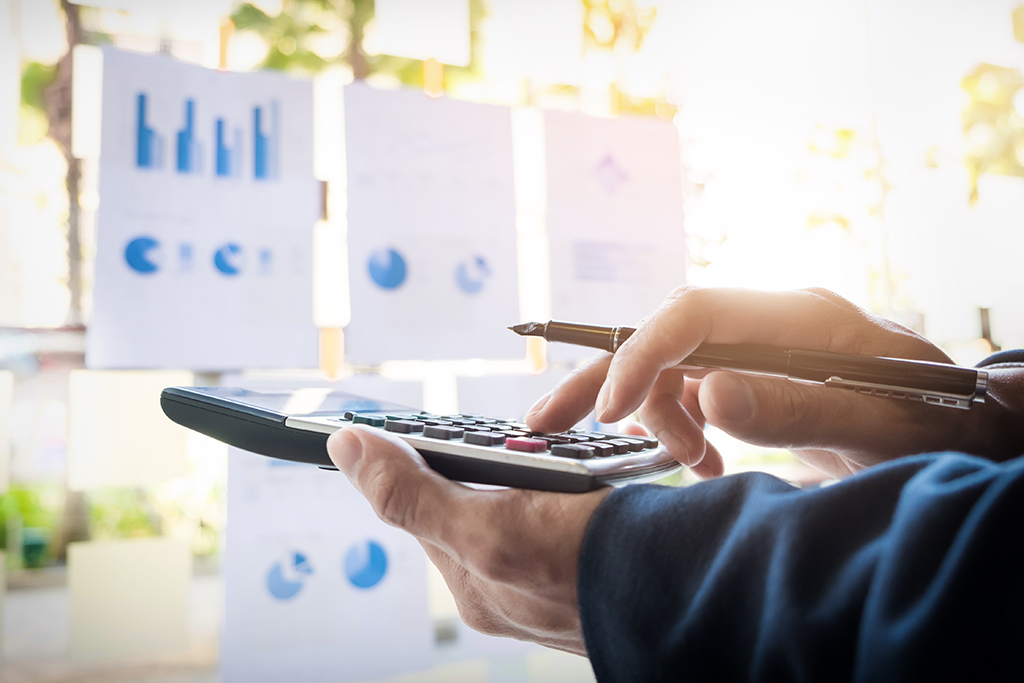 The development cost for a cannabis delivery startup depends on the platforms you choose. What will be it?  Native Android, iOS, or cross-platform? The platforms you are going to choose for an app launch also matter in the cost factor. The app development phase can cost you around $5000 to $7000+ at the initial stages. 
Cost for App Testing
The resources and testing mode affect the overall development cost. You can hire development companies to control the testing cost because they are able to integrate automated tools for testing minimizing the bug risks. 
Maintenance and Support Estimation
An app must run smoothly and hassle-free and also it should be updated with all the current versions and trends.  The cost for maintenance and support for the cannabis delivery app should be around 25% of the final cost. So an app development budget must include an allocated budget for maintenance and support too.
6. Revenue Model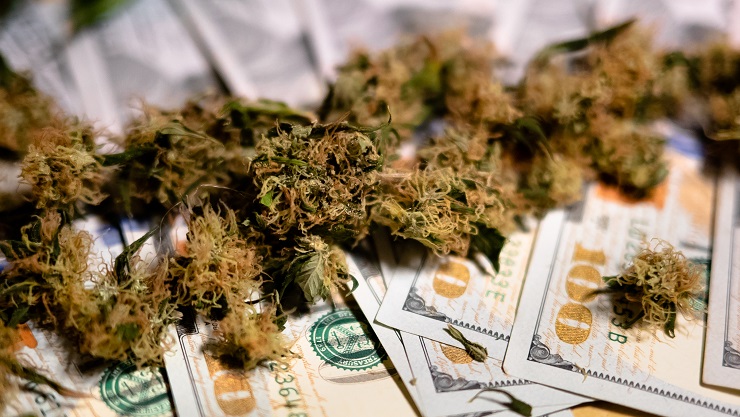 A business model for cannabis delivery startup like Leafly follows a profitable revenue model for maximum returns. The Leafly business model generates revenue by different factors. They sell online display ads (Cost per impression model), online orders. Around 4.5 million orders worth $460 (GMV or gross merchandise value)  million are placed each year with Leafly.
Delivery Fees along with  Commission:
An aggregator-based cannabis delivery business model is commission based on the sellers who are using the startup platform network to reach out to new customers and also using the delivery chain. 
Customers are charged delivery fees while connecting them to the nearby stores for hassle-free and fast transactions. 
Advertising Charges:
On-demand platforms are offering advertising services for boosting their revenue. As an example, Leafly also offers the stores to advertise their products for promotion, and in return, they pay campaign charges for display ads on the app screen. 
Premium Membership Plans for Users: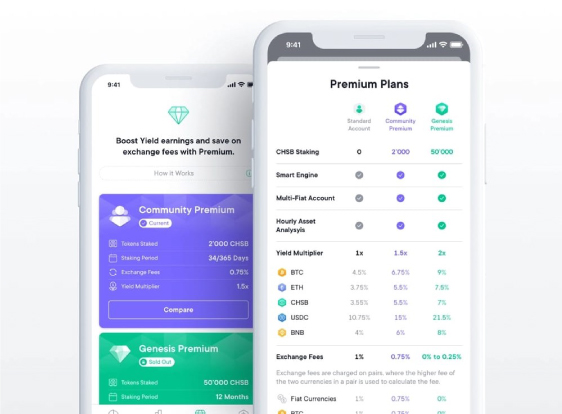 Cannabis delivery startups are selling membership plans to the customers as well. It is different for regular shoppers, the unique package with exclusive offers like discounts, incentives are enhancing the customer experience. Additionally, reduced delivery charges or zero delivery fees can be effective to grab more and more customers.
Hike in Product Prices, Delivery Fees:
As the demand will go only up from the current market scenario and projected growth, as a platform you will be able to raise the product prices, delivery fees to set the revenue generation with even a higher goal. 
7. Medical Cannabis App Development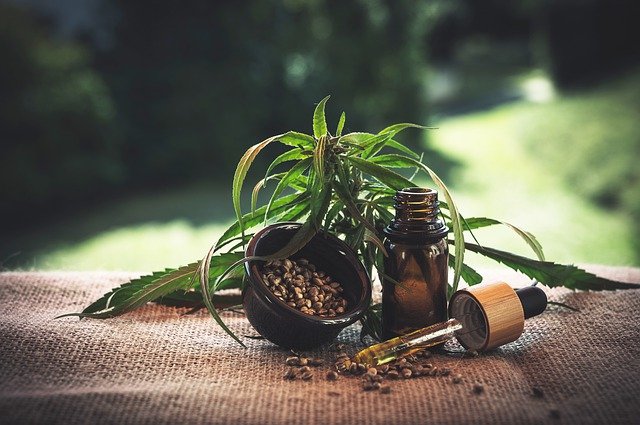 It is an indispensable part and focus of the business model for cannabis delivery startups. You are to offer a lot of features and additional things within the app. 
Here is a curated offer list from our end: 
The app must be customer friendly and UI must offer them good aesthetics

The browsing experience, online orders, and payments should be hassle-free. 

Regular app updates, efficient delivery management, advertising features, multiple work structure for full-time and part-time delivery drivers are mandates. 
You will also be needing multiple app panels to tackle operations from order placements to delivery. 
The 4 key app panels and an overview of key features are: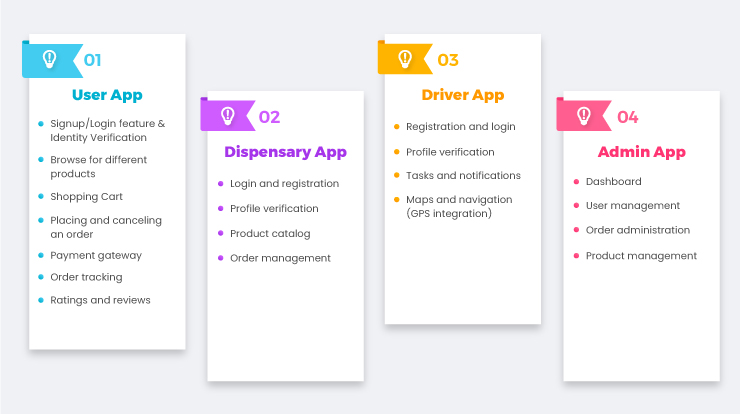 Post-app launches investing in improving the UIs, analysis metrics, and continuously gathering feedback to evolve your app development and management in the optimal direction. 
8. Marketing Channels for Cannabis Delivery App Startup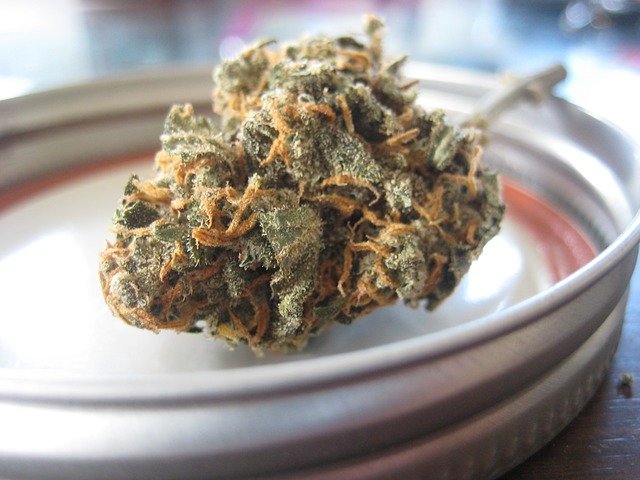 To initiate marketing strategies, you must come up with a unique selling proposition for your startup. Validate the idea with peers. Start with building an organic presence on social media. 
Be aware of platforms and regulations related to the cannabis business. 
The initial awareness that will drive customer acquisition may come from very different levels of promotional aspects: 
You can start with collecting Word of the mouth feedback from early adopters, investors, Website sign-ups, inquiry forms. 
You can use PR, Social media (Youtube, Twitter, Facebook, LinkedIn, Pinterest) to build a personal brand. Other initiatives may include: 
Online paid ad campaigns or CRM channels 

App store optimization for Delivery app 

Email campaigns 

Traditional media advertising – print, radio, billboards,  television, and events 

Automated, tiered customer support channels-  live webchat Chatbots, Messenger apps, and more to resolve any user queries.  
Build a Successful Cannabis Delivery Startup with Us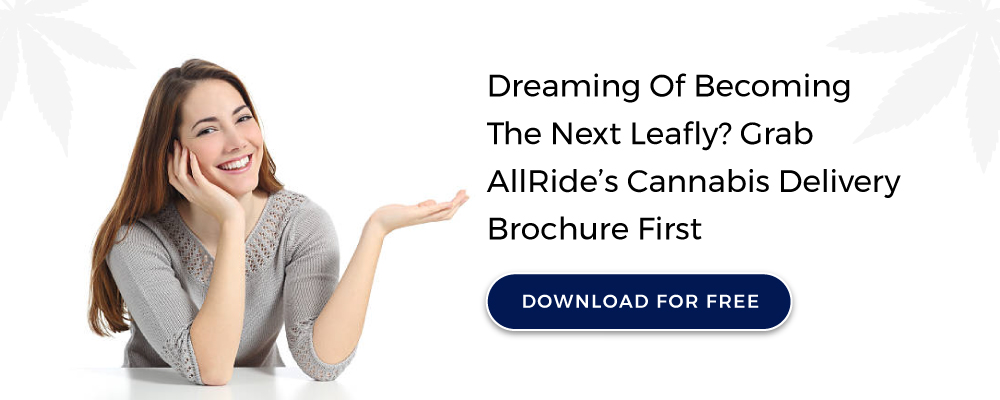 Serving a strong cannabis user base is the key to success, and retailers are moving online with their on-demand services. We hope this business model for cannabis delivery startups can help you build a convenient on-demand business for your customers. Online delivery is catering to the growing consumer demand well and will continue to do so in the future. 
Therefore, bringing efficient delivery management for on-demand services like marijuana will put you on the right side of the marijuana industry.  You can always talk to our AllRide Cannabis delivery software experts to build an intuitive app to expand your startup.