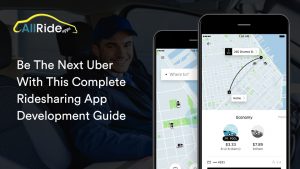 How to Kick-start a Taxi/Cab Business in 2022
Imagine an individual driving through the thick traffic while running late for work already! Driving during rush hours is excruciating, and people would appreciate a quick and affordable pick-up and drop-off service. The boon of an app-based taxi business is that people save their emotional and physical energy and the environment from an aggregate fuel transmission. Before starting a ride-share taxi service, let's check out the current ride-share app market developments. 
Is a taxi business profitable?
The ride-share industry is estimated to exceed a CAGR of 19.87% by 2025, reaching a market size of $218.0 billion from $73.07 billion in 2019. Market experts have anticipated a drastic drop in car ownership, increasing the need for personal mobility, expanding urbanization, and ride-sharing software or apps.
It has been a booming on-demand business since the world went digital. Not only startups but also established enterprises are stepping into this on-demand ride-sharing business. The importance of a ride-share business is realized even more after the booming business of Uber and Lyft. Today, every cab company in the market is struggling to compete with them. However, what they need is the idea of ride-sharing app development. If you are thinking, "How do I start a taxi business? You should focus on developing an advanced app. 
How to start a taxi business that can add value- a step-by-step guide
Starting a new business is not walking on a bed of roses. You should be mentally prepared to overcome challenges. However, proper planning may make your tasks easier. Here we will discuss the entire process of setting up the business.
1. Plan for an effective taxi booking/management app
There is no doubt that taxi app development is reaching new heights with increasing demands and market share. An ideal ride-sharing app must have three panels, i.e., Customer panels, Driver's panels, and Admin panels (which are for administrators' use). All these panels should be easy to use by people from all walks of life. The best ride-share app has a customizable script based on the owner's requirements to edit, delete, and add new features. 
1.A Customer's panel
The most innovative and efficient way to remain afloat while riding higher in the market is by having a one-in-a-million ride-sharing app designed thoughtfully and with feel-right features. Whether you are a budding startup business or an established one, you are too welcome to join the bandwagon of this growing ride-share business. If you plan to start a ride-share taxi company, start thinking from your customer's perspective. Offer them what they want to experience or enjoy. This blog discusses the predominant features of a better ride-share app:
User-friendly signup portal
The signup portal is the first interface where customers will start interacting with the app. You will want to make sure the signup is accessible and user-friendly. Account creation using Google or Facebook or with the contact number will add bliss to the user experience.
Finding a preferable ride quickly.
Once a user signs up, they should be able to enter their pick-up and drop-off details on the search box. This, in turn, will help advance the ride search time and the Estimated Time of Arrival (ETA), regardless of the current locations of fellow riders. The objective must be to offer your user a timely result while ascertaining the user-friendliness of the whole process.
Real-time tracking integration
When a user requests to share the ride, it will ask for instant real-time tracking activation. All ride-sharing apps usually have an integrated Google app API that helps track Driver's movements. The GPS tracking is a boon to the riders as this helps eliminate inconvenience and confusion, especially when the ride is being shared. 
As this is a shared ride, the fare must be equally shared. The payment will depend on the individual distance traveled to avoid additional charges for a rider. It helps make commuting reasonable and contributes to the user experience.
Information about the fellow passengers
Maintenance of transparency is one of the key reasons why ride-sharing apps have gained popularity so quickly. Keeping the passenger details visible must be made a priority. This helps users gain trust since it gives them a sense of safety. 
Ability to cancel the ride with ease
Your ride-sharing app has to offer a flexible interface that enables canceling the ride. A rider must only feel compelled to hop in a cab if they have already booked it. If they want to cancel the ride, they must be allowed to do so at any time. As for the cancellation charge, you must add a time frame for the riders to cancel the ride for free.
A chatbot is the key virtual feature of any service app, and when it comes to ride-share software and service, the users must be assured the peace of mind that there's someone who will listen to their complaints and respond to their concerns. If there's been a mishap, driver behavior issues, lost items, or payment issues, the rider must be able to report their problems through the app only. Besides, the help center always functions as the foundation stone for providing robust security, which is imperative for any ridesharing app.
Your app must have a feature that sends ride details, fares details, and rides start notification during the journey until it ends. Moreover, you must be able to interact about running any discount offers with the help of the push notification feature. Communicating with your users time and again is a brilliant tool for engaging your audience.
1.B Driver's panel 
Apart from certain standard features such as signup, notifications, reviews, messaging, and support, here're the others that empower the Driver's panel –
Driver-friendly signup portal
You will require drivers from all corners of the city to generate profits. The interface for the Driver must ensure an easy signup process without leading them nowhere but in the middle of all technicalities and insignificant credential entries. You can add Facebook and Google login options and Registration with a Contact number.
Feature to accept and reject a ride request
Not only is a rider important to your business, but also a driver. A driver must always be able to reject and accept a ride request. It's your responsibility to assure them of the choice to accept or reject a ride as per their health and convenience. This feature will give them a solid reason to stick up for your rideshare business.
Trip details for each rider
Drivers are likely to get stumped while managing multiple riders at a time. Therefore, they will need riders' information over their interface. It will help them arrive at the respective location for pick-ups within the ETA, and the same applies to the drop-offs.
Navigation for optimized directions
Integrating Map navigation on the Driver's interface is as essential as incorporating it on the user's interface. Not only will this help drivers reach a rider's location within ETA, but they can also maneuver through the shortest route. This way, you will not have to fret over whether or not a new driver is being able to make a well-receptive app experience.
Integrated payment systems
Today, virtual wallets have become an integrated part of everyone's life. This technology has almost made complex cash culture go into oblivion. Your ridesharing app should have an in-app wallet to ensure flexibility for the users to make payments quickly and for the Driver to receive compensation without having to bargain or looking for a change in the middle of traffic.
Easy accessibility of Driver's dashboard
Drivers must be provided with their personal database. Upon visiting their dashboard, they should already find their rating, ride completed, and qualification/certification details. The Driver's dashboard must have a see-through structure.
1.C Admin Panel 
The Admin panel of an on-demand taxi booking system enables the admins to monitor all the proceedings between a driver and a customer. Unlike the other two panels, this panel is comparatively sophisticated regarding reports, forecasts, transaction history, operational maps, etc. Some of its key features that you should consider are:
Creation of sub-admins

Access to analytics & reports

Controlling various profiles

Managing payment accounts
Other essential features
If you are still wondering how to start a ride-share company and what additional features can be added to make it more popular, then you are at the right place. Apart from the features above, here are certain trending ridesharing app features that can make your app stand apart –
SOS feature for emergencies
With emergencies around ride-share taxis, the requirement for an SOS button has become essential. Whether it's the Driver's fault or the rider's, they both must be able to report an emergency to ensure prompt counteract actions. Assured safety is, after all, an indispensable element that helps add to the reasons why create the best ridesharing app of all time.
Exciting offers for loyal/new users
Like every new venture, your ride-sharing business will also need aggressive branding initially as you add new users to the database. Offering new users special offers and discounts is the best-proven marketing strategy. You can also submit your users a referral bonus, as they help expand your user base.
Scheduling rides in advance
Your carpooling app must allow your users to book a ride in advance. This will be an additional convenience because users often try to avoid booking rides at the last minute. Prearranged rides can be a smart feature in sum.
To make your multilingual app means you're widening its reach. Moreover, this feature will add to the app's scalability and increase your chance of bagging a reward for walking the extra mile. 
2. Visualize a trip plan
What number of vehicles would you like to manage? You should consider a proven trip regardless of your financial plan. A highly functional cab dispatch software can make each journey convenient for your users and the management easier for your admins. 
3. Get a clear insight into cost estimation
The most frequently asked question is, "how much would it cost to develop a ridesharing app in 2022?", "how to start a rideshare company with a tight budget?" and so on.
There's no definite answer to that because there's no one cost-fits-all structure. This is because of the many factors that influence the final cost.
The application development platform may be for iOS, Android, or the Web.
App version to be designed either a pack feature mobile app or MVP
Procedures used for ridesharing app development
Locations are chosen for usage: the UK, U.S.A., India, or any other country
4. Arrange workspace 
You need to search for a sufficient workspace to oblige your vehicles. You should look for a property that can meet all your workplace requirements. Also, you may need space to accommodate some of the employees who will be obliged to ensure that your service is of the highest quality. 
5. Work on building your team
For a business, a proficient team is a key to success. You will need to arrange a bunch of drivers and staff. When you will recruit drivers, remember to make sure that they have a legal license. It is also important to consider the rider's security and convenience.
Recruit required workers and pick them good. Get a bunch of drivers and staff. Recall that rider security and convenience should be your significant contemplation in selecting future workers.
Observe, do not be scared of making mistakes, and keep learning!
With the correct application, starting a taxi business becomes more effortless. As a new player in the game, making mistakes is natural; don't get stressed over that; always keep yourself open to learning. All the Best!
Similar articles you may like
Build Or Buy: What Is Better For Your Taxi App Solution?
Beat Uber/Lyft With These 9 Advanced Features In Your Taxi App
Get Rid Of Your Taxi Business Hassles With White Label Taxi App
7 Questions To Ask Before Hiring a Taxi App Development Company
How Can You Generate More Revenues With Apps Like Uber and Lyft?