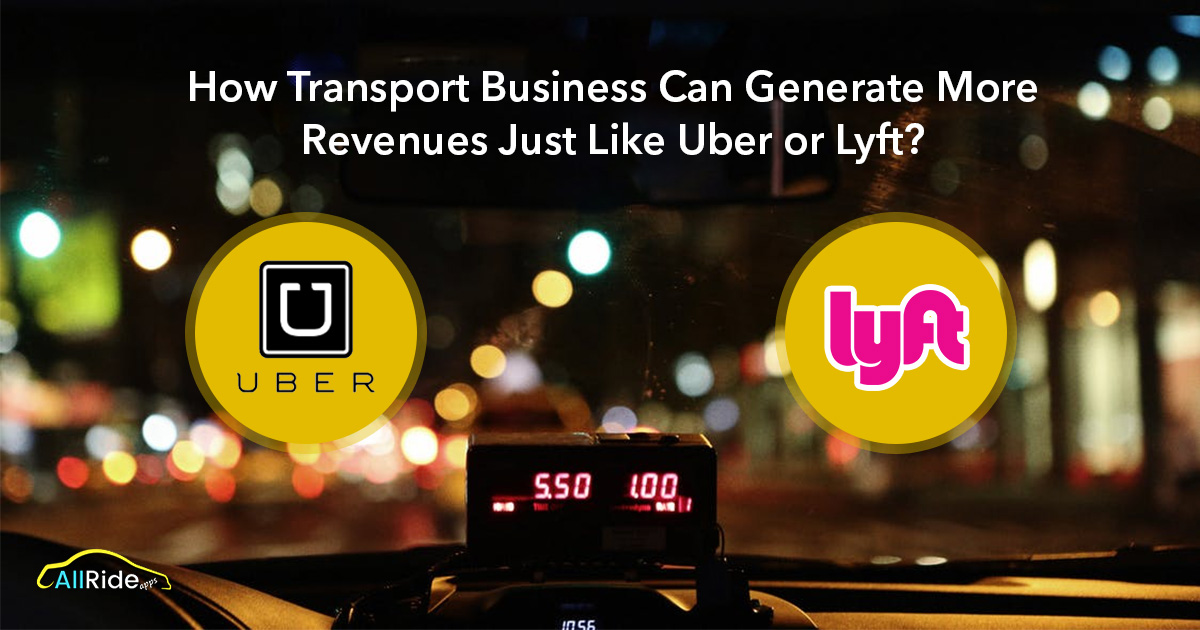 How Can You Generate More Revenues With Apps Like Uber and Lyft?
So you are into a transport business! But things have started to change, and the wheels are rotating as it has never done before. Since 2008, after Uber was launched, taxi mobile app has seized the transportation industry much to our astonishment. And I must say that this change is for the good – everyone is wishing to develop apps like Uber and Lyft. 
In this context, I have been meeting transportation industry experts who run the fleet, cars, logistics, etc in various time zones. And all of them are stuck over one common thing – and that's incompetency. They say how are their competitors getting ahead of them? How are they churning revenues? The answer replied them was simple  – "they have a taxi mobile app which you don't."
It's the bottom line which my clients from transportation industry loves. In fact, we all love to see great ROI at the end of every year. But for taxi and logistics industry owners, the truth is that they are now focusing on a rapid growth, which they believe to have if they develop an app like Uber.
Developing Taxi Mobile Apps Like Uber – 7 Things To Bother You
To some extent these guys are right, if you create an app like Uber, it won't help. What they need is to churn revenues just as apps like Uber and Lyft. Yet stand out in the crowd, distinguished and as a unique brand, not a clone of Uber or Lyft. I thought to take up the topic to my latest blog post to help industry experts in a better way.
How Can Taxi Mobile Apps Like Uber Or Lyft Help Churn More Revenues?
Uber and similar other taxi app development company who are launching a mobile application for bus, cabs or logistics or any other kind of transits have simply adopted a better technology.
They all have the same aim, "give an outstanding service to people who are looking for a ride."
But the hard truth is that, we are not competing with other businesses to make our apps better, rather we are fighting against each other to make our business gruesome or tagged as the most profit-earner. And why are we doing this? Just to be more progressive?
Well, I will tell that it's time to RETHINK!
In any case, there is always a solution to the conundrums. You can create apps like Uber and Lyft and take the control of your business.
But if you think that you are losing out to competitors like Uber or Lyft, then take a breathe. All you need is the right tool and look for the best partner who can take you technologically ahead.
It is an ingenious way for the transportation industry to grow faster as it enables drivers to find a solution to all typical passenger related issues like delays, extra fare, delivery time, etc. Good news is that you can always develop an app like Uber or Lyft. How? Let us take a look.
In case if you are wondering how would you bring so many cabs, buses, or truck under the roof of a single technology? –  A bus, truck or taxi mobile app can be your answer.
Let me tell you that building a mobile app for any transport business is not a rocket science. A simple use of the third-party API is the one-stop inventory on a number of platforms. Since all implementations take at one place. This API could be your own vehicle (cab, bus or truck) app, taking inventories from the respective transport business instead of the driver themselves.

How These Bus, Truck or Taxi Apps Like Uber and Lyft Works?
There is generally an app for both iOS and Android and you get the web and a super admin to control the fleet of cars, trucks or buses from a single place. Let see how these apps can actually help –
Apps Are Free –

 For example, taxi mobile apps are free to download for both customers and drivers. Upon registration and signing in, the riders would be able to hire cabs to view the locations via an interactive map view.
Multiple Booking Facility

– One can get confirmation, which they will receive via SMS or push notifications. Hence payments could be a matter of time or can happen just at the touch of a button. This is the way one can save their precious time and could assure a reliable pickup or ride.
Apps for Drivers

– Taxi mobile app is not only for the customers but for the benefit of the drivers as well. Drivers who used to spend their time idle on the streets waiting for customers, now can save time and earn more simply by downloading an app.
Say No to Manual Handling

– With the help of a bus, truck or taxi mobile app, one can bid goodbye to the tedious manual booking systems. The taxi app development company helps to build an intuitive software product that streamlines the everyday process.
From book request to tracking drivers routes, recruitment of new drivers to online payments, taxi mobile apps like Uber and Lyft can handle all!
Are You Ready To Join the Taxi Mobile App Revolution?
The taxi app development that takes place is tailor-made to meet all kind of unique brand needs. So, if you are seriously BOGGLED by the growth of the apps like Uber and Lyft, then don't be!
With the help of bus, truck or taxi mobile app you can add multiple features. You can add language and currency options, real-time communication, chat options, push notifications, SMS features, coupons or vouchers etc. This will make your app stay way ahead and competitive in the industry.
My insights will help to build robust apps like Uber and Lyft and add new salt to your business. That's not the end, a truck, bus or taxi mobile app can also make sure that you are never short on revenue. They will simply swap your conventional business to a modern one.
My ebook, How Mobile Apps Are Fast Changing the Transport Industry, will be sharing the readers with something meaningful. The ebook is an eye-opener for both large entrepreneurs and startups who are trying their hard luck in transport business. It's time to explore how quintessential apps like Uber and Lyft can improve a business relationship and spur revenue generation.