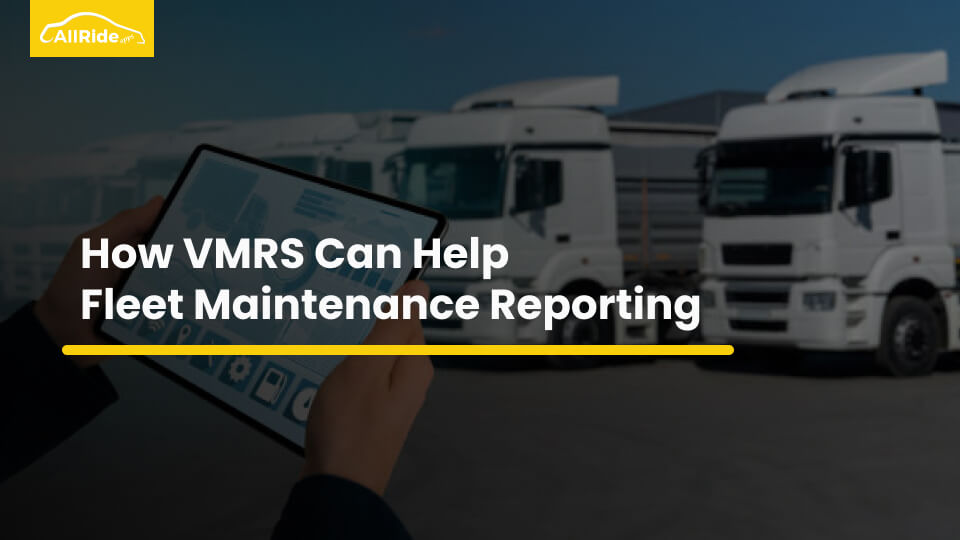 The Benefits of VMRS for Maintenance Reporting
Fleets often grapple with the maintenance requirements of the many vehicles that hit the road each day. In this regard, Vehicle maintenance reporting standards, or VMRS for short, can help offer insights and clarity into the repairs and maintenance performed on fleet vehicles. 
This article covers its basics and discusses its benefits for maintenance reporting. 
An Overview Of VMRS
Vehicle maintenance reporting standards is a coding convention that indicates the maintenance performed on an automobile. It offers a universal line of communication between technicians, fleet managers, OEMs, and persons responsible for buying and/or maintaining equipment. Businesses can, therefore, use this "language" as a tool for maintenance categorization.
First and foremost, VMRS is a reporting tool. It is a standardized version that fleet operators and owners can use holistically or individually to gain smart insights about fleets. In the white paper titled "Using VMRS Codes to Unlock Fleet Profitability," published on Decisiv, VMRS is referred to as "an industry-standard language" that "eliminates the need for extensive written communication."
VMRS is now the universal standard in the commercial vehicle industry, used globally in fleet operations.
Now that you are familiar with VMRS, let us take a look at its benefits.
The Benefits Of VRMS
Standardized, Precise, And Reliable Information
VMRS contains 64 main code types that give precise information and organize everything: the category of equipment, type of equipment, and reasons for repairs. It also provides specific codes for different manufacturers. You can find the full VMRS codes list here. 
Moreover, for fleets to operate smoothly, maintenance data must be accurate and repair orders complete. VMRS keeps the guesswork out of gathering maintenance report data. It also offers consistency across fields—with everyone from board members, accountants, techs, service writers, and drivers speaking the same language—and more consistent fleet data result in more accurate reporting. 
Identification Of Problem Areas
When you build a comprehensive history of faultless fleet maintenance data, you can quickly identify problem areas. VMRS codes divide data into various categories, including but not limited to the following:
System/part affected: It allows you to hone in on problem areas and repetitive issues.
Reasons for repair: It offers you a clearer picture of how your expenses stand up compared to the forecasted budget and thus discovers areas of improvement.
Repair site: Fleets with assets serviced in-house, at various locations, or a mix of the two can keep track of the locations witnessing more volume of service.
Technician failure: Inputs like "part improperly installed" and "plugged" help make room for you to correct performance issues and create proactive maintenance solutions.
Work accomplished: It communicates if the work was done in a standardized and consistent method when you pull a report, thereby reducing misunderstandings.
Enhanced Reporting And Analytics
With VMRS, you can have enough information to create historical patterns and chart future trends. These trends can present actionable data, which are measurable, accessible, and cross-referenceable with other fleet data. When coupled with fleet management software, you can unlock the true potential of your fleet. 
In addition, trends help you find answers to the following questions:
Do you need to schedule a particular kind of maintenance more frequently?
Should you look into driver habits?
Will it help to switch brands for a specific product or part?
Time Savings
Needless to say, technicians are not typists. However, some techs often spend longer writing part and labor descriptions than performing the repairs. 
With VMRS, they can easily use codes to describe the tasks performed concisely. As a result, it keeps typing at a minimum and cuts through the jargon that can obstruct maintenance operations. Combined with a Fleet Maintenance Management Software, business owners can also boost driver and consignment on-road safety.
Maximize Your Fleet Potential With AllRide Apps!
Designed in the 1970s, VMRS established standardized maintenance date back in the day when telematics was a mere pencil, a piece of paper, a telephone, and one's memory. Today, vehicle telematics has grown by leaps and bounds, serving as the groundwork for sophisticated connected service software. 
But here is the catch: you must use it correctly. The key is to implement a rock-solid VMRS process that includes continuous training and communication. Implementing a streamlined process will provide you with a standard for data entry, which will offer you a baseline to make informed decisions and see trends from the data.