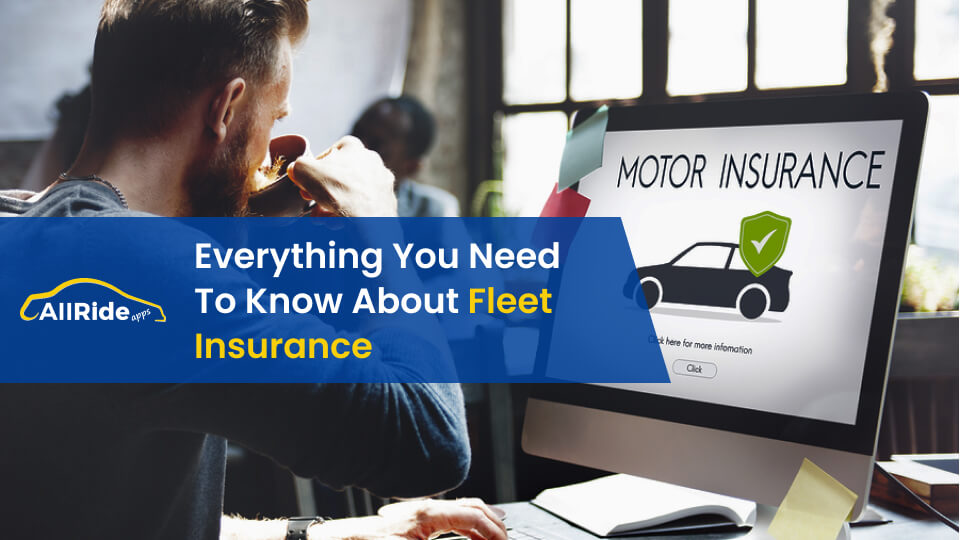 Fleet Insurance: Secure Your Fleet While Cutting Costs
Fleet insurance should be one of the top priorities for business owners as it protects them from the financial and legal liabilities in case of a mishap. In most states across the USA, insurance acts as the proof of financial responsibility for liabilities, making it mandatory for driving a vehicle on the road.
However, as businesses expand, and more vehicles are added to the fleet, the cost of getting insurance covers for each of them separately can quickly pile up. Add to that the documentation and keeping everything in place for when needed and fleet management becomes a daunting task.
In the following post, we delve into the ins and outs of fleet insurance and discuss cost-effective ways to secure your fleet. 
What Is Commercial Fleet Insurance?
Fleet insurance is a type of insurance policy that covers multiple business vehicles under a single plan. It generally offers coverage for a wide range of vehicles, such as:
Cars
SUVs
Semis
Vans (both small and large)
Heavy-duty vehicles (e.g., bulldozers, backhoes, front-end loaders, and the like)
How Does It Work?
Fleet insurance is not restricted to just one kind of vehicle. Instead, when you purchase a plan, it extends coverage for any combination of automobiles that you use on a daily basis. 
Let us understand this with an example:
Say, a repairs and maintenance company operates a fleet of three cargo vans, two cars, four medium-duty trucks, and two pickup trucks. So, your insurance provider can create a plan that covers all of these vehicles under a single policy. On the other hand, a catering business can opt for a plan that covers its fleet of three cars and a large van. 
Payments can be made monthly, quarterly, or yearly, depending on the plan your insurance provider offers. Using a fleet management software, you can get payment reminders before the due date and ensure that your vehicles are insured on the road.
How Many Vehicles Are Needed To Obtain Fleet Insurance?
Fleet insurance is available to businesses that own or lease at least two or more commercial vehicles. Instead of a one-size-fits-all policy, insurance companies usually split their coverage into two categories:
Small fleet: Owners of small- to medium-sized businesses tend to use a small number of vehicles in their daily operations. Such "mini fleets" can be insured under small motor fleet insurance. 
Large fleet:Some businesses, such as logistics companies, rely on a massive fleet of hundreds—or even thousands—of vehicles. Insurance providers offer policies to such businesses under large fleet insurance.
What Are The Types Of Coverage?
Liability coverage under business fleet insurance applies to a situation where property damage, bodily injury, or a combination of the two takes place. Given below is an overview of these liabilities:
Property damage liability: You can turn to this coverage if your fleet causes damage to someone else's property. In most cases, it also covers the expenses for legal defense if someone sues your business for property damage.
Bodily injury liability: It covers the damages caused by your fleet to a person. This coverage can also include the funds for your legal defense.
Combined single limit liability: CSL liability consolidates your policies by providing an overall limit for property damage and bodily injury claims against you, instead of two distinct limits.
Moreover, some fleet insurance policies come with specialized options, such as comprehensive coverage against theft, natural calamities, vandalism, and so on; collision coverage for costly repairs and replacements; and uninsured motorist coverage for accident-related damages as well as medical expenses of an uninsured driver. 
How Much Does It Cost?
The cost of insurance depends on several variables:
Type of vehicles: Typically, insuring cars is less expensive than SUVs and vans, and trucks are the most costly vehicles to insure.
Age, value, and condition of vehicles: It is cheaper to repair older cars; so insuring a shiny fleet of brand-new vehicles can cost you more money.
Intended use: Fleets used for house calls, such as repair works, pay the lowest premiums; businesses with a more active fleet, like transport and shipping companies, pay the most for fleet car insurance.
Policy options: Advanced plans covering more issues are costlier than basic policies that cover only property damage and bodily injury.
How To Save Money On Fleet Insurance?
 Typically, fleet insurance is cheaper than insuring your vehicles separately. Here are some of our top tips to save money on fleet insurance.
It is best to acquire and compare quotes from multiple insurance providers before you decide on one. Doing so will ensure that you do not overpay for your fleet insurance policy.
Assess your fleet's risk profile
Consider analyzing your claims history and spotting patterns, if any. In this manner, you can help your insurer curate a cost-effective plan for your fleet. 
Adhere to high safety standards
When a company invests resources in the security of its fleet, insurers feel more comfortable in offering a good deal. Therefore, as a business owner, you should install dash cams, GPS trackers, telematics, collision mitigation systems, and anti-theft technology in your vehicles. 
Find areas for drivers' improvement
First of all, you must ensure that fleet drivers hold clean records, as indicated by license status, license points, and DWI or DUI convictions. Then, you can use telematics systems for driver scoring and coaching solutions to pinpoint which drivers might benefit from advanced training. 
Bottom Line
A report by the Occupational Safety and Health Administration (OSHA) indicates that mishaps cost employers about $60 billion annually in property damage, medical care, and legal expenses. Moreover, state and federal regulations in the United States (and most countries) require fleet vehicles to carry liability insurance. A fleet management software updates important vehicle information like fleet insurance and sends you payment reminders before the due date.