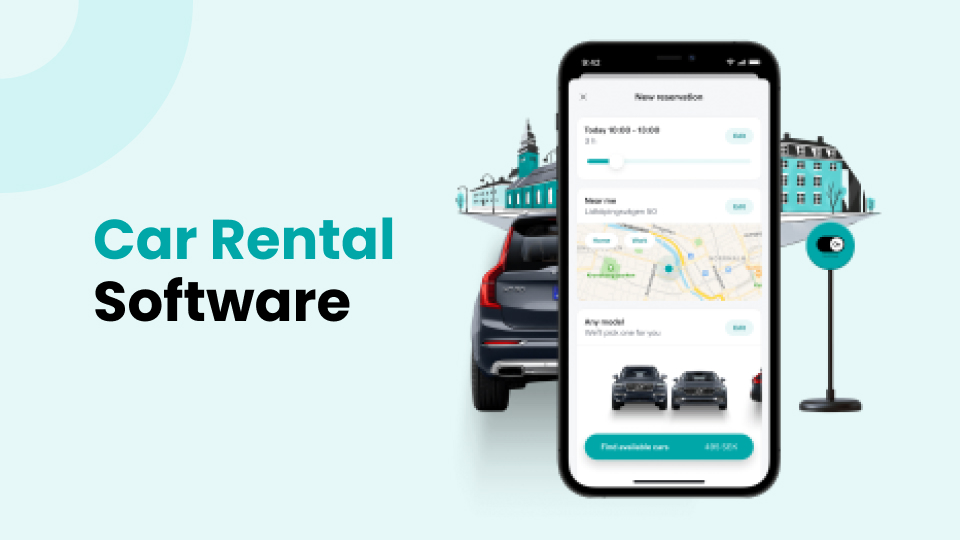 10 Best Car Rental Software
Car rental software has significantly transformed the transport industry, revolutionizing the way people rent and manage vehicles. By automating and streamlining various processes, these software solutions have brought efficiency, convenience, and cost-effectiveness to both rental businesses and customers. According to a report by Allied Market Research, the global car rental market is projected to reach a value of $164.3 billion by 2027, with technology advancements playing a crucial role. 

Car rental software has facilitated online reservations, enabling customers to book vehicles anytime and anywhere, leading to increased customer satisfaction and convenience.Moreover, features like fleet management and vehicle tracking have enhanced operational efficiency, optimizing vehicle utilization and reducing downtime. The availability of real-time data and analytics has allowed rental businesses to make informed decisions, improve customer service, and increase profitability. With the integration of mobile solutions, customers can access and manage their rentals on the go, further enhancing the overall experience. The adoption of car rental software has led to improved transparency, streamlined operations, and a more seamless rental process, driving the transformation of the transport industry.
Maximize business profitability with car rental software
Car rental management software offers numerous benefits to transport businesses. Here are some key advantages and their descriptions:
A. Streamlined reservations
Car rental software enables customers to make online reservations easily. It eliminates the need for manual booking processes, reduces paperwork, and saves customers and rental businesses time. It also ensures accurate and efficient reservation management, reducing the risk of errors or double bookings.
B. Efficient fleet management
The car rental booking software provides tools for effective fleet management, including vehicle tracking, maintenance scheduling, and fuel management. These features allow businesses to optimize fleet utilization, monitor vehicle performance, and reduce maintenance costs. It also helps prevent breakdowns and ensures that vehicles are properly serviced, improving customer satisfaction.
C. Enhanced Customer Relationship Management (CRM)
Rental car management software includes CRM functionalities that enable businesses to manage customer information, preferences, and rental history. This data can be used to personalize services, offer targeted promotions, and build long-term customer relationships. By providing a seamless and personalized experience, rental businesses can increase customer loyalty and generate repeat business.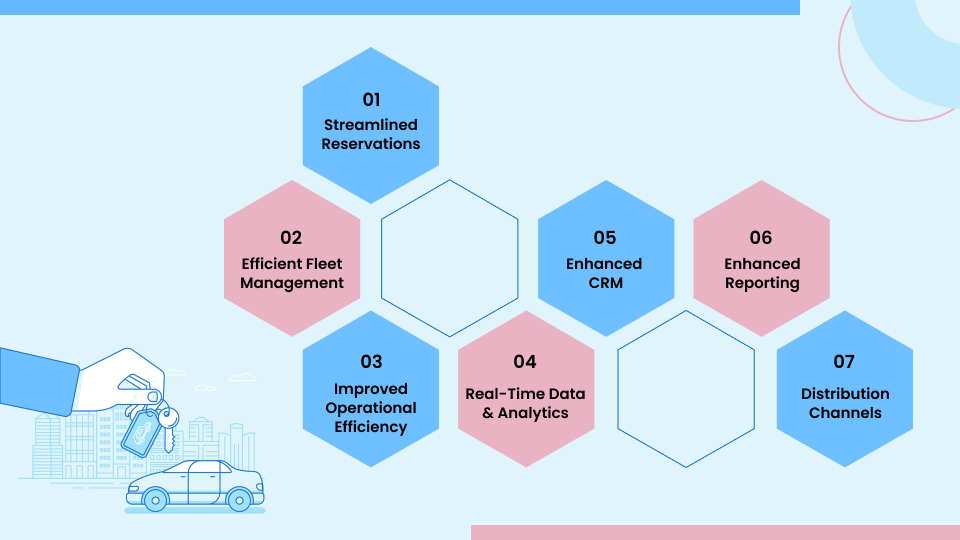 D. Improved operational efficiency
Automating tasks such as check-in/check-out processes, billing, and reporting saves time and reduces manual errors. This efficiency enables rental businesses to handle higher rentals without increasing administrative overhead. It also leads to faster turnaround times, better resource allocation, and improved productivity.
E. Real-time data and analytics
Car service management software provides access to real-time data and comprehensive analytics. This information includes rental patterns, customer preferences, fleet performance, and financial insights. By leveraging these analytics, businesses can make data-driven decisions, identify trends, and adjust pricing and inventory strategies accordingly. It helps optimize revenue, improve operational efficiency, and stay competitive.
F. Integration with distribution channels
Many car rental software solutions integrate with online travel agencies (OTAs) and global distribution systems (GDS), allowing businesses to expand their reach and attract more customers. This integration enables automatic inventory distribution, seamless rates, and availability updates, and increased visibility in the online marketplace. It opens up new revenue streams and enhances market penetration for rental businesses.
G. Enhanced reporting and analytics
Rental software provides robust reporting capabilities, offering insights into key performance indicators (KPIs) such as revenue, utilization rates, and customer satisfaction metrics. These reports help identify areas for improvement, track business performance and make informed decisions. Rental businesses can better understand their operations, identify growth opportunities, and implement strategies for continuous improvement.
Here, we have listed the top 10 car rental management software that can take your business to the next levels.
Best software for car rental services
AllRide Cab is a revolutionary car rental software that has disrupted the transportation industry with its unique features and exceptional user experience.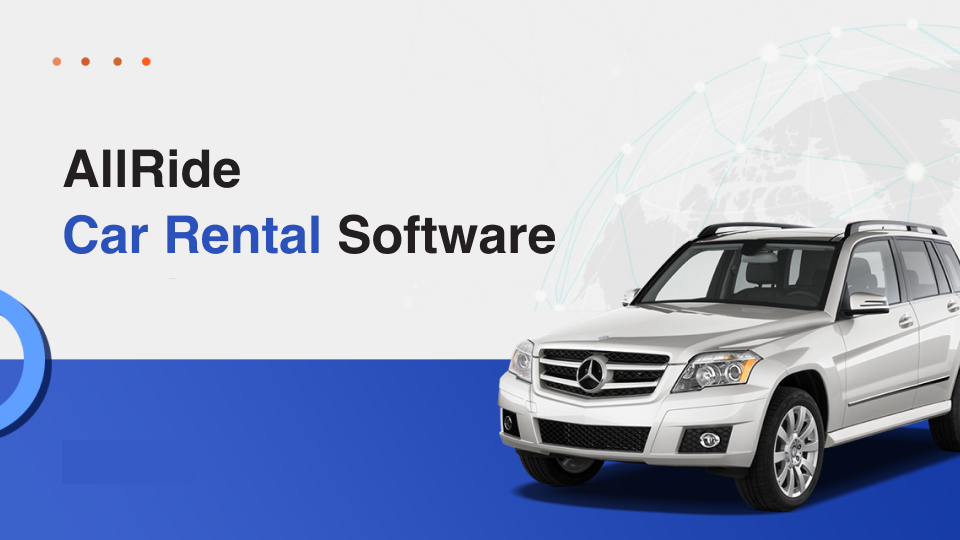 Features
a. With a commitment to customer satisfaction, AllRide Cab offers a seamless and convenient way to book rides and travel comfortably. 
b. One of its standout features is its user-friendly mobile app, which allows users to quickly request a ride with just a few taps on their smartphones. 
c. The solution tracks the driver's location, estimated arrival time, and upfront pricing, ensuring passengers' transparency and peace of mind. With its intuitive interface and smooth navigation, AllRide car rental software offers a hassle-free ride-hailing experience.
d. What sets AllRide Cab apart from other car rental management software is its focus on safety and reliability. It offers a unique ride with confidence feature, which allows passengers to share their ride details with friends or family, providing an added layer of security.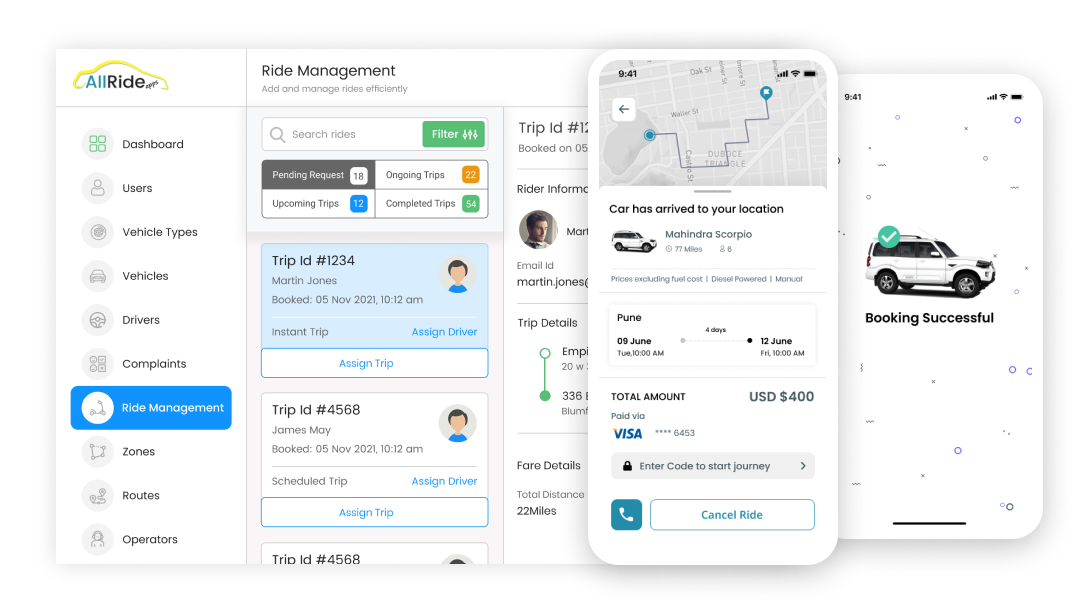 e. Moreover, AllRide car rental booking software includes innovative vehicle inspection features, ensuring passengers a comfortable and safe journey.
f. In addition to its safety features, AllRide Cab aims to provide a personalized and memorable experience for its users. The service offers various options to cater to different preferences and needs, including luxury cars, shared rides, and accessible vehicles for passengers with disabilities. 
g. AllRide Cab also offers a loyalty program that rewards frequent riders with discounts and exclusive perks, encouraging customer loyalty and satisfaction. With its commitment to safety, reliability, and personalized features, AllRide Cab is transforming how people commute, making transportation more convenient and enjoyable.

2. Rent Centric
Rent Centric is a comprehensive software that offers features such as online reservations, fleet management, customer relationship management (CRM), and accounting integration.
3. TSD RENTAL
TSD Rental is a widely used solution with functionalities like reservation management, fleet tracking, customer management, and reporting tools. It also offers mobile solutions for on-the-go rental operations.
4. EasyRentPro
EasyRentPro is a robust car management solution with features like online reservations, fleet management, vehicle tracking, and customer management. It also provides integration options with popular online travel agencies (OTAs).
5. Bluebird Auto Rental Systems
Bluebird Auto Rental Systems offers a comprehensive software solution with features like reservation management, vehicle tracking, maintenance tracking, and accounting integration. It also supports multiple languages and currencies.
6. ASAP Rent
ASAP Rent is a flexible vehicle rental solution that caters to the needs of small and medium-sized rental businesses. It includes reservations, vehicle tracking, pricing management, and customer management.
7. CarPro Systems
CarPro Systems is a popular car rental solution that offers functionalities like reservation management, vehicle tracking, rate management, and customer relationship management. It also provides integration options with significant car rental distribution systems.
8. Thermeon
Thermeon provides multiple solutions for single and multi-location businesses. Its features include online reservations, fleet management, rate management, and comprehensive reporting capabilities.
9. RentWorks
RentWorks is a widely used car solution offered by Bluebird Global Solutions. It provides features like reservations, vehicle tracking, rate management, and integration with popular online travel agencies and global distribution systems.
10. Ibexrentacar
Ibexrentacar is another rental service management solution that offers a range of features, including reservations, fleet management, customer management, and reporting tools. It also provides integrations with various payment gateways and online booking engines.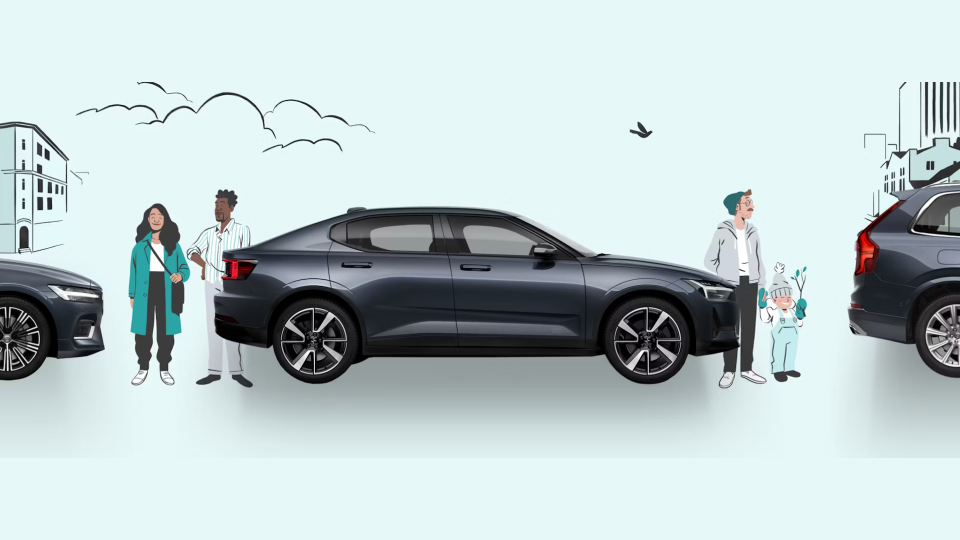 Pick the right software to take your car rental business to the next level
The car rental industry has witnessed a remarkable transformation with the emergence of advanced software solutions tailored specifically for rental businesses. As the industry evolves, investing in reliable car rental software has become increasingly essential for rental companies to stay competitive, maximize profitability, and thrive in the dynamic transportation landscape. The top 10 car rental business software solutions discussed in this article have revolutionized operations, enhanced customer experiences, and boosted overall efficiency. Make a wise choice to get the most out of the software. 
Related Articles
10 Best Airport Transfer Booking Software Solutions in 2023
Top 10 Charter Bus Dispatch Software Solutions
Top 5 School Bus Routing Software Companies
Top 10 Towing Dispatch Software Solutions
Top 10 Transportation Scheduling Software