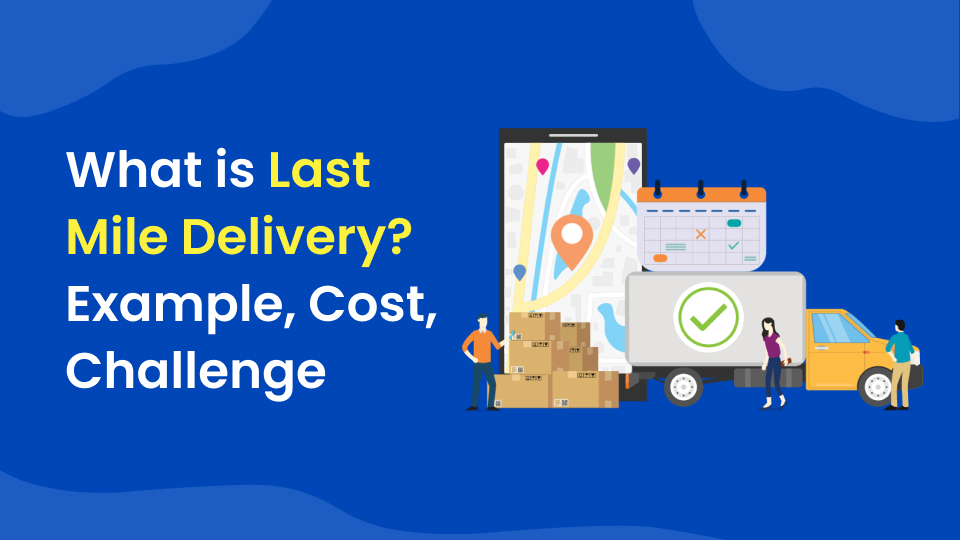 What is Last Mile Delivery? Example, Cost, Challenges
Over the last few decades, consumer behaviors have drastically changed, especially in online shopping. Modern customers expect affordable, or better to say, free and quick delivery. If a business wants to survive in this competitive market, it needs to figure out how to improve productivity and reduce costs to fund its logistics. This is why last-mile delivery has become an essential part of the delivery for every business. A series of questions might be floating around your mind- what is last-mile delivery? What is its cost? This article will help you get an insight into the last-mile delivery logistics.
1. Definition- What is Last Mile Delivery?
Last mile delivery is moving goods from a retailer's transportation hub to the final destination or customer's doorstep. It mainly involves using small carriers to deliver the products to the customers. Last mile delivery aims to provide the product as soon as possible. 
A study by McKinsey revealed that the total cost of parcel delivery universally(excluding pickup, sorting, and line-haul) is €70 billion in Germany and China. At the same time, the percentage is more than 40% of the existing market in the United States. Many shippers have started considering last-mile logistics as the cornerstone to ensure more growth and expansion. This trend is working behind the growing demand for last-mile delivery. 
2. Examples of Last Mile Delivery
As discussed above, last-mile delivery is a term used in the logistics industry to define the transportation of a package from the hub or warehouse to the final destination or the customer's place. The main goal of the last-mile carrier is to reach the item's destination as fast as possible. Last mile carriers maintain a fleet of vehicles to deliver the items to the customers. As an outcome, they have gained better customer satisfaction. An ideal last mile delivery example is set by Amazon, which has amplified the last mile efforts to faster the delivery speed. 
3. Last-Mile Delivery Cost
Last-mile delivery is the costliest part of the supply chain. It costs an average of $10.1 per delivered package. Usually, businesses need to pay the consumers $8.08 to meet these costs; the rest is adjusted from the profits driven by the sold products. 
Delivering countless packages every day to customers is undoubtedly a challenging task. The last mile itself is complicated, and some factors increase the last mile delivery cost:
A. Lower average speed as it makes the vehicles spend more time on the road
B. Delivery failures
C. Complex routes
D. Returns, refunds, or discounts
4. What are the Major Last Mile Delivery Challenges?
Sometimes managing last mile logistics gets on the nerves of the operational heads. There are a few last mile challenges that are real concerns for many companies. Here are some common last-mile delivery challenges faced by startups and giant companies:
A. High Cost
More than 28% of the total delivery cost belongs to the last mile logistics. The price was never a big deal, but the obligation of the fastest delivery (on the same day or on-demand delivery) is compelling businesses to increase their budgets. When it comes to longer distances, it further complicates the entire thing and raises fuel costs. In most cases, it passes on to the consumers. 
B. Real-Time Visibility
Using tracking codes to see the status of delivery items has become an outdated trend. Modern consumers want to experience different types of last-mile deliveries. Thus, real-time visibility has become indispensable in the delivery industry. It makes the businesses focus on real-time visibility as customers search for detailed information about the package and the delivery time. 
C. Delivery Failure
One of the significant challenges most delivery businesses face is failing to deliver products on time. Delayed or failed deliveries can hike customer churn affecting the brand image. Many companies are using advanced delivery management software to avoid such incidents. 
5. How can Technology Address the Last Mile Delivery Challenges 
Technology has helped delivery businesses overcome many challenges. How? Let's take a look at five ways technology helps the industry.
A. Route Optimization
Every driver needs to follow a specific route. All these routes are, of course, not going to be straight and friendly. A single route could be several miles long with only a few drop-offs. It wastes a lot of time and fuel only on a few deliveries. A route optimization solution can automatically factor the time: location, vehicle capacity, and traffic to suggest efficient route plans. Even traffic updates on these routes are sent to the drivers via texts to optimize the route time and help the end users with real-time data. 
B. Service Time and Labor Cost Reduction
A software solution to optimize the routes can save the time required to work manually. As routes can be updated in real-time, it can reduce the number of drivers for a day to complete all the deliveries. Delivery managers can set auto operation management features considering the driver's location and route distance. 
C. Receiving Proof of Delivery
You can get documentation that confirms that a product has been delivered on time, such as a signature of the product recipient, scanned barcodes, a photo of the package, etc.\
D. Getting Reports to Increase Accountability
Regular reporting helps you find out the bottlenecks and weaknesses before they create more significant problems. A robust last-mile delivery management system enables businesses to measure key metrics, including on-time delivery rates, service times, feedback scores, success rates, and more.
E. Enhancing Customer Experience 
All the benefits of the technology discussed above directly contribute to a better customer experience. Nothing can stop a business from succeeding when customer experience is at the top.
Thinking about Starting a Last Mile Delivery Business?
Are you thinking about how to start a last-mile delivery company? First, identify your goals and draft a proven business plan. Now, as you know what last mile delivery is, you must do proper market research. All the best for your new venture!
Article you may Find Useful
Struggling with Last Mile Delivery Logistics? – Here's a Complete Guide