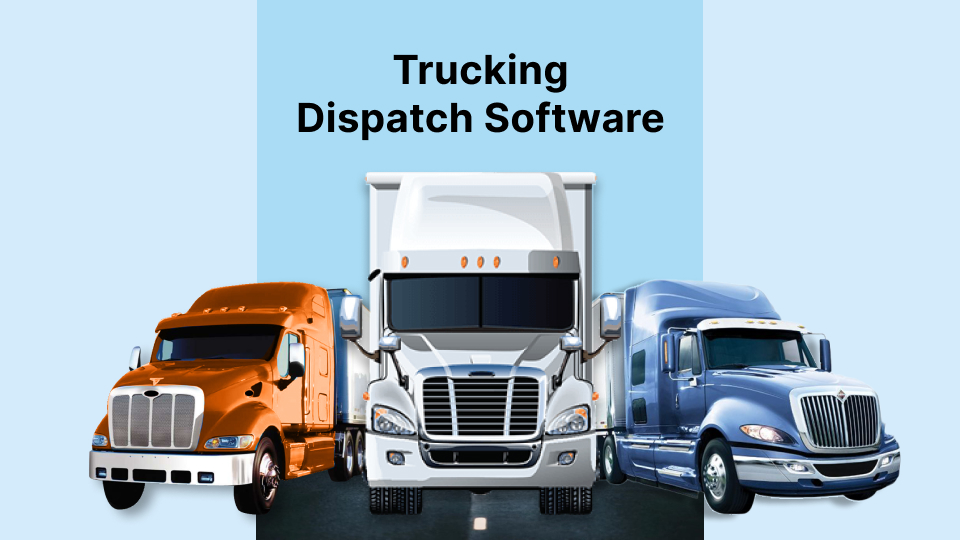 Top 5 Trucking Dispatch Software Solutions
Trucking Dispatch Software is a requisite today for any trucking business. Trucking has been one of the most common forms of transportation for companies. As per the World Economic Forum reports, trucking accounted for 66% of freight transportation worldwide in 2021. The trucking industry also contributes $3.5 trillion to the global economy.

Truck Dispatch System or Software is a one-stop solution for the trucking industry to manage all their logistics on a single interface. Features like tracking, planning, and scheduling make it essential for the business. The Dispatch System makes accurate time tracking, driver management, and control over the entire transportation system possible for trucking companies.

A study by the American Trucking Association indicates that Trucking companies that use the Dispatch Software reduced the empty miles by almost 10%. The Truck Dispatch Software was also able to reduce fuel costs and increase customer satisfaction by 15%, as per the reports done by the World Economic Forum. It also helps companies to operate on a global level at a reduced cost of operation.

Boost Efficiency and Profits with the Help of Truck Dispatch Software

Interestingly, Truck Dispatch Software can make the entire management of logistics and transportation easily accessible on a single portal. It optimizes the whole transportation route and automates a lot of manual labor. Streamlining the entire process and providing estimated delivery time boosts the efficiency of the whole logistics process.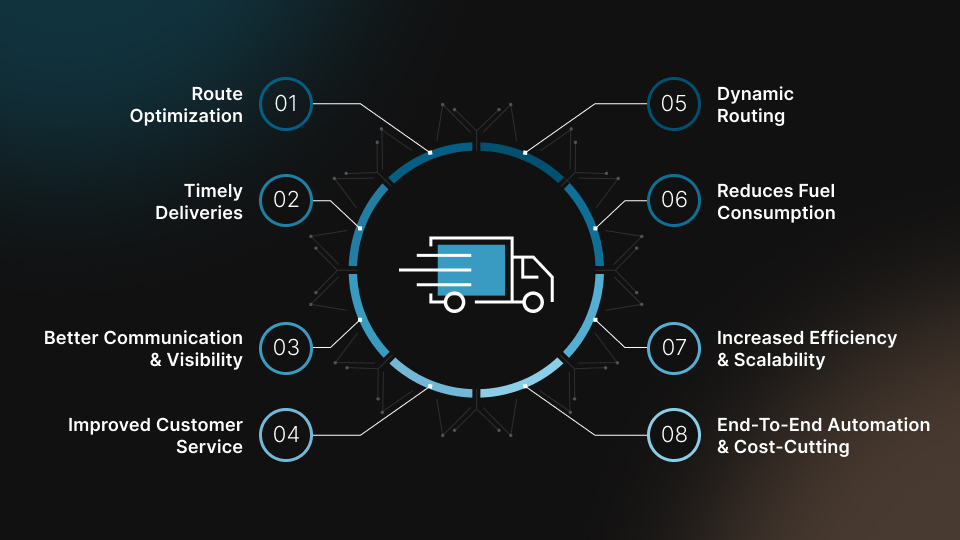 The Dispatch Software reduces fuel consumption and minimizes delivery time. With live tracking of deliveries, you get an exact idea of the entire delivery process and can ensure on-time delivery. Allocation of resources is another feature that Dispatching software offers, which increases overall productivity by automating the task assignment and scheduling of drivers for a particular task.

Finally, all the above features combined yield the best possible customer satisfaction experience for all the deliveries. A higher customer satisfaction graph leads to increased referrals and retention, boosting profits in the long run.

Let us now look at the Top 5 Truck Dispatching Software Solutions that offer a feature-rich experience for their customers.
Best Truck Dispatching Software Solutions
Truck dispatching software is the need of the hour for any Trucking company looking to boost its overall productivity and profitability. Trucking Dispatch Software options in the market must offer a holistic solution per the trucking industry's needs. AllRide Logistics is undoubtedly the best one-stop solution that incorporates all the required features specifically customized as per the needs of the business.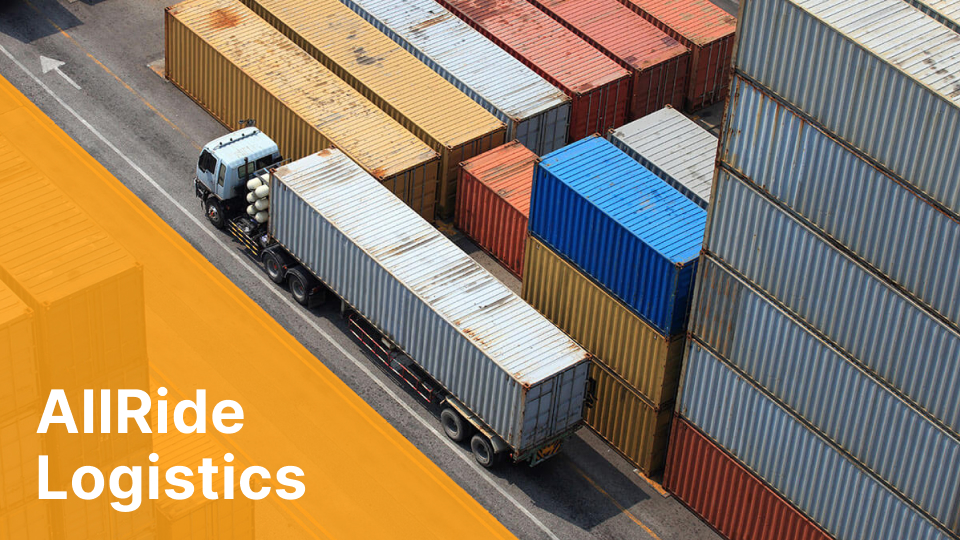 AllRide Logistics is a leading Dispatch Software Solution that effectively integrates AI with the delivery management process to streamline logistics. It offers a wide range of customizable features and Artificial intelligence for fleet management and Distribution Systems. With expertise of over eight years and a proven track record of up to a 50% boost in its clients' revenue, Its Dispatch Software offers you an innovative solution on a single-platform interface.

Look at AllRide Logistics's features:

It offers Robust Dispatch and Delivery Solutions with intelligent and reliable Trucking Dispatch Software. It helps you streamline the entire process by providing an enhanced booking experience and effective route planning. The software also offers real-time availability updates. It automates the dispatch and streamlining of driver communication and tracking. It has different analytical and reporting tools to make the interface user-friendly.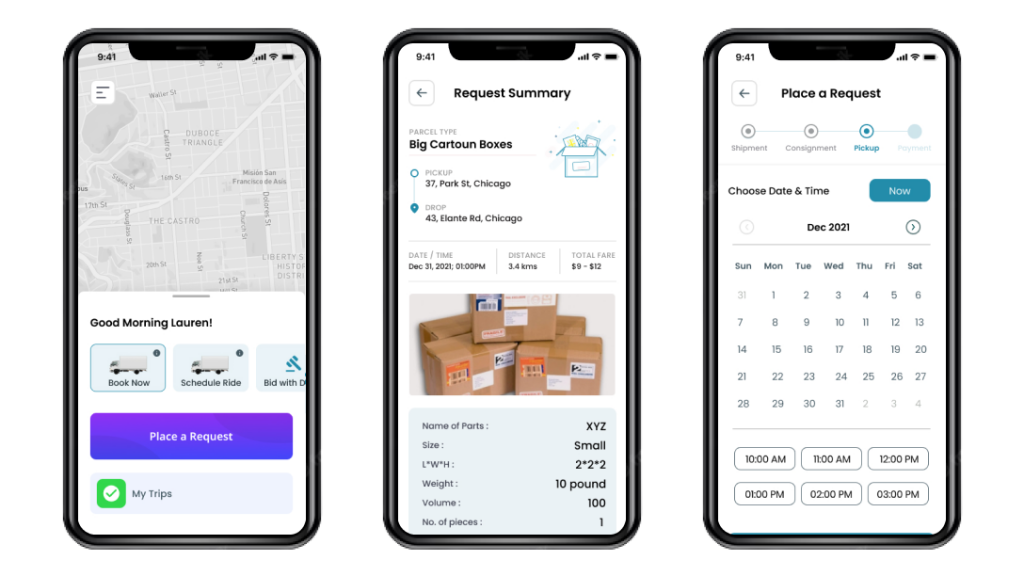 AllRide Logistics provides you with a feature-rich shipper App. The Shipper app is integrated with automation tools, reducing manual efforts with the help of AI. The application also provides a secure login experience for the shippers. One can set a proper drop-off location for route optimization. The shipper App supports different payment methods and gateways with enhanced security. The application supports multi-platform hardware and software on significant devices. The shipper application has more than 30 customizable feature options per client requirements.
The Driver application keeps the interest and convenience of drivers in mind. Drivers get a detailed screen where the necessary Trip details are available. A proper Driver details dashboard is present with the application. The App offers Secure booking and multi-platform support similar to the Shipper application. Another application feature is that it can accept or decline the loads per the truck capacity they are operating.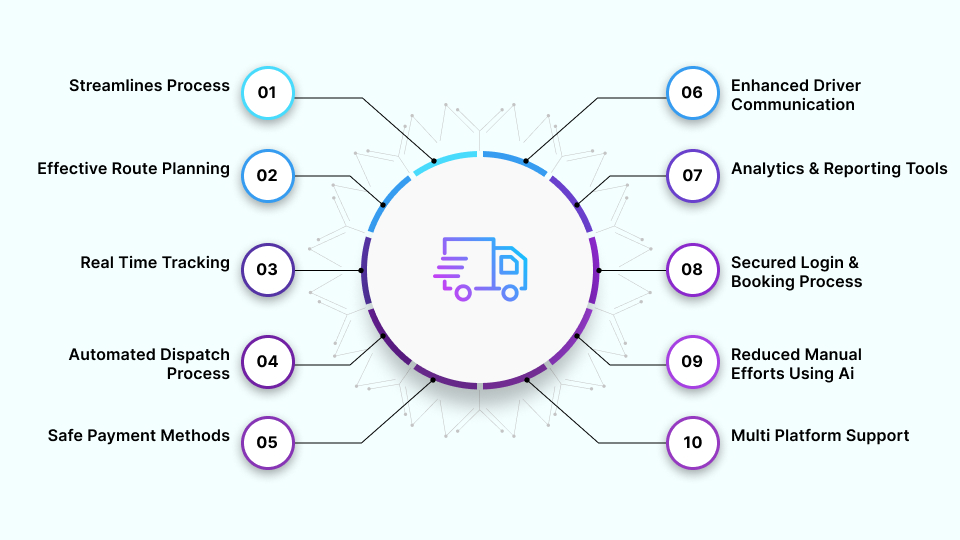 AllRide Logistics also comes with the below USP features, making it a perfect fit as a Trucking Dispatch Software Solution.

A. It offers a load matching feature that helps to match the load management as per the truck compatibility and demands. It provides a proper Driver communication feature, which is present with text, email, and phone options.
B. AllRide offers an exceptional real-time live tracking feature, highly customizable options, and a proper 24*7 communication support team for any last-moment query or feature request update.
C. This solution also caters to all types of businesses and can be considered one of the best dispatch software for small trucking companies.
AllRide can be considered a one-stop solution for all types of trucking companies. You can check the pricing, and other features it offers. You can also book a demo with them from the same page to get the best trucking dispatch software you need for your business.


Samsara
Samsara is one of the comprehensive Truck Dispatching software that offers a variety of features to its customers. Samsara offers a fleet management system, safety features, and vehicle tracking. Samsara is known for its safety enhancements along with its efficiency.

Trimble TMS
Trimble TMS is another leading Fleet management solution provider providing Dispatch management. Trimble TMS is known for its Precision and integration efficiency with different systems and platforms. Trimble Transport Management System is also known for its real-time tracking capabilities.

ITS Dispatch by TRUCKSTOP
ITS Dispatch is a well-known Truck Dispatching system software with a USP in innovative and customizable platform offering. It offers custom features as per business needs to handle trucking operations.

McLeod Software
McLeod Software is another name in the trucking industry known for its operational and Fleet efficiency. It is known for its Precision in all its operations. McLeod Software is also known for its user-friendly interface profile that is easy to use.

Some Common Frequently Asked Questions about Truck Dispatch Software
What major challenges do truck dispatch businesses face?
The Truck Dispatch Business market is vast, and handling such a wide range of management and logistics operations is challenging. Trucking companies often have to deal with inherent challenges like inventory management, capacity incompatibility, communication issues between the driver and deliveries, High maintenance and fuel costs, delays, etc. The new age technology solves this problem.


How is technology helping truck dispatching?
Use of the technology revolutionized the logistics and operations of the Truck Dispatching Industry. Technology helped Trucking Businesses with proper Route Optimization, Fleet Management through GPS, and Automation of Drivers' login hours through Electronic Logging Devices (ELDs). It also introduced Alert notifications and Data analytics report options, making it easy for Trucking Businesses to record and improve overall operations. The introduction of Artificial Intelligence and Machine Learning made the entire process streamlined and further automated.
Can AI provide an aid to the major pain points of truck drivers?
AI and Machine learning have a significant impact on the way the Trucking business operates today. AI and ML came as the solution to one of the major pain points in the Trucking Business: Driver support and management. AI-driven data and reports made it easy for drivers to optimize their routes and check for their vehicles' road, weather, and load capacity. It also helped drivers manage vehicle maintenance and communicate with the shipper and delivery party through one platform login. It also introduced safety and security features for Drivers, like Driving assist, alert system, communication and language barriers. Many Software providers use AI with their software. AllRide Logistics AI integration took care of the major pain points of Drivers.

Pick the Correct Truck Dispatch Software for Your Business
Getting the correct Truck Dispatching Software for your truck business is one of the most crucial decisions to streamline your process and boost profits in the long run. With the evolving industry, you should choose a Software Solution that contemplates all features at the best pricing. The above list of Top 5 Truck Dispatch Software Solutions is curated, considering all the essential features that any Best Dispatch Software should have.