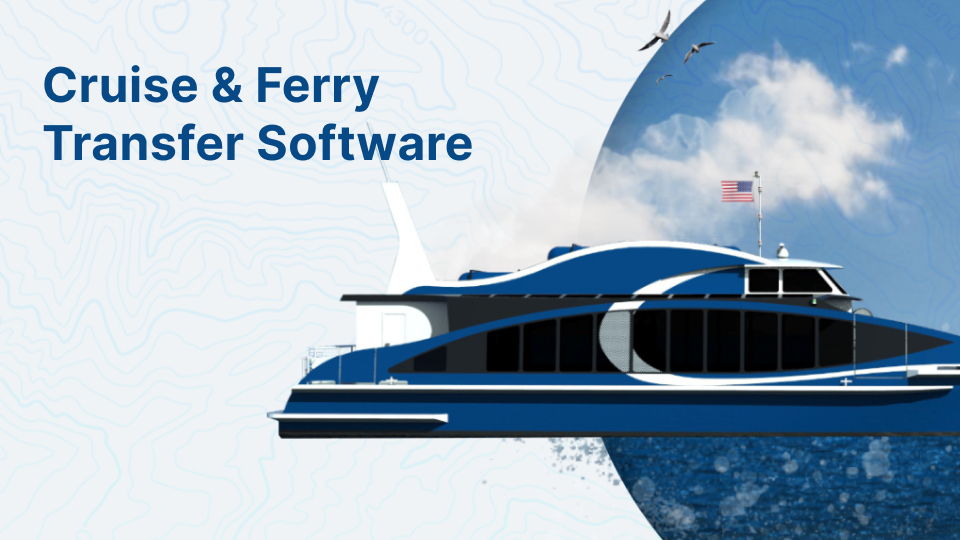 6 Best Cruise and Ferry Transfer Software
Cruise and ferry transfer software, or cruise and ferry transportation software (CFT), has significantly impacted the entire Travel and transportation sector. The tourism and travel industry has undergone a massive transformation in recent years with all the new world tools available to make the transportation industry a booming contributor to the world economy. We can notice the increasing demand in the maritime travel industry through high inquiries and booking numbers. Along with the flourishing of maritime tourism, the demand for cruise and ferry transfer services also showed an upward trend, offering passengers an efficient and leisurely mode of transportation.


The rapid growth of the ferry transfer industry is evident in the fact that it was at 122.4 Billion USD on a global level in the year 2022, and by 2027, the global cruise and ferry transfer industry to reach the mark of 158.7 Billion USD as per the Grand View Research Global cruise and ferry Market Report.

The cruise and ferry transfer system is a digital solution to streamline maritime transfer business operations. Transportation businesses that deal with ferry and cruise services use the software to optimize the entire process and improve the overall passenger experience and management of the transfer process as a whole.

The global market for ferry transfer software will grow to 2.2 Billion Dollars by 2027, with a CAGR of 11.4%, as per the reports from the Research Report World.

Maximize your Business Efficiency in the Cruise and Ferry Transfer Industry
The ferry transportation software has increased the efficiency of the ferry and cruise transfer industry. The software has many unique management features that streamline the entire transit and make it easy for ferry businesses to book, schedule, communicate, and have data reports to reduce the overall time and effort to manage the entire marine transfer process.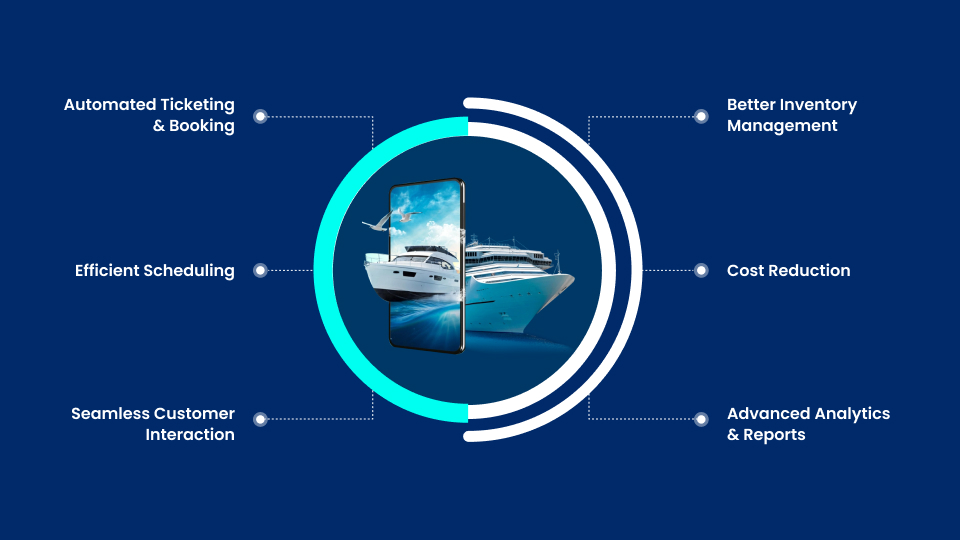 Below are some of the added advantages and features of the cruise and ferry transfer software.

A. It makes the ticketing and booking process easier with ready-to-use tools that reduce manual effort.
B. Cruise and ferry transport software have a fleet management system, making the scheduling process hassle-free.
C. It also creates a channel for passengers' communication with tracking and updates available for passengers.
D. The software also deals with inventory management and makes the booking and availability of seats.
E. The software platform also provides data-driven analytics and reports to check all the parameters you need to work on and improve.
In the long run, it helps you reduce the overall fleeting cost and unnecessary inventory losses and increases the customer satisfaction index.
Let us look at the 6 Best ferry and cruise transfer software available.

Best 6 Cruise and Ferry Transport Software Solutions
AllRide cruise and ferry transfer software is a leading software solution for all types of businesses in the cruise and ferry transfer Industry. The transfer software is the need of the hour for the companies that operate and offer boat and marine transportation services. It provides extensive features to help you optimally manage and run your ferry transfer business. The transfer software offered by AllRide gives you an all-in-one platform to manage all your services efficiently. It is also a leading software provider for innovative customization and user-friendly software interfaces for its clients.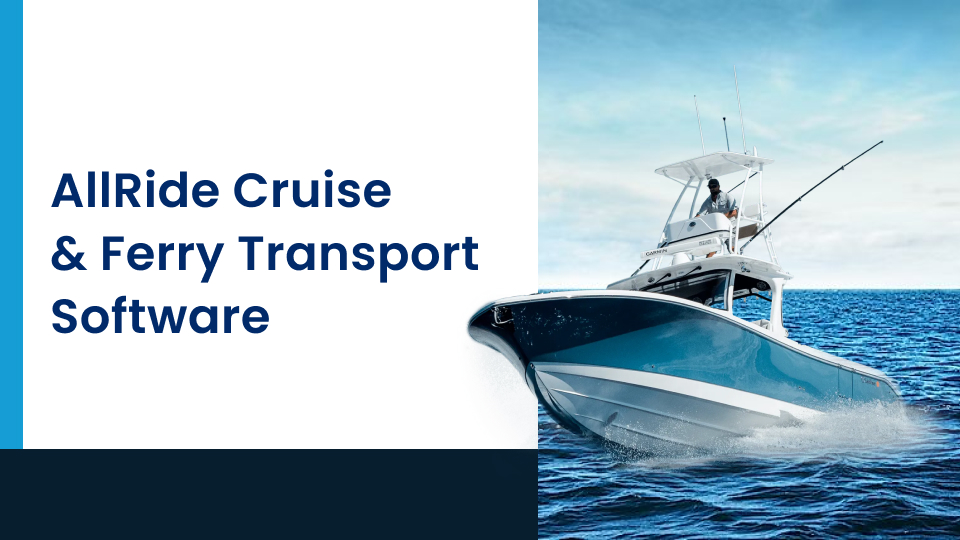 Let us look at some significant features AllRide software solutions offer its clients.

A. It offers a proper ticketing system, making it easy for passengers to book or cancel their preferred cabins or seats on any cruise or ferry they want to travel on. The user-friendly platform also makes it easy for the ferry business. to keep a record of the bookings and cancellations. It also offers its clients a robust route optimization and scheduling system that can help them schedule and manage the routes to optimize the traveling distance vessel's maximum capacity and lower the overall cost of the entire operation in the long run.
B. This solution comes with proper fleet management system integration, enabling the ferry and cruise transfer businesses to record the vessel condition, load capacity, crew assignments, and maintenance schedules effectively. It provides a system that allows communication from the passenger end effectively and in real time. Passengers can communicate easily through communication channels and software. It lets them see the vessel's live arrivals, departures, and delays on the app itself.
C. Cruise and ferry transport management software enables the management of the inventory in a much more efficient manner through its precise tracking system of booking, cancellation, and availability updates. It also makes the resource allocation more optimized, enabling lower maintenance costs. Customization is another unique feature that AllRide software is well known for. It offers many customization options per the client's requirements and a transparent investment structure. Another feature that AllRide offers is the multi-platform integration and compatibility of its applications. Its hardware compatibility ensures that it integrates seamlessly with several devices without any operational loss of data or time.
D. Along with the multi-system integration support, it ensures that the security is not compromised and everything remains per industry regulations and standards. It ensures that all its businesses follow the legal standard norms present in the industry and sensitive passenger information. AllRide ensures its clients receive proper data-driven analytical reports of the entire process to make informed decisions per the market trends they notice. Its comprehensive reporting tools also help businesses to improve their services and cut unnecessary operational costs.
All the above features that AllRide transit software offers also come with 24*7 support from its support team to guide and assist its customers per their last-minute requirements.
Customer Application:
It offers a seamless user registration experience for customers or passengers. The application also provides an extensive list of ferry and cruises and ferry availability.
It enables them to choose as per the custom filter and search options they want, allowing the customers to book and register for the particular ferry or cruise they want.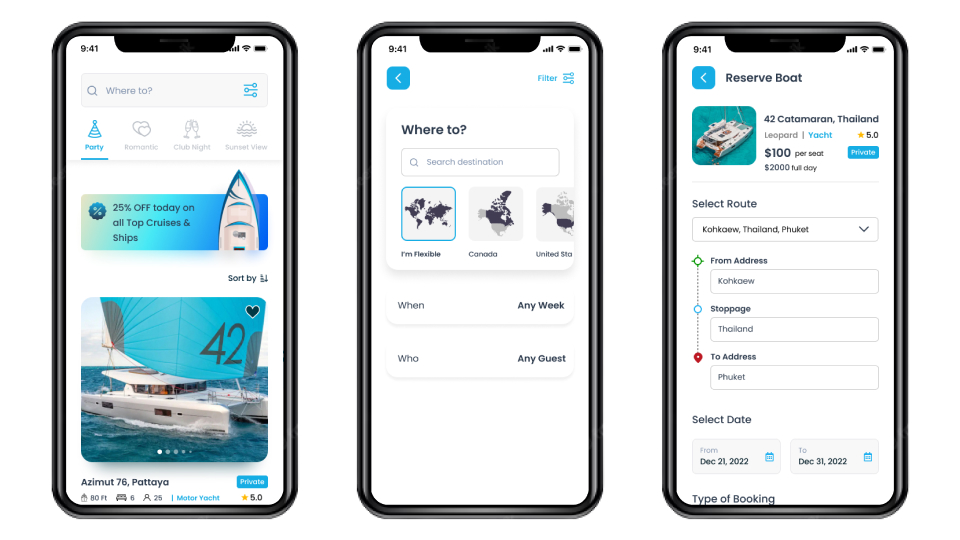 Driver Module:
The Driver module makes the assignment of drivers for a particular boat booking easy. They can also view and manage the same from the portal. The efficient navigation system makes it easy for the drivers to navigate any pick-up or drop location in real-time.
It allows a driver to have a checklist on the portal to ensure the vessel and operation are seamless. The communication channels allow the drivers to communicate easily with the passengers and give updates regarding the trip if required.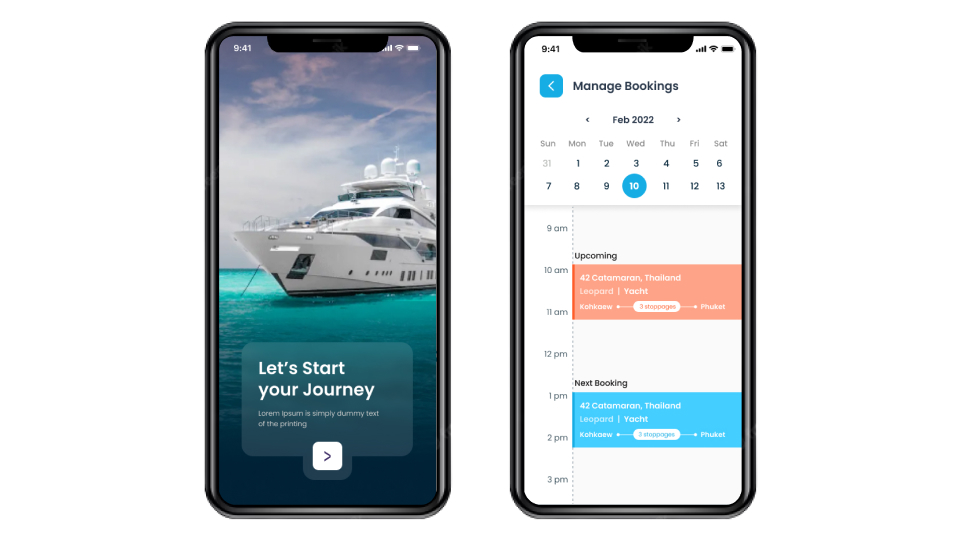 Along with the above features, AllRide software also comes with another USP of efficient and secure Support of multiple payment gateways for customers to pay through various payment channels to register and book their ferry or boats seamlessly.

Dever
Dever dispatch offers services as a software cruise and ferry management. They mainly deal in dispatching and management services and booking management platforms for passengers and ferry companies.

Amadeus
It is another technology provider that deals with different types of land and marine transport management systems. Amadeus offers management services for the travel and tourism industry.

BORA
This system offers cruise and ferry management services through its software. BORA mainly concentrates on passenger-centric features and makes the booking and reservation management from the passengers' end user-friendly.

Opsealog
Opsealog offers fleet management software and maritime transportation and tourism solutions. It focuses on digitized solutions for passengers and fleet management processes for cruise and ferry businesses.

Trapeze
Trapeze groups offer efficient fleet management solutions for the cruise and ferry Management software industry. It deals with service management, operation monitoring, and ferry operating systems through its solutions-oriented software.

Common FAQs Surrounding the Cruise and Ferry Transportation Industry
What services do the cruise and ferry industry offer?
The cruise and ferry Industry offers many services, from transportation and fleet services for businesses to transportation and travel services for tourism. The travel and tourism part of the maritime industry has flourished in recent years, and hence, the need for shipper and passenger-centric management services has gained importance.

How does ferry and cruise management software help the maritime industry?
The vastness of services offered by the maritime transportation industry comes with several problems, starting from route tracking and driver communication to booking and tracking of tickets. The software ferry and cruise management systems streamlined and optimized logistics and transportation. The whole transportation process, for passengers or shippers, is now manageable from a single application platform.

Choosing the Correct Cruise and Ferry Transportation Software Solution is Important
The correct cruise and ferry transfer software can be challenging. However, choosing a software solution catering to your business needs and requirements is essential. Transportation management software can be crucial to your business growth if used correctly.

One should always go for solutions like AllRide that are customized per your business needs and offer a holistic range of features, from booking and ticketing, driver and vessel tracking, and management to reports and analytical data for improving your business.