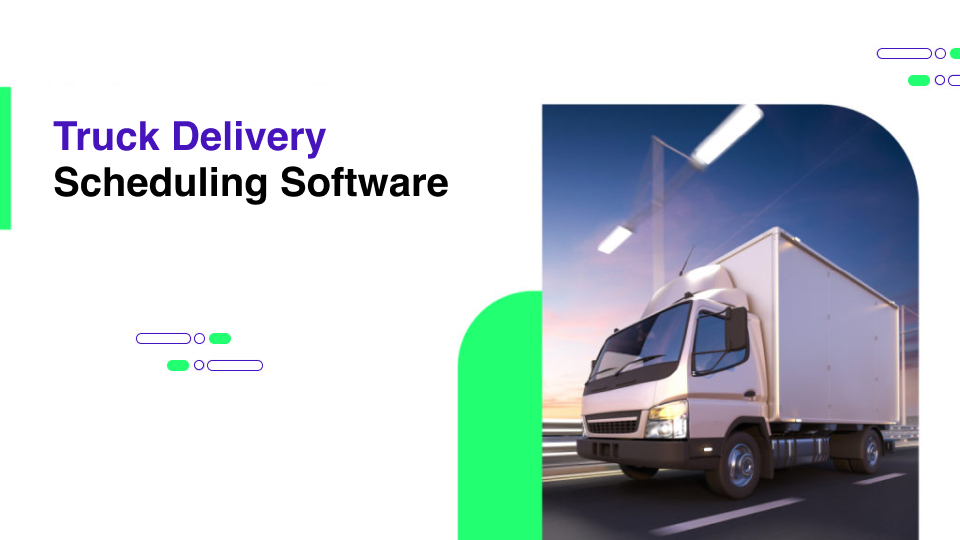 10 Best Truck Delivery Scheduling Software
The market size of the US trucking industry stood at a whopping 212 billion USD in 2021. However, as time goes by, it may become difficult for trucking businesses to scale operations and meet industry demands. And this is where a truck delivery scheduling software proves to be resourceful.
But how can you find an ideal software solution that lowers operational costs, boosts profitability, and suits your business needs? To answer this question, this blog lists the best software solutions for truck scheduling. Let's begin!

What is truck scheduling software?
A truck scheduling software is a technological solution that automates all the work processes of transportation business. It schedules and manages tasks and provides enhanced customer communication and compliance.
Furthermore, it tracks and manages the assets and inventory of trucking companies, alongside optimizing delivery routes and reducing associated risk factors.
Automate and organize your trucking business
A software solution provides assistance in managing all the stages of the supply chain in the following manner: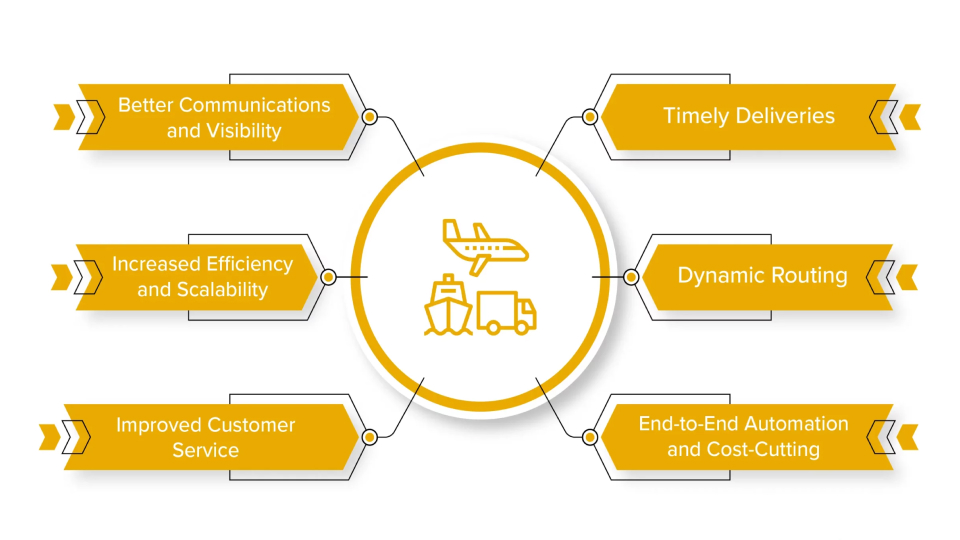 A. It effectively pairs drivers and their fleet vehicles with the shipment items requiring delivery. Moreover, it eliminates confusion and prevents dispatching the wrong staff to a specific work.
B. Thereafter, when drivers accept tasks, they can view accurate route plans, which simplifies the delivery processes. And as the software manages all deliveries, it ensures that all delivery timetables are satisfied.
C. Lastly, it provides increased transparency for customers as they can monitor their packages at all stages of their delivery operations. As a result, such a software solution enhances customer satisfaction.
Top 10 software solutions for truck scheduling
Delivery scheduling and management becomes effortless only when you have a tech-based software solution for assistance. That is why AllRide Logistics offers an AI-based truck delivery scheduling software solution.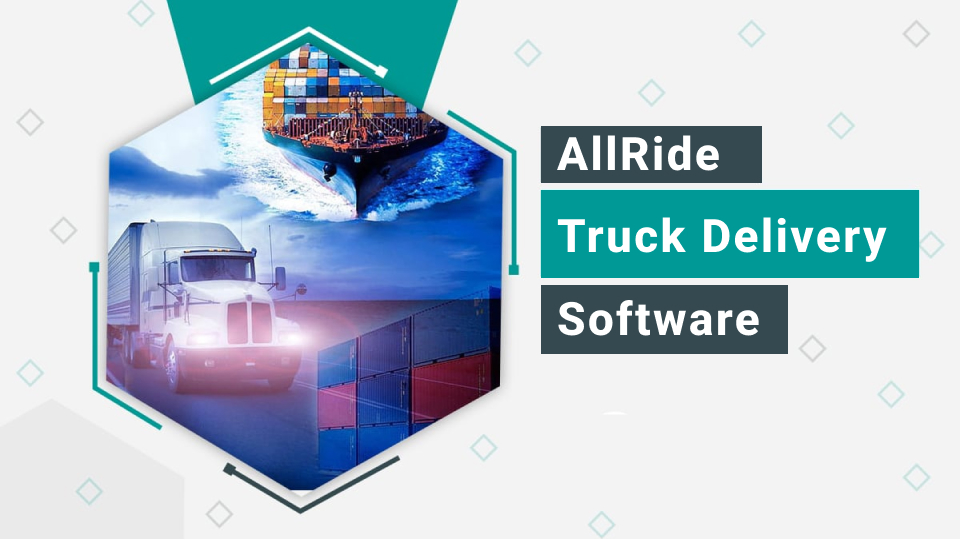 Regardless of your business requirements, AllRide Logistics is highly adaptable and customizable. So, the software solution can be used for fleet management as well as truck booking.
With AllRide Logistics, trucking businesses can scale their operations in a number of ways, with the help of the following:
a. Shipper app that provides easy access to logistics
b. Driver app that eliminates manual input and enhances communication
c. Dispatch system that provides complete control over trucks, deliveries, goods, drivers, and inventories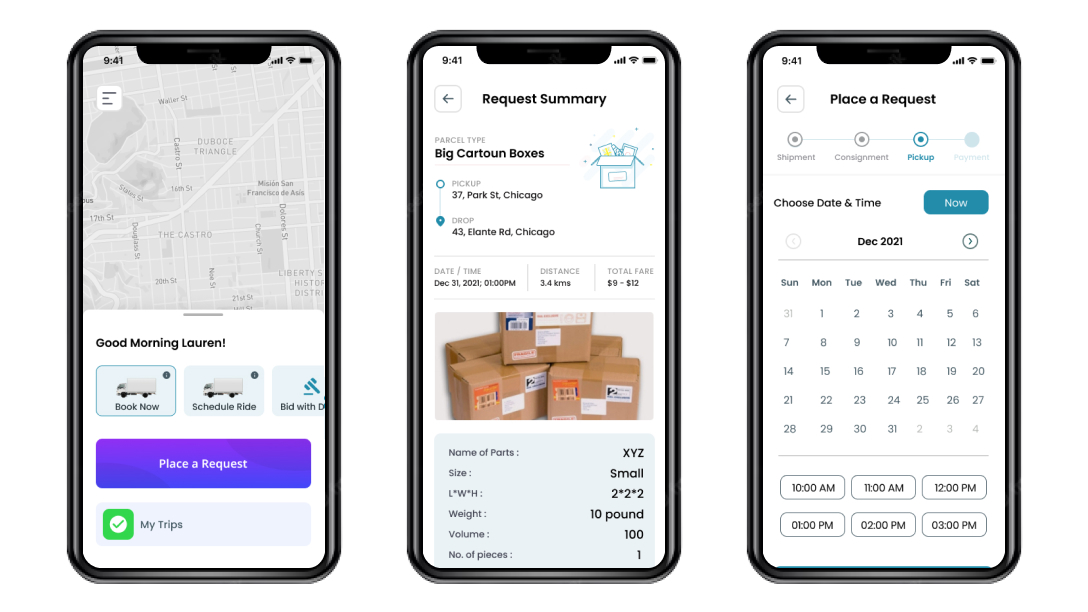 Want to give it a go? Simply book a demo for AllRide Logistics here.
Now, let's delve into other software solutions for truck delivery.
2.
Motive
This one is a technology company that offers software as well as hardware solutions for the trucking industry. Motive's platform comes with various tools for businesses of all sizes, from small to well-established organizations.
Formerly named KeepTruckin, this company also offers fleet management software and electronic logging devices, or ELDs, which allow trucking enterprises to manage processes more efficiently.
3.
McLeod Software
McLeod provides a number of software solutions to logistics and transportation companies. Its suite of software solutions includes fleet scheduling, dispatch, and routing.
In addition, McLeod Software also offers tools that help trucking businesses with business management, documentation management, and fleet management. It currently serves a wide range of industries, including brokerage, 3PL, and, of course, trucking and logistics companies.
4.
Truckstop
Another transportation technology company, Truckstop has software solutions for trucking businesses that allows them to improve efficiencies and streamline processes.
Its suite of software solutions consists of a variety of services and tools, such as transportation management software and truck route scheduling software. Currently, it caters to a varied customer base, which includes carriers, shippers, and brokers.                                                                
5.
FreightPOP
FreightPOP is a company that offers cloud-based software for transportation management. Its software solutions are designed to deal with managing logistical operations, carrier relationships, as well as shipments.   
As a result, FreightPOP allows trucking businesses to analyze logistics data, manage orders, and track shipments, thereby assisting them in making more informed decisions. Moreover, this company caters to a number of industries, which include eCommerce, manufacturing, as well as retail.
6.
LoadDelivered Logistics
LoadDelivered is a tech-enabled logistics firm serving a diverse portfolio of customers. It provides a range of transportation management solutions, including transportation management services, supply chain management solutions, and truck routing and scheduling software.
Furthermore, LoadDelivered Logistics also offers various value-added services, such as tracking systems and reporting, with which trucking companies can boost their operations.
7.
Shipwell
This one is a tech company that offers a shipping platform for transport businesses of varied sizes. Moreover, this platform by Shipwell operates based on cloud. It allows trucking enterprises to easily manage various aspects of their operations, such as scheduling, tracking, as well as carrier management.
In addition, with Shipwell, trucking businesses can ensure carrier compliance, alongside centralizing supply chain data. This results in predictive lane pricing, coupled with insights on performance reports and analyses.
8.
J.B. Hunt Transport Services, Inc.
A logistics and transportation company, J.B Hunt provides a range of services to organizations, such as truckload shipping, scheduling, and management. This company also extends software solutions for freight brokerage, last-mile delivery services, as well as supply chain management.
J.B. Hunt's suite of solutions are aimed to eliminate operational inefficiencies, with the help of an integrated platform for various transportation processes. At present, it offers a number of solutions for carriers as well as shipments.
9.
Uber Freight
Uber Freight operates as a market for digital freight that connects carriers and shippers. It extends a web-based platform and a smartphone application, which help organizations with booking, shipment planning, and execution.
Additionally, its platform also provides assistance with performance tracking of trucking delivery services and settlement. Therefore, Uber Freight allows carriers and shippers to take complete control of their delivery processes and achieve their goals.
10. Convoy
Convoy is a trucking company that is technology-based and offers services to truck drivers, shippers, and carriers. It functions as a digital network of freight, which connects carriers with shippers. As a result, it allows businesses to book as well as track their shipments in real time.
Convoy's platform also comes with a range of tools that aim to optimize and manage supply chain operations. By leveraging tech, this platform makes deliveries more efficient while also reducing costs. 
Streamline your operations with a software for truck scheduling
In recent years, the trucking industry has been growing steadily as a result of increased economic demands. And this growth shows no signs of slowing down in the near future.

Therefore, it is imperative for businesses to leverage this growth and scale operations by using tools like truck delivery scheduling software. A software can streamline a trucking business, achieve digital transformation, improve delivery processes, enhance service quality, and cut costs.