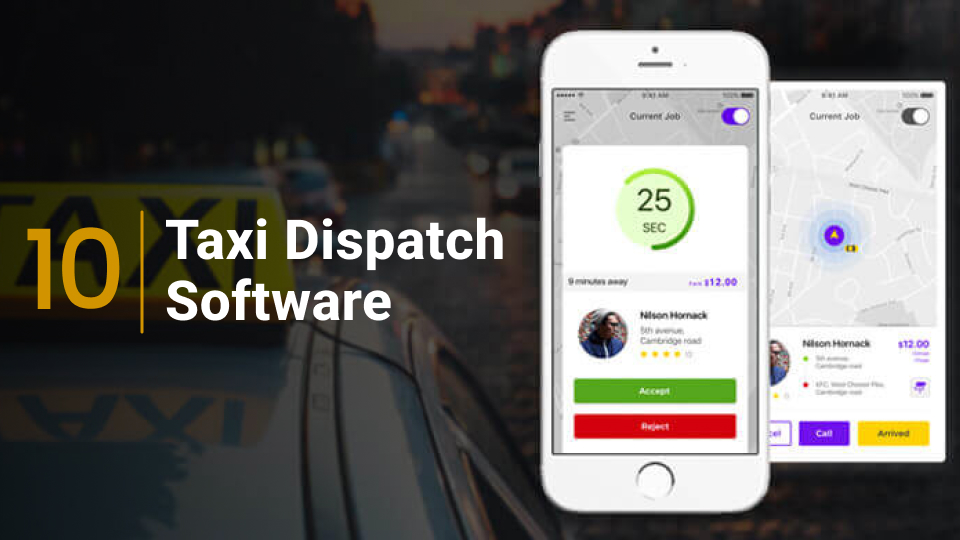 Top 10 Taxi Dispatch Software
Today, there are nearly 6.6 billion smartphone users across the globe. This number is expected to only increase in the future, with people integrating tech in their day-to-day activities, including commute. And to facilitate easy commuting, it is imperative for service providers to leverage a taxi dispatch software solution.
However, there are a number of taxi dispatch solutions available in the market. Therefore, choosing one that suits your needs can be quite a task. This blog delves into the best software solutions for taxi dispatch, so you can take a pick easily.
What is taxi or cab dispatch software?
A taxi cab dispatch software provides the much-needed functionality required to operate an optimized fleet, enhance services, and increase revenues. A dispatch feature lies at the core of this system, which ensures that riders can be picked up and delivered faster, using GPS tracking and route optimization.
With such a software solution, cab companies can effectively manage customer and driver requests as well as dispatchers and users in a software program. Moreover, the software solution enables price setting, automates payment processing, and provides detailed analytics. 
Optimize your services with a cab dispatch software
The best taxi dispatch software provides assistance in a myriad ways. Some of the key benefits of using such a software solution are as follows: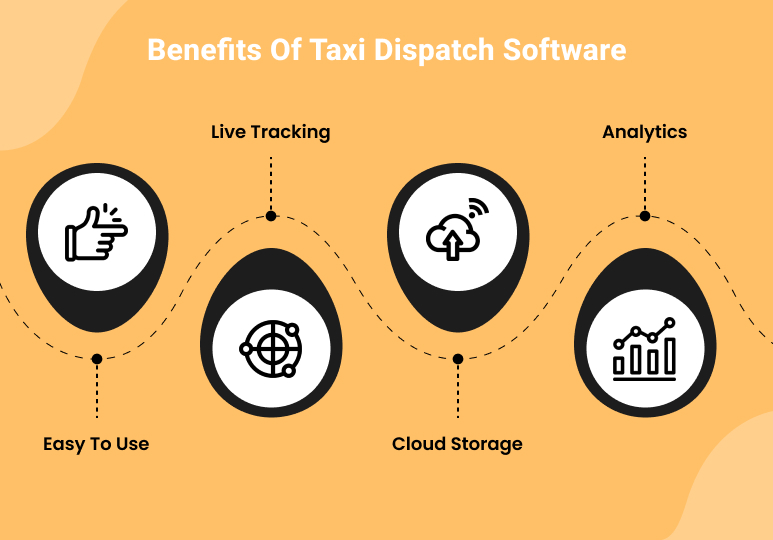 A. Ease of use
The software optimizes scheduling and eliminates needless paperwork. It assigns the nearest available cab driver in a specific location and records the information in the app digitally, thereby saving time for both the driver and the dispatch staff.
B. Real-time tracking
 A cab booking software solution provides accurate GPS location, so you can maximize trips in an area. This feature allows you to not only track your fleet properly but also expand the business into multi-location cab services.
C. Cloud-based storage
Most cab dispatch software solutions are cloud-based. This means that your data is not stored in a single device, but on servers, and they can be easily accessed on the go.
D. Analytics
A software solution offers numerous data, such as passengers carried, peak times, miles traveled, harsh driving, and so on. The data will help you optimize performance and make sound business decisions.
 Best cab dispatch software solutions
In today's cutthroat competition, it is imperative for businesses to leverage smart software solutions to not only stay afloat but also grow. And AllRide Cab acknowledges this necessity.
Therefore, it provides an innovative taxi dispatch software that is driven by artificial intelligence (AI). Moreover, it aims to get cab businesses up and running without incurring huge costs.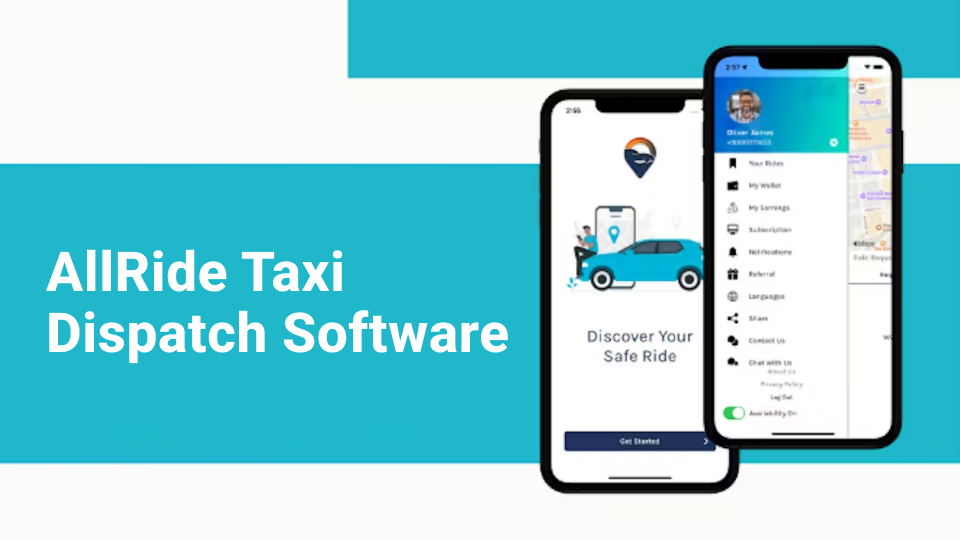 The AllRide Cab software solution comes with a wide range of features, including:
a. One-tap booking and ride-scheduling services
b. Digital fare bidding
c. Real-time tracking capabilities
d. Automated driver and fleet management
e. Convenient and cost-effective ride sharing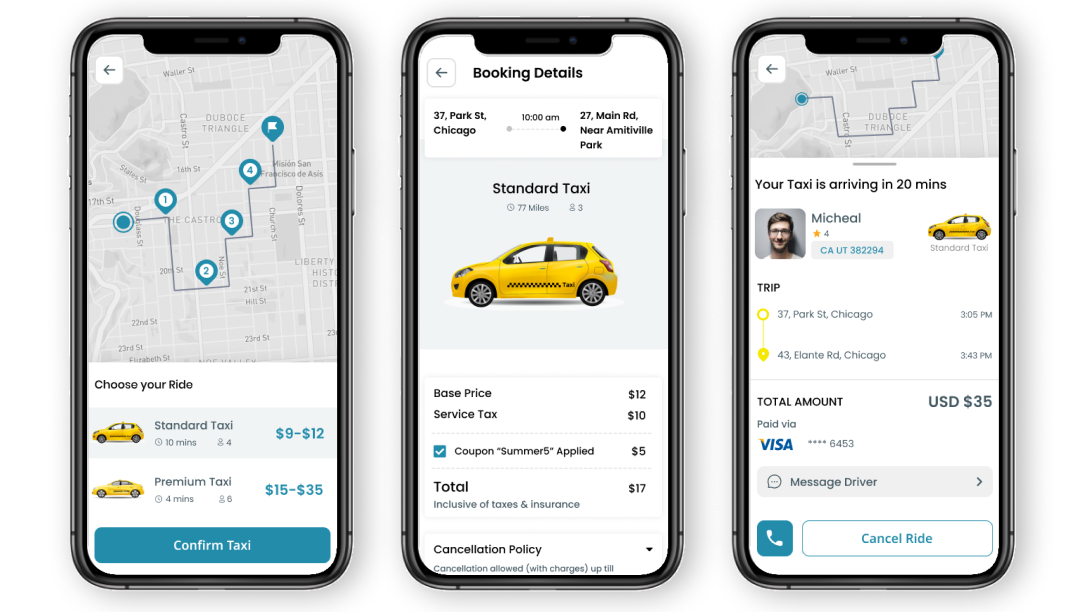 Want to give it a shot? Simply book a demo for AllRide Cab here.
2.
Cab Hound
A cloud-based dispatch software, Cab Hound specializes in offering taxi booking and dispatch management solutions. It also extends its suite of software solutions to transportation businesses of all sizes.
Its platform allows commuters to book their rides by way of a smartphone application or website. Alternatively, commuters can also book a ride via a phone call. In addition, dispatchers can use the platform to easily monitor and manage vehicle and driver activity in real time.
3.
ClearDestination
ClearDestination operates as a logistics software company. It offers end-to-end solutions for businesses dealing with logistics and transportation. Its platform is cloud-based, which offers a variety of features to simplify operations.
Moreover, ClearDestination serves a number of industries, such as automotive, retail, as well as manufacturing. Its software is carefully designed to increase efficiencies, enhance services, and cut down costs.
4.
MTData
MTData is another technology company specializing in offering smart fleet management solutions. The platform is operational for a variety of industries as well. Therefore, whether a business functions in field services, transportation, or logistics, MTData can prove to be resourceful.
In addition, this company's platform comes with features that help taxi companies to reduce costs, optimize fleet management, and improve customer service.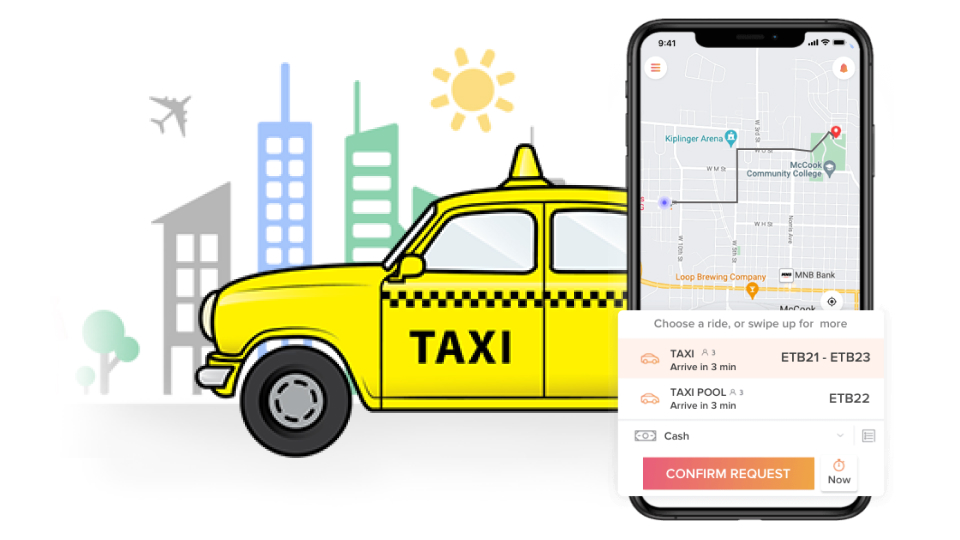 5.
Cabconnect
Cabconnect is a mobility management company that extends a range of services to organizations and businesses. This range of services include fleet management, shuttle services, as well as transportation logistics.
Furthermore, Cabconnect specializes in offering customizable solutions for enterprises in various industries, namely, education, healthcare, and government. Its platform optimizes operations and improves efficiency, as well as provides reliable services to passengers.
6.
Trapeze Group
A software company, Trapeze Group offers solutions for public transportation. The company serves customers across the globe and is known for its smart mobility solutions.
Its software solution is designed in a way so as to allow the improvement of operational efficiencies for transit agencies. Moreover, it also enables reduced costs and superior rider satisfaction.
7.
CMT Software Suite
This one is a software solution for fleet management with which businesses can manage their taxi fleet and optimize operations. CMT Software Suite also allows businesses to make well-informed decisions as it offers customized analytics and reports.
With CMT Software Suite, you can also gain a clearer understanding of your fleet performance, while pinpointing the various areas of improvement. Its software solution is user-friendly and accessible from different sorts of devices.
8.
Taxi Caller
Taxi Caller provides a cloud-based solution so that cab businesses can operate without expensive hardware or licenses. It allows riders to book their taxi from various channels, namely, a website, smartphone application, or corporate reception tool.
Furthermore, Taxi Caller's software solution gives an overview of your fleet operations, with complete statistics and reports. As a result, you can gain insights into your taxi fleets and make critical decisions accordingly.
9.    Onde
This one is a software solution for all on-demand services, including ride-hailing and taxi services. Onde provides a user-friendly platform for transportation businesses for different sizes. Its easy-to-use app also allows commuters to rate their ride, such that they avail of superior services.
10. SmartCar
A tech and service platform, SmartCar enables ride-sharing, taxi, and shuttle services all across the globe. It also serves enterprises of all sizes, from small startups to large organizations.
Additionally, SmartCar's platform allows commuters to streamline their cab-booking processes. This software solution also enables operators to manage their fleet more effectively.
Manage your fleet more efficiently with a cab dispatch software
Today, taxis are one of the preferred modes of transportation for commuters, which offers endless opportunities to entrepreneurs. However, a taxi business is only as good as its taxi dispatch software, and this software is a key component of on-demand cab services.
A taxi dispatch system is designed to simplify cab-booking for customers and management of data for business owners. It provides real-time data reports so that you can map every operation and enhance the end-user experience.