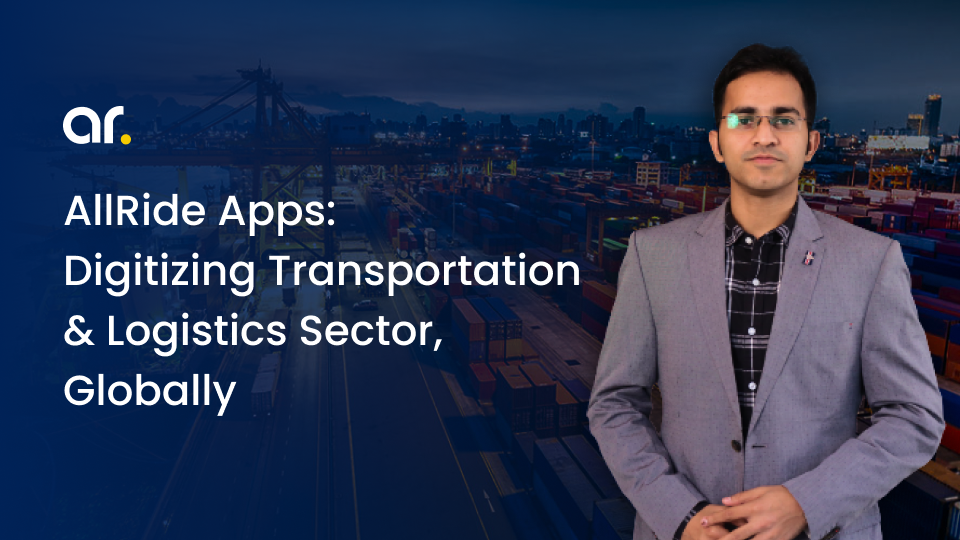 Interview with Swarnendu De (Founder & CEO)
"Our goal is to position AllRide Apps as a premier internationally recognized transportation management software, enabling more and more companies across the globe to seamlessly manage transportation, logistics, and delivery operations and enhancing their process efficiency and profitability with our ingenious features, user-friendly design, high customizability, and amazing functionality," Swarnendu quotes.
Swarnendu De, the Founder and CEO of AllRide Apps, shares in his interview with GoodFirms how they created this best-in-class software to meet the in-depth logistics and transportation management needs of various industries and businesses with its cover-all feature set, reliable customer support, and flexible yet reasonable pricing.
Headquartered in the USA, AllRide Apps is a software-as-a-service (SaaS)-based, versatile transportation and logistics management solution designed to streamline and control the comprehensive transport and delivery operations for SMBs and large enterprises. The software is the brainchild of Innofied Solution, a leading product engineering and digital transformation company. AllRide Apps primarily caters to a broad range of transport and delivery businesses, including cab rental, bus booking, truck booking, micro-mobility solutions, food, grocery, courier, retail, eCommerce, and many more.
What AllRide Offers?
AllRide Apps enables wide-ranging features for logistics, transportation management, delivery management, car rental management, fleet maintenance & management, and trucking management tools. The software's logistics features include barcoding/RFID, customer management, dashboard, inventory management, invoice management, order management, rate management, shipping management, supplier management, tracking, and warehouse management. Besides, transportation management features broadly include billing & invoicing, carrier management, customer management, dispatch management, freight management, load management, maintenance management, order management, quotes/estimates, routing & planning, shipment management, tracking, and visibility tools.
AllRide Apps also offers extensive delivery management features, including a customer portal, dispatch management for courier services, multiple payment options, real-time tracking, route planning, scheduling, training management, and alerts/notifications.
The company allows a customizable, budget-friendly pricing model for AllRide Apps to match the diverse needs of businesses. They provide separate packages and plans for logistics, cabs, buses, and e-bikes. The software allows license-based customized & enterprise solutions and subscription-based solutions. The license-based solutions are developed upon a base solution with all the core features, and the company additionally offers customizations according to the client's specific requirements. Thus, AllRide Apps furnishes a cost-effective approach to startups and emerging businesses, allowing them to start lean and expand the solution gradually as their budget permits.
GoodFirms interviewed and discussed the detailed offerings of AllRide Apps directly with Swarnendu De, Founder, and CEO of Innofied Solution Pvt. Ltd., to learn more about the software.
Versatile Transportation Management Software
Initiating the interview, Swarnendu describes AllRide Apps as a subsidiary of Innofied that develops smart applications for transport and delivery businesses to help them maximize operational efficiency with an optimal amount of automation and AI-based predictive analysis and forecasting. Swarnendu adds that AllRide products come packed with features like managing shipments, real-time tracking, route optimization, demand forecasting, predictive maintenance of vehicles, and many more helpful tools for transportation and logistics businesses.
On being asked what motivated the company to create AllRide Apps, Swarnendu elaborated that they did enormous research about the type of systems transport and delivery businesses use and found that they either managed everything manually or used internal systems, which are often too rigid. Thus, they realized companies needed tools to leverage the advanced and intelligent connected technology to use the data better, get accurate predictions, generate more demand, improve internal communication, reduce manual work, and provide a superior customer experience.
Swarnendu further elucidates that they discovered a massive gap in transport and delivery businesses and the inability to use technology in their favor, specifically smart technologies. So, the company felt the need to create a connected system that could provide innovative technology (data of ride, car, driver, map) to most transport and logistics businesses, saving time and cost. It motivated the company to build AllRide Apps, an all-inclusive software that helps transport and delivery businesses maximize operational efficiency with automation and AI-based predictive analytics and forecasting.
Distinctive Features 
Talking about the unique offerings of AllRide Apps, Swarnendu reveals that the AllRide Apps software-as-a-service (SaaS) solution focuses heavily on automation and leverages numerous integrations to bring several advanced AI-powered features to the market. Swarnendu adds that the company has customized solutions for cabs, buses, e-bikes, logistics, and delivery industries developed using high-performing, AI-driven, innovative technology; for instance, the company's demand forecasting solution predicts demand surges using data from multiple touchpoints enabling businesses to stay ahead of market trends with actionable insights.
Swarnendu further explains that AllRide Apps makes vehicle maintenance cheaper and more accessible through predictive analytics and AI-based inspection. Besides, the software offers customized solutions that provide fleet managers with complete and quick visibility into business operations with advanced analytics.
According to Swarnendu, another significant value addition AllRide Apps brings is the system that offers the correct blend of AI and smart automation to help businesses take full advantage of technology.
Customer Satisfaction and Retention
Discussing customer satisfaction, Swarnendu reveals that, as per online reviews, the customer satisfaction rate for AllRide Apps is more than 95%. He further explains that the company implements several stages of continued development to meet the needs of all customers, following a transparent, detailed, and efficient customer management system through dedicated customer support managers.
Swarnendu highlights that the company aims to foster a friendly environment where the customers feel comfortable expressing themselves and help them create successful projects. This customer-centric approach has enabled AllRide Apps to achieve a high customer retention ratio of over 70%.
Dedicated Customer Support
Swarnendu further articulates that the company provides reliable customer support to help users leverage AllRide Apps better and get the most out of the software. They offer multiple support mechanisms, including email, help-desk, FAQs, forums, knowledge base, phone support, and chat support.
Swarnendu also details that the company offers its clients a real-time onboarding experience for AllRide Apps. Furthermore, the company provides customers with in-person training, including live/online demos, webinars, documentation, videos, and in-depth documentation on using the software.
AllRide Apps – The Best Transportation Management Software
"Over the last year, we have focused on bringing automation to AllRide Apps, further improving our clients' businesses' operational efficiency and profitability. We are aware of the growing impact of artificial intelligence and machine learning and are constantly looking for ways to make the most out of it," says Swarnendu.
The AllRide Apps transportation management software is emerging as a market leader and top choice for businesses looking for broad-spectrum logistics and transportation management tools. GoodFirms researchers have endorsed AllRide Apps as one of the best logistics and transportation management software for its easy-to-use interface, broad functionality, extensive features, diligent customer support, and value-based customizable pricing.
To learn more about the offerings of the AllRide Apps logistics and transport management system, one can also go through the detailed interview published at GoodFirms.
About GoodFirms
GoodFirms is a Washington, DC-based research and review platform for software and services. GoodFirms empowers companies to choose the best software from its curated list of industry-leading software in various categories to enhance profits and grow beyond imagination. It performs extensive research and analysis to evaluate and rank the listed software on critical parameters like features, uniqueness, ratings, and verified user reviews. This diligently curated ranking highlights the top performers for every software category and boosts the buying credibility of the software.
About the Author
Lisa Brian is presently working as a Content Writer with GoodFirms, a Washington-based B2B research company well-known for its research methodology and listings of 60k+ software and services. Lisa's current role revolves around gathering information and crafting it in a meaningful form that businesses can leverage. She helps companies communicate their vision and mission through digital platforms. Lisa believes in developing a symbiotic business relationship where companies mutually support each other and grow together.