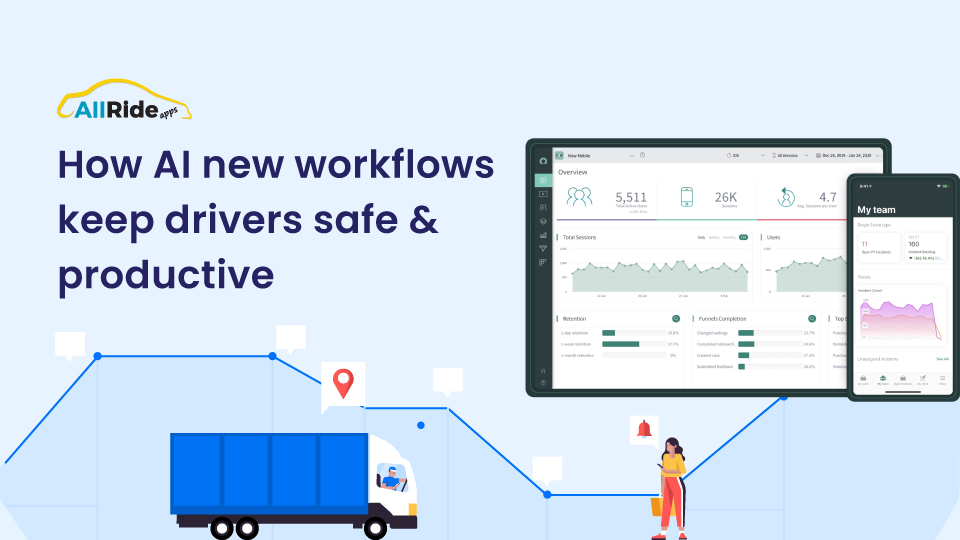 Keeping Drivers Productive- AI-Powered Fleet Management Software To The Rescue
One term that has recently acquired 'buzzword' status and is doing the rounds of boardrooms & corporate corridors is Artificial Intelligence or AI, as it is called in common parlance. Artificial Intelligence, or AI, is the capacity of a computer or machine to replicate or mimic human intelligent behavior and perform human-like activities. Another term AI is often confused with is Machine Learning (ML) which is the subset of AI that has the capability to automatically learn from data without specifically being programmed or helped by domain expertise. A small caveat here, before we accord AI God-like status it is important to understand that while it can execute tasks very well, they are yet to acquire the ability to conduct human interactions at a truly emotional level. Let us now turn to the main subject of our discussion, viz. How AI-Powered Fleet Management Software impacts driver safety and productivity- our next section.
How Will The Benefits of Artificial Intelligence (AI) Improve Driving?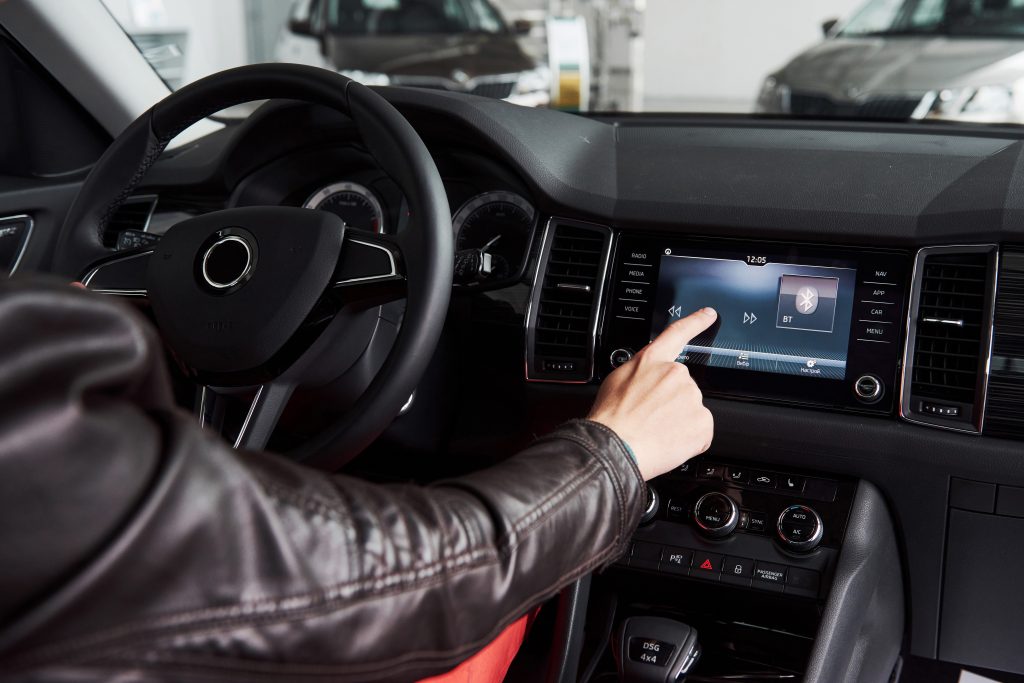 Let us start by playing Nostradamus. By 2030, it is estimated that road accidents will be the fifth-largest mortality cause in the US. The real tragedy is that an overwhelming percentage of those, almost 87%, are preventable and avoidable. Keeping The Roads Safe And Protecting Drivers With AI. Driving, especially on highways and autobahns, is extremely dangerous. Sleep-deprived, exhausted, and distracted drivers, more so, those at the wheels of trailers or semi-trucks, are veritable live bombs waiting to explode!
AI-Powered Fleet Management Software has emerged as a messiah for this disaster-prone industry vertical. We will now embark on a tour of various current AI-powered innovations centering around safety and productivity in the mobility sector.
Dashcam- It's Got Eyes On You
KeepTruckin, an AI-Powered Fleet Management Software company based in San Francisco, has launched a new AI dashcam that runs on an edge AI processor and uses state-of-the-art computer vision algorithms. This dashcam, using a wide-view HD camera can, by scanning drivers' head positions, instantly detect unsafe driving indications such as driver fatigue, cell phone usage while driving, seat belt use/unuse in real-time and alert both the driver and fleet safety departments.
It impacts financial productivity as well. In the face of insurance premiums going sharply north, insurance companies are dishing out discounts for those companies and drivers deploying this technology—thus allowing it to pay for itself in the initial year itself.

5G- The Next-Gen Of Telecom
2019 saw the initial deployment of 5G networks in North America, Europe, Asia, and Australia. 5G is poised to positively impact road maintenance, leveraging the advances in video and radar data. Connected vehicles equipped with dash cams with crowdsourced footage will promptly alert road maintenance personnel to life-threatening hazards on the road. The authorities will also be able to prioritize jobs and act smarter and swifter.
5G & Self-Driving Vehicles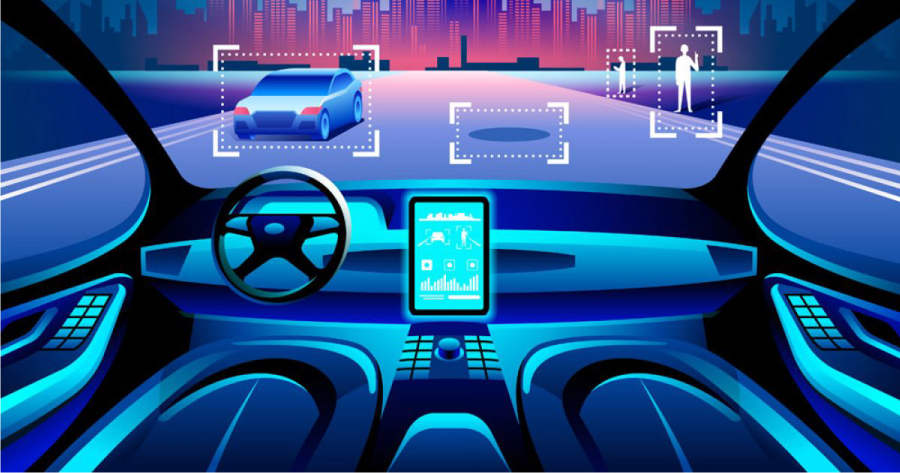 Almost a case of life imitating art is the advent of autonomous vehicles with the promise of minimizing human errors (responsible for 94% of road accidents in the US). Such vehicles have onboard computers and utilize cameras and radar sensors to output a 3D scan (some even use LIDAR) of the proximal areas. Autonomous vehicles require super-fast data speeds to activate the reflexes needed to dodge hazards. 5G and artificial intelligence combine to provide just that, giving these vehicles an accurate road- view, amping functionality, and road safety. 
5G & AI Combine In The Smartphone Of The Future!
AI is heralding a new era for smartphones. Apps like Google/Apple Maps and virtual assistants like Google Assistant, Cortana, and Siri are already using AI. With the advent of new-age processors like Apple's A11 Bionic & Huawei's Kirin 970, and using 5G networks, the smartphones in the immediately foreseeable future will have embedded AI. This will enable enhanced security & battery life, optimized software settings, and visual discrimination.
5G, AI, Telematics, and Driving Safety
Mobile apps with fleet management software and running telematics in the background, empower drivers with the latest technologies in driver safety, AI, and 5G all combined in a single device. Thus, information-on-demand regarding fuel consumption, vehicle location/speed, and driver behavior is enabled. Voice commands ensure hands-free internet searches, petrol pump spotting, and communication.
The ace in the pack is Telematics, let us proceed to demystify it, and it's working.
Telematics- Powering Drivers' Safety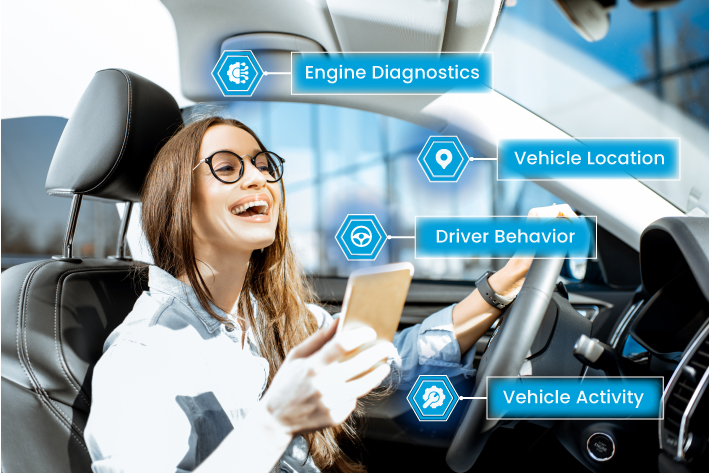 Telematics = Tele (remote communication) + informatics (information processing). Telematics is the technology used to regulate a range of information regarding a single vehicle or an entire fleet by capturing data on vehicle location, driver behavior, engine diagnostics, and vehicle activity. The data is then visualized on AI-powered fleet management software platforms. 
Fleet telematics captures data using GPS technology, sensors, and engine diagnostics to service fleet operators with decision-critical information. Telematics devices (hardwired into the vehicle and connected to other in-cab driver interfaces offer a wider range of connectivity to peripheral devices) gather the following data points: 
Vehicle location/speed/diagnostics (EPM, MPG, odometer)

Geographical criticalities (Geofencing)

Vehicle incidents (harsh braking, acceleration, and cornering)

Vehicle status (customizable)/remote inspection reports

Job dispatch and messaging including panic alerts

 Electrical or sensor activity (via PTO)

Dashboard camera

footage
These devices empower drivers to get jobs, record proof of delivery/ pre-trip inspections, and receive real-time feedback on their driving performance. Telematics is also a critical component in the Internet of Things that Move (IoTtM); specifically, in mobility. The data generated enables efficient routing/scheduling, location tracking, driver/equipment operator monitoring, and regulating engine/driver hours, thus ensuring optimal resource utilization.
Benefits Of The Data Generated By The 5g-AI-Telematics Combo

Reduced fuel costs
Through direct route planning, reduction in job-site bottlenecks/engine idling,  and detection of unauthorized vehicle/equipment use 
Improved driver safety
Location tracking allows sending prompt emergency aid, improves driver behavior, alerts drivers regarding dangerous conduct, and helps to develop individual driver training, development, and upskilling programs.
Cost-effective fleet maintenance
Through early notice of mechanical faults with vehicles and equipment,  enabling timely preventive maintenance and reducing unproductive downtime
Better communication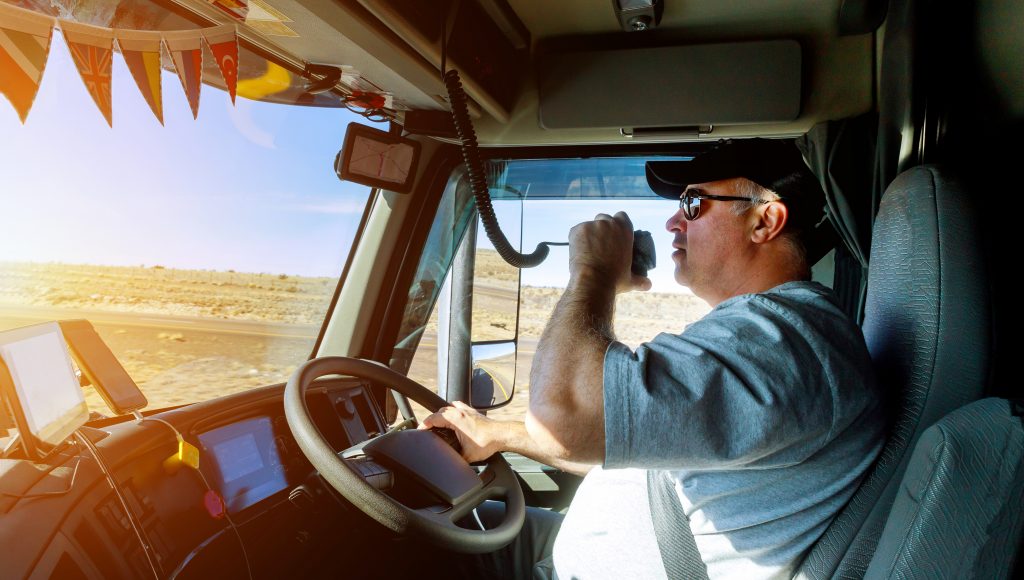 Through automated communication processes, a major reduction in operators and drivers checking/reporting, faster managerial access to important data, enabling focus on value addition
Enhanced fleet safety
Through regulating driver/operator behavior, vehicle/equipment performance, swifter detection and redressal of unsafe practices, and location tracking enabling prompt  emergency assistance directed straight to the site
Improved service
Through location tracking, dispatchers make real-time routing adjustments responding to changes in the traffic, vehicle availability, and weather conditions- ensuring optimal deliveries. Intimation of  their delivery's estimated time of arrival increases customer satisfaction
Reduced admin costs
Through electronic logging and automated mileage/expense reports simplification of compliance,  administration, and supporting the International Fuel Tax Agreement.
How To Ensure Driver Safety With AI-Powered Fleet Management Software
How AI Is transforming fleet safety, and more so, drivers' safety is a much-discussed and followed subject in most mobility companies. Zeroing in upon the right fleet management software application is mission-critical for your fleet to visibly improve driver behavior and significantly reduce losses from collisions. The broad question is can AI software for Driver and Fleet Safety turn your entire driver's team into experts? Three basic secondary questions are pictorially represented here, and the technical requirements are discussed in some detail thereafter. 

Technology requirements 
Multi-task convolutional neural networks (CNN) and multi-sensor data fusion


With on-the-job training and 1:1 coaching becoming increasingly unfeasible, fleet management software will need AI capable of identifying

collision risks

and intervening in

driver behavior

that a trainer can recognize and act upon.

‍
‍
Continuous learning CNN models


Just like the human eye and brain, the AI Software for Driver and Fleet Safety will be able to factor in the varying conditions iff it is constantly trained using fresh

real-world

driving data.‍




‍

Edge-to-cloud software architecture  
This arrangement works only if AI is deployed end-to-end from the edge (in the vehicle) to the cloud to help drivers at crunch times. Developments in IoT via edge computing and high-speed cellular networks make it possible to prevent and avoid collisions

Evolution of Neural Networks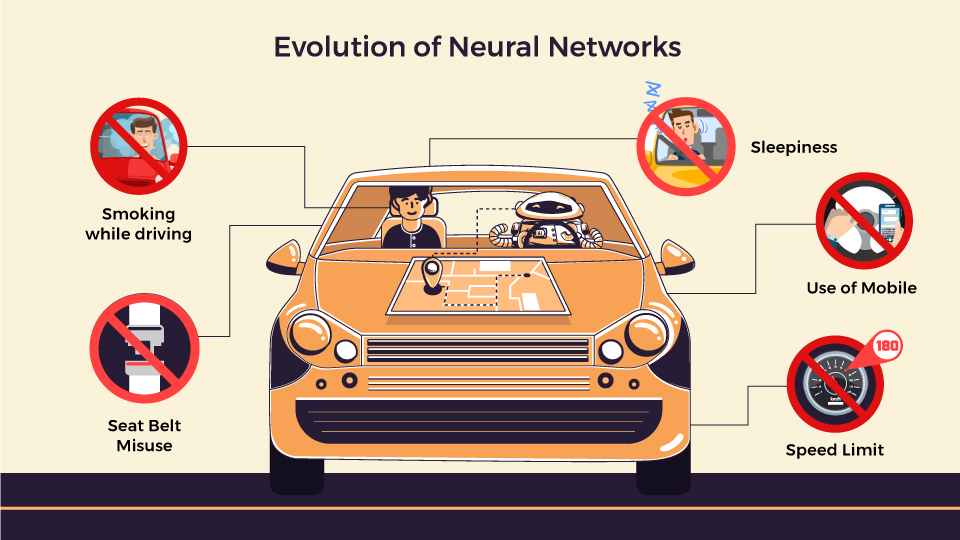 Deep Learning Neural Network 
The basic building block for a robust AI software for driver and fleet safety is to construct a deep learning neural network,  a set of algorithms capable of recognizing patterns using multiple inputs like high-risk driver behavior, traffic elements, dangerous vehicle maneuvers, and real-world transportation data, swiftly and accurately in an automated, efficient manner. This requires significant investments in time, high-quality video, and expert knowledge. 
Multi-Tasked Convolutional Neural Networks (CNN)
The next level of advancement in Neural Networks is Multi-tasked convolutional neural networks (CNN). Such networks enable the Fleet safety management software deployed within the vehicle and the cloud to analyze a video image to figure out what is happening within the cabin, the road ahead, and to the vehicle. This enables it to detect no-nos like inattentive driving/sleepiness, use of mobile while driving, smoking, seat belt misuse, etc. And hence deduce the extent of risk.
Multi-Sensor Data Fusion CNN
The next obvious evolution is to move to a CNN model with the ability to process images from multiple sensors parallelly. Such models are able to process the sensorial inputs to arrive at a more complete risk assessment that is better, faster, and more accurate. 
Training CNN Models
For accurate, robust pattern recognition in AI-based fleet management software, the CNN models must be trained with diverse, real-world data to facilitate continuous learning and improvement. The data includes physical driver attributes, cabin dimensions, time/light/weather conditions, road types, etc.
Edge-to-Cloud Software Implementation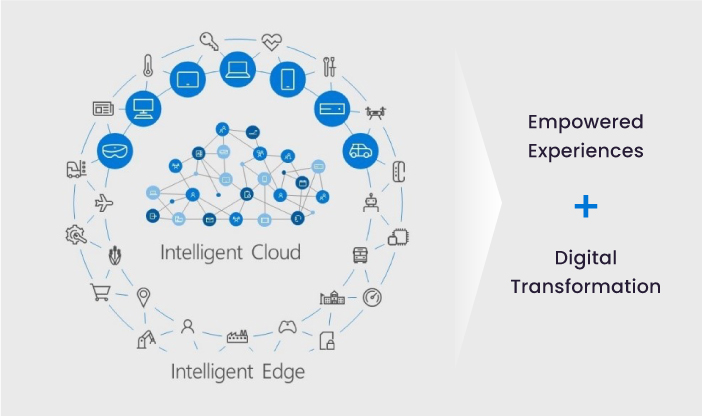 To make optimal use of hardware, AI-based fleet management software needs to be deployed across both the edge and the cloud to leverage the best from both. ‍From within the cloud, every new and existing CNN model input and output is rested & refined to achieve acceptable levels of accuracy. Only then they are deployed over the air to control driver behavior on the edge (in-vehicle), in real-time. 
New Workflows for Driver Safety and Productivity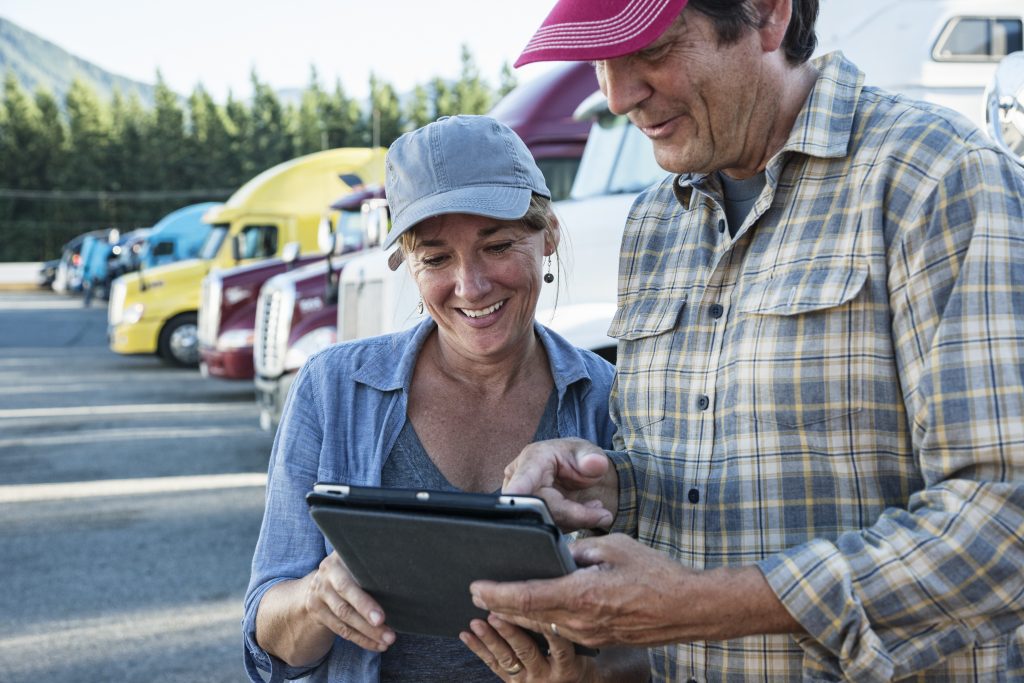 Organizations today are grappling with enhanced haulage demands and a paucity of drivers to deliver them. These challenges have spawned the emergence of digital workflows (Samsara Announces New Workflows for Driver Safety and Productivity)  in driver monitoring apps powered by AI to streamline daily tasks and build a safer and more productive driving experience. These workflows include:
These assist the drivers to complete their routine of daily tasks in the correct sequence prior to calling it a day. Be it certifying logs or filling a custom health form, the Driver App automatically hand-holds the drivers through each step. 
Linked third-party tasks:
 These enable drivers to access multiple apps in a single workflow. Thus, by combining tasks, there emerges a win-win situation- the customers better the drivers' experience and eschew wasting valuable time on multiple apps.
These make possible customized workflows tailored to the needs of individual drivers. With operations straddling multiple states, lanes, and vehicle types, customers can provide bespoke guidance for different roles, helping their employees to give their best.
Thus we have seen how using neural networks and digital workflows, AI-driven fleet management data analysis, is transforming fleet safety irreversibly. Let us now project ourselves into the future. 
Driving Into The Future With ITS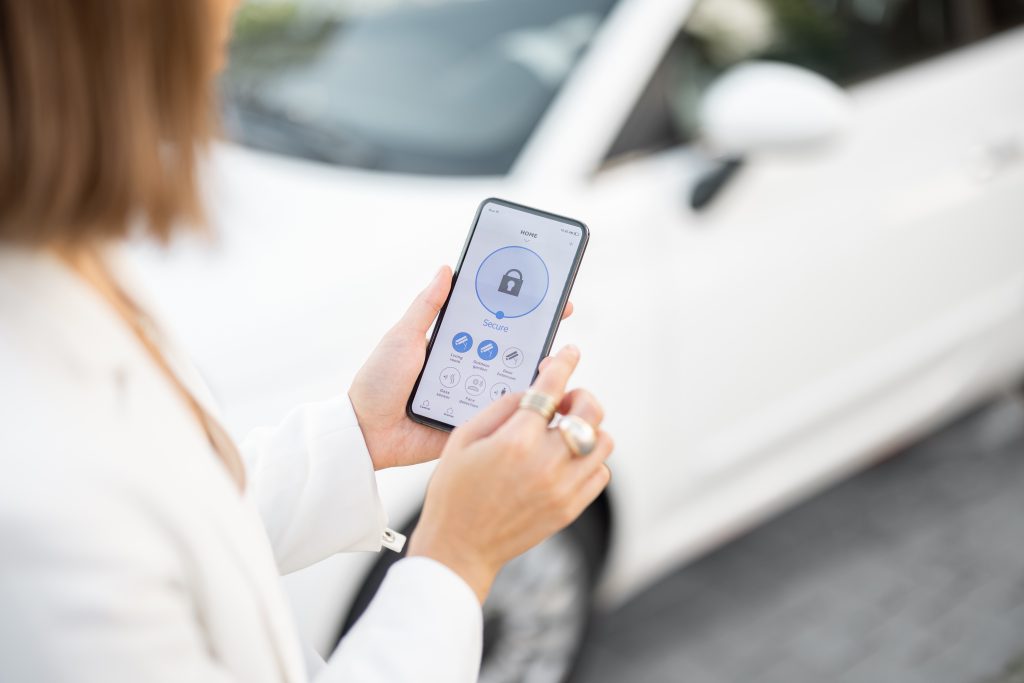 Though certainly not futuristic but certainly of recent vintage, intelligent transportation
Systems (ITS) have combined a broad range of AI-based technologies and fleet management software into both the transportation infrastructure and the vehicles themselves. As new concepts, methods, tools, and devices evolve in communication, information, automation, and electronics, ITS will emerge as an increasingly significant platform for AI development. Let us delve into the future of safe driving with ITS, previewing concepts of interest.
Intelligent Cars
Cars will progress to being more than just computers on wheels.  In the near future, vehicle environment sensing will become standard, enabling intelligent driver/passenger assistance for driving safety, efficiency, and comfort. Emerging technologies include remotely controllable, locally activated messaging systems, RFID-type roadside sensors, and embedded barcode-like road markings. We might even progress to applied cognition, advanced message displays, user interface design, and estimating drivers' physical and mental states, further ensuring safety. 
Intelligent Cars in Intelligent Spaces
Intelligent spaces are environments that can track actions within them, communicate with their inhabitants & proximal areas, and act on the basis of decisions they make. Future cars will be intelligent, commuting in such spaces. Traffic control at intersections by cooperative driving technologies executed over ad hoc networks, not traffic lights, will ensure safe roads with near-zero accidents. 
Intelligent Agent-based Traffic Control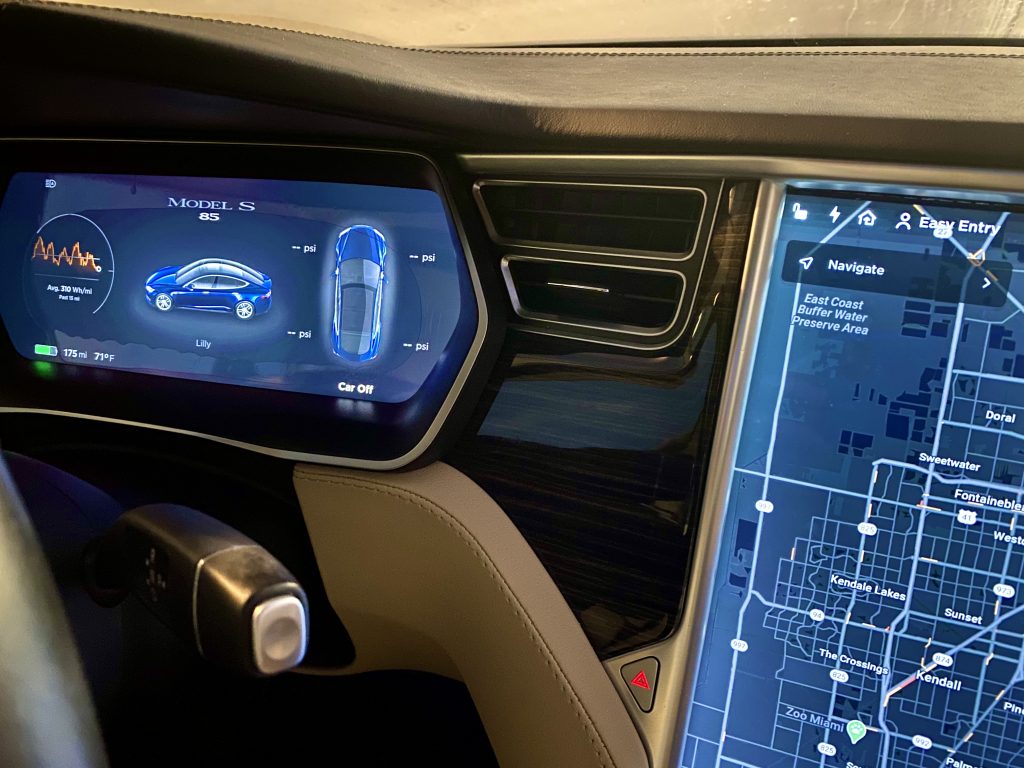 In the future, autonomous agents will oversee traffic control centers, roundabouts, and all roads, vehicles, and buildings. Using the Internet, wireless, and ad hoc networks will collect on-time, relevant data, and make smart decisions. This will create a productive, safe, and flexible way to control traffic and transportation systems in connected environments. Distributed AI methodologies will be instrumental in powering such efforts.
Intelligent Juxtaposition of Real and Artificial Transportation Systems (ATS)
The ATS concept is ideally suited to solving complex transportation problems when testing and validating versus real systems is either prohibitively expensive or legally untenable. It is basically an integrated transportation model incorporating analytical descriptions of traffic flow models, rule-based human/vehicle behaviors, and man-made & natural events. A transportation operation center could run real and artificial systems simultaneously, which would play a crucial role in future ITS research. 
Sourcing an AI-Powered Fleet Management System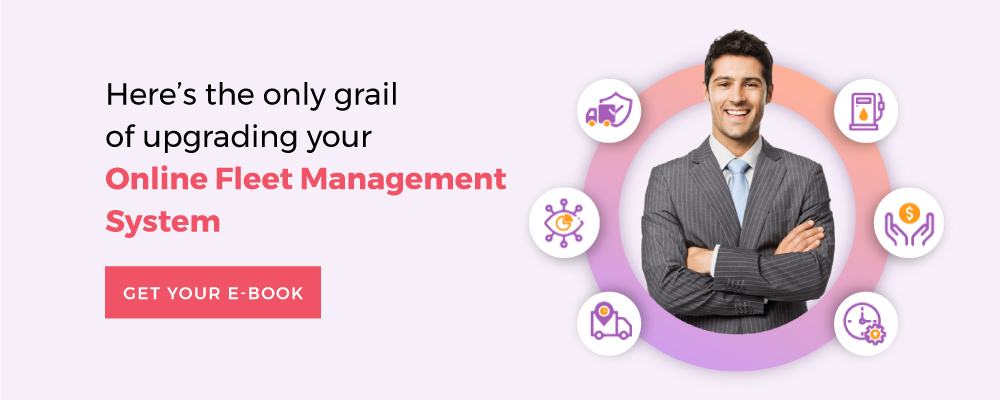 All the above underlines the fact that in order to achieve pole position in the mobility business and to deliver safe and productive driving, an AI-powered fleet management system is a must. A team that has been at the forefront of the development of AI-powered, smart, fleet management software with vehicle tracking is the one at AllRide Logistics.
Their range of Next Generation Fleet Management Solutions With Intelligent Analytics enables
businesses in the on-demand logistics and transportation space to acquire a distinct competitive edge. AllRide's feature-packed suite of products including a driver mobile app and a management admin app will improve your performance, ensuring compliance with government regulations, while reducing operational costs.
So, your wait for the ideal development partner to equip you with AI Software for Driver and Fleet Safety is over, and look forward to a secure and productive work environment.