Trusted By 1,000+ Businesses
AI-Powered Smart Ambulance Booking Software
People in medical distress want helpful, convenient, and instant solutions to emergencies. Ambulance services often need help to provide the services people expect under challenging circumstances.
AllRide Ambulance Management Software solutions use technology to bridge this gap by leveraging mobile convenience for faster, easier, and instant access to your services. Our robust ambulance dispatch software can make providing emergency services flawless. We do this using AI-driven advanced fleet management and UX strategy, having interaction principles that have worked for more than 70 transport businesses.
GET A FREE QUOTE
Complete EMS Dispatch Software
Embracing digitization for sustainable growth has become easier for your business with Allride Ambulance. Our pre-built end-to-end customizable emergency dispatch software solution can streamline your emergency transportation services, regardless of the size of your fleet and current business model. We accelerate growth by deploying smart tech while preserving the value of your existing investments.
Our advanced EMS dispatch software includes several features to improve efficiency, response time, and effectiveness. Some of the features include:
Real-time GPS tracking & intelligent resource allocation

Priority-based dispatching and automatic vehicle status updates

Intelligent routing and traffic analysis

Mobile applications for crew & integration with hospital systems

Two-way communication & data analytics, and reporting

Integration with a public safety system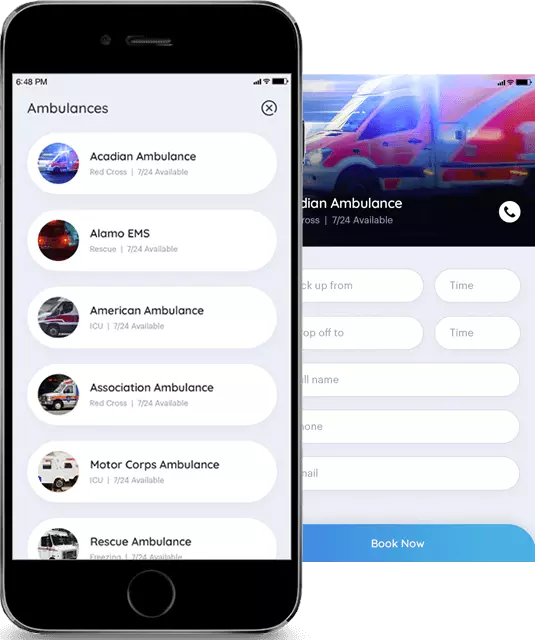 User App
The user app is an integral part of our robust ambulance booking software. Our user app gives your users the flexibility of booking ambulance services in a matter of seconds. The user solution has been tested to ensure zero compromises on stability and overall quality post-launch.
Instant booking
Live GPS tracking
Choose a medical emergency centre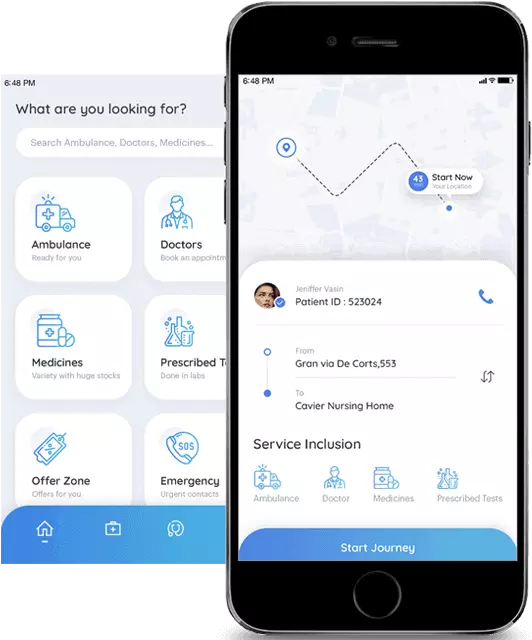 Driver App
Our next-gen ambulance fleet management software lets your drivers reach the patient's location on time and drop off at the destination safely and fast. You can choose from a number of features to best suit your business:
Instant notification on service request
GPS navigation integration
Expected shorter pickup
6 Reasons To Choose AllRide Emergency Fleet Management Solution

Brilliant designs
Not only will your AllRide Ambulance solution be fully tested before it's delivered, but it will also be designed to a very high standard, to reflect the quality of your brand and your clientele.

On-time delivery that does not affect the quality
Just like you want to get your patients to reach their destination fast, we want to get your ambulance software solution to you fast. Our ready-made solutions can be customised to add unique value to your brand, as quick as just 7 days.

Advanced technology that won't stretch your budget
Giving your ambulance booking services advanced digital technology is once in a lifetime investment. And we make sure it pays off, with innovative, AI-driven digital solutions that are affordable. Just ask us for a free quote.

Ongoing support - 30 days free post-delivery
The AllRide Ambulance team always ensures that you get any issues resolved after we deliver your project. Use your product and get in touch with our team for any issues.

Global focus, world-class vision
AllRide Ambulance solution comes with payment gateway integration systems that accept transactions in all international currencies.

Try before you buy
We don't just sell solutions with big claims and expect you to believe us. Which is why we offer FREE trial for our solutions. Get your idea validated by our industry experts and start your trial!
Frequently Asked Questions
What is ambulance dispatch software?
Ambulance dispatch software is designed to assist ambulance service providers in managing their operations. The software allows dispatchers to receive and prioritize calls, dispatch ambulance crews, and track the status of ambulances in real time.
What are the benefits of using ambulance management software?
Ambulance management software streamlines dispatch operations, improves response times and enhances communication between dispatchers and ambulance crews. Additionally, it enables real-time tracking of ambulances and provides data analytics for performance evaluation and improvement.
Can ambulance booking software be integrated with other systems?
Yes. It can be integrated with other systems, such as electronic patient care reporting, hospital patient tracking, and billing systems. Integration with these systems helps streamline operations and provides a complete picture of patient care and resource utilization.
Is EMS dispatch software customizable to our specific needs?
Our EMS dispatch software solutions offer customization options to meet the specific needs of different organizations. Customization may include adapting workflows, configuring forms and data fields, defining dispatch rules, and tailoring reporting templates. It is essential to discuss customization possibilities with the software provider to ensure alignment with your requirements.
How secure is emergency dispatch software in terms of data protection?
Data security is a critical aspect of emergency dispatch software. We employ robust security measures, such as encryption, user access controls, audit logs, and compliance with data protection regulations (e.g., GDPR). Cloud-based solutions often utilize secure servers and regular backups to ensure data integrity and availability.
I run a small business. Will AllRide Ambulance Dispatch Software suit me?
Yes. Our ready to go Uber-like solution is scalable to suit all kinds of companies, and you can choose as many or as few features as you need.
How long does getting my ambulance booking software up and running take?
We can deliver our ready-made ambulance app development solutions in 7 days, but the precise time depends on the size of your business, as we'll need to set up the software as per the customizations you choose. It will be quicker to use AllRide Ambulance than to build your solution from scratch.
I can customize your ambulance fleet management software, right?
Absolutely right. You can brand our off-the-shelf solution according to your business requirements and add and remove features as you wish.
What can I expect when working with AllRide Ambulance?
Our team follows a well-established ambulance app development workflow that's proven to benefit our clients and ensure the timely delivery of your ideal ambulance app solution.
Can you help us launch our mobile ambulance application too?
Absolutely. On completion, we'll make your app available for download on Google Play and iTunes. As regards your admin panel and backend set-up, we'll deploy it in your preferred server, although we always recommend AWS as it's the most reliable.