Trusted By 1,000+ Businesses
The Next Generation Smart Courirer Delivery Solution
Starting from the pre-development research stage until the launch of your Courier Delivery Software, our experienced team of experts, world-class project management tools, and highly recommended services serve your purpose to success. You are just a click away from your on-demand Courier Delivery System that will support all your business needs with a white-label solution.
GET A FREE QUOTE
Get Your Branded Courier Delivery Management Software
Apps like DeliveryMark, OnnAway, and Axon are perfectly completing their deliveries with a spectacular customer base to recommend their services. The primary reason behind their success is their passion to embrace technology for ease of business. With AllRide, you get the opportunity to plug-n-play with all the unique features you have thought of to be in your parcel delivery management software.
A Complete Product Suite of Hand-Picked Features
Our stack of pre-made, ready-to-go, tried and tested courier delivery tracking software is always ready to get aligned with your business idea. Starting from astounding UI designs, we provide all the best features for your customers and your business. With minimal brain-storming, we have your app always ready for the launch.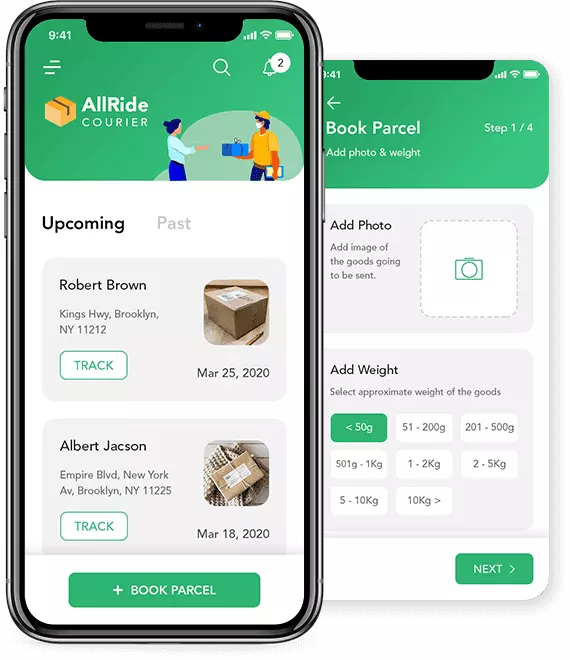 Customer App Features
Allows customers to set their parcel pick-up location, place their orders, track orders using real-time GPS and get it delivered on-time at the location:
Registration and Login Authentication
Push Notifications for New Orders
Set Service Availability Status
Accept Payments & Tips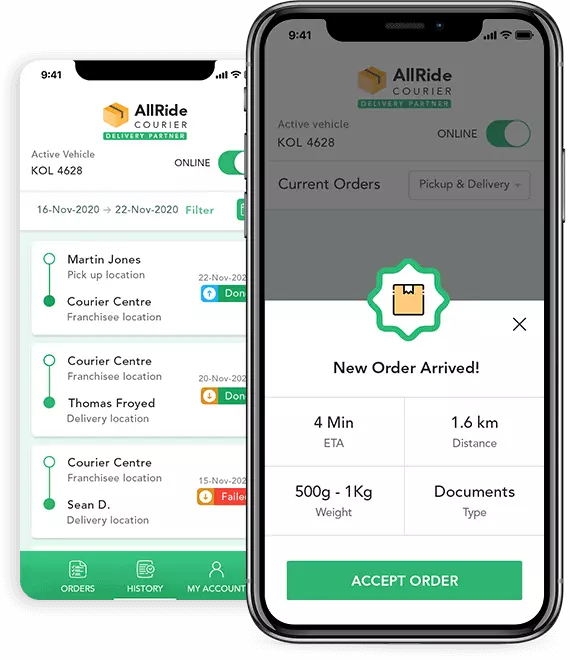 Delivery Executive App Features
Allow the courier delivery units to get associated with your business in a verified way and convey their operations with ease:
Registration and Login Authentication
Push Notifications for New Orders
Receive/Decline Order
Set Service Availability Status
Accept Payments & Tips
Why Choose AllRide Delivery To Take Your Business To The Next Level

Our World-class Quality
We work in close association with international clients and have provided solutions in 53 languages till date maintaining global standards of respective regions.

Our Support
We are not with you just to develop and launch your app. We provide dedicated 30 days of free support even after we have delivered you the solution.

Our Team
Our team of Sales and Project Managers gets deeply involved with clients and development team to maintain perfection in the solution created and project delivery schedules.

Our Business Model
We develop solutions on the basis of pre-made and tested software to ensure faster and perfect project delivery with committed quality and assured satisfaction.

Our Value
We focus on maximising our support for businesses to enter the on-demand courier delivery market providing excellent solutions in the most competitive development price in the industry.

Our Speed
We understand the intensity of the competitive market and so always stick on the mission of delivering you the solutions before your competitor hits the market.
AllRide Courier Delivery FAQs
What is AllRide Courier Delivery Software?
AllRide is one of the premier software development and digital solution providers for businesses across the globe. AllRide Courier Delivery Software is a digital solution for Courier Delivery businesses on a global basis, designed for those who want to digitise their operations for better revenue volume and ROI.
Is AllRide available for local courier delivery companies?
Our out of the box solution is totally scalable so will work for businesses of all sizes, and can cope with any expansion of your business experiences.
Can AllRide deliver a customised courier tracking software?
Of course. We welcome businesses with ideas to make their courier delivery business different from anything else, and our base solution is designed to be adaptable.
How fast can AllRide deliver customised parcel delivery management software?
That's all down to what you require. Obviously, the closer to our pre-prepared parcel delivery management software you get, the less time it will take. If you want to make a whole host of changes and add more features, and if your business is big, the time taken will be longer.
Are your courier delivery management software solutions and services affordable?
AllRide provides courier delivery management software solutions and services that fit all budgets. You must have a clear idea of your requirement, as the rest will be managed by our team, starting from budgeting till delivery.
How do you approach project management?
Till date, apart from our services, our clients have praised us for our Project Management systems and potentials. We have a well-established way of working that's proven its worth, and we hope you will soon see the benefits of working with us.
Can you help launch our apps?
Sure, when they're finished, we'll make sure they're on Google Play and iTunes. And we'll get your admin panel and backend features deployed on your server of choice.
How to get in touch with AllRide for courier delivery tracking software?
The allRide team is always committed to listening to your queries and helping you meet your requirements. Get in touch with our team today.